Governor Inslee tours Snohomish County
Snohomish County, Wash., June 9, 2021 – Governor Jay Inslee toured Snohomish County Monday, June 7, visiting Community Health Center in Edmonds, Edmonds College in Lynnwood, Pallet in Everett, and the new WSDOT ferry terminal in Mukilteo.
"It's just been a great day, there's so many positive things going on in Snohomish County right now," Inslee told the Lynnwood Times.
Community Health Center
The first stop was Community Health Center of Snohomish County Edmonds walk-in clinic, which is one of the busiest CHC clinic locations serving thousands of medical and dental patients according to Joe Vessey, Chief Executive Officer for CHC.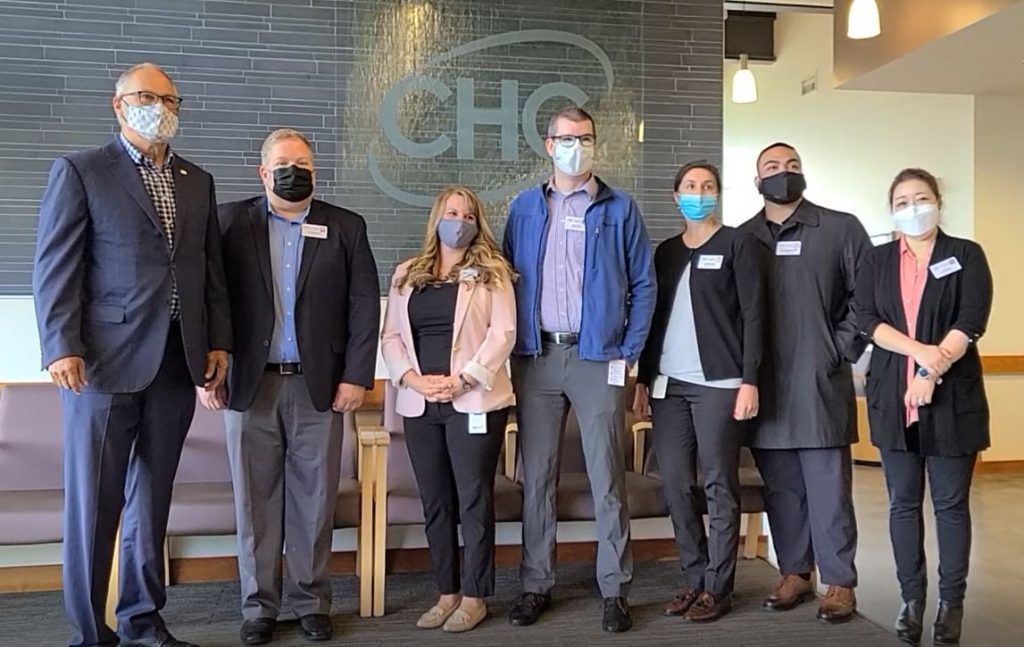 The facility which opening in November of 2020, welcomes patients, regardless of ability to pay, affordable primary health care services – medical, dental, and pharmacy. The clinic also administers COVID vaccines up until 7 p.m., seven days a week.
Inslee and Vessey joined by CHC staff Jessica Ro, Communications Manager, Oskana Strok, Dental Practice Manager, and Adam Heath, Chief Operating Officer, discussed the progress of the clinic's vaccination efforts.
According to Inslee, 98% of people who have lost their lives have not been vaccinated, and Washington state has one of the lowest COVID-19 mortality rates in the country.
"Hundreds of millions of people now have these vaccinations and they now have essential immunity from COVID with a high degree of probability. I am so appreciative of the people of this clinic that make this available, this [life] saving medicine," Inslee said.
"It's available to everyone for absolutely nothing – it's free to save your life. There's no reason to risk your life today. Get the vaccine, save your life and that's also going to help us open up our state."
Edmonds College
Inslee continued his Snohomish County tour meeting with faculty and students at Edmonds College's Hazel Miller Hall, a new STEM and nursing building name after local philanthropist Hazel Miller. Dr. Rachel Wade, Physics Department head at the college, shared the progress on developing a Quantum Optics Lab for students to explore the quantum properties of light.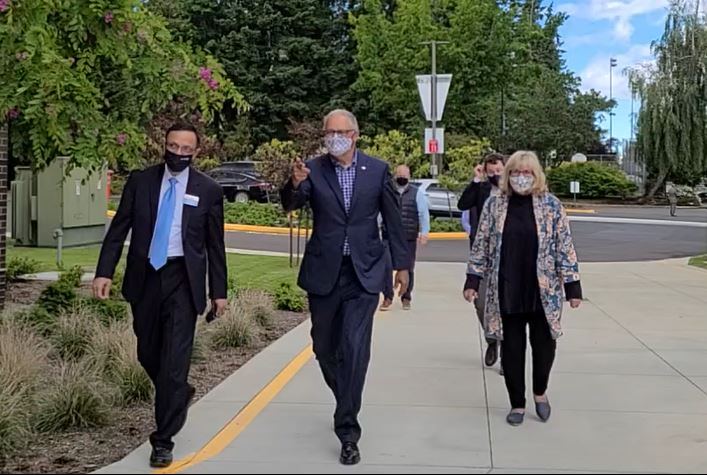 Inslee and Dr. Wade discussed the basics of quantum physics. In 1993 Inslee secured funding for the Laser Interferometer Gravitational-Wave Observatory in Richland, WA. The LIGO facility detects gravitational waves from black holes that are billions of light years from earth. Research from the facility led to a 2017 Nobel Prize in Physics for the first-ever direct observation of gravitational waves – ripples in the fabric of space and time.
When asked where he learned quantum entanglement theory, Inslee told the Lynnwood Times, "Well I learned things like that from the Washington state legislature. They are all brilliant in the House and the Senate. I learned from them."
Edmond College's LPN nursing program was recently awarded the Project Firstline Infection Control in Community College Curriculum Grant, a $10,000 grant to update all of its courses with current infection control information and to collaborate with other universities and the CDC.
Inslee then visited the Mathematics, Engineering, Science, Achievement (MESA) room, which focuses on initiatives to improve diversity and retention of historically underrepresented students in the STEM fields.
Lynnwood Mayor Nicola Smith, who sits on the Sound Transit Board, shared with Governor Inslee how she and Dr. Amit Singh, Edmonds College President, worked to put together an apprenticeship program in partnership with Sound Transit which mitigated a projected labor shortage for the light rail project.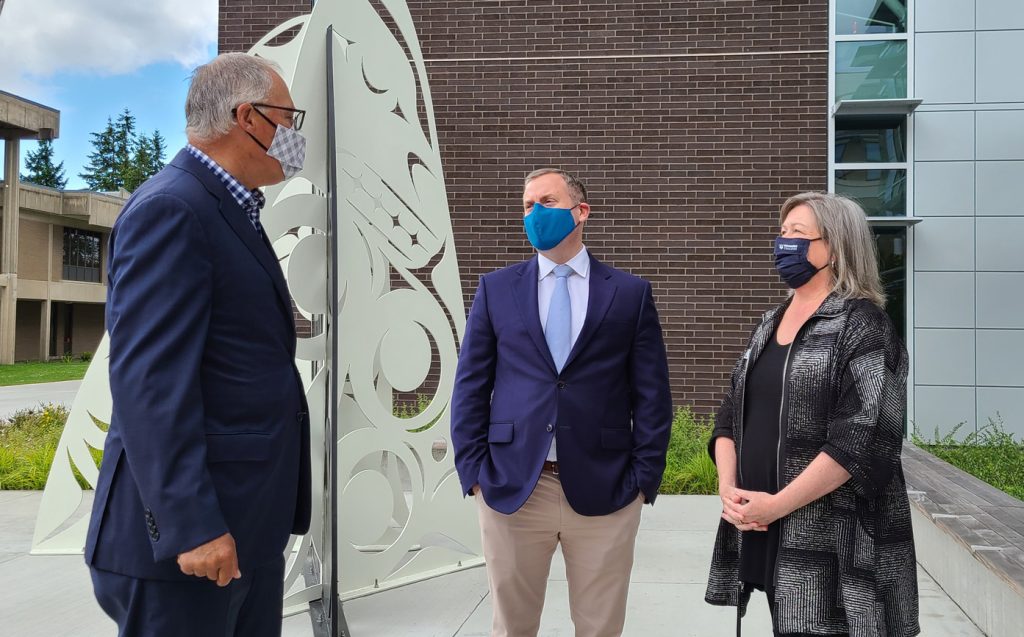 Mayor Smith shared with the Lynnwood Times how this collaboration between the college and the city of Lynnwood is a perfect example of how Edmonds College and STEM addressed the shortfall of electrical and construction skills so desperately needed in the region.
The college will be recruiting for the apprenticeship program this summer and classes will begin in the fall.
Edmonds' mayor, Mike Nelson, shared similar benefits when discussing Edmonds College's value proposition to the community.
Edmonds is looking to use some of the American Rescue Plan Act funding to partner with Edmonds College by offering tuition assistance for retraining programs for its residents impacted by the pandemic.
"Prioritizing STEM is so crucial right now…and to have that in our backyard is so cool! You can have that kinda access right here; and if we can help partner and facilitate getting more of our residents to pipeline through here it would be so great," Mayor Nelson told the Lynnwood Times.
Both Rep. Cindy Ryu (Lynnwood – D) and Rep. Strom Peterson (Edmonds – D) shared that the partnerships of the college with local industry is a testament to Dr. Singh's leadership and were impressed of the college's outreach to the underserved community.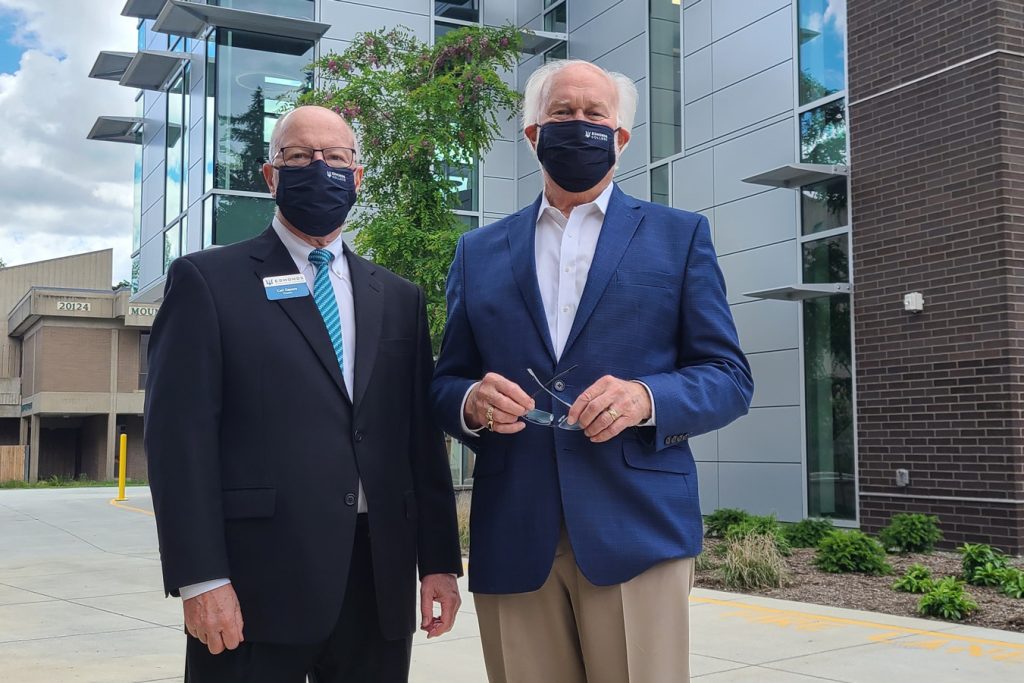 Carl Zapora, chair of Edmonds College Board of Trustees, told the Lynnwood Times that STEM professions and nursing have huge demands in the community and the college is accepting the challenge to meet the growing demand.
"Our job is to respond to the needs in the community and of the upcoming trends," Zapora said. "The Board of Trustees are particularly wanting to make sure we are doing the best job we absolutely can in the areas of STEM."
Mukilteo Ferry Terminal
After leaving Edmond's College, Inslee toured Pallet, a local company in Everett that manufacturers small dwellings for people experiencing homelessness. While in Everett, Inslee met with Snohomish County Executive Dave Somers and Everett Mayor Cassie Franklin in a closed-door meeting.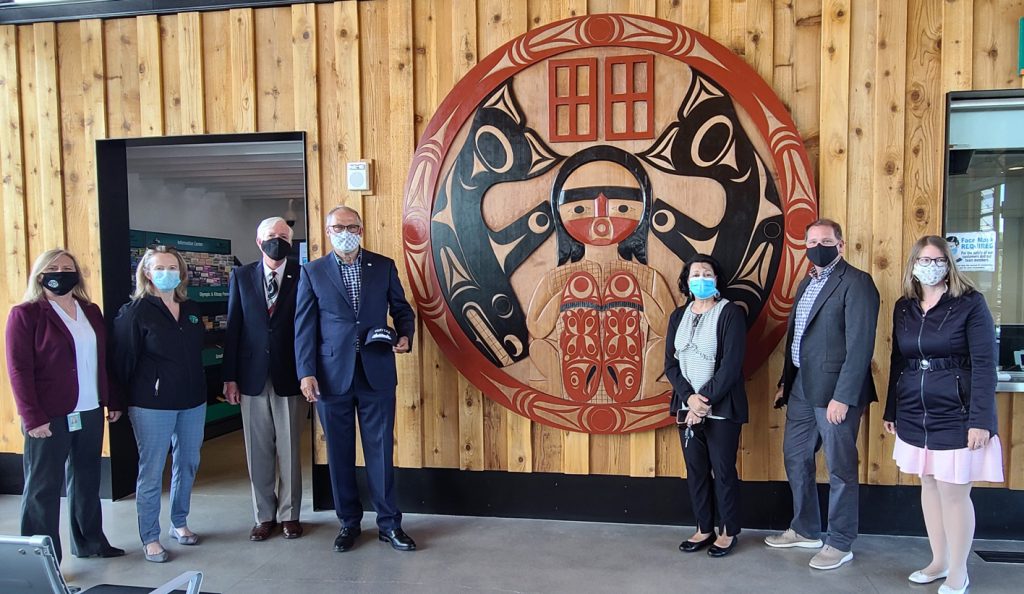 The tour concluded at Mukilteo to view the new ferry terminal on Front street – the first new Washington State ferry terminal in 40 years which historically facilitates 2.3 million vehicles and four million passengers annually.
"It's great to have the Governor come visit our city," Mayor Jennifer Gregerson said. "This terminal is the first new ferry terminal in a long time and we're very proud of it. It's really beautiful and it's a great asset in the community. We're really happy to welcome him [Inslee] to Mukilteo."
The new terminal rests on the site where the Treaty of Point Elliot was signed in 1855, which preserved native hunting and fishing rights in return for land. Because of this, the state worked with 11 federally recognized tribes on the project.
"Tribal cooperation was essential in the development of this project. We've used the language where possible, the plants, the interpreting boards all strive to tell the history of the tribes in the area," said Roger Millar, Washington State Department of Transportation Secretary.
WTS International, which is dedicated to creating a more diverse, inclusive, and equitable transportation industry through the global advancement of women, awarded WSDOT Mukilteo Multimodal Ferry Terminal its 2021 Innovative Transportation Solutions Award for transportation projects led by women. Over 60 women were involved in the planning, design, and construction of the terminal.
Nicole McIntosh, Washington State Ferries Chief of Staff, began working on the project 20 years ago. Some of her main focuses were safety, efficiency, and multi-modality. The terminal is safer, more open, and efficient without the issue of pedestrian congestion interfering with scheduling, according to McIntosh.
"From a pandemic standpoint it was incredible to keep this project on time," Patty Rubstello, Assistant Secretary to Washington State Ferries, told the Lynnwood Times.
The terminal has solar panels on the roof and, in the last two months, saved $700 each month in utilities. It catches rainwater to be used as gray water, and the building uses optimal windows as natural air conditioning.
"This is the most beautiful, most functional ferry system in the United States – it's the most environmentally friendly," Inslee told the Lynnwood Times.