Sound Transit-Edmonds College Pre-Apprenticeship Program
As the Seattle area continues to grow, Sound Transit is looking to expand to meet the new infrastructural demands. In partnership with Sound Transit and the City of Lynnwood, Mayor Nicola Smith and Edmonds College President Dr. Amit Singh have put together a pre-apprenticeship program to create employment opportunities for community members and mitigate projected labor shortages for the light rail project. 
Solving "a major local labor deficit"
An apprenticeship program through Sound Transit has been significantly beneficial for the Seattle area's infrastructure and local communities. As the city continues to grow, Sound Transit has been expanding its Light Rail project.
One of the program's creators, Edmonds College President Dr. Amit Singh, recounts how the program came to be and the ways in which it has helped to mitigate labor shortages. 
"I am very thankful to the City of Lynnwood for our partnership," says Dr. Singh, who was initially approached by Lynnwood Mayor Nicola Smith about the opportunity for the program.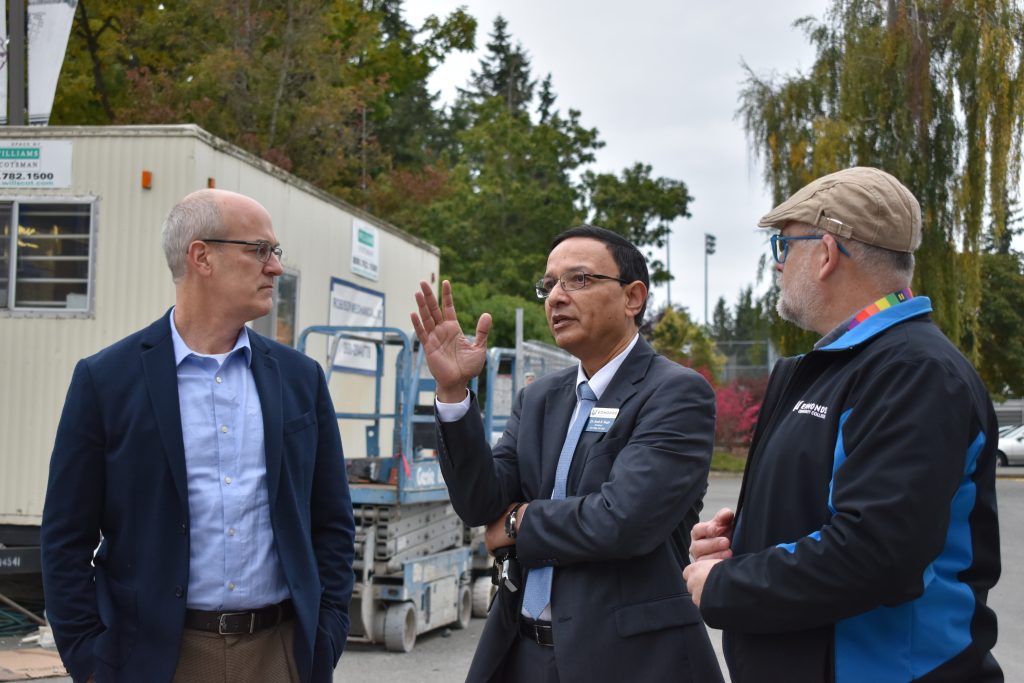 Speaking to the necessity of the apprenticeship program, Dr. Singh explains how a risk assessment ultimately led to the program's creation.
"Sound Transit recently conducted a risk assessment for the Lynnwood to Everett light rail expansion," he says, "and concluded there will be a major local labor deficit of 6.2% for all occupations needed to complete the project."  
According to Dr. Singh, after running an internal review of labor market trends and forecasts, Edmonds College reached the same conclusion. "As a result," he explains, "we collectively identified five potential supply gaps in the following key occupations necessary to meet the unique labor demand for this project: construction laborers (6.7%), construction equipment operators (5.5%), carpenters (6.4%), electricians (4.8%), and truck drivers (6.4%)."
Although the exact enrollment numbers are being finalized, Dr. Singh says that "the pre-apprenticeship partnership pathway has been designed with scalability in mind."
After students in the program complete their workforce training, Dr. Singh anticipates that there will be enough laborers to meet the previously detailed labor demands.

Helping the Community by Creating Employment Opportunities
When asked how the program has helped the community, Dr. Singh noted that the program's objective has brought people together. "The pre-apprenticeship program is an example of local industry, labor, and community leaders coalescing around a common goal for the betterment of all community stakeholders."
"This common thread," he continues, "has helped unite an array of content experts and increased communication across various community stakeholders traditionally not in correspondence with one another otherwise."
The program is commonly referred to as a "pre-apprenticeship" program because no previous experience is required. All apprenticeship candidates will be given training from basic to the advanced skills required to fulfill construction vocations. As per Sound Transit's website, "You do not need construction skills to get started; the professionals will teach you what you need to know."
The pre-apprentice nature of the program has helped to create more jobs and provide individuals with skill and development training. According to Dr. Singh, it has also promoted "self-efficacy for those who otherwise may feel displaced from current workforce trends."
Opportunity for the Underserved
While the opportunity is available to any eligible applicant, Dr. Singh emphasized how this program can help historically disadvantaged members of the community. "The pre-apprenticeship program is an ideal opportunity for minority and underserved segments of the community," he explains. 
"Here, in addition to general marketing techniques, an intentional marketing emphasis will focus on women, BIPOC, tribes, veterans, and refugees as well; whereas," he continues, "the pre-apprenticeship project will help Sound Transit meet their institutional DEI (Diversity, Equality, and Inclusion) goals."
Where to Apply
The Sound Transit Pre-Apprenticeship Committee anticipates registration to start in early August, and classes will begin this fall. For more information, visit the Washington Department of Labor and Industries' website or soundtransit.org.