Washington state builds its first ferry terminal in 40 years
By Mario Lotmore | Lynnwood Times Staff
Update 9:39 p.m. December 31, 2020: Added statements from Governor Jay Inslee and Congressman Rick Larsen.
Update 6:39 p.m. December 30, 2020: Added additional photos of the event.
Mukilteo, Wash., December 30, 2020 – Last night hundreds of commuters lined up to be the first passengers to use the new Mukilteo Ferry Terminal and gateway to Whidbey Island. An incredible $187.3 million dollars in federal and state funding has been appropriated for this project.
"And although we had hoped to have this celebration in person, let us be the first to welcome you to our new Mukilteo ferry terminal," said Washington Gov. Jay Inslee in the Mukilteo Multimodal Ferry Terminal virtual grand opening video.
The new Mukilteo terminal officially opened with the arrival of the first vessel from the Clinton Ferry Terminal in Whidbey Island at 5:50 p.m. Tollbooths opened at 5 p.m. for the first departure scheduled out of Mukilteo at 6:10 p.m.
Prior to the new terminal opening, the route was suspended from 1 a.m. on Dec. 29 until the 5:35 p.m. on December 30, to move key marine structures. The Mukilteo-Clinton ferry route is Washington State Ferries busiest for vehicle traffic carrying over 4 million riders per year.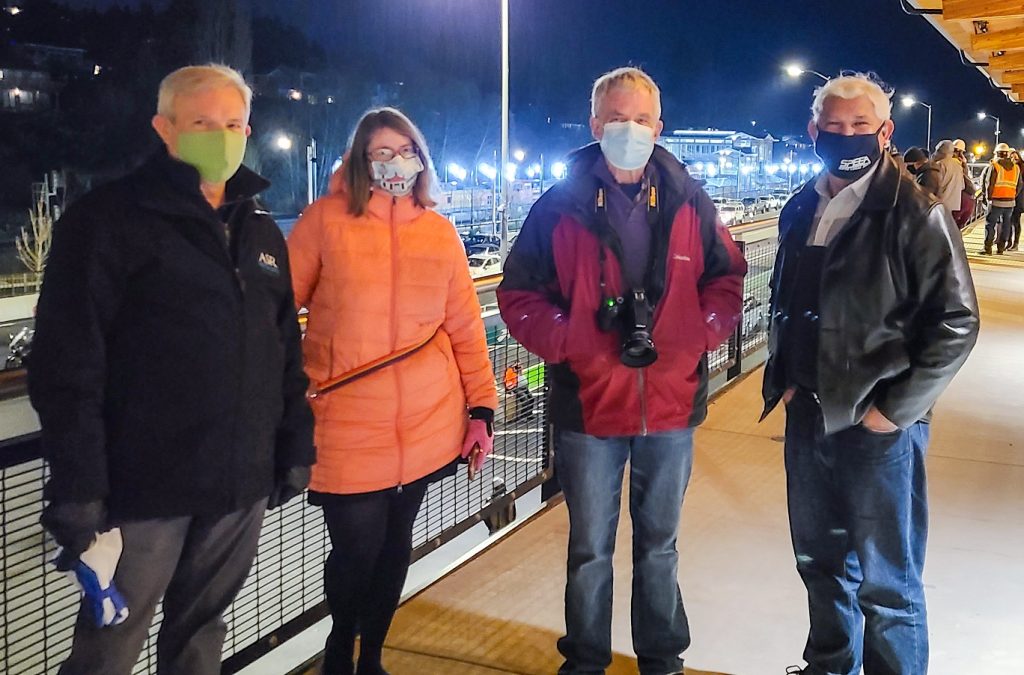 "It is absolutely gorgeous…it is going to draw a lot of people here to come and visit and see it and be part of our marvelous waterfront," Councilman Richard Emery told the Lynnwood Times as he admired the architecture and aesthetics of the facility.
Mayor Jennifer Gregerson emphasized the state's commitment to connecting multimodal transportation options for commuters.
"This will finally work for our waterfront," said Gregerson. "If you are taking the bus, the bus will have enough space to queue up. It will be a lot easier to get on them whether you are coming from the ferry of the waterfront. It is much more functional. Once the overhead load is ready, we will be able to have cars and passengers walk and drive on at the same time; it will be a better experience."
"In the Pacific Northwest, transportation mean jobs. That's why the federal, state, local and tribal investment was so important," said Washington Congressman Rick Larsen (WA-2) in the Mukilteo Multimodal Ferry Terminal virtual grand opening video.
The Mukilteo Ferry Terminal is on indigenous lands where the Salish people fish, hunted, and gathered for generations. Most notably were the Tulalip, Snoqualmie, and Stillaguamish peoples to name a few.
The Mukilteo Multimodal Ferry Terminal project includes:
Solar panels
Rainwater harvesting
Stormwater treatment
Passenger and maintenance building
Toll plaza with four toll booths and seven vehicle holding lanes
In-water docking and loading structures
Transit center for connections to buses and trains
Waterfront promenade that will link up to a city park
Transit center located near the Sounder Commuter Rail Station
The building concept was inspired by the form of a Coast Salish longhouse and designed to be the "Light on the earth" utilizing red cedar in its construction. Red cedar signifies "tree of life."
Construction of the terminal began in September of 2017 after the clearing of the fueling depots of abandoned U.S. Air Force fueling station. Removing the old fueling pier eliminated thousands of tons of toxic creosote-treated debris from Puget Sound. The overhead walkway and the new fishing pier are schedule to open in February and the existing terminal should be removed by early mid-2021.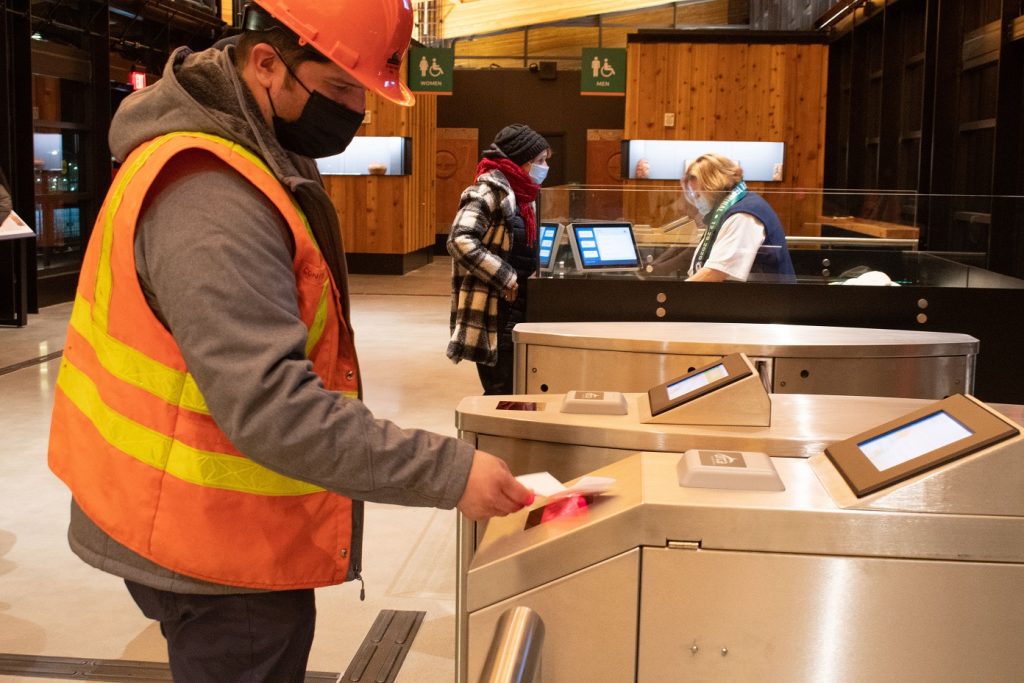 The Mukilteo Ferry Terminal is the first ferry terminal built in Washington in 40 years and meets the Leadership in Energy and Environmental Design's gold standard in sustainability. The new terminal now meet seismic standards and its layout contributes to relieving traffic congestion, addressing safety concerns, and now ADA compliant.
Former Mukilteo mayor and current councilman Joe Marine attended the opening. "This has been a long time coming," said Marine.
Councilmember Riaz Khan also attended the event with Marine. Khan commented on the timeliness of the terminal's completion.
"I am excited to be here…I really appreciate Washington State Ferries meeting their deadline," said Khan.
The new terminal's address is located at 910 Front Street in Mukilteo, Washington. Come and check it out!