Buttigieg tours Washington highlighting Biden's Investing in America agenda
MUKILTEO, Wash., July 8, 2023—U.S. Secretary of Transportation Pete Buttigieg traveled to Washington state this week to highlight how President Joe Biden's Investing in America agenda and "Bidenomics" strategy are working to bolster the clean energy economy and tackle the climate crisis.
"Washington state has done very well in these last few rounds of grants," Secretary Buttigieg told reporters during his first stop at Mukilteo Ferry Terminal on Thursday. "You got grants from the RAISE program building everything from multiuse passes and bridges to support for infrastructure that hasn't been upgraded in a long time [such as] getting rid of railroad crossings. We are doing airport work from SeaTac to Spokane, and this ferry work that we are doing including $4.9 million for the charging station at Clinton."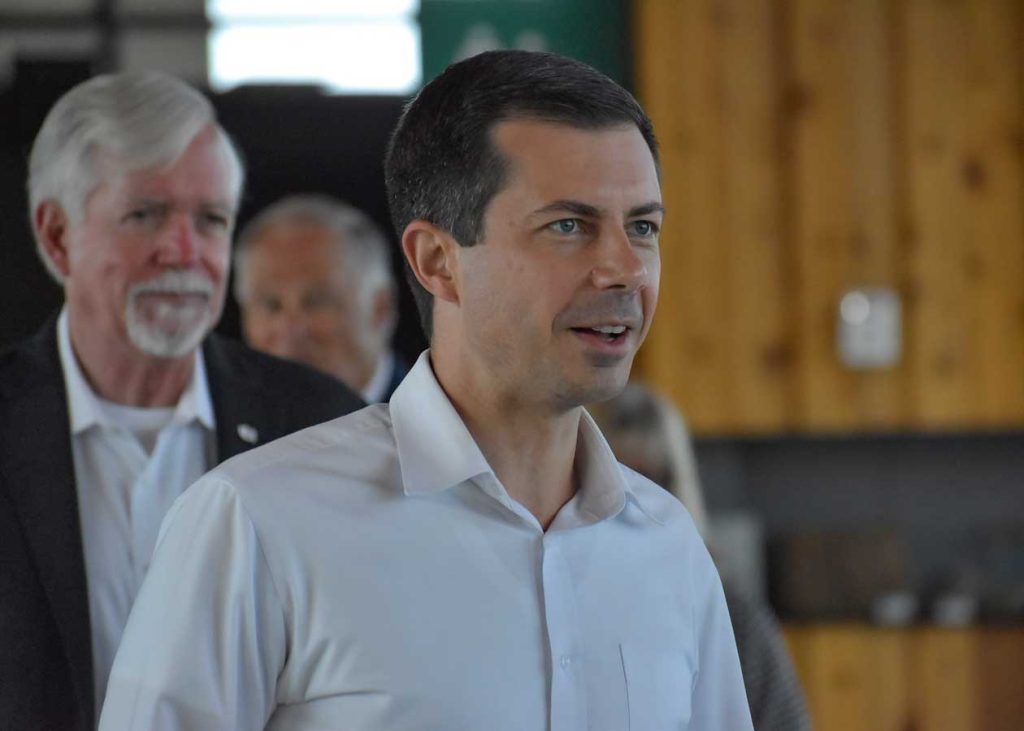 RAISE discretionary grants help State and local levels, including municipalities, Tribal governments, and counties complete critical freight and passenger transportation infrastructure projects. For 2023, more than $2.2 billion was awarded from the RAISE discretionary grant program to 162 different infrastructure projects across the country. In June, the Federal Transit Administration announced nearly $1.7 billion in funding through the agency's Low or No Emission Vehicle Program, which puts more zero-emission and low-emission buses on the road while supporting workforce training on new vehicle technologies.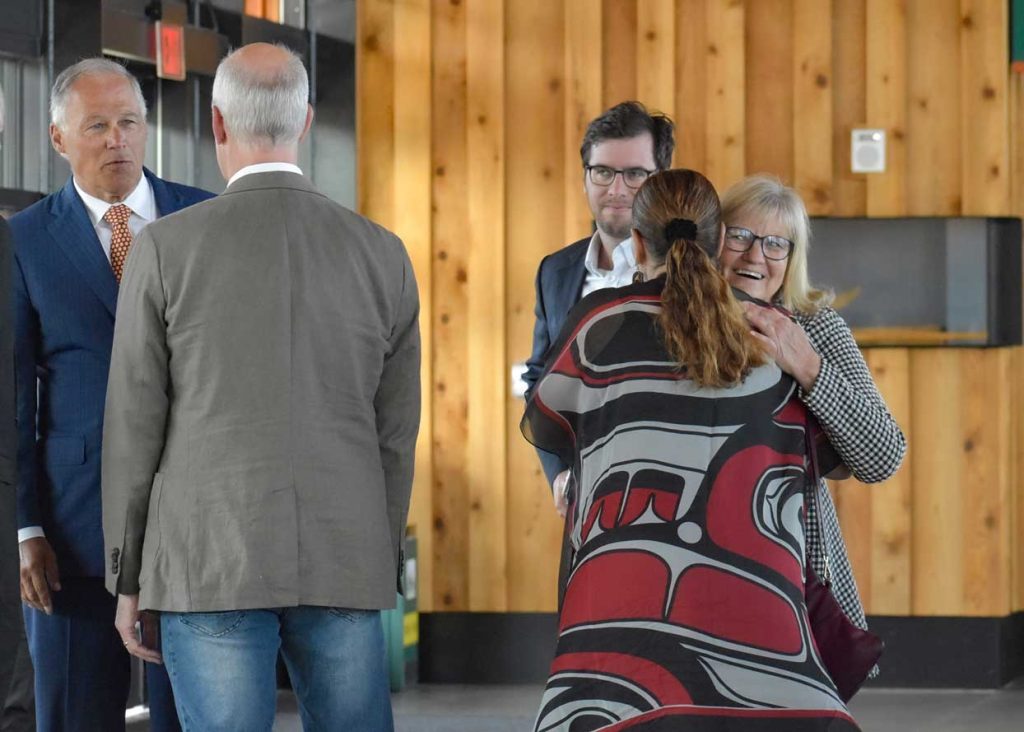 "A lot of these dollars are going to rural areas," Rep. Larsen told reporters. "Island County is getting $7.5 million from the DOT, for a transit park and ride…Whatcom County is getting $9.6 million to continue their transition to electric low-or-no emission busses, Skagit County got $5.5 million for its operation and maintenance facility, Blaine, Washington, on the Canadian border got a $9.6 million RAISE grant…and Burlington, Washington got $2 million to plan for one rail separation."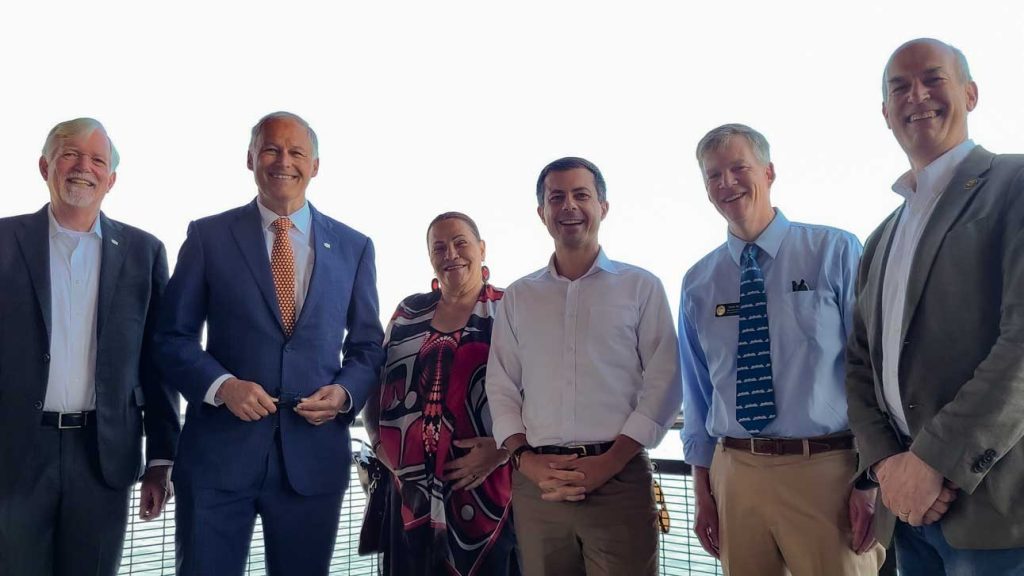 Secretary Buttigieg was also joined by Governor Jay Inslee, U.S. Senator Patty Murray, Washington State Transportation Secretary Roger Miller, Tulalip Tribal Chair Teri Gobin, and Washington State House Representative Dave Paul (D-Oak Harbor) where they toured the new $187.3 million Mukilteo Ferry Terminal that opened in December of 2020 and funded by both federal and state dollars.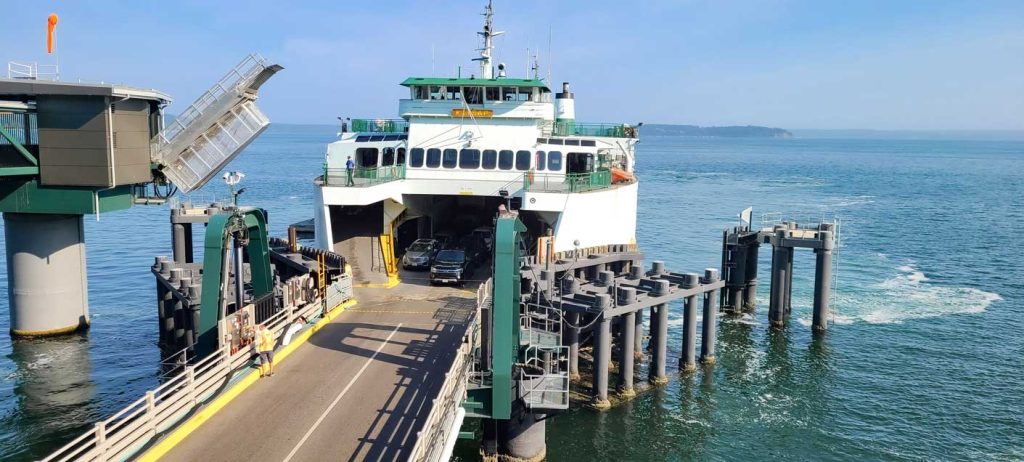 Chair Gobin shared with Secretary Buttigieg that the Mukilteo Ferry Terminal is on indigenous lands where the Salish people fish, hunted, and gathered for generations.
"I am glad you are here, and I would like to welcome you to our territory," Chair Gobin said.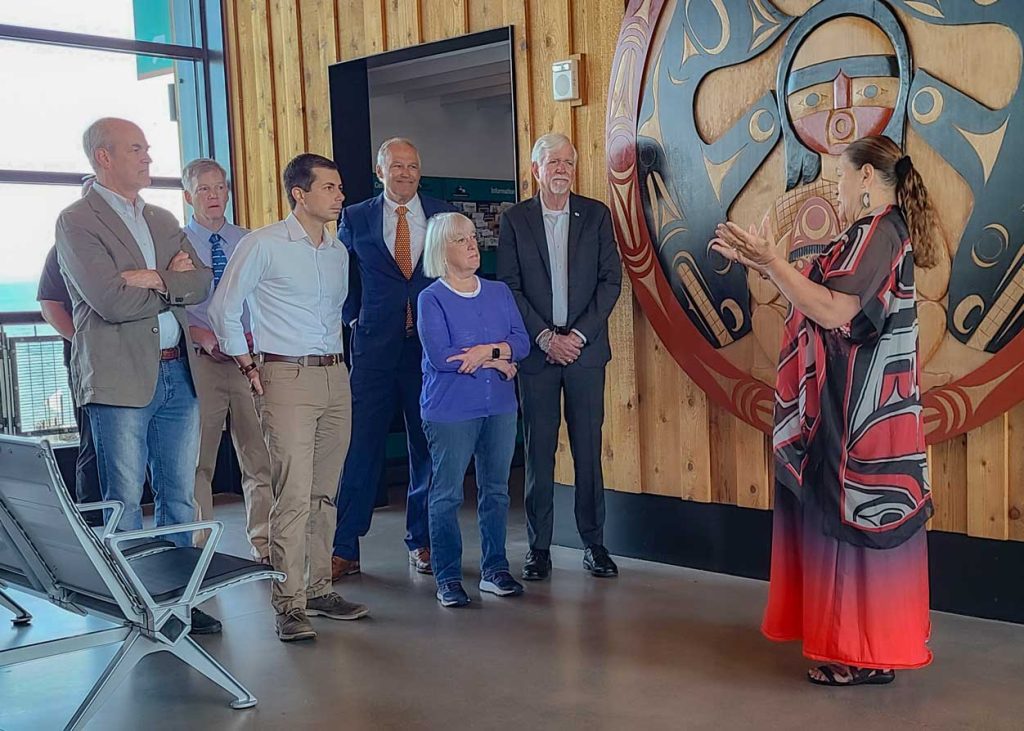 Gobin highlighted the significance of the Point Elliot Treaty with Secretary Buttigieg and shared the much-needed funding for hatchery runs to preserve her people's culture and traditions.
Secretary Rogers shared the progress of the transition of Washington State Ferries to an emission-free fleet through a hybrid electric ferry system over the next 20 years. Besides being the largest ferry system in North America, WSF is also the largest state-run agency greenhouse producer in Washington state.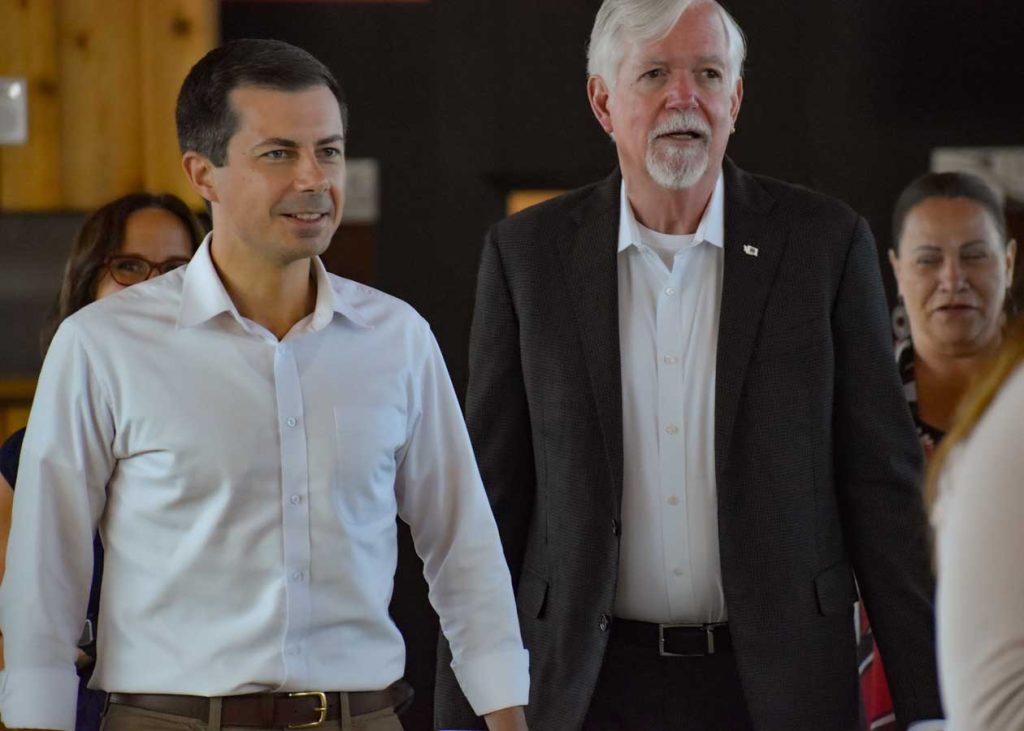 WSF recently received $4.9 million to build an electric charging facility at the Clinton Ferry Terminal, as part of its plan to electrify the Mukilteo-Clinton Ferry Route.
"We have a tremendous partner with the Secretary and President Biden," Governor Inslee said. "Their infrastructure dollars are integral to our state plans."
"We should thank Senator Murray and Congressman Larsen, they pulled off a miracle," Inslee told reporters. "It is an absolute miracle what they accomplished on the infrastructure bill and the Inflation Reduction Act."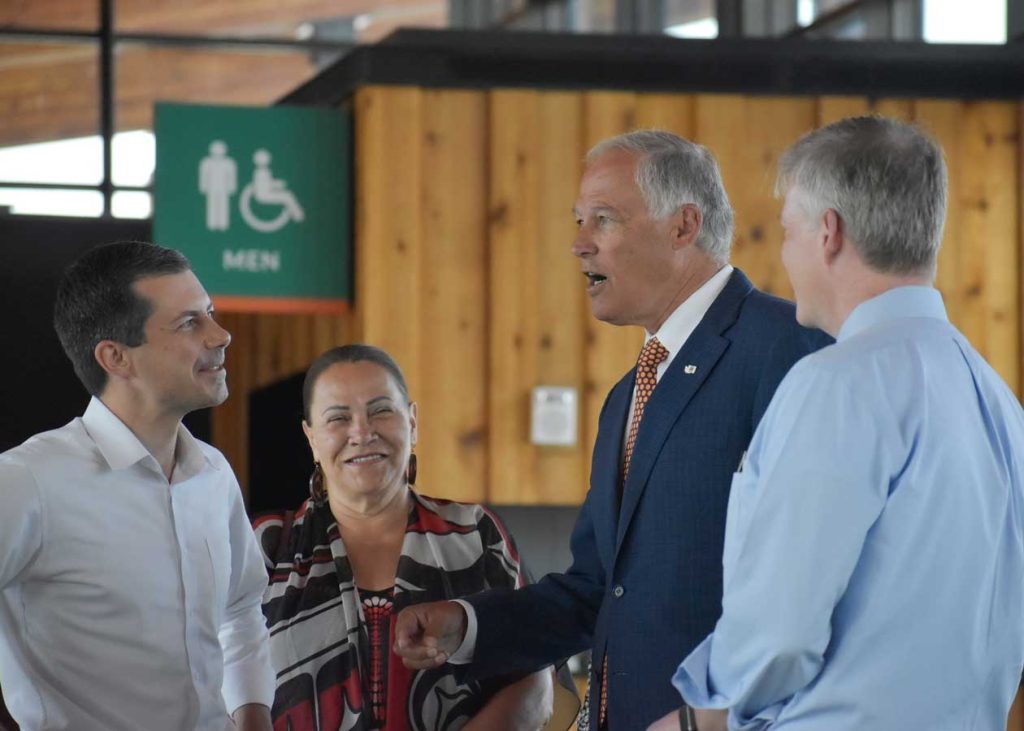 In late March, President Biden kicked off his "Investing in America" tour to highlight the billions of dollars from the Inflation Reduction Act, the CHIPS and Science Act, the Bipartisan Infrastructure Law, and the American Rescue Plan that are being spent at the local and state levels.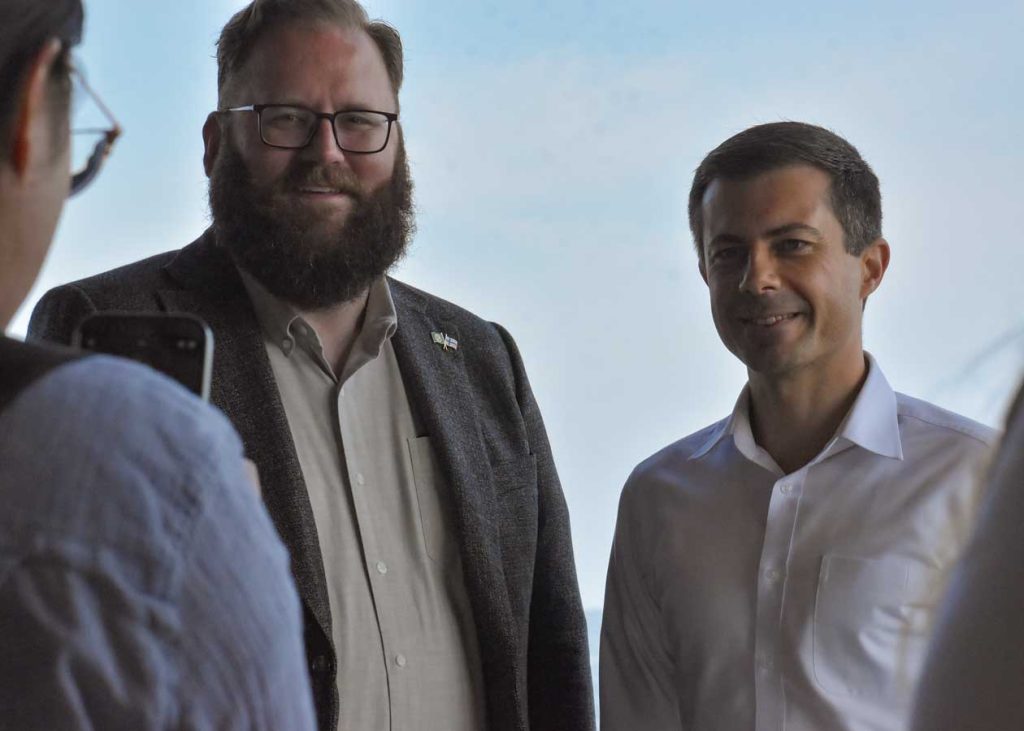 Later that Thursday, U.S. Senator Maria Cantwell (D-WA) joined Secretary Buttigieg in Port Orchard to celebrate the RAISE grant award of her request of $9.4 million for the Port Orchard Marina Breakwater project to replace the aging and damaged breakwater within the Port of Bremerton.
"When you're talking about infrastructure, you've got to build infrastructure on the water. And that is what these beautiful communities like Port Orchard, like Bremerton, represent: A great quality of life and some economic development opportunity with good jobs if we make the right investments," Sen. Cantwell said. "I don't think anything says 'resiliency' more than [rebuilding] the breakwater and making sure that we have an infrastructure that can support this foot traffic, and support us when we have critical storms."
The Port Orchard Marina Breakwater project will replace 1,500 linear feet of a 12-foot-wide public breakwater that protects the community of Port Orchard, the marina facilities, the exclusive moorage for the Suquamish Tribes fishing vessels, and the Kitsap Transit passenger ferries. The failing breakwater also protects the only marine fuel facility within 16 nautical miles.
Secretary Buttigieg ended his Washington tour on Friday in Washougal where he highlighted infrastructure investments to help improve safety, speed up emergency response times, and strengthen supply chains. There he was joined by Senator Maria Cantwell and Congresswoman Marie Gluesenkamp-Perez (WA-03).