Police investigating a non-fatal shooting near North Creek trail
MILL CREEK, Wash., July 8, 2023—At approximately 9:11 a.m. on July 8, Mill Creek Police with assistance from Snohomish County Sherriff responded to a shooting just west of the North Creek trail near the 13000 block of North Creek Drive.
A preliminary investigation showed that an unknown male and the victim had been in an altercation when the unknown male shot the victim in the leg.
Officers secured the scene, and the victim was taken to a nearby hospital, where he was treated for a non-life-threatening gunshot wound to the leg. Despite a exhaustive search of the area, officers did not find the suspect. Currently, it is believed this is an isolated incident and there is no threat to our community.
Mill Creek Police detectives are conducting an active and ongoing investigation. No further details are currently available.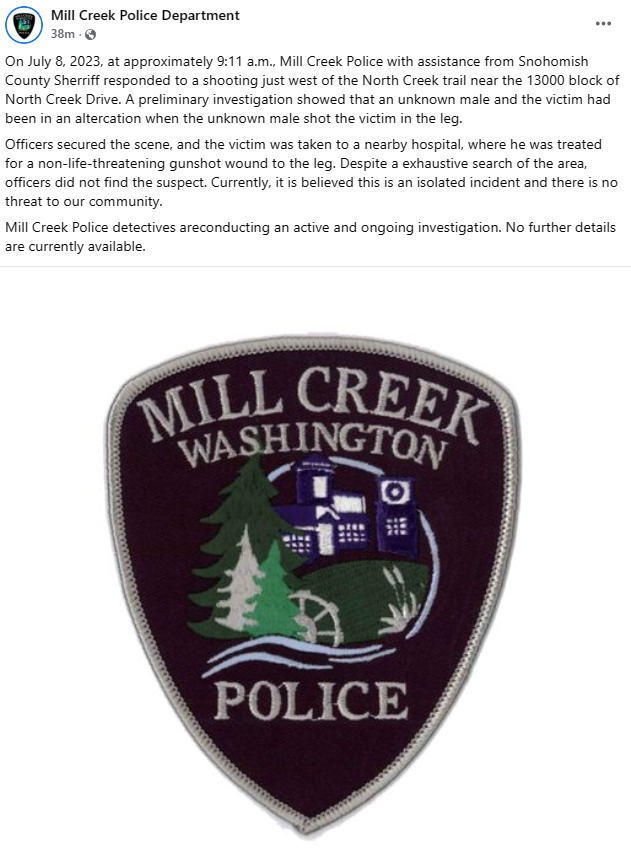 ---
SOURCE: City of Mill Creek