Art Walk Edmonds is now a month-long celebration of the Arts in Edmonds!
Art View April 1-30, 2021
Art Walk April 15, 2021 5-8pm
Local artists will be showcased at businesses all month long, and some businesses will also host a third Thursday night Art Walk on April 15th from 5-8pm.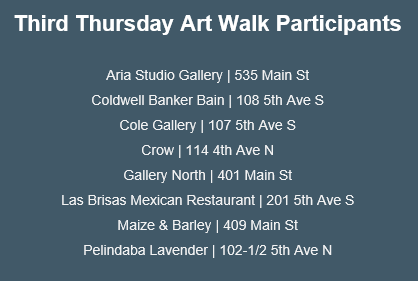 Fifteen downtown Edmonds businesses have local art on their walls to share with you during their open hours all April. Eight of those businesses will also be open during the third Thursday Art Walk. 
In keeping with COVID restrictions, refreshments will not be served. But you will be able to feast your eyes on magnificent art while having a chance to meet local artists!
Please continue to observe capacity limits, mask up and keep the appropriate social distance until the pandemic restrictions are completely lifted!
Take a look at the map (or look for the square placards hanging in their doors or windows with a QR code)  to see participating businesses, their open hours and some information about their artist(s).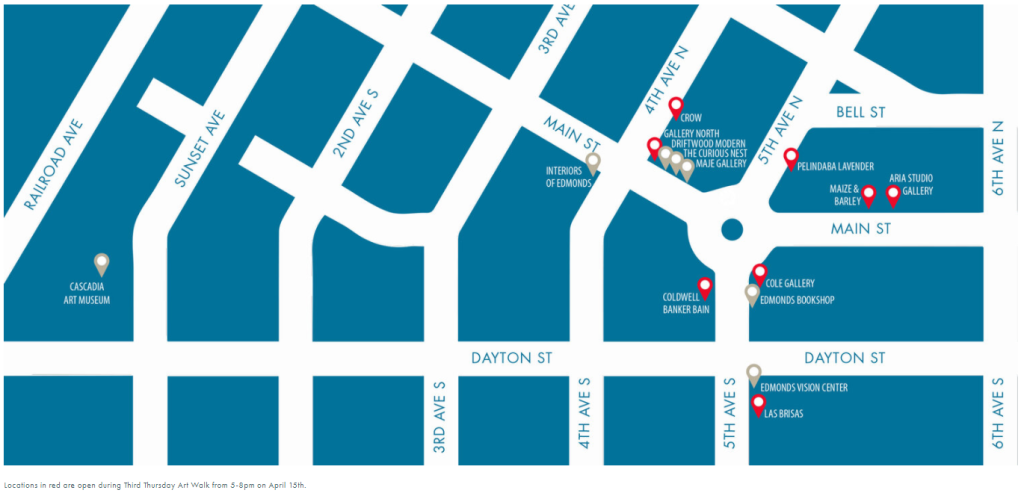 ---
Art Walk Edmonds is a 501(c)(3) non-profit dedicated to supporting the arts in downtown Edmonds through Art Walks, Murals, and other special events. Everything we do would not be possible without public support we get from donors and sponsors. If you'd like to learn more about how you can help Art Walk Edmonds, visit the DONATE, VOLUNTEER or SPONSOR pages on the Art Walk Edmonds website.