Lynnwood Transit Center, preparing for growth
By Kienan Briscoe | Lynnwood Times Reporter
Lynnwood, Wash. – The future Lynnwood Transit Center, at 200th St. SW and 48th Ave W., is one third complete as it gears toward its 2024 grand opening.
Civil construction began in October 2020 and by its opening, the Lynnwood station, and other extensions, will more than double the length of the current light rail system.
The Lynnwood Transit Center is projected to be one of the busiest transit centers in the region, serving commuters in Lynnwood and the surrounding areas of Edmonds and Mountlake Terrace. It will offer four elevated stations and a new five-story parking garage that will contain approximately 1,665 spaces as well as 226 stalls in a nearby lot for a total of 1,900 parking spots—500 more than offered on the current site. The parking garage is scheduled to open in the summer of Spring 2023, one year before the Link station's opening.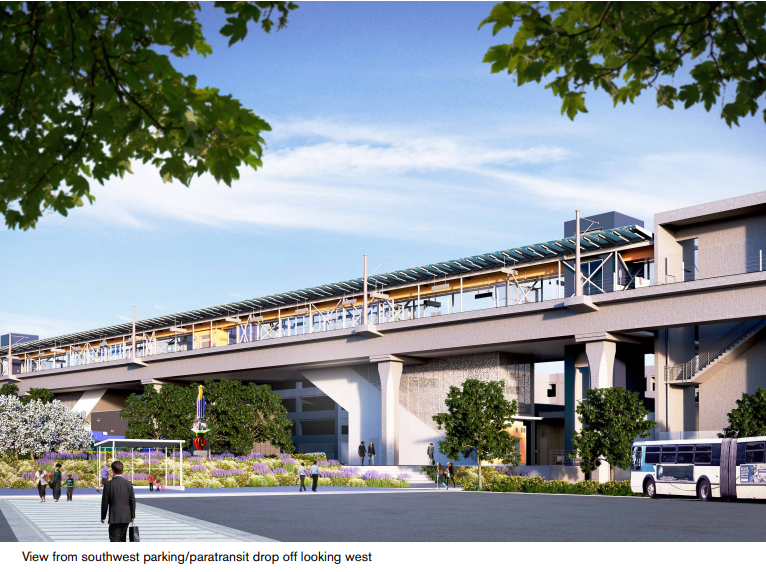 Upon its completion, commuters can expect a 20-minute ride to the University of Washington, a 27-minute ride to Downtown Seattle, and a 60-minute ride to SeaTac Airport, also serving Eastbound transfers to Downtown Bellevue.
With a projected cost of $2.9 billion, the project is partly funded by a Full Funding Grant Agreement executed by the Federal Transit Administration (FTA) and the U.S. Department of Transportation's (USDOT) Build America Bureau, which issued a $658 million low-interest loan to support the project's completion. This loan, finalized in a Master Credit Agreement between USDOT and Sound Transit in 2016, is a unique agreement that should save taxpayers between $200 to $300 million through its low interest rate.
In preparation for the Lynwood Link Extension, the city of Lynnwood has been working with Sound Transit with appropriate mitigation for adverse impacts such as crime, affordable housing, and population growth.
Mayor Nicola Smith still maintains safety and affordability as priorities leading into the years ahead. In her 2021-2022 proposed preliminary budget report she highlighted, "Lynnwood remains affordable and attractive for residents and businesses," and "To ensure a safe environment through rigorous criminal and property law enforcement," as her vision and mission.
"It's still a long way off, but we will be working with Sound Transit on it," said Lynnwood Police Chief James Nelson on the topic of regulating potential crime increases.
In a Housing Act Plan published last month, the city has already begun to plan for these potential, and existing, issues by partnering with housing providers, revising the MFTE program, developing a rental registration program, and continuing conversations about affordable housing.
Lynnwood is conveniently located at the intersections of both I-5 and I-405. With the opening of Lynnwood Link Extension, Lynnwood has an even better foothold for convenient access to the region.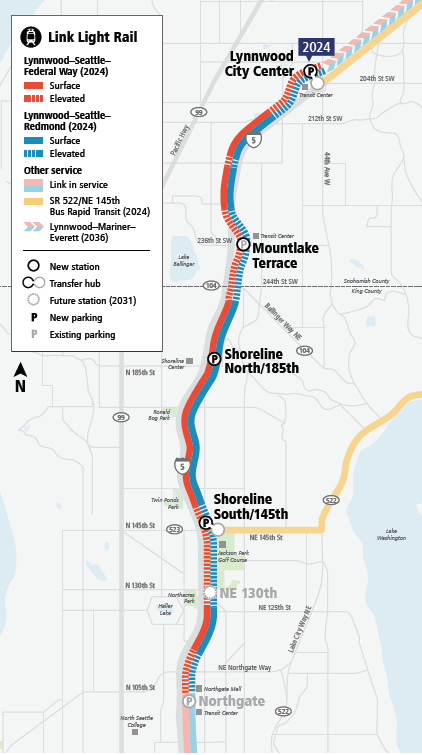 "Future residents and businesses will value this and choose to relocate here," Karl Almgren, Lynnwood City Center Program Manager, told the Lynnwood Times. "From a design standpoint, we will likely see the private market drive redevelopment of single-story commercial areas into larger buildings with multiple uses including housing, restaurants, and retail. We are seeing that investment being made near Alderwood with the Lynnwood Place project as well as the Northline Village and Lynnwood 40th project."
The city of Lynnwood had a community vision for a new downtown, called City Center, undergoing an extensive planning effort in the early 2000s, that was stalled due to the Great Recession of 2008 which began with the collapse of Lehman Brothers, the fourth-largest investment bank in the United States.
That community vision recognized an expansion of public transit which has in turn prepared Lynnwood for its future light rail service. The City Center continues to redevelop with the Northline Village (current site of Lynnwood Square), Kinect at Lynnwood (currently under construction at 4100 Alderwood Mall Blvd), and Lynnwood 40th (proposed at SW corner of 198th and 40th Avenue West).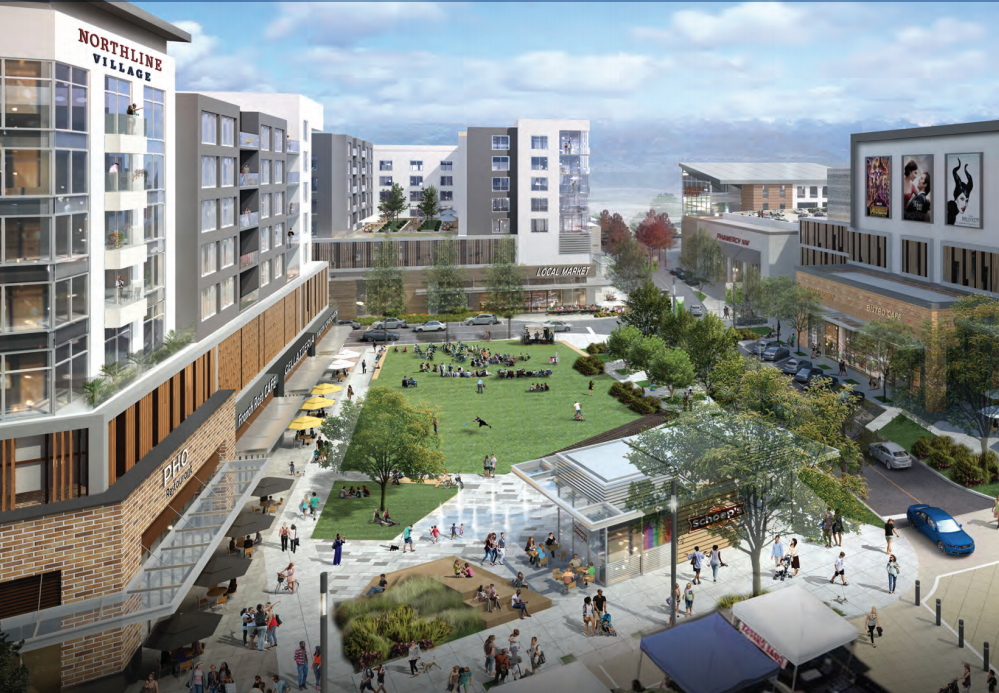 These types of investments will not only increase economic opportunities but should also provide housing to emerging neighborhoods. The Lynnwood Link project and City Center are generational changes that are currently proceeding according to schedule, being resilient to the impacts of the pandemic.
"I think it's important to highlight the variety of projects underway around the Lynnwood Transit Center, said Almgren. "For recreation and access, our Parks Department is rebuilding the Scriber Creek Trail. Our Public Works Department is rebuilding 196th Street SW to be safer and more efficient. The Police Department is partnering with community providers to build a new a facility that reduces recidivism. Community Planning is wrapping up the Housing Action Plan to better provide housing opportunities for all residents.
He continued, "These projects are huge investments for Lynnwood and represent the positive dedication to the City Center by Lynnwood to make it happen. It's happening right before our eyes."
To anticipate traffic increases, there is extensive construction underway that will continue into 2023. The city is currently widening 196th Street SW for safety and additional capacity and Sound Transit will widen 200th Street SW. The city and Sound Transit have also partnered on improvements to the Scriber Creek Trail, providing improved connectivity to the Interurban Trail.
"Part of the Lynnwood Link project is not just the rail service, but also improvements to our streets and trails," Almgren said.
The City Center around the Lynnwood Transit Center was previously rezoned with height limits to support the new downtown vision. The city's current height restrictions exceed the market absorption costs but most developers are proposing projects less than the building height maximum.
Crossing building height thresholds trigger additional life/safety requirements and costs that have to be amortized throughout the whole project – if a project triggers those requirements, then the cost of construction may be higher than the rent revenue causing the project to be infeasible.
The city has planned for the population of City Center to increase with redevelopment. With the opening of the Link Extension, Lynnwood plans to continue many design elements to build its City Center as a pedestrian oriented environment with a vibrant commercial landscape connecting neighborhoods throughout the area.