New 1,670 stall garage opens at Lynnwood Transit Center
LYNNWOOD, Wash., April 14, 2023—On Monday, April 17, Sound Transit will open the new parking garage at the Lynnwood Transit Center to serve current transit riders and future Link light rail riders. The new garage contains 1,670 parking stalls in a five-story structure. Along with adjacent surface lots containing 226 stalls, the Lynnwood City Center Station will have nearly 1,900 parking stalls, approximately 500 more stalls than are on the current transit center site. 
The parking garage is opening before light rail service to the Lynnwood City Center Station in order to allow for work around the station site to be completed, including the surface parking lots, landscaping, and other site amenities.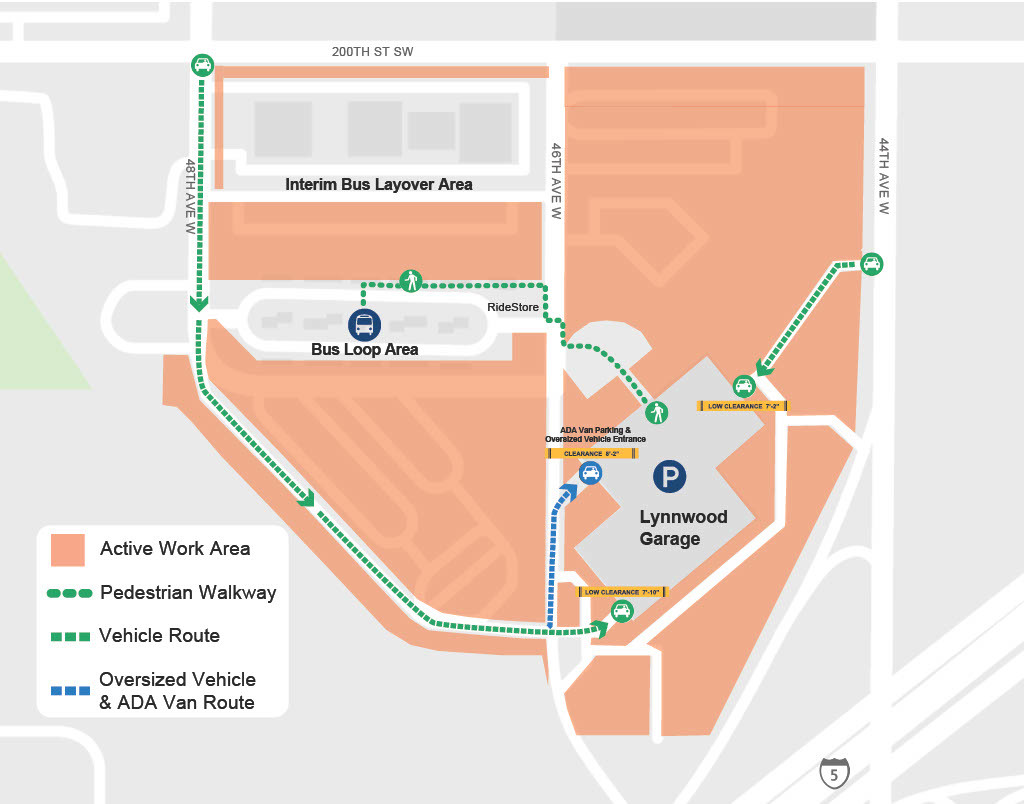 "The opening of the Lynnwood City Center Parking Garage is an exciting reminder that we're drawing closer to the opening of Lynnwood Link," said Lynnwood Mayor and Sound Transit Board Member Christine Frizzell. "The new garage also signals the progress we're seeing in the City Center and the promise the future holds not just for Lynnwood but much of Snohomish County as we are attentive to the transportation needs across our region."
The new structure, built by Skanska Constructors L300, JV, is projected to achieve LEED® for Transit silver certification in conjunction with the adjacent light rail station. Perforated metal panels installed on the lower levels will prevent unauthorized access while still providing visibility for public safety. Construction on the garage began in October 2020.
The parking garage has driveway entrances off 48th Avenue and 44th Avenue respectively and will have an easy connection to the adjacent elevated light rail station. Landscaping around the parking garage will emphasize plants native to the Pacific Northwest, while plants in the station's parking lots, plazas, and pedestrian promenade will include a mixture of drought-tolerant ornamental plants and plants native to the Pacific Northwest.   
When Lynnwood Link opens in 2024, passengers will enjoy fast and reliable service from south Snohomish County to Seattle and Sea-Tac Airport. The extension includes four new stations serving Lynnwood, Mountlake Terrace, Shoreline and Seattle.