Lynnwood celebrates ribbon cutting for new Transit Center Parking Garage
LYNNWOOD, Wash., June 16, 2023—Dozens gathered at the site of the upcoming Lynnwood Light Rail Station on Friday, June 16, to commemorate the opening of its new Transit Center Parking Garage.
"Lynnwood Transit Station is already a central hub for riders to access reliable and convenient public transportation, and with Lynnwood Light Rail Station opening on the horizon, that access will be more critical than ever," said Senator Maria Cantwell."More and more people are choosing to use public transportation – the first quarter of 2023 saw ridership for Link light rail jump by 35% percent compared to 2022, with 1.6 million more boardings than last year. The opening of the Transit Center Parking Garage will help commuters and others make the choice to ride transit, helping to reduce congestion on the roads and cut carbon emissions."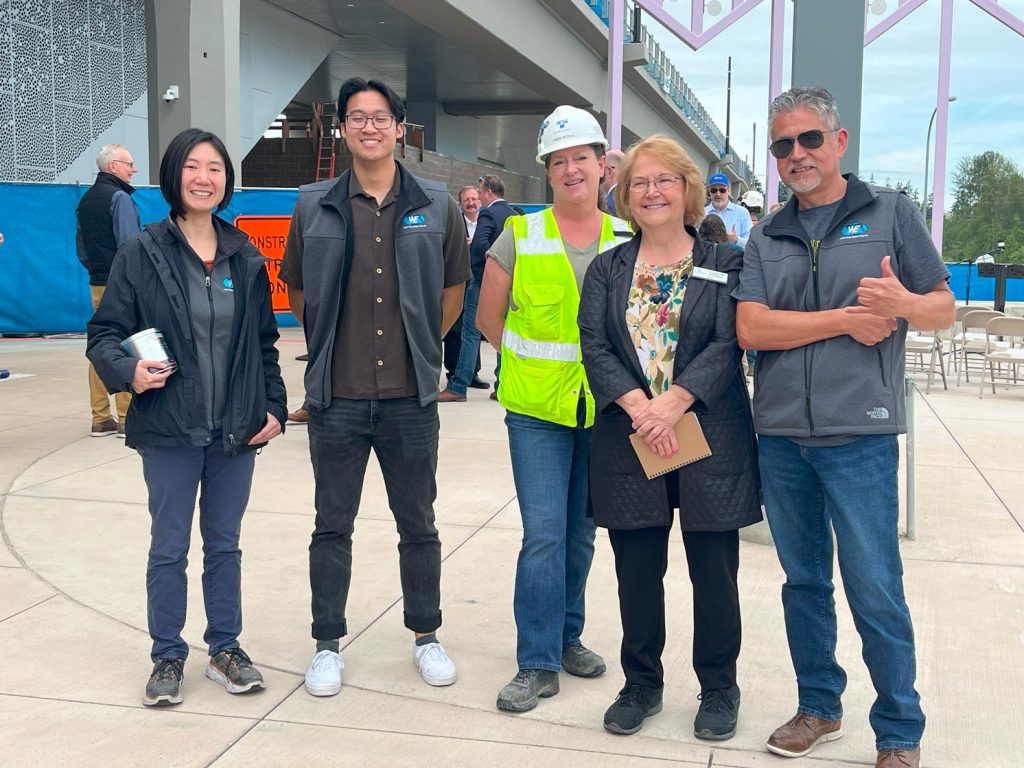 Snohomish County Executive and Sound Transit Vice Chair Dave Somers, Lynnwood Mayor and Sound Transit Board Member Christine Frizzell, Community Transit CEO Ric Illgenfritz, and Sound Transit CEO Julie Timm shares opening remarks before the momentous ribbon cutting tradition, welcoming the next step in Snohomish County's shared transportation network. Mountlake Terrace Mayor Kyoko Matsumoto Wright was also in attendance.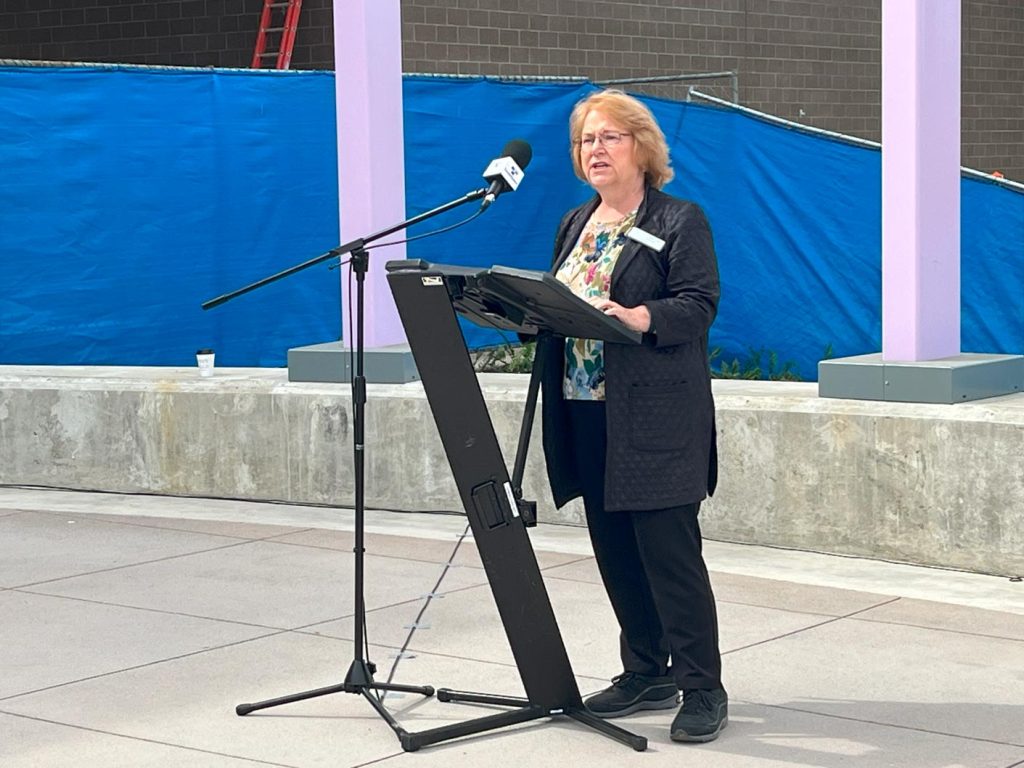 "The opening of the Lynnwood City Center Parking Garage is an exciting reminder that we're drawing closer to the opening of Lynnwood Link," said Lynnwood Mayor and Sound Transit Board Member Christine Frizzell. "The new garage also signals the progress we're seeing in the City Center and the promise the future holds not just for Lynnwood but much of Snohomish County as we are attentive to the transportation needs across our region."
On Monday, April 17, Sound Transit opened the new parking garage at the Lynnwood Transit Center to serve current transit riders and future Link light rail riders. The new garage contains 1,670 parking stalls in a five-story structure. Along with adjacent surface lots containing 226 stalls, the Lynnwood City Center Station will have nearly 1,900 parking stalls, approximately 500 more stalls that are on the current transit center site.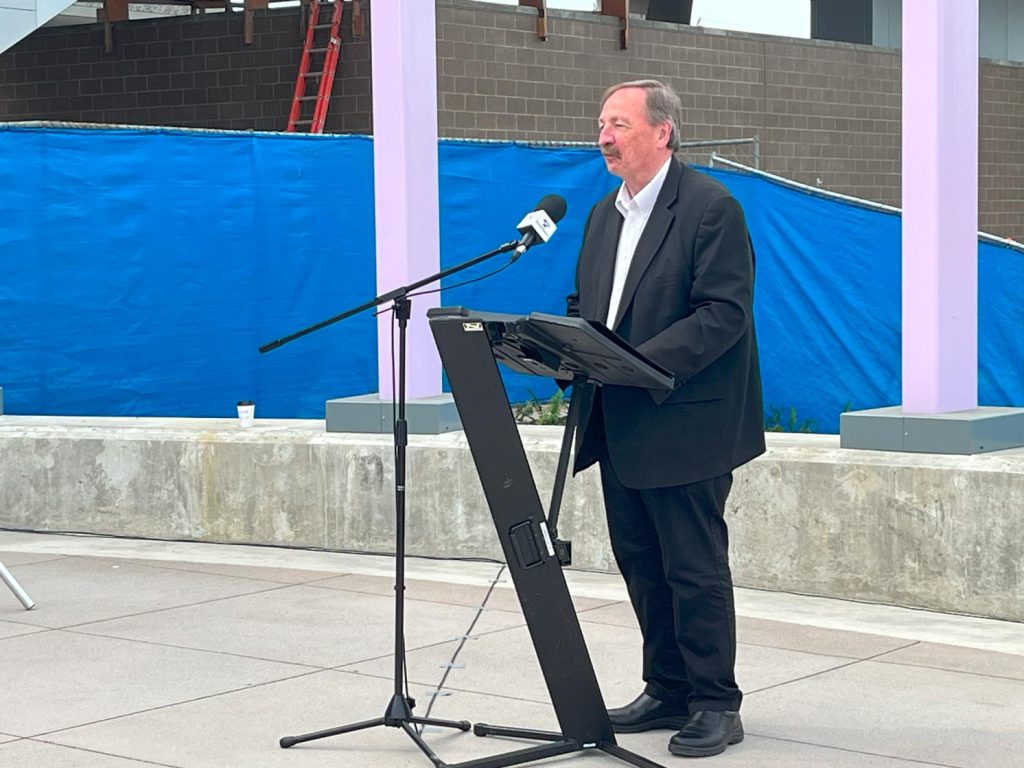 "There's really nothing more important to our future here in Snohomish County than building out a robust transit system," said Snohomish County Executive Dave Somers. "A transit system really becomes the spine and the hub, and the arteries of the community and the economy. This is so exciting and I, personally, am really looking forward to going to Husky games."
The parking garage has opened before light rail service to the Lynnwood City Center Station in order to allow for work around the station site to be completed, including the surface parking lots, landscaping, and other site amenities.
The new structure, built by Skanska Constructors L300, JV, is projected to achieve LEED® for Transit silver certification in conjunction with the adjacent light rail station. Perforated metal panels installed on the lower levels prevent unauthorized access while still providing visibility for public safety. Construction on the garage began in October 2020.
The parking garage has driveway entrances off 48th Avenue and 44th Avenue respectively and will have an easy connection to the adjacent elevated light rail station. Landscaping around the parking garage will emphasize plants native to the Pacific Northwest, while plants in the station's parking lots, plazas, and pedestrian promenade will include a mixture of drought-tolerant ornamental plants and plants native to the Pacific Northwest.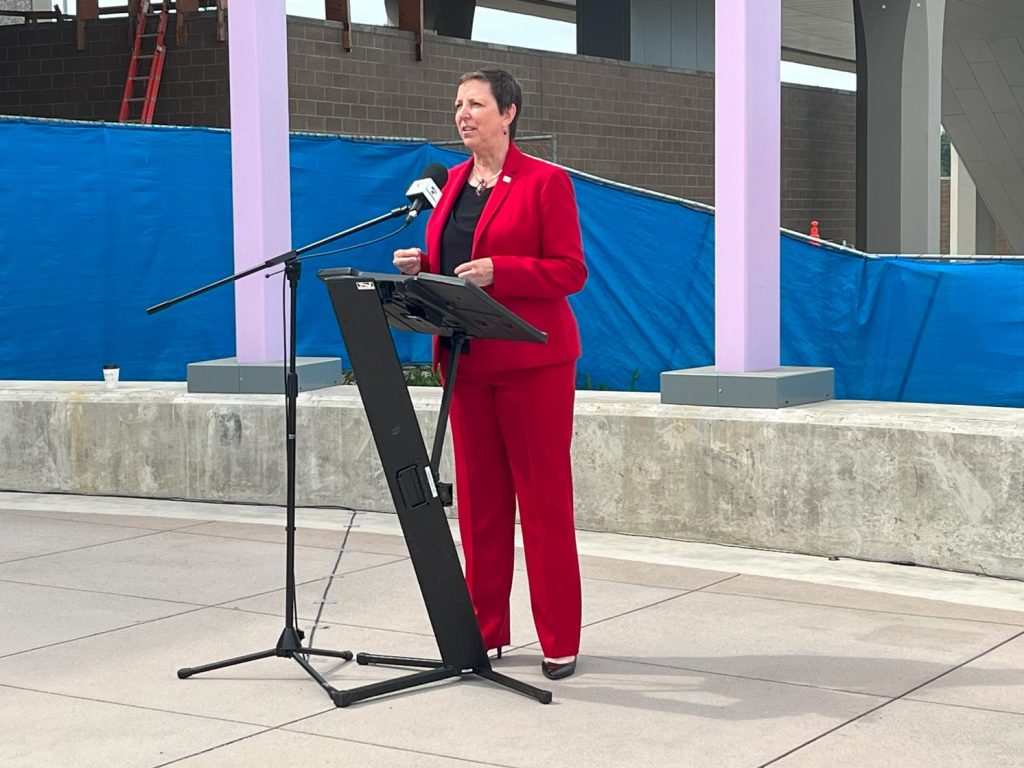 "The engine of this whole system is something that is incontrovertible to being significant for long-term, generational stability, and growth, and vibrancy," said Sound Transit CEO Julie Timm Friday. "All around us you see people with hard hats…the contractors that put this in the ground are so significant and such extremely capable, competent, mission-driven partners that I would be remiss if I didn't say thank you to them first."
When Lynnwood Link opens in 2024, passengers will enjoy fast and reliable service from south Snohomish County to Seattle and Sea-Tac Airport. The extension includes four new stations serving Lynnwood, Mountlake Terrace, Shoreline and Seattle.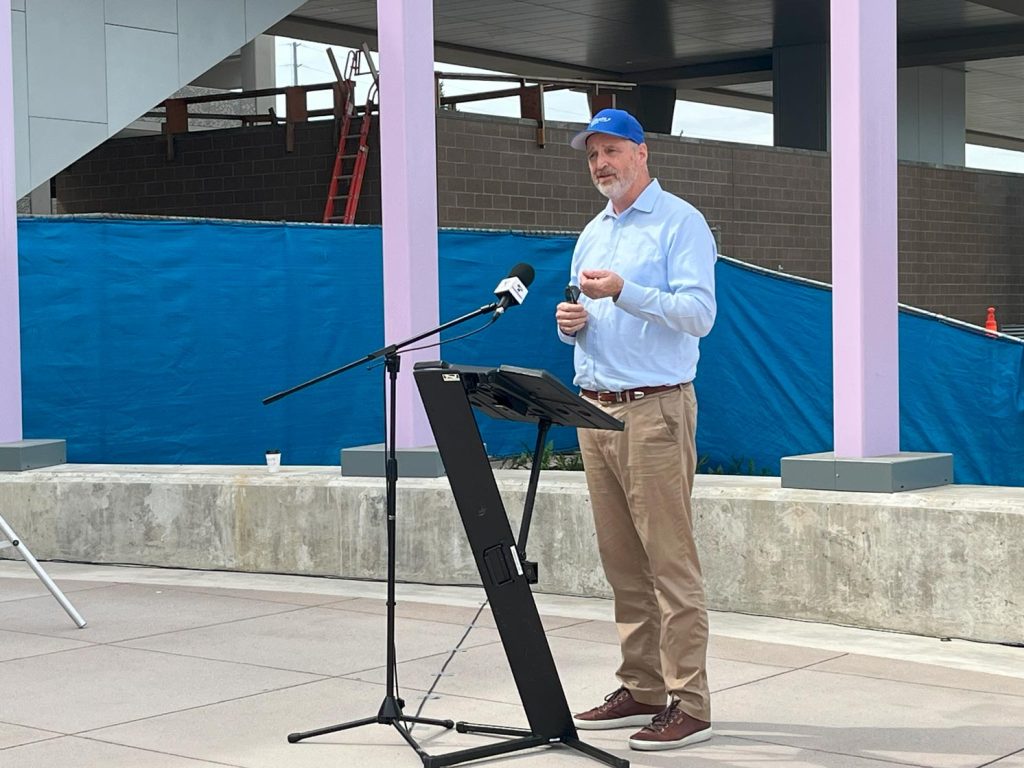 "When the train opens we will implement a network change, pulling all of our service out of the I-5 corridor and redeploying it within Snohomish County; it's the biggest change that Community Transit has ever taken on and it will be the biggest improvement, at the local level, that this county has ever seen," said Community Transit CEO Ric Illgenfritz.
Next March, 2024, Community Transit plans to open a bus rapid transit (BRT) line that will stop across the street from the Transit Center Parking Garage – the Orange Line – which will provide access to three other BRT lines that will provide 10-minute frequency, connecting every city in Snohomish County. This bus service will also connect to the Shoreline and Mountlake Terrace Link Light Rail stations.
In addition to providing more frequent local transit service Community Transit is trying to "crack the code on the first mile, last mile conundrum", Illgenfritz said, by experimenting with micro transit.
On October 19, 2022, Community Transit launched its Zip Shuttle, an on-demand ride service within the Alderwood area, a shopping and dining hub, known throughout the region where commuters can book a trip through the GOIN' – Rides for All app, designate a pick-up and drop-off location, and within minutes, a blue and white Community Transit Zip vehicle will arrive offering easy and affordable access to Alderwood Mall, the library, and nearby multimodal transit centers. In just seven months of service peaked 20,000 trips, running four vehicles a day.
In addition to upgrading this pilot project in Lynnwood to full-service, Community Transit is also planning Zip Shuttle pilots for Arlington, Lake Stevens, and in Darrington. The idea is to serve four different Snohomish County cities of varying densities and sizes to understand how to better provide the on-demand service.