Community Transit considers making Lynnwood Zip permanent, North County on the horizon
EVERETT, Wash., August 3, 2023—Things are looking good for Community Transit's Zip ride share project in Lynnwood, just a few months shy of its year-long pilot timeframe ending.
As the decision to implement the pilot project as regular service approaches on October 5, Jennifer Hass, Senior Manager of Innovation for the transportation agency presented to the board some of its continued success over the last nine months, at Community Transit Board Meeting on Thursday, August 3.
The Lynnwood Zip ride share service launched on October 20, 2022, operating 17 hours a day from 5 a.m. until 10 p.m. Since then, the fleet has expanded from three vehicles to five and clocked approximately 23,000 trips, gaining 20 to 30 new passengers every week.
The service area has roughly remained unchanged since launch, covering about a three-by-three mile area, but demand for service has steadily increased, Hass told the Lynnwood Times. About 25% of users call for service around the Lynnwood Transit Center near where the Lynnwood Light Rail station will be opening next year.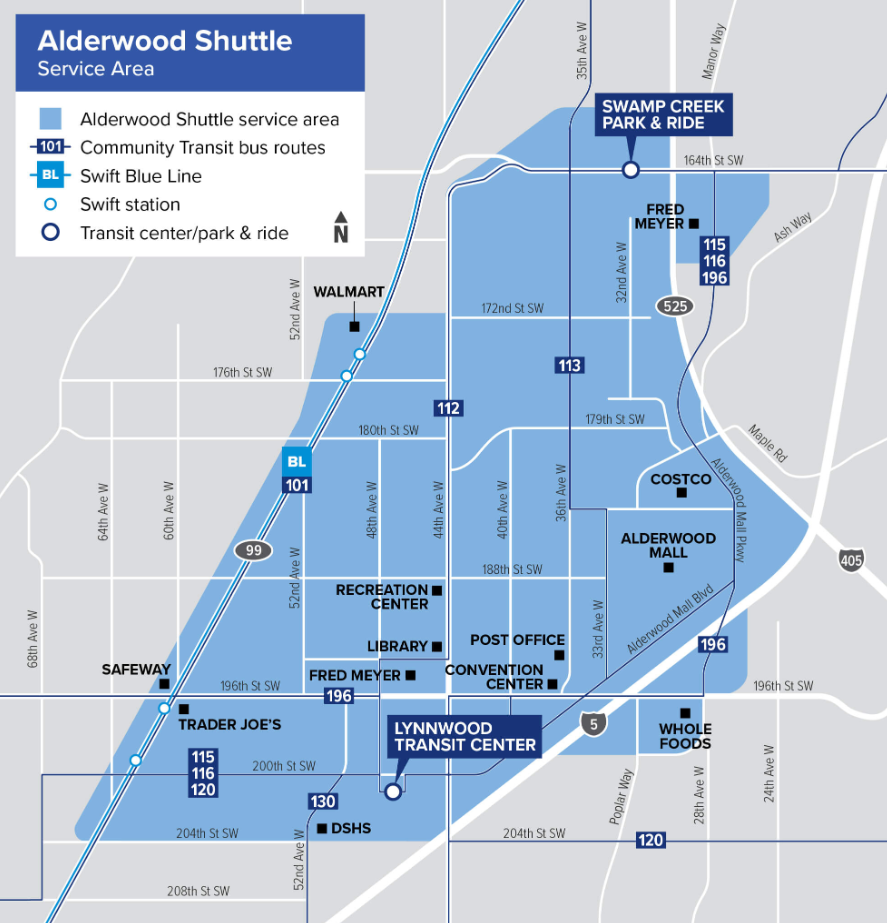 Being the first pilot project in Community Transit's history, the transportation agency was extremely methodical in how they rolled it including an extensive community engagement strategy to assess rider's needs. Hass continued it was because of this the agency was confident it would work; they just weren't quite sure how they would "fine tune it."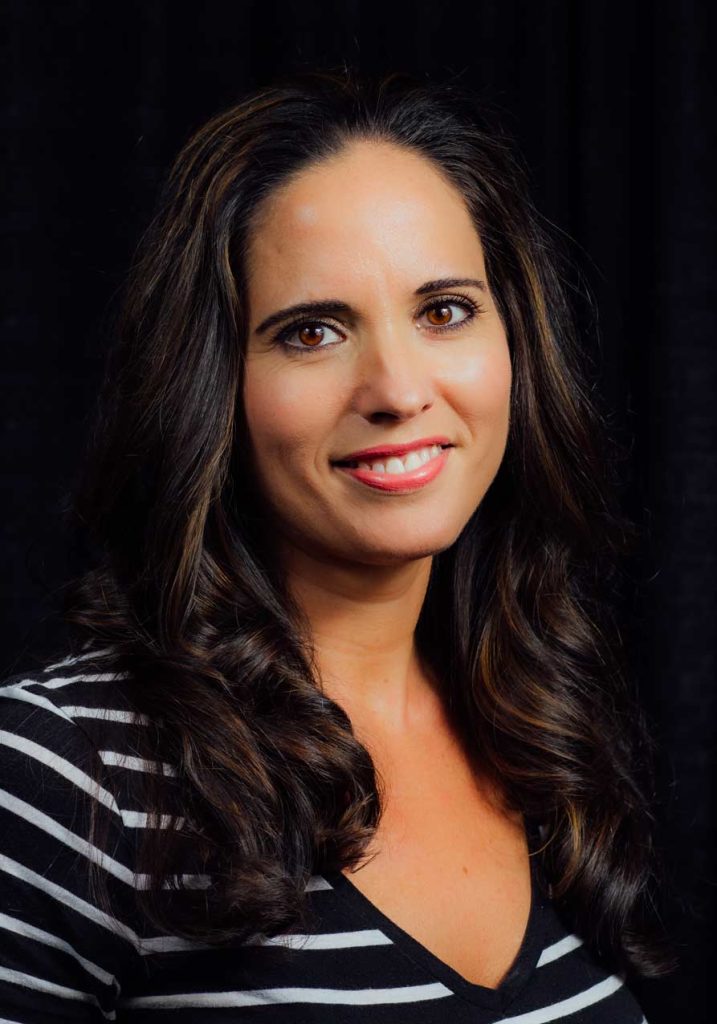 "We knew we would get bus riders, of course, that would use it solely on its own or for a first-last mile connection point – which they are – but we're excited that we're getting new people into the service," Hass told the Lynnwood Times. "We designed it after hearing community need and how people needed to travel within that area, and we found that it is serving that purpose; it's really exciting."
Currently, Zip is limited to a fixed area, from 204th Street Southwest to just north of 16th Street Southwest (North to South), and Highway 99 to Interstate-5 (East to West) from 5 a.m. to 10 p.m. daily. Depending on the success of the pilot project, both the city of Lynnwood and Community Transit hope to expand this service to other areas of the city. What that will look like, as far as routes and additional lines, will depend upon the success of this pilot project and community feedback.
The project was originally budgeted to cost $1,300,000 throughout its year-long pilot. To date the project has spent a little over $700 thousand leaving $465,000 remaining for the next couple of months. If everything goes according to plan, the pilot will fall below budget by $111,034.
So far approximately 80% of customer feedback has been positive with the negative reviews sharing the common theme of long wait times during peak travel times or difficulties navigating the app. On average the pilot has kept with its goal of keeping wait times under 15 minutes and has already made adjustments with its vendor, MetStar Transportation, for improvements to make the app more accessible.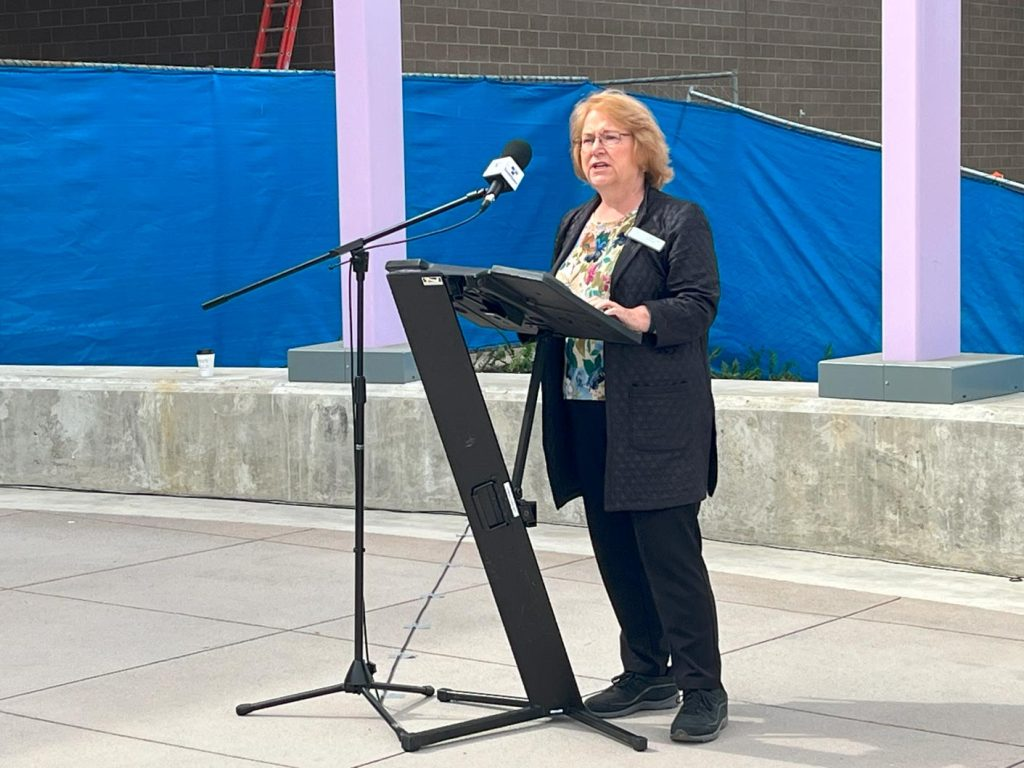 "I can't tell you how many of our community members told me how wonderful [the Zip] is, that it gets them where they want to go, but the biggest thing I hear is how wonderful the drivers are," Lynnwood Mayor Christine Frizzell said at Thursday's meeting. "It's almost as if they go out of their way…it's just been a joy having Community Transit use as a pilot program and I highly recommend it."
The pilot, to-date, has an overall Net Promoter Score (NPS) of 64 with that score reaching above 80 among its senior users. To put this in context, a Net Promoter Score can fall anywhere from ±100, so even if the score lands on zero this can be considered a good score. Anything above 50 is considered great, by CT's standards. Additionally, 96% of riders reported they felt safe while using the Zip's service.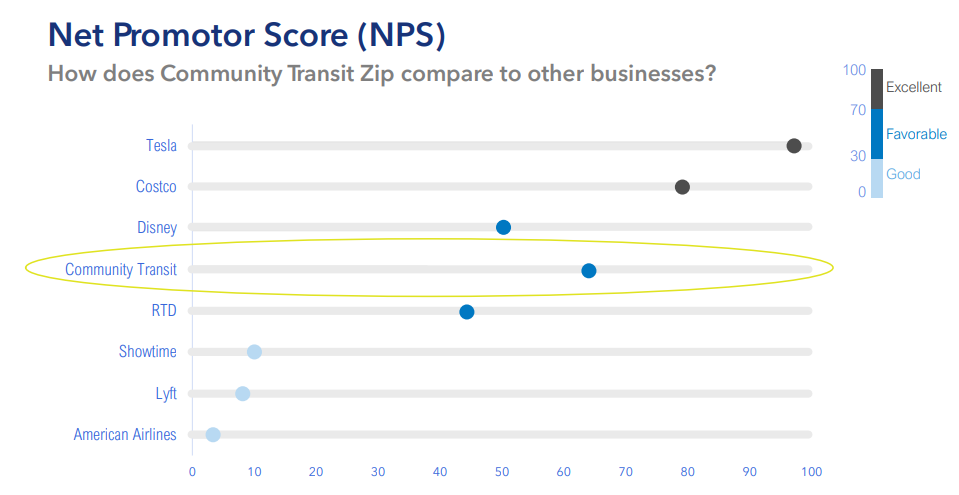 Commuters can access the ride share pilot for the same cost as riding a bus, which is much cheaper than most private ride share models, also making the service accessible for low-income individuals. Additionally, anyone under 18 years of age can ride free although riders under 10 must be accompanied by an adult. Demographics, as far as age, are pretty widespread across the board, Hass told the board Thursday.
Community Transit's next step in making Zip regular service is undergo a community engagement process 30 days before the pilot ends on October 19. The Board will return on September 7 for a Public Hearing where the public is open to comment, then again on October 5 when the Board will act.
The hope is that Community Transit can continue the service so there's no disruption between the pilot ending on October 19 and regular service beginning. Currently, a contractor operates the service for the first 12 months, but Community Transit is discussing internally whether to extend this contract, find another contractor, or take over the reins.
In late 2024, Community Transit hopes to expand micro transit to other areas around Snohomish County with similar demographics to Lynnwood. It's currently planning to test pilots in Arlington, Darrington, and Lake Stevens.
Keeping with Community Transit's commitment to cleaner greener modes of transportation the agency is looking at hybrid models and, hopefully all-electric once the market presents that opportunity. Currently there are no minivans of the model used that are completely electric.
There current vehicle models used are gas-powered Plymouth Voyagers for larger parties and passengers in need of ADA assistance, and a Hyundai Ioniq hybrid sedan.
"The city [of Lynnwood] has been amazing, it's a great partnership," said Hass. "The prior Mayor and current Mayor are great and have been super excited about the project."
The Zip project was funded by a $1 million grant from the Congestion Mitigation and Air Quality Improvement Program (CMAQ), which provides funds to states for transportation projects designed to reduce traffic congestion and improve air quality, particularly in areas of the country that do not attain national air quality standards.
Representative Larsen supported the bipartisan Infrastructure Improvement and Jobs Act, signed by President Joe Biden November 2021, which invested $2.54 billion in CMAQ through the 2022 fiscal year.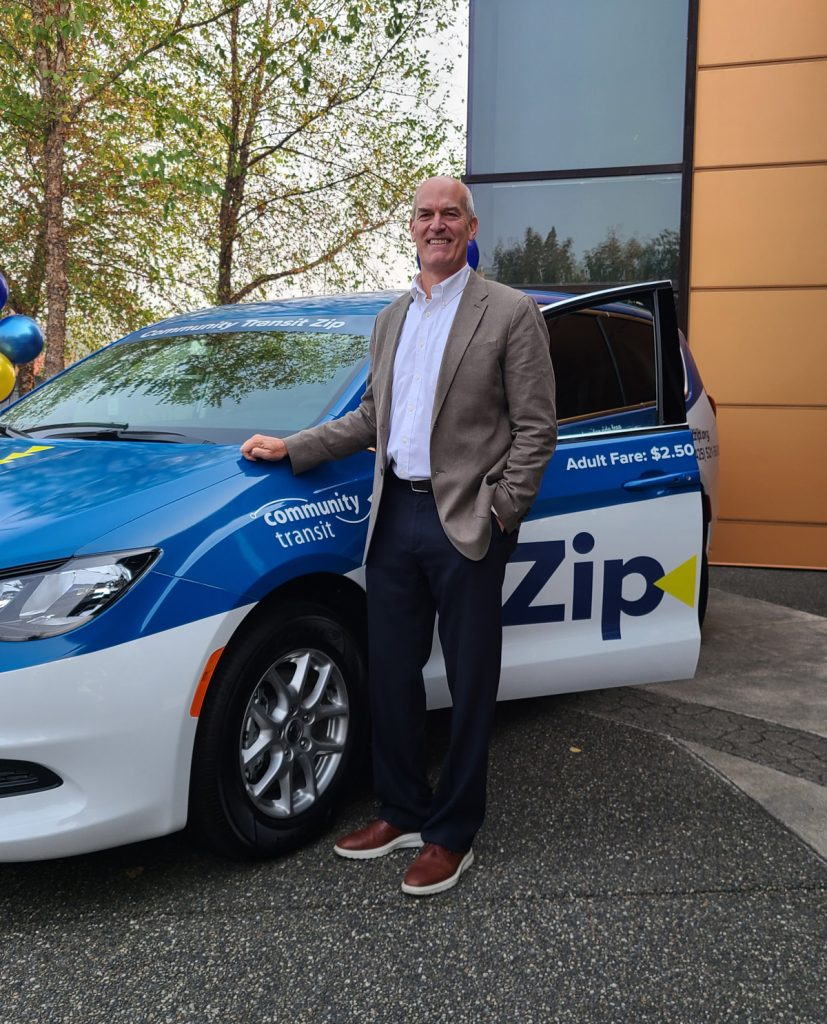 "The Zip shuttle signifies a couple things; one is equity in transportation. This is going to expand opportunities to use transit and to get them to where they need to go. The second thing is this is the Federal dollar going to work. Zip is just one way the infrastructure funding is coming home," Representative Larsen told the Lynnwood Times.
To develop the one-year pilot, Community Transit began working closely with the City of Lynnwood and local community organizations in 2021 to better understand how to meet local transit needs. The Alderwood area was chosen as the first test area because of its growing population, popular destinations, and the new Link light rail station opening in Lynnwood in 2024.
On-demand ride share service is just the beginning for Community Transit who are currently working on transitioning their entire fleet to electric vehicles within the next 10 years.
To book a trip using the mobile phone app, download the GOIN' – Rides for All app on a smartphone:
Apple: https://apps.apple.com/us/app/goin-rides-for-all/id1363873138
Android: https://play.google.com/store/apps/details?id=com.goin.rider.app&hl=en_US&gl=US
To book a trip by calling, dial (425) 521-5600.
Wait times for pick up will vary based on demand. Customers can expect to wait 10-15 minutes for the shuttle to arrive. The Zip Alderwood Shuttle service area includes Lynnwood Transit Center for riders connecting to bus routes.
---
Editor's Note: Added the Net Promoter Score comparison chart and updated photo of Jennifer Hass at 8:53 a.m. on August 5, 2023.