$15M property turned homeless village to be site of UPS distribution center
LYNNWOOD, Wash., April 13, 2023—Last week Aaron, his friend Steve, and dog "Boo Boo" returned to an abandoned plot of land in central Lynnwood to pick up their remaining belongings. Although the two had called the parcel, located on the 18000 block of Highway 99, home for over a year, they didn't have much – a tent, a couple of backpacks, and a Target shopping cart full of miscellaneous belongings – but the trek to Mountlake Terrace, where they are planning to relocate, would still prove to be a long journey.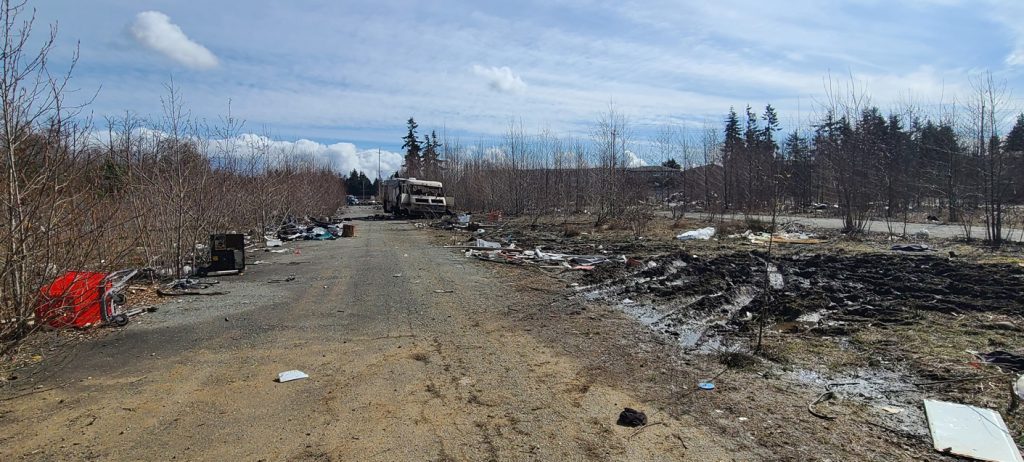 A couple of days earlier, officers with the Lynnwood Police Department's Community Health and Safety section notified Aaron, and the land's, roughly, 20 or 30 other inhabitants that they would need to leave at request of the property owner. United Parcel Service (UPS) acquired the, almost, 11 acres of land spread across five parcels to make way for an upcoming distribution center. The details of that center, UPS said, could not be discussed as they are still in their early planning stages.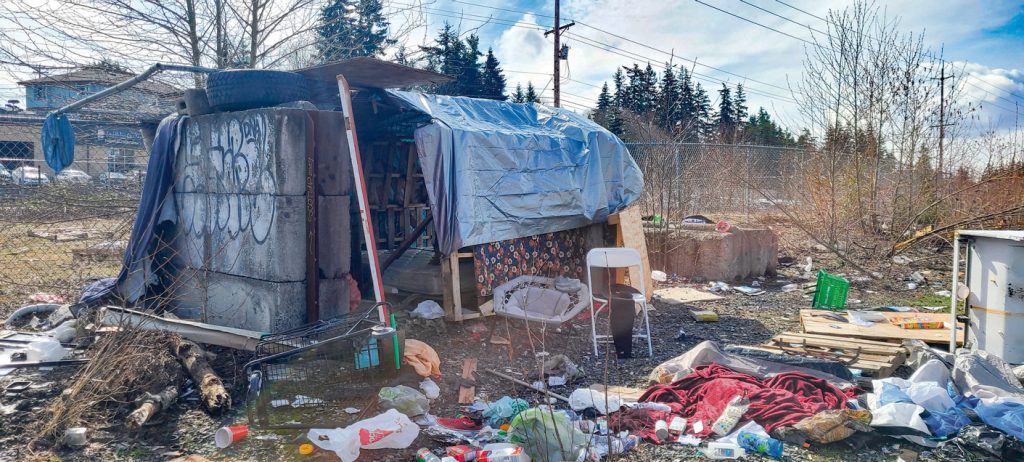 The land sold for a little over market value of approximately $15 million, in November 2022. Before that, it used to be a junkyard. Now, piles of trash, abandoned tents, and mattresses stretch as far as the eye can see, and into the surrounding forests. A junked RV, with missing tires and fire damage, sits in the middle of excavated tree roots.
While Aaron and Steve packed up, Natasha Jabbour, Project Engineer with UPS, surveyed the littered grounds with her team, beside a landscaping crew dismantling the remains of a homeless encampment that existed for the last two years.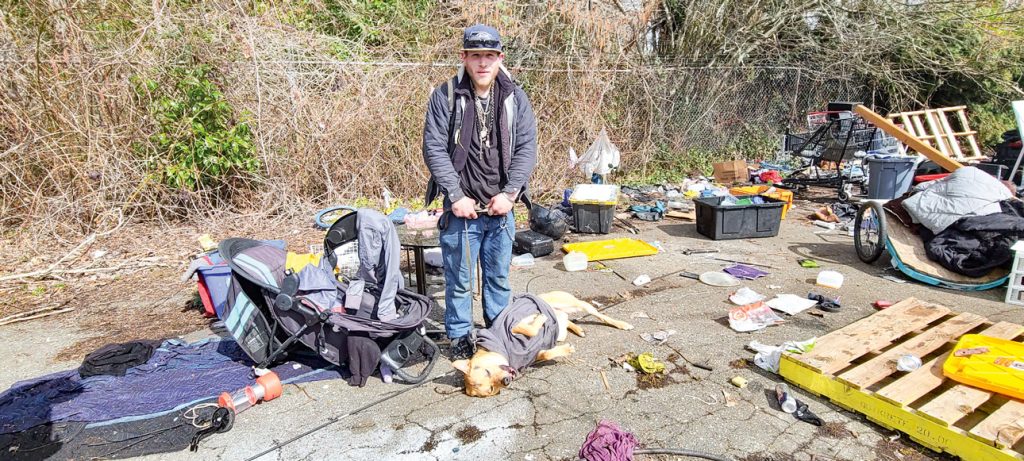 Aaron has been living on the streets for about 10 years now, after he and his disabled father were "wrongfully evicted" from their "slum lord"-owned apartment in Edmonds, he said. His father was unable to work, suffering from muscular dystrophy and heart problems, and Aaron couldn't afford to make the first month's rent and the security deposit required to sign a new lease. The two lived in their van until Aaron's father passed away from heart complications, unable to afford his medication. Since then, Aaron has suffered from a depression he has been unable to lift himself out of.
"I never thought I'd be homeless in my life, but since I've experienced it I've looked at people in this type of lifestyle totally different" said Aaron. "I don't really know how to pull myself out of it."
Aaron's mother is also homeless, currently waiting on housing in Lynnwood. He added that when the Lynnwood Police Department informed him he had to leave, they were respectful, offered social services, and even offered to give him, and his friend Steve, an extra day to pack up if they needed it.
"Any work we engaged in that area involves first offering services and resources and talking with folks there," Maren McKay, Public Information Officer for the Lynnwood Police Department, told the Lynnwood Times.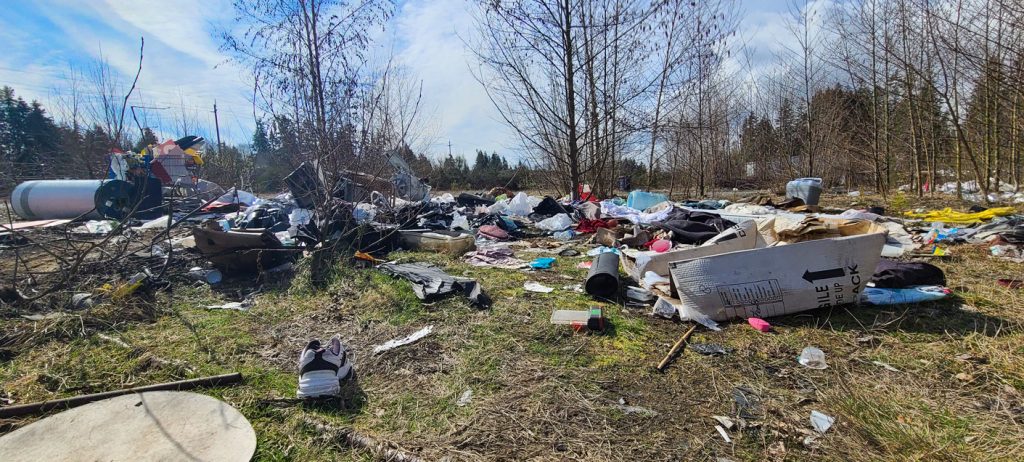 The area surrounding the site of the, now cleared, homeless encampment has been a frequent site of crime in the last year with 11 motor vehicle thefts, 11 commercial burglaries, 14 thefts, one robbery, and five aggravated assaults, from April 2022 to April 2023, according to Lynnwood PD data. Aaron informed the Lynnwood Times he observed an increase in "riff raffs" moving into his encampment ever since a man, whom everyone referred to as "Pops," passed away from environmental hyperthermia during the winter of 2021. Pops was somewhat of a mentor and peacemaker in their community, Aaron said, but ever since he passed, everyone had to guard their things a little more closely.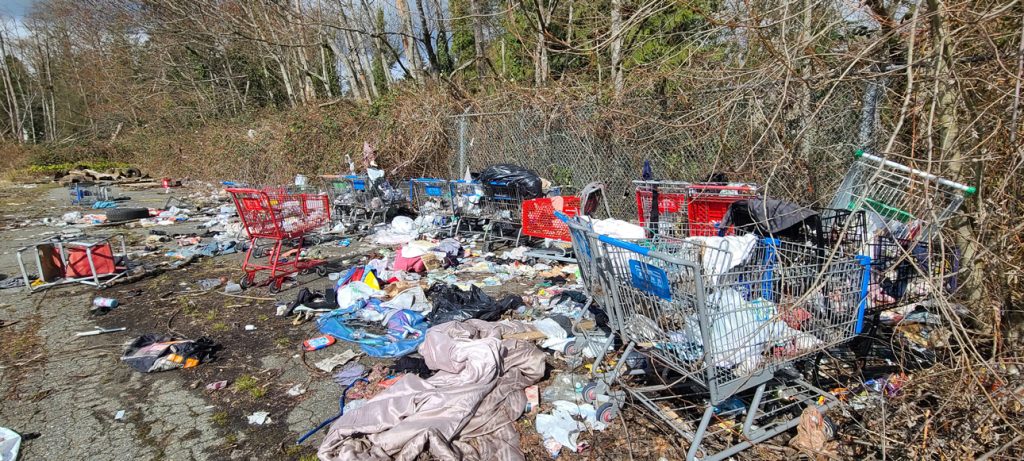 "I wish he was still there. He set up a nice tent with solar panels and everything, and he was quiet," a resident living in the houses behind the land, who asked to remain anonymous, told the Lynnwood Times. "But at the same time, I didn't feel like giving him a neighborly gift."
Many residents living in the neighborhoods adjacently located have witnessed the homeless encampment come and go over the last several years, informing the Lynnwood Times they often heard "screams" at night, and witness homeless individuals run through their front yards, where one of the resident's five-year-old granddaughter sometimes plays on the playground.
Some even camped in the woods, as close as one hundred feet to houses and apartments, until a group of beavers flooded them out.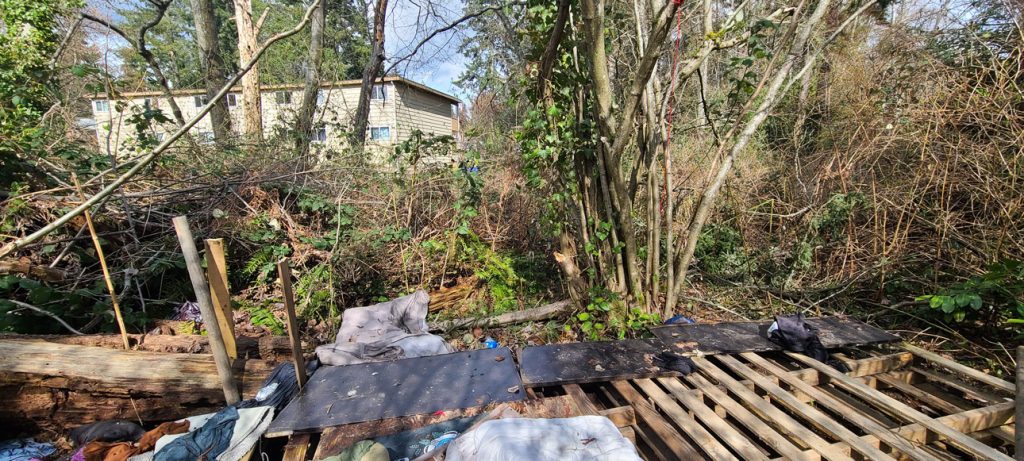 "There's definitely a crime problem around here. I think the police department is stretched thin, I really do," a resident living in the neighborhood told the Lynnwood Times. "They're doing a great job here under difficult circumstances, in my opinion."
Sergeant Lindsay Carter and Heather Turner, Care Coordinator, are the backbone of the Lynnwood Police Department's Community Health and Safety Outreach Team (CHSS), which approached the homeless individuals on UPS' property Monday, April 3. The team used to have an embedded social worker, through a partnership with Verdant Health, but lack of funding has trimmed the team down to just two.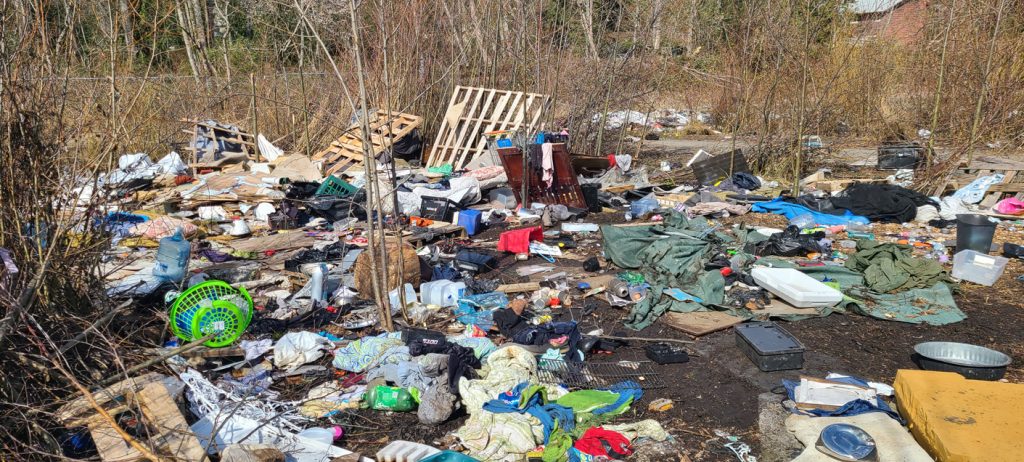 The CHSS's goal is to "understand the root of what is affecting a person and act as a co-response team that assertively engages law enforcement involved community members," its website states. They do this by meeting individuals head-on, to learn their individual needs in order to connect them with a variety of services unique to their situation, whether that be housing, detox, substance abuse services, or obtaining identification so they can apply for social security.
Similar to Snohomish County's Office of Neighborhoods program, what's unique about the CHSS is Officers are out in the field engaging with individuals rather than sitting behind a desk, Deputy Chief Cole Langdon, who used to be Sergeant in the unit, informed the Lynnwood Times.
"When we run across people in need, or when we run across people in crisis, specifically with someone struggling with substance abuse, mental health, homelessness – usually all three of those things are at play – we want to walk alongside that person, see where they're at, and see what we can do to get them some level of service to put them in a better spot," said Cole Langdon.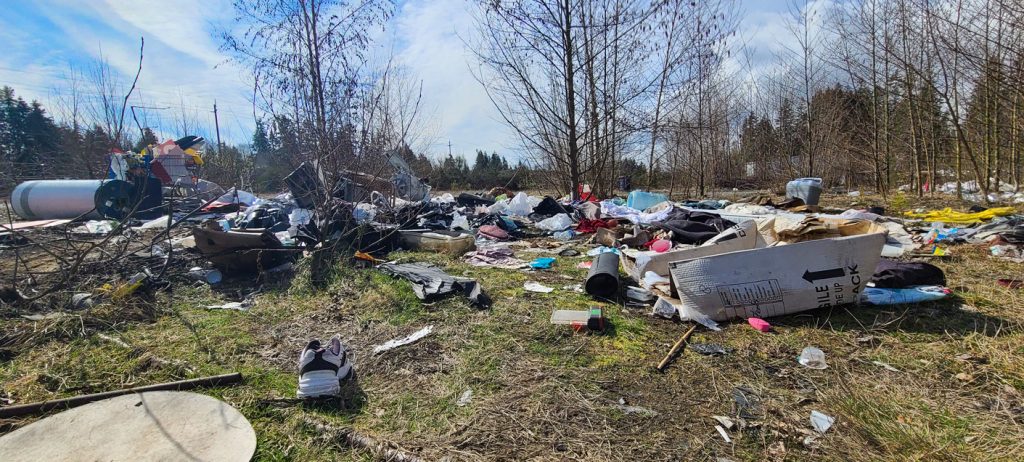 Snohomish County's annual homeless Point-in-Time (PIT) count, designed to provide a snapshot of households experiencing homelessness on a single night, was conducted on January 24, 2023. The results of the PIT will help ensure that vital federal and state funding continues to come into the community to fight homelessness, the county says. Data from the annual count is also used to help understand how widespread homelessness is in the county and who is most affected.
During the 2022 count, 584 individuals in 535 households reported they were unsheltered. Another 600 persons in 418 households were without a permanent place to stay and were temporarily housed in emergency shelter or transitional housing. There were 46 veterans, 582 chronically homeless individuals, and 107 households with children under 18.
"The PIT Count is our chance every year to collect data and determine where our programs can have the greatest impact," said Snohomish County Executive Dave Somers in a news release. "We are a compassionate community that values public safety and human dignity. Our community is neither safe nor compassionate if people are living on our streets. I urge anyone who is interested to volunteer to help conduct our PIT Count."