Lynnwood Police Department celebrates 2021 Employees of the Year
LYNNWOOD, Wash., May 5, 2022 – Lynnwood Police Chief James Nelson recognized the Lynnwood Police Department's 2021 "Employees of the Year" at Lynnwood's City Hall on Wednesday, Apr. 20. Each recipient was selected via a department-wide vote, except for the "Chief's Award" recipient; an award given to someone who the Chief identifies as having gone above and beyond in their respective assignment.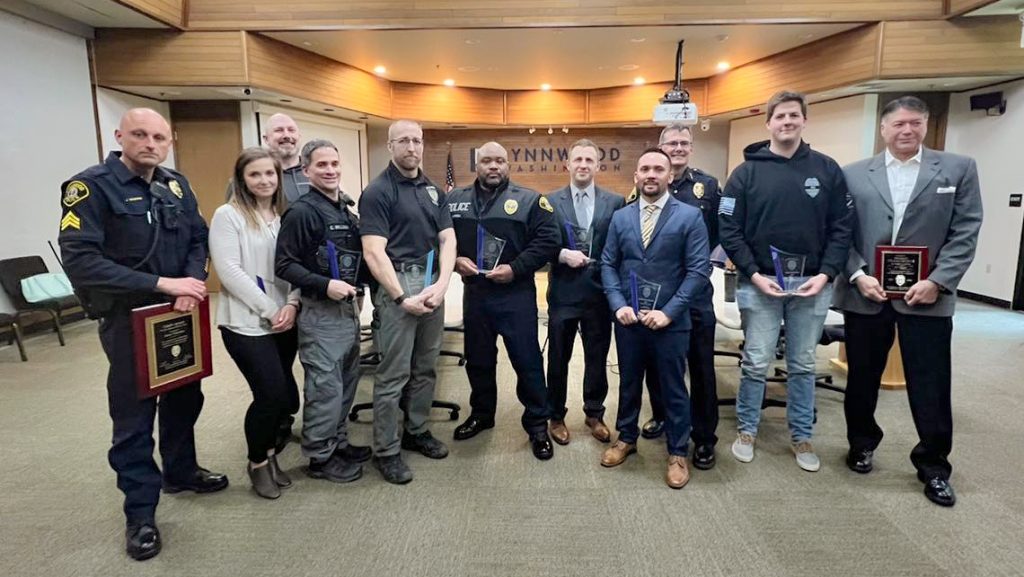 "2021 was a challenging year and I am very appreciative of how we as an organization have responded and continued to put forth our best efforts to keep our community safe and to serve our community members selflessly," Chief Nelson said in celebration of the 2021 employees of the year.
Listed below are the LPD's 2021 "Employee of the Year" awardees:
Clerk of the Year: Clerk Anna Ananko
Custody Officer of the Year: Custody Officer Corey Williams
Officer of the Year: Officer Mark Brinkman (awarded posthumously)
Rookie of the Year: Patrol Officer Christopher VanDomelen
Staff Person of the Year: Animal Control Officer Jamell Carroll
Supervisor of the Year: Special Operations Sergeant Christopher Breault
Chief's Award: Patrol Sergeant Jason Valentine
Officer of the Year recipient Mark Brinkman tragically passed away in April of last year. Brinkman, Lynnwood Police Guild President and a 35-year law enforcement veteran served his last 25 years with the Lynnwood Police Department. One of Brinkman's sons attended the LPD celebration at City Hall to accept the "Officer of the Year" award on his father's behalf.
Chief Nelson also recognized the recipients of the LPD's 2021 "Core Value Award Winners." The Department's core values are Professionalism, Vigilance, and Community, and the three awardees were selected according to which value they most embodied.
Listed below are the LPD's 2021 "Core Value Award Winners":
Professionalism: Training Sergeant Zac Olsen
Vigilance: Patrol Officer Matthew Saul
Community: Patrol Officer Kaipo Primacio
In a statement posted on Facebook, the LPD said, "These men and women and those they work with who didn't take home an award today do this job because they have a passion for helping people. Most were too humble to give much of a speech, and all gave credit to their coworkers and you, the members of our community."
Lynnwood Police Promotions
In other LPD news, Chief Nelson promoted three police officers to the rank of Sergeant earlier this week. Lindsay Carter, who joined LPD in 2015, was promoted to Sergeant and will now supervise the department's Community Health and Safety Section. Christian Magee, who has been with LPD since 2014 and has taken on assignments in Patrol Operations and in Special Operations, was promoted to Sergeant. Donal Blakey was also promoted to Sergeant. Blakey joined LPD back in 2012 and will now head to Patrol Operations.