Lynnwood's Hygiene Center struggles to keep up with staggering numbers
LYNNWOOD, Wash., May 10, 2023—Every Monday through Saturday morning, Amberlee Bell exits her on-site trailer to prepare the Lynnwood Hygiene Center for operation. The site provides access to private showers, restroom facilities, clothes, and food to people who are homeless and living in extreme poverty.
Like many of the six volunteers that work at the Hygiene Center, Bell came to work here as a homeless individual utilizing its services in 2020 – when the pandemic suspended access to businesses and hygiene service stations at churches and other organizations.
"It was essential," said Bell. "It helped keep me clean, it gave me a huge sense of purpose that I didn't know I needed and it gave me a sense of worth again, just to be able to give back."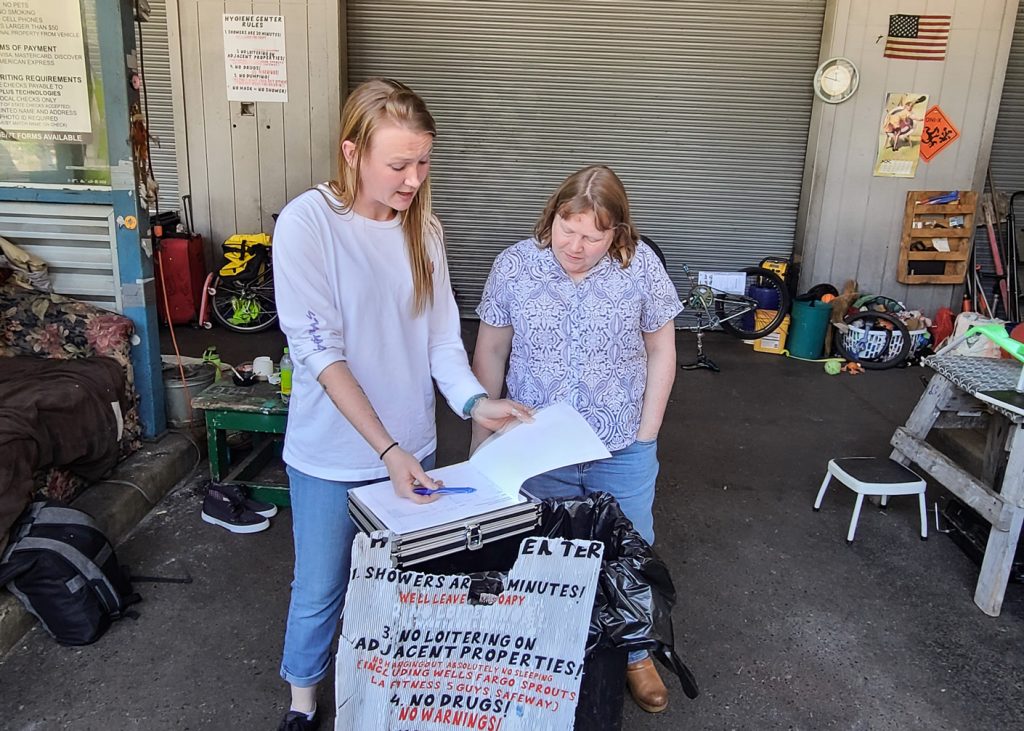 Earlier that year, the Jean Kim Foundation, a nonprofit working to disrupt the cycle of homelessness through education, announced a collective effort with the City of Lynnwood, the Verdant Health Commission, and multiple other Lynnwood agencies to transform the City's former Washington State Motor Vehicle Emission Station into the current Hygiene Center, which has become a refuge for many since.
"It's a safe zone. It's a blessing," said Kai, a homeless individual that frequently utilizes the services provided at the Hygiene Center. "It's real important if you have a job interview or something."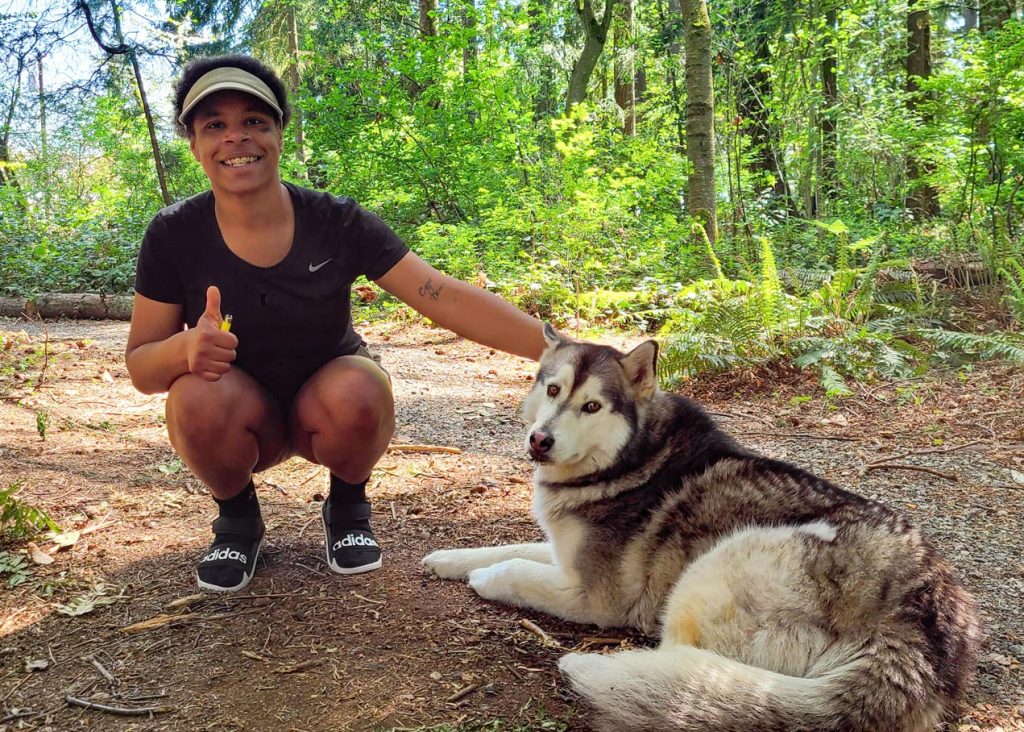 Kai shared with the Lynnwood Times she suffers from mental health issues and Amberlee has been "like a mother" to her over the last few years, understanding "how mental health can change your life" and not holding it against her if her mental health is acting up. She added that, as a woman living on the streets, she fears for her safety every day she wakes up but the Hygiene Center's "no tolerance" policy for drug use and violence allows her to feel safe from a world where cars will frequently steer out of their way to try and hit her as she walks down the street.
"I try not to judge people just because they're better off than I am," said Kai.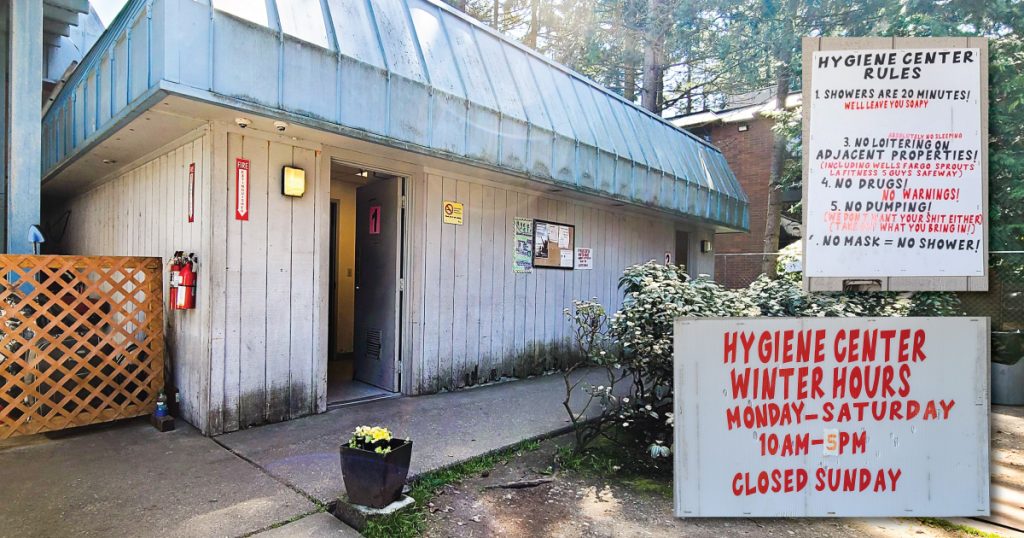 Six days a week, from 10 a.m. until 6 p.m., housing insecure individuals can sign up for 20 minutes of restroom time and a 10-minute shower. Visitors can also take their pick from a room full of clothing and, around noon, two volunteers, Sabrina Connaughton and Aleta, serve home cooked meals to dozens. When Connaughton first began serving food at the Hygiene Center, three years ago, she paid out-of-pocket for all the groceries. Now, to keep up with the demand, she shops for supplies at the Edmonds Food Bank which she uses to prepare meals from her home.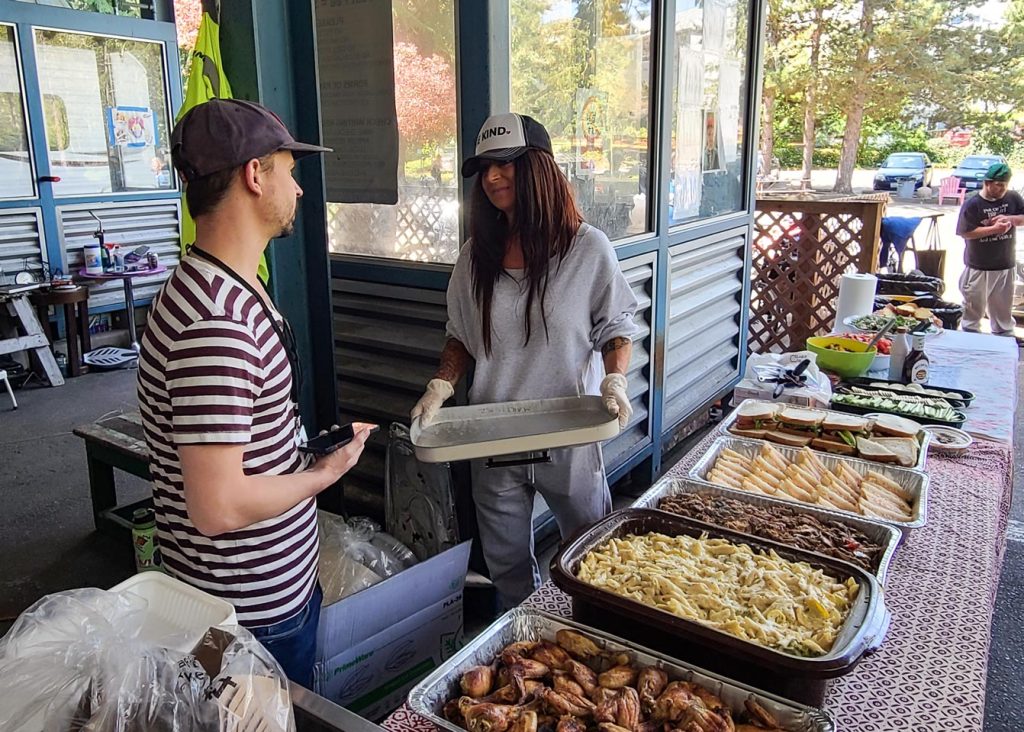 "This is just a wonderful way to give back locally," Connaughton told the Lynnwood Times, with a big smile on her face and wearing a hat that read Be Kind.
Connaughton, a longtime friend of Dr. Rev. Jean Kim, began serving food at a memorial picnic for Dr. Kim when she passed away in 2021 from lung fibrosis. Dr. Kim knew better than most what it means to lose everything when her family was forced to flee North Korea following the aftermath of the second World War. She never forgot what it felt like to be a homeless refugee throughout the Korean War, pledging to transform her experiences into something good. When she immigrated to the U.S. in 1970, she founded 15 mission programs to support individuals experiencing homelessness.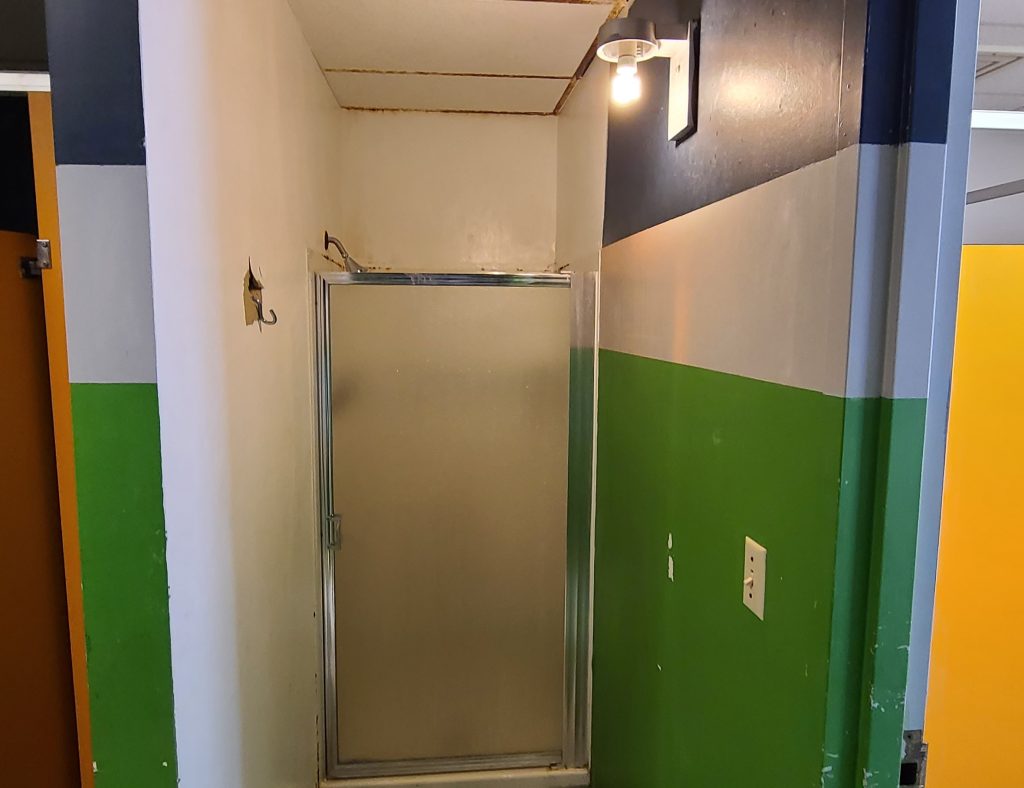 While the pandemic presented the need for an accessible Hygiene Center, this last year has only illuminated an existing challenge that had simply been more invisible than many realized. In 2022, the Hygiene Center provided 9,150 showers to 600 unduplicated clients and served more than 100 hot meals. The Jean Kim Foundation also provides six capsule houses on the property of the Good Shepherd Baptist Church, just a few blocks away, for temporary shelter.
"We are a small number of individuals meeting a large need," said Sandra Mears, Executive Director of the Jean Kim Foundation. "It's all hands-on deck but we're all a team here."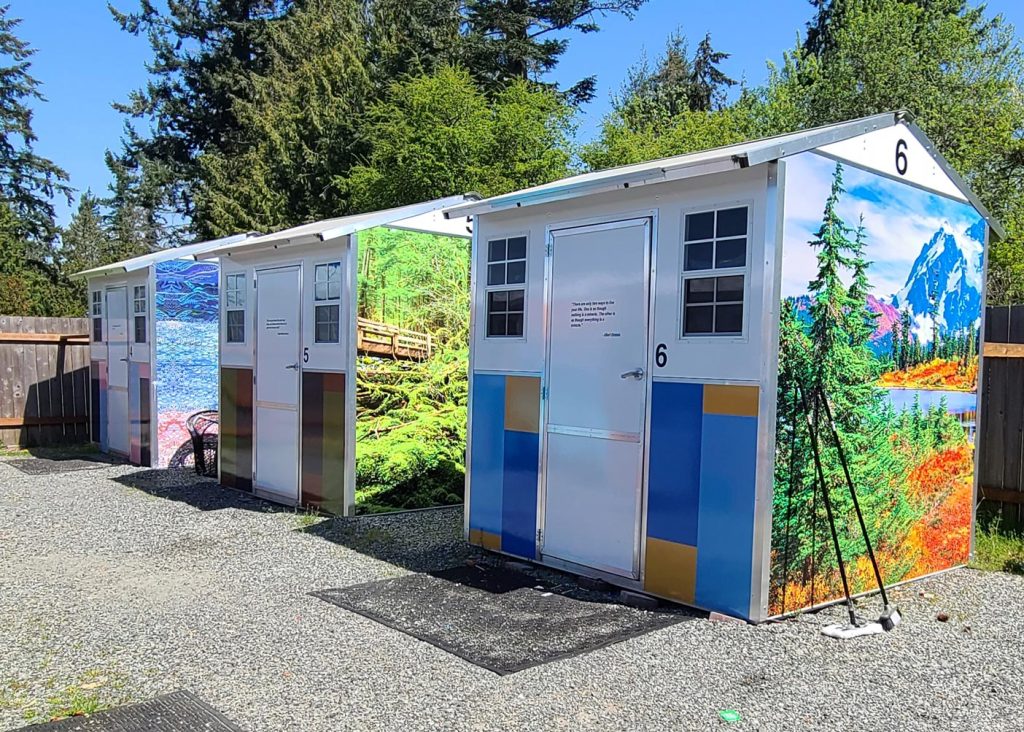 Since opening, the Hygiene Center has seen a steady increase in those seeking its services, with many individuals displaced from nearby encampment sweeps, having to start again with nothing. Mears is currently seeking grant funding and donations – particularly men's pants and boxer shorts – to keep up with it all. One shower alone costs $14.20 per use.
The Annual Homeless Point-in-Time (PIT) count was conducted on January 24, 2023, which identified 1,285 people in 1,028 households residing in shelter, transitional housing, or living without shelter in Snohomish County the night of January 23, 2023. The total Point-in-Time count is the highest it has been since 2012.
Just last month, officers with the Lynnwood Police Department's Community Health and Safety section notified up to 30 inhabitants living in a homeless encampment a mile away on Highway 99, that they would need to leave at request of the property owner. United Parcel Service (UPS) acquired the, almost, 11 acres of land spread across five parcels to make way for an upcoming distribution center. The details of that center, UPS said, could not be discussed as they are still in their early planning stages.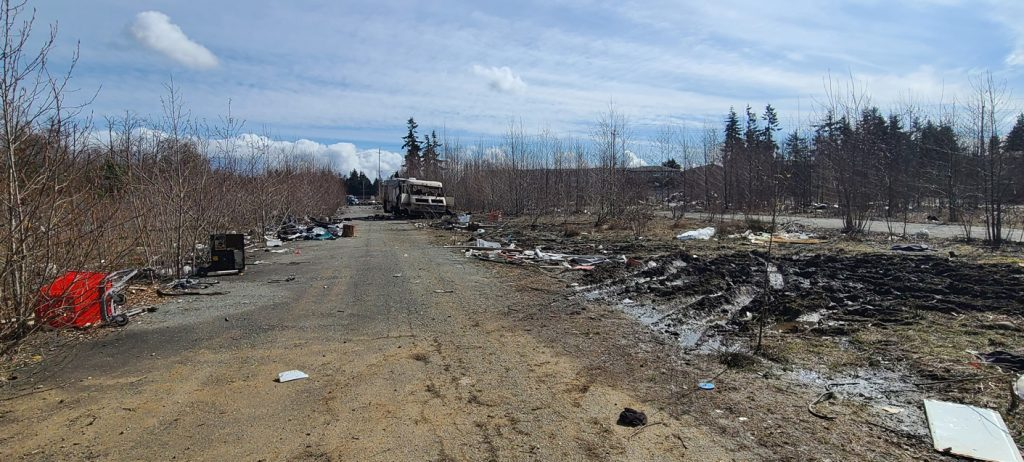 The land sold for a little over market value of $15 million, in November 2022. Before that, it used to be a junkyard. Now, piles of trash, abandoned tents, and mattresses stretch as far as the eye can see, and into the surrounding forests. A junked RV, with missing tires and fire damage, sits in the middle of excavated tree roots.
Many residents living in the neighborhoods adjacently located have witnessed the homeless encampment come and go, informing the Lynnwood Times, in April, they often heard "screams" at night, and witness homeless individuals run through their front yards, where one of the resident's five-year-old granddaughter sometimes plays on the playground. Some even camped in the woods, as close as one hundred feet to houses and apartments, until a group of beavers flooded them out.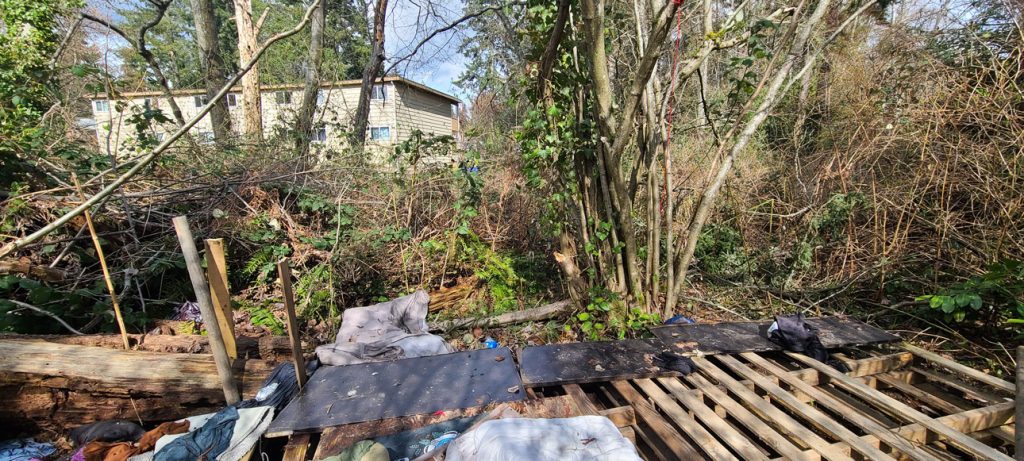 The area surrounding the site of the, now cleared, homeless encampment has been a frequent location of crime in the last year with 11 motor vehicle thefts, 11 commercial burglaries, 14 thefts, one robbery, and five aggravated assaults, from April 2022 to April 2023, according to Lynnwood PD data.
Aaron, a homeless individual who used to live in the encampment before the sweep, informed the Lynnwood Times he observed an increase in "riff raffs" moving into his encampment ever since a man, whom everyone referred to as "Pops," passed away from environmental hyperthermia during the winter of 2021. Pops was somewhat of a mentor and peacemaker in their community, Aaron said, but ever since he passed, everyone had to guard their things a little more closely.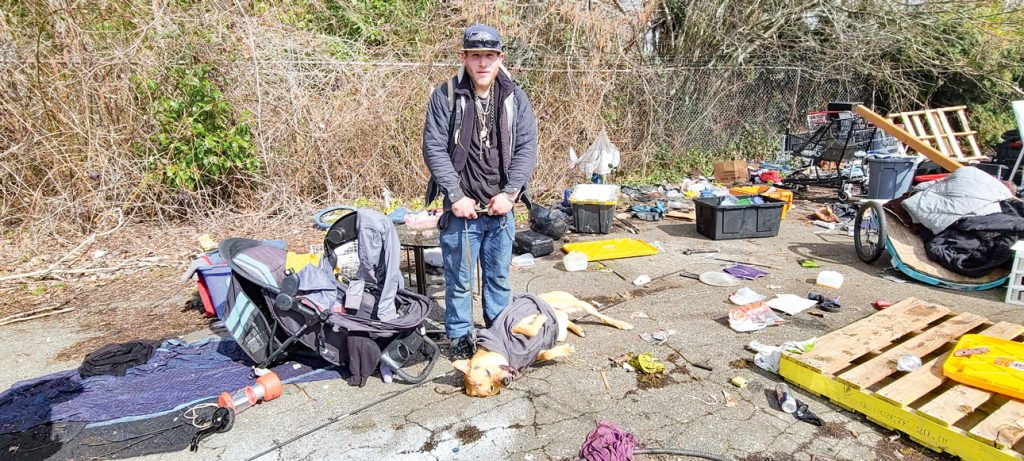 "There's definitely a crime problem around here. I think the police department is stretched thin, I really do," a resident living in the neighborhood, who asked to remain anonymous, told the Lynnwood Times. "They're doing a great job here under difficult circumstances, in my opinion."
Sergeant Lindsay Carter and Heather Turner, Care Coordinator, are the backbone of the Lynnwood Police Department's Community Health and Safety Outreach Team (CHSS), which approached the homeless individuals on UPS' property Monday, April 3. The team used to have an embedded social worker, through a partnership with Verdant Health, but lack of funding has trimmed the team down to just two.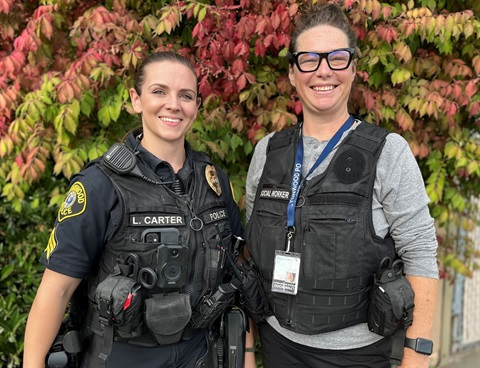 The CHSS's goal is to "understand the root of what is affecting a person and act as a co-response team that assertively engages law enforcement involved community members," its website states. They do this by meeting individuals head-on, to learn their individual needs to connect them with a variety of services unique to their situation, whether that be housing, detox, substance abuse services, or obtaining identification so they can apply for social security.
Similar to Snohomish County's Office of Neighborhoods program, what's unique about the CHSS is that officers are out in the field engaging with individuals rather than sitting behind a desk, Deputy Chief Cole Langdon, who used to be Sergeant in the unit, informed the Lynnwood Times.
"When we run across people in need, or when we run across people in crisis, specifically with someone struggling with substance abuse, mental health, homelessness – usually all three of those things are at play – we want to walk alongside that person, see where they're at, and see what we can do to get them some level of service to put them in a better spot," said Cole Langdon.
Since the encampment has been cleared, many of its inhabitants have relocated to Lynnwood's Gold Park, which lies directly behind the Hygiene Center, where Lynnwood Times reporters personally witnessed, on May 3, 2023, a dozen or so individuals sitting at picnic benches smoking what looked like meth or fentanyl off of foil and/or injecting substances in broad daylight.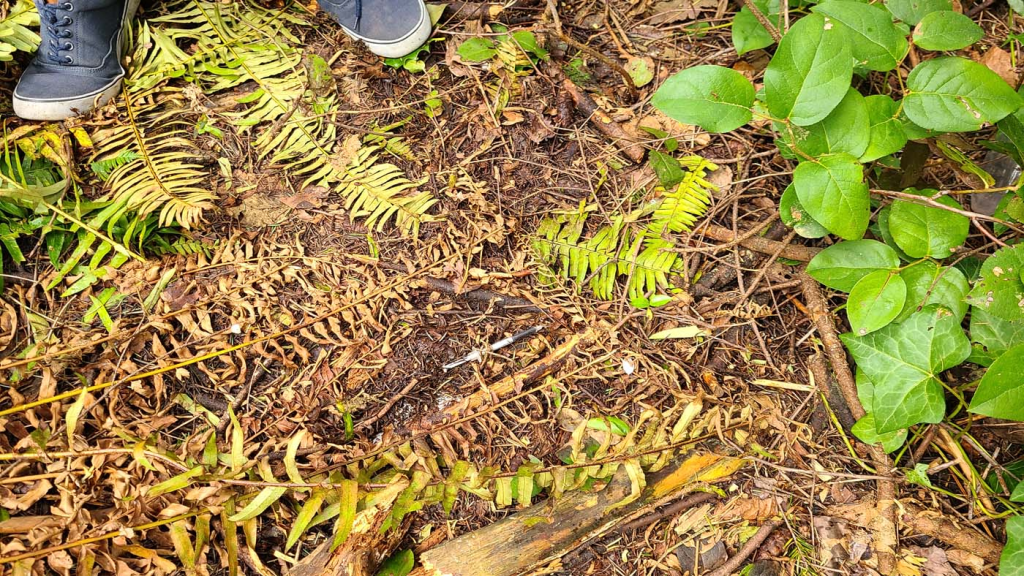 On the final day of the 2023 legislative session, House members voted down a bill that would maintain a criminal penalty for illicit drug possession, with both Democrats and Republicans disagreeing how to handle substance abuse issues. Since the Blake decision of 2021, which ruled that the state's felony drug possession statute was unconstitutional because it included those who did not know they were in possession of a controlled substance, law makers have taken the opportunity to reevaluate how to criminalize drug use altogether.
In response, several local municipalities have been scrambling to pass ordinances on how their cities would handle drugs before the state's current law expires on June 1. Governor Jay Inslee called for a special session to begin Tuesday, May 16, that will focus on revisiting new drug possession laws statewide. The Snohomish County Council will hold a Public Hearing for May 17 to propose an ordinance re-criminalizing controlled and counterfeit substances making it a gross misdemeanor. Treatment options as an alternative to incarceration are also included in the ordinance.
According to the CDC, 107,375 people in the United States died of drug overdoses and drug poisonings in 2022. A staggering 67% of those deaths involved synthetic opioids like fentanyl. More Americans under 50 die from fentanyl than any other cause of death, including heart disease, cancer, and all other accidents. Among teenagers, overdose deaths linked to synthetic opioids like fentanyl tripled in the past two years.
In 2022, The U.S. Drug Enforcement Administration (DEA) seized more than 57.7 million fentanyl-lace fake pills and more than 13,700 pounds of fentanyl powder. The 2022 seizures are equivalent to more than 410 million lethal doses of fentanyl. As of March 31, 2023, the DEA has seized more than 8.17 million fentanyl-lace fake pills and more than 1,660 pounds of fentanyl powder. This is equivalent to approximately 47.2 million deadly doses.
"It all changed once that little blue pill came around," said Steve, a homeless man sifting through the scrap piles left from Lynnwood's cleared homeless encampment across from the Pick n Pull on HWY 99. "It's supposed to knock you out for surgery, not to be smoked 24/7."
Steve's friend Marcus, who was a mechanic before becoming homeless, enjoys looking for spare parts he uses to piece together into art sculptures. Art, to him, provides a distraction from his life on the streets where people frequently refer to him as "not being human," he said. He used to enjoy playing guitar until it was stolen. He informed the Lynnwood Times that playing guitar, even if you didn't know how to play, was so important because it was something that you could lose yourself in and forget about the troubles of the streets, at least temporarily.