Meadowdale Player's performance of Disney's Newsies starts this Thursday
MUKILTEO, Wash., May 10, 2023—Meadowdale High School's Drama Department kicks off their Spring musical of the Tony Award-winning Broadway show Newsies this Thursday, May 11.
Newsies first released as a historical-musical-comedy film in 1992 by Walt Disney Pictures, starring Christian Bale and Robert Duvall. The film was considered a commercial failure while still developing a cult following, adapting to a stage production by Alan Menken (music), Jack Feldman (lyrics), and a companion book written by Harvey Fierstein based on the original film's screenplay 20 years later.
The story follows 17-year-old Jack "Cowboy" Kelly, a New York City paperboy, who rallies together with fellow "news hackers" to thwart powerful newspaper publishers during the real-life Newsboys strike of 1899.
For Laney, a Meadowdale Junior, playing the lead part is a dream come true, having grown up watching Newsies with her family and it being her grandmother's favorite musical.
"When I first heard we were doing Newsies I was very excited," said Laney. "I've always known a lot about the show because it's been such a big part of my life for a long time."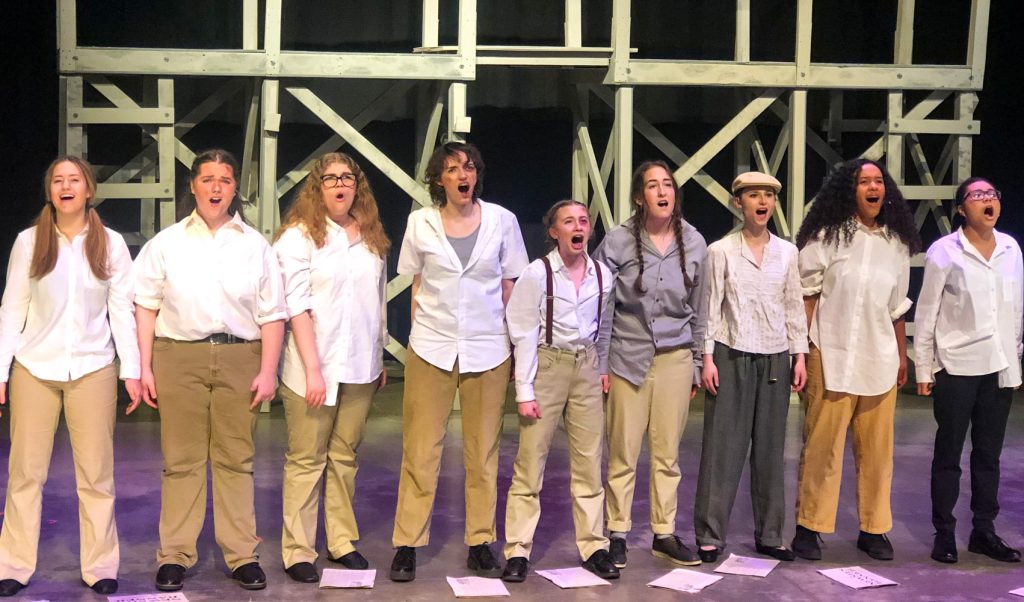 Co-starring with Laney is Meadowdale Senior Reese, who said bringing his character David "Davey" Jacobs' "prim and proper" approach to things was "challenging but that's also what makes it so fun."
"Davey is much more organized than I actually am," Reese joked. "Putting on that organization skills is something that I have to be very diligent about when actively portraying his personality and who Davey really is."
While Jaqueline Meyners, Meadowdale Drama Instructor, may be steering the ship in a lot of ways, her "hands-off, student-led" approach to directing allows Julien, the production's Stage Manager, the creative freedom to manage his stage as he sees fit. Despite managing a cast of high-school aged kids, Julien told the Lynnwood Times it was easier than it might seem given the talent and maturity level of the students he was working with.
To bring 19th century Manhattan to a small stage at Meadowdale High School's Performing Arts Center was no easy feat. Still, the student-led set design team did wonders to recreate the country's largest city with meticulous detail. A desk globe, for example, shows the Soviet Union which spanned most of Eurasia until 1992. It's a detail so small most audience members won't pick up on, but goes to show the attention to detail, and the care, these students bring to their art.
High School Senior Maddie, who works alongside Julien as Assistant Stage Director, as well as Set Designer for the show, has never visited New York City before but still extensively researched the city sites during that period. Her biggest challenge was constructing a seven-foot-tall structure, which acts as the base set piece of the show, that needed to be both safe and visually appealing, she said. While this piece may be the most memorable, Maddie informed the Lynnwood Times there are "a bunch of little pieces" aside from this that "come together like an operable gate and a working printing press.
Meadowdale's production of Newsies runs May 11, 12, 13, 18, 19, and 20 at 7 p.m. in the Meadowdale Blackbox. Tickets are $15 for adults, $10 for students, and $8 for students with ASB cards.
To purchase tickets, please click here for Meadowdale High students, and here for general admission. Seating will be self-directed, on a first-come, first-serve basis. Doors for each show will open at 6:30 p.m. Limited tickets will be available for purchase at the door.
Online ticket sales close the day before each performance. Tickets sold at the door are cash only.