Volunteers of Lynnwood's Hygiene Center clean up Gold Park
LYNNWOOD, Wash., May 19, 2023—The Lynnwood Hygiene Center closed early on Thursday, May 18, to allow staff member Amberlee Bell, and nine other volunteers the opportunity to clean up neighboring Gold Park.
From 4 p.m. until about 4:45 p.m. the crew collected four large bags of trash before reconvening at the Hygiene Center for a commemorative barbecue. The barbecue was also dual-purposed as the day fell on one of the Center's volunteer's birthdays.
"We're just trying to do what we can because we work really hard to keep the block safe, and the block clean," Bell told the Lynnwood Times.
Every Monday through Saturday morning, Bell exits her on-site trailer to prepare the Lynnwood Hygiene Center for operation. The site provides access to private showers, restroom facilities, clothes, and food to people who are homeless and living in extreme poverty.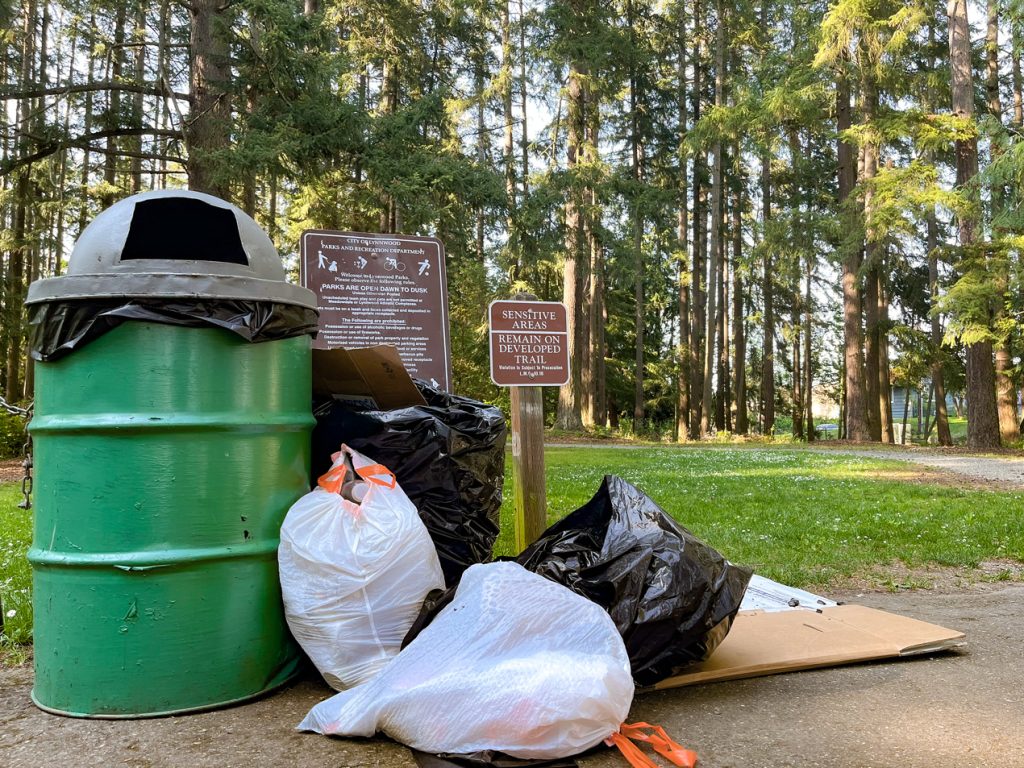 Like many of the six volunteers that work at the Hygiene Center, Bell came to work here as a homeless individual utilizing its services in 2020 – when the pandemic suspended access to businesses and hygiene service stations at churches and other organizations.
"It was essential," said Bell. "It helped keep me clean, it gave me a huge sense of purpose that I didn't know I needed and it gave me a sense of worth again, just to be able to give back."
Earlier that year, the Jean Kim Foundation, a nonprofit working to disrupt the cycle of homelessness through education, announced a collective effort with the City of Lynnwood, the Verdant Health Commission, and multiple other Lynnwood agencies to transform the City's former Washington State Motor Vehicle Emission Station into the current Hygiene Center, which has become a refuge for many since.
Six days a week, from 10 a.m. until 6 p.m., housing insecure individuals can sign up for 20 minutes of restroom time and a 10-minute shower. Visitors can also take their pick from a room full of clothing and, around noon, two volunteers, Sabrina Connaughton and Aleta, serve home cooked meals to dozens. When Connaughton first began serving food at the Hygiene Center, three years ago, she paid out-of-pocket for all the groceries. Now, to keep up with the demand, she shops for supplies at the Edmonds Food Bank which she uses to prepare meals from her home.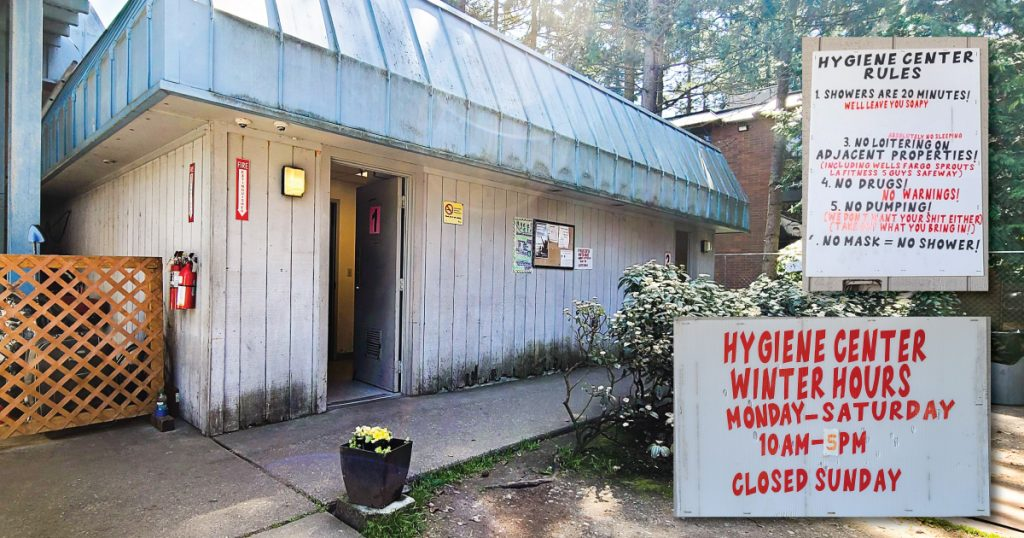 While the pandemic presented the need for an accessible Hygiene Center, this last year has only illuminated an existing challenge that had simply been more invisible than many realized. In 2022, the Hygiene Center provided 9,150 showers to 600 unduplicated clients and served more than 100 hot meals. The Jean Kim Foundation also provides six capsule houses on the property of the Good Shepherd Baptist Church, just a few blocks away, for temporary shelter.
"We are a small number of individuals meeting a large need," said Sandra Mears, Executive Director of the Jean Kim Foundation. "It's all hands-on deck but we're all a team here."
Since opening, the Hygiene Center has seen a steady increase in those seeking its services, with many individuals displaced from nearby encampment sweeps, having to start again with nothing. Mears is currently seeking grant funding and donations – particularly men's pants and boxer shorts – to keep up with it all. One shower alone costs $14.20 per use.
Bell told the Lynnwood Times the cleanup effort is one of many to come. She hopes to lead a Gold Park cleanup at least once a month, falling on the 15th day of the month, and hold a barbecue for volunteers depending on if the center has the available funds.