Lynnwood Times' 2023 Campsite Guide for Snohomies
With summer months and warmer weather in sight, the time at last has come to withdraw from our glum Winter and rainy Spring hibernation to experience our state's greatest gem: its nature! Last year, around this time, the Lynnwood Times compiled a list of great hiking locations but this year we're focusing on all things camping.
In this special Lynnwood Times camping story, you'll find a complete comprehensive guide to recharging from your desk jobs and computer screens for some much needed, spiritual, reset. Whether you've just moved to the Pacific Northwest, have lived here for years but haven't dove into outdoor recreations, or a seasoned veteran, this campsite guide is sure to spark some ideas on how to tackle the 2023 Washington State camping season.
Snohomish County campsite locations
Kayak Point: Previously listed as a great beach location, Stanwood's Kayak Point also offers a great campsite opportunity. What better way to experience a great beach then to call it home for a few days? After a day of fishing at the beach walk back to camp to throw your fresh catches over the fire or explore the surrounding nature trails for your morning exercise.
Wenberg: Also, near Stanwood's waterfront is the award-winning Wenberg Park campsite which offers splendid opportunities for picnicking, sunbathing, and boating across 45 acres. The park has 70 campsites spread out across three loops, three picnic shelters, an enclosed swim beach with rinse shower, and 1,140 feet of freshwater shoreline with a two-lane concrete boat launch for all your water works.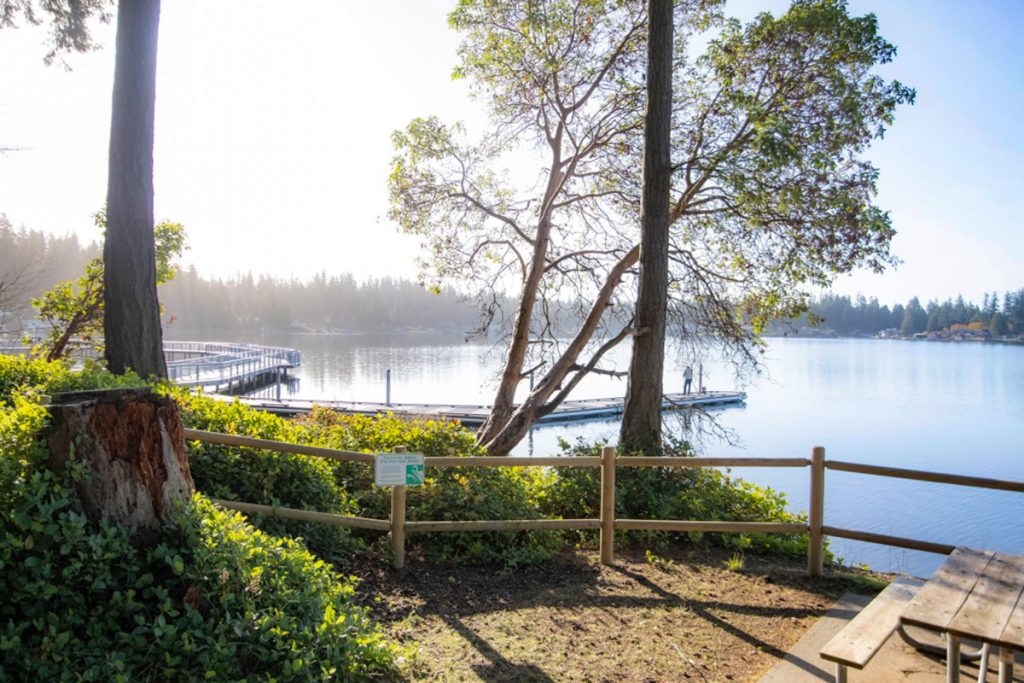 River Meadows: Arlington's 150-acre River Meadows campsite, 20416 Jordan Road, rests on open meadows and forests along the banks of the Stillaguamish River. You can fish along the mile-long riverbank, camp in the summer or rent a yurt year-round, picnic, hike, geocache, bird watch, or play catch in the meadow. The park's expansive meadows offer a great location for large events, such as family reunions, scout jamborees, weddings, and community celebrations.
Flowing Lake: Flowing Lake Regional Park, also known as Leckie's Beach, is an immensely popular park that offers a variety of recreational activities. The day-use area provides access to the beach and amenities which include a boat launch, fishing dock, playground, picnic tables, picnic shelters and an amphitheater. For those that wish to stay a little longer, the park includes a campground with a mix of cabins and campsites and a heated restroom with showers. A nature trail encompasses a portion of the campground for those seeking a little solitude. The park and campsite is located at 17900 48th Street Southeast in the city of Snohomish.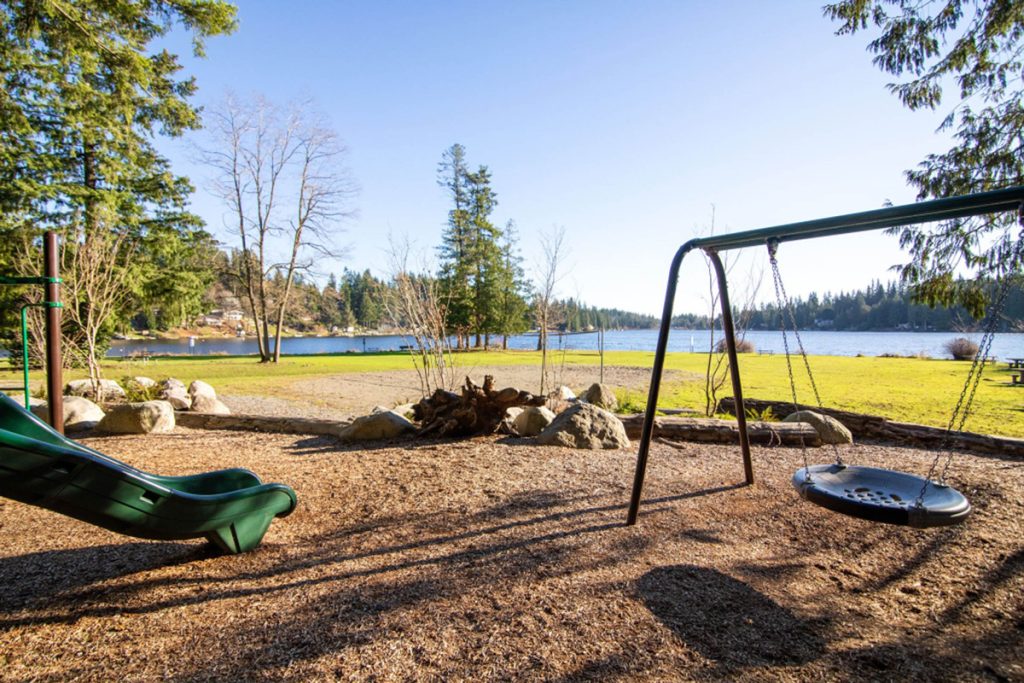 Lake Roesiger: This beautiful campground is located on the southeast end of Lake Roesiger (across the road from Lake Roesiger County Park), densely wooded and perfect for scout, church, educational groups or family reunions. There are 10 walk-in campsites that can host a total of up to 50 people and all sites are walk-in only with guests carrying their belongings to the sites from the nearby parking lot. While the hike to each of the campsites is short it is also steep and may be strenuous for some. However, a ADA site is also available to those who need it.
Squire Creek: Just outside the Town of Darrington, at 41415 State Road 530, enjoy a peaceful camping experience among the trees. Squire Creek offers camping among the beautiful moss-laden trees of an old-growth forest. The park is a perfect staging area for adventures into the Mount Baker – Snoqualmie National Forest, hiking to the base of Whitehorse Mountain, or participating in the Bluegrass Festival in Darrington and the Summer Meltdown Festival (see Summer events). Access to the Sauk River is just five minutes away at Backman Park and two large picnic shelters are located near the crystal clear waters of Squire Creek.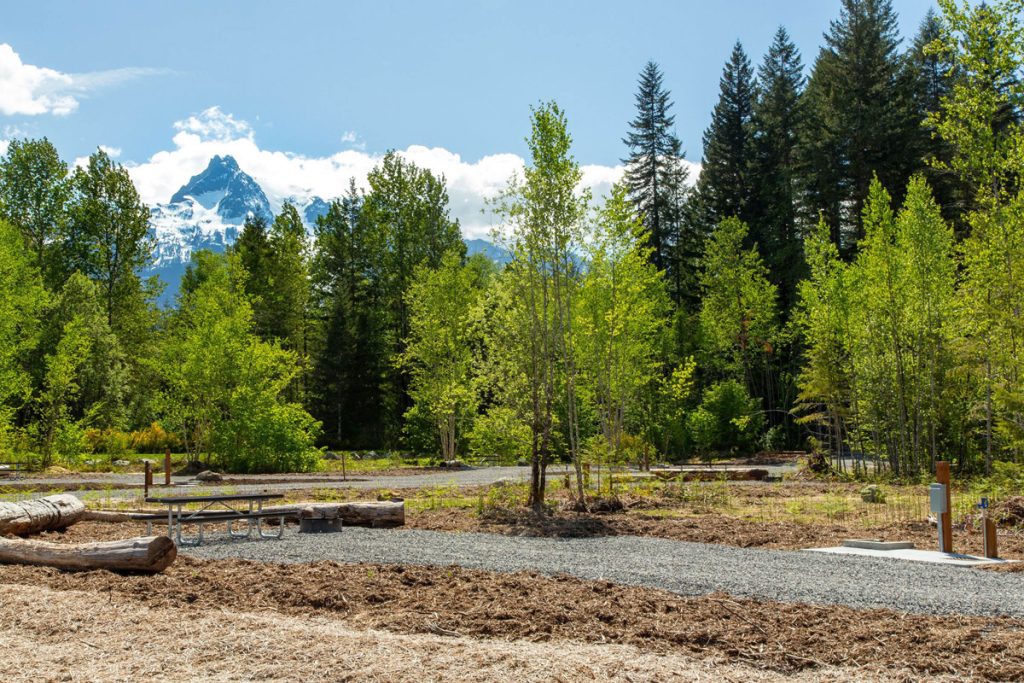 Whitehorse: Also located just outside the Town of Darrington, Whitehorse Regional Park Campground becomes the ultimate "gate-a-way" in Snohomish County, with close access to the Whitehorse Trail, North Mountain bike trails, and other DNR and Forest Service lands. 15 of the 18 spacious sites have water, 50 amp power, and sewer connections.
Other unmissable campsites in Washington

Mount Rainier's Ohanapecosh Campground: Only a 30-minute drive from Mount Rainier's Paradise and Sunrise resorts, respectively, and located in the Mount Rainier National Park proper, Ohanapecosh is surrounded by old growth and crossed by an exceptionally beautiful snow-fed river. The campground has plenty of hiking trails, from Silver Falls; Grove of the Patriarchs; to natural hot springs. At an elevation of 1,914 feet the 14,411-foot Mount Rainier dominates the skyline for hundreds of miles.
Deceptions Pass' Bowman Bay Campground: Washington's jaw-dropping Deception's Pass is iconically home to gorgeous beaches, island views, and the titular bridge gapping Whidbey and Fidalgo islands (which is pedestrian friendly by the way). There's no shortage of things to do here from hiking Goose Neck or Lighthouse Point, to searching for marine life in the numerous tide pools, to taking a charter boat through Skagit Bay. Really you can't go wrong anywhere you choose to camp here (Cranberry Lake is a notable second) but Bowman Bay is a beach-front campground with oceanside views. Its beach access, trails leading to a variety of hikes, and large park with picnic and recreational opportunities, it's worth paying it a visit whether you plan to camp overnight or not.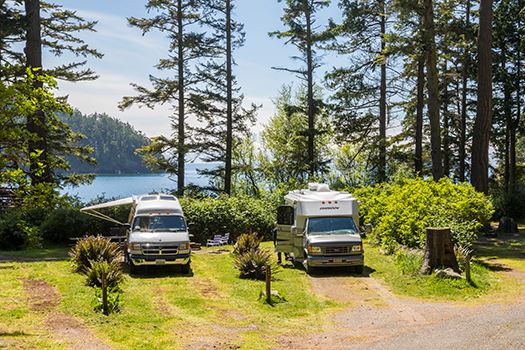 Swift Forest Campground near Mount St. Helens: What used to be a contender for Pacific Northwest giant, until it blew its top off in 1980, Mount St. Helens is still an amazing spectacle to behold. Swift Forest Campground is a relatively easy jumping-off point to the numerous hikes available (including summiting St. Helens if you are up for a challenge, although much more approachable than climbing Rainier or Adams). With hot springs, the molten-carved underground Ape Caves (arguable one of the most unique hikes in Washington), or the Mount Saint Helens Visitor's Center, there's really no shortage of activities at your disposable at this, oftentimes, more overlooked volcano than the more famous Rainier.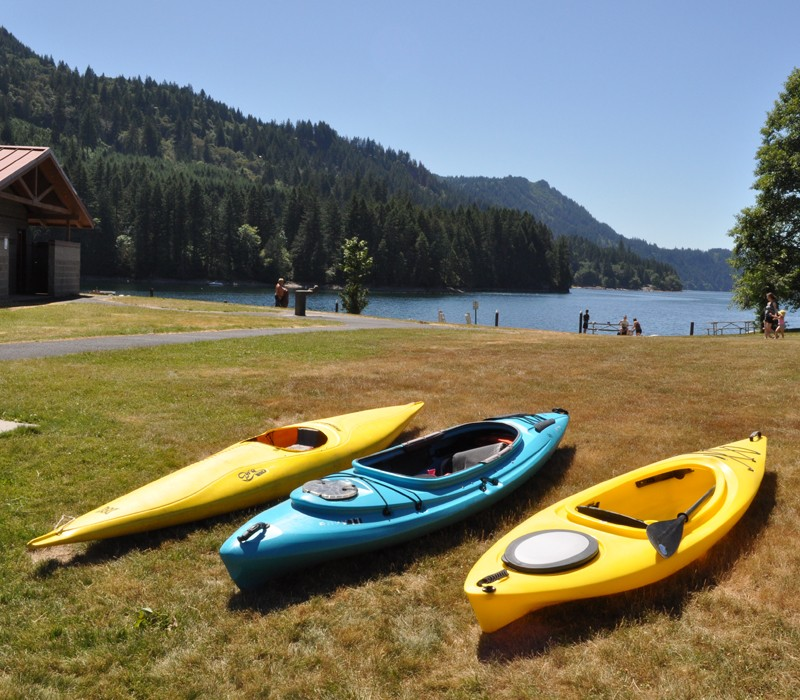 Quickstart guide to camping gear
Like most recreational activities, being prepared can be the difference between a good time and a bad time. When it comes to camping, nothing is worse than driving several hours out to your camping location, which often may be miles from the closest store, only to realize you forgot to pack something, didn't realize you needed something, or wish you had something. While most of this comes with experience, the below list may, at least, be a good place to start.
Tent and sleeping bags: This is probably the most obvious since most people think of sleeping in a tent when they think of camping. Of course RV, camper, and even car camping is in option too but a tent may be the most approachable way of doings things for newcomers – without dishing out for an expensive RV only to realize it's not your cup of tea. A good tent is waterproof and large enough to fit your party size and gear within it comfortable. Depending on the weather, a good sleeping bag and blankets will keep you comfortable and warm at night (don't forget the pillows) when, even in the summer, temperatures can drop misleadingly low. For those with sensitive backs, sleeping mats, cots, and pads are also recommended options to get the well-deserved sleep you need without any of the next day back aches.
Water: Of course water is the most important thing to have on hand in, really, any activity you do but being tucked away in wilderness, doing physical labor like hiking, chopping wood, or sitting out in the sun all day, makes this all the more important. I always say to bring more water than you think you need; it's better to have and not need than need and not have. Additionally, water is used for other things you may not think of (other than drinking) such as brushing your teeth, washing dishes, cooking, etc. A good rule of thumb is about 2-3 litres a day per person, especially in warmer weather.
Food: Along the lines of water, food is crucial for ensuring you keep healthy and nourished during your camping trip. Simply speaking, what food you bring will highly depend upon what type of cooking gear you have with you. For example, if you plan on just cooking over a fire hot dogs are an easy bet (remember not every campsite has a grill or even a fire pit). Granola bars, protein bars, or trail mix is also a good option for snacking throughout the day or to bring on hikes. Your options will drastically broaden with a propane camping stove, but this will also increase what utensils you'll need. Silverware, knife, cutting board, cups, plates/bowls, and campfire forks are a good start. Of course with a stove you'll also need oil, pots and pans, etc. Try and keep the waste to a minimum (plastics and such), and remember to take all of your trash back with you to keep our parks clean and green.
Headlamps/Flashlights/Lantern: Light sources can seem like something easily forgotten when we live our day-to-day by electricity and light pollution, but they become all the more necessary in the wilderness when the sun goes down and we're left to our own devices. A simple flashlight can keep you safe at night, help you keep your campsite clean, and open up options for activity after dark. If you plan to hike the Ape Caves at Mount St. Helens (previously mentioned) a light source is also necessary here as there is no subterranean light source in the caves.
Fire Wood/Fire Starter: If you plan to start a campfire first be sure to check your park's most recent fire warning restrictions. Second to that, you should check to see what type of wood is allowed at your respective campground. Some campgrounds, for example, only allow indigenous wood to be burned on site. While many campgrounds sell wood, or have it available close by, it's typically not recommended you go chopping down trees or gather sticks from the forests as fuel for your fire, which might be your first inclination. Second to this, a good fire starter will also make your life a whole lot easier but be sure you're using one that is environmentally safe and friendly. For the beginner campfire builder, large logs should be chopped into kindling (or smaller pieces) to catch easier, with the thicker logs reserved for once the fire has taken off. For this it's also worth mentioning that a hatchet is a good thing to bring.
Games and books: Lastly bringing some card games, board games, or a good campfire story book is not required but a nice addition to any camping trip, particularly when the sun goes down and your sitting around a fire (foldable camping chairs are a good mention here also). Short stories or ghost stories are a fun way to pass the time at night, and card games/board games can be a nice alternative to an unexpected rain storm that keeps you cooped up inside your tent.
Hiking gear/safety gear: Depending on the difficulty of whatever hike you have planned, or your physical shape, having the right equipment while hiking is also extremely important. Of course water and food are staples here, but a first aid kit is also not a bad idea to prepare for whatever cuts or bruises you might come across. A good bag to carry everything in is also pertinent. Hiking poles, hiking boots, and comfortable clothing can also be crucial to your experience.
Bear cans: Not every campsite lies within bear or predatory wildlife territory, but oftentimes they do and for that you need to be prepared to not attract unnecessary attention. Some campgrounds even (mostly backpacking) require it, others (like Ohanapecosh) provide it. Regardless, a bear can is something you might not think about but often necessary. Remember to keep all of your food and aromatics (such as hygiene products) contained within the can when not in use. The last thing you want is a bear snooping around your groceries at night.