Summer of Fun: Where in Snohomish County to enjoy the sun
SNOHOMISH COUNTY – We made it to summer Washingtonians! After months of being cooped up in our houses avoiding the particularly cold and wet Spring, cuddled up with our happy lights, and eating vitamin D pills like candy to soften the effects of Seasonal Depression Disorder, we have finally been reunited with this fabled, mythic thing, called "sun".
And now that the time of year is here, the one you always promise exists to your relatives who comment on how "gray and wet" it is when they visit from out of town, the question is: How do we make the most of the limited number of blue skies we get before the Fall returns us to drizzled, introverted homebodies again?
Well lucky for you the Lynnwood Times is here to provide, at least, a steppingstone for your summer planning so you can make the most of the warm weather while it's here. May you take these suggestions to heart, get outside, and bulk up on rays like a bear gorges on fish before it, too, succumbs to a winter of cold hibernation.
Beach Fun this Summer

Snohomish County beaches may not be the tropical, white sand, palm tree-lined, turquoise watered scenes you'd find on a "wish you were here" postcard but that doesn't mean they aren't beautiful in their own way. From the jagged silhouettes of not-too faraway mountains to the evergreen coasts, Pacific Northwest beaches are really something unrivaled especially when the weather cooperates.
If swimming isn't your thing consider a picnic, reading a book, shaping a sand castle (you're never too old), or making new friends in a pick-up game of beach volleyball. However you decide to pass the time, doing so with the scent of fresh sea-breeze and sun-warmed sand between your toes is bound to be a summer day well spent. Here is just a short list of Snohomish County beaches well worth a visit.
Edmonds Marina Beach Park: Located at 470 Admiral Way (near a bus stop for those who don't drive), Edmonds Marina Beach Park has 230 acres of BBQ stands, picnic areas, a playground, off-leash dog park, boat launch, and a volleyball net and sand court throughout 47 park and open space sites. The park resides on 1-mile of shoreline looking out into Kingston over gorgeous Puget Sound.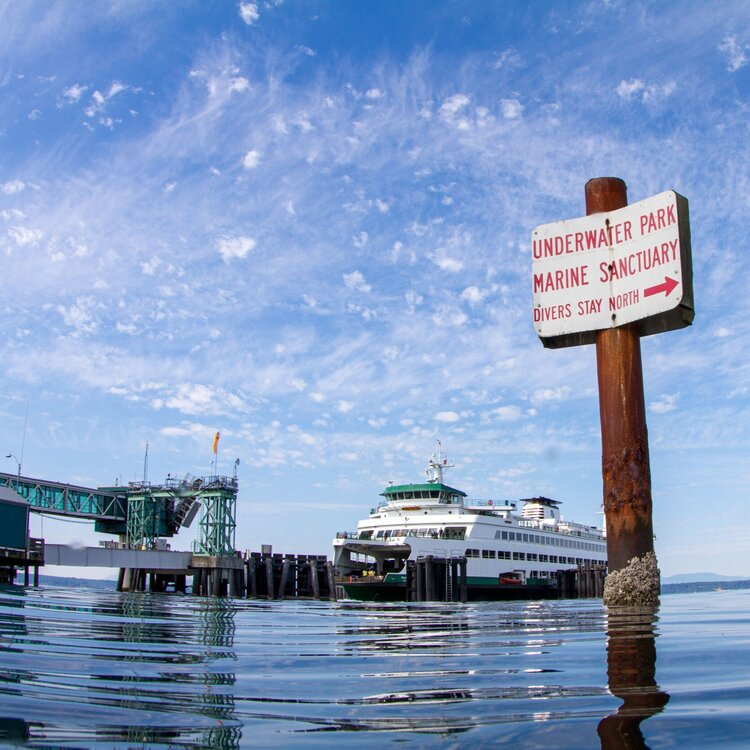 Edmonds Underwater Park: You read that right, a park completely submerged in water! And unless you are a rockfish, octopus, or any of the other rich and vibrant marine life that calls this conservation home, it may be best to bring your scuba gear. Established in 1970 by the City of Edmonds and Washington State Department of Natural Resources, Edmonds Underwater Park is one of the Pacific Northwest's most popular dive destinations with over 25,000 visits from scuba divers a year. Divers can expect to see jellyfish, sea lions, crabs, multiple species of fish (including salmon), and even the occasional orca while traveling the 27 acre underwater trail. For those who are not certified divers, an above-water beach area makes for the perfect viewpoint for watching divers enter and exit the Salish Sea.
Howarth Park: Everett's Howarth Park is a perfect place to bring your dog, children, family, friends or loved ones. Located at 1127 Olympic Boulevard, right off Mukilteo Boulevard, the parks has multiple walking trails, viewpoints that look out into Possession Sound, an off-leash dog park, and a sandy beach area where you can look for seashells or watch the sunset over the mountains.
Kayak Point County Park: A spectacular saltwater beach park located along the shores of picturesque Port Susan at 15610 Marine Drive in Stanwood. From its 3,300 feet of shoreline to its evergreen forests, Kayak Point Park offers a beautiful setting for pier fishing, windsurfing, picnicking, hiking, camping, boat launching and more. Have an ocean view picnic at one of the picnic shelters, a beach bonfire at one of the fire pits, set up some crab pots for Dungeness and red rocks or fish for flounder, sole, true cod, rockfish and walleye pollock year-round and have a fresh seafood feast right on the beach.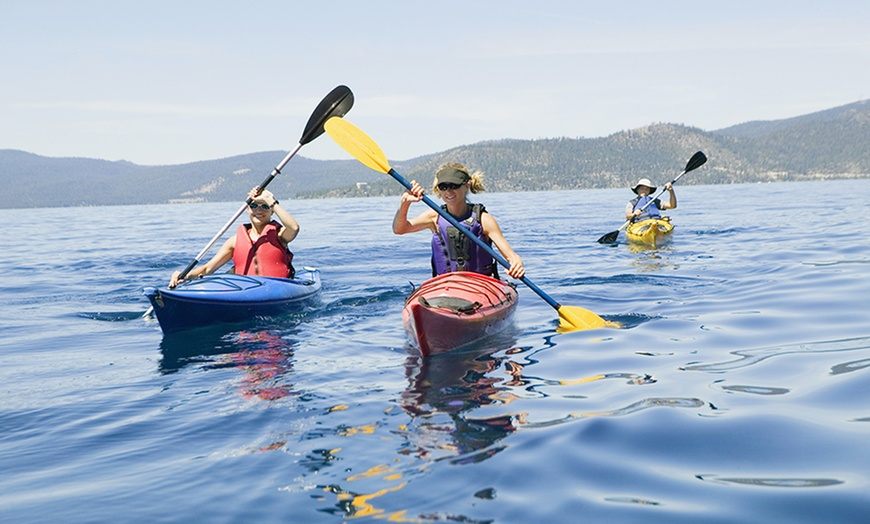 Mukilteo Lighthouse Park: Perhaps one of the most unique, definitely historical, destinations in Snohomish County is Mukilteo's Lighthouse Park. Constructed in 1950 on a filled tideland the park has beach access as well as a Historical Society and gift shop for beachgoers looking for a history lesson. This upcoming September 9 through 11 Lighthouse Park will also be the site of Mukilteo's annual Lighthouse Festival with live music, a beer garden, booths, and food trucks. This year's festival is especially commemorative as the city will be celebrating its 75th anniversary. Grab a beer or ice cream at Diamond Knot Brewery, some fish n chips from Ivar's, take a tour of the lighthouse, or watch the seals and sea lions bob their heads in Possession Sound from the beach or pier.
Picnic Point County Park: Located on the shores of Puget Sound, Picnic Point Park offers a tranquil and scenic setting for picnicking and beach activities. Tables and charcoal cookers are available for picnicking enjoyment while watching the sunset over Whidbey Island and the distant Olympic Mountain range. With its large pedestrian overpass, the park provides convenient access to the beach, picnic areas, and restrooms. However, those who are physically challenged may require assistance.
Jetty Island: While island hopping the 35 unique islands in the Puget Sound is a great adventure any time of year, Everett's 1-mile-long Jetty Island is a summer must visit for its kiteboarding, beaches, and swimming in the shallow, warm, frothy waters. The adventure of getting to Jetty Island is all part of the fun and open to anyone who can boat, paddle board, or canoe out to the manmade island. A ferry is also available from July 6 to September 5 (Labor Day) Wednesday, Thursdays, and Sunday from 10 a.m. to 5:45 p.m. and on Friday and Saturdays from 10 a.m. to 6:45 p.m. departing from Jetty Landing on 10th Street and West Marine View Drive in Everett.
Summer Camping Activities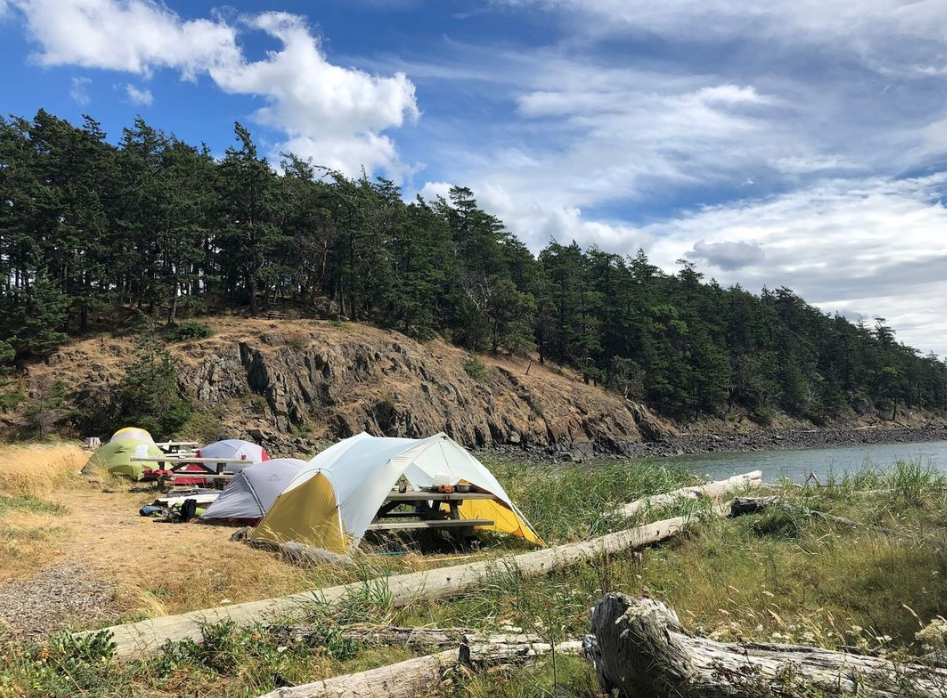 Of course what would living in the beautiful Pacific Northwest be like without reconnecting with nature with a camping excursion? Turn the cellphones and social media off for a weekend, gather a book and board games, pack some simple camp fire meals and retreat to the mountains or forests to reintroduce yourselves to the spirituality of wilderness. While Washington State is certainly not without its surplus of campsites, consider these for some local Snohomish County destinations.
Kayak Point: Previously listed as a great beach location, Stanwood's Kayak Point also offers a great campsite opportunity. What better way to experience a great beach then to call it home for a few days? After a day of fishing at the beach walk back to camp to throw your fresh catches over the fire or explore the surrounding nature trails for your morning exercise.
Wenberg: Also, near Stanwood's waterfront is the award-winning Wenberg Park campsite which
offers splendid opportunities for picnicking, sunbathing, and boating across 45 acres. The park has 70 campsites spread out across three loops, three picnic shelters, an enclosed swim beach with rinse shower, and 1,140 feet of freshwater shoreline with a two-lane concrete boat launch for all your water works.
River Meadows: Arlington's 150-acre River Meadows campsite, 20416 Jordan Road, rests on open meadows and forests along the banks of the Stillaguamish River. You can fish along the mile-long riverbank, camp in the summer or rent a yurt year-round, picnic, hike, geocache, bird watch, or play catch in the meadow. The park's expansive meadows offer a great location for large events, such as family reunions, scout jamborees, weddings, and community celebrations.
Flowing Lake: Flowing Lake Regional Park, also known as Leckie's Beach, is an immensely popular park that offers a variety of recreational activities. The day-use area provides access to the beach and amenities which include a boat launch, fishing dock, playground, picnic tables, picnic shelters and an amphitheater. For those that wish to stay a little longer, the park includes a campground with a mix of cabins and campsites and a heated restroom with showers. A nature trail encompasses a portion of the campground for those seeking a little solitude. The park and campsite is located at 17900 48th Street Southeast in the city of Snohomish.
Lake Roesiger: This beautiful campground is located on the southeast end of Lake Roesiger (across the road from Lake Roesiger County Park), densely wooded and perfect for scout, church, educational groups or family reunions. There are 10 walk-in campsites that can host a total of up to 50 people and all sites are walk-in only with guests carrying their belongings to the sites from the nearby parking lot. While the hike to each of the campsites is short it is also steep and may be strenuous for some. However, a ADA site is also available to those who need it.
Squire Creek: Just outside the Town of Darrington, at 41415 State Road 530, enjoy a peaceful camping experience among the trees. Squire Creek offers camping among the beautiful moss-laden trees of an old-growth forest. The park is a perfect staging area for adventures into the Mount Baker – Snoqualmie National Forest, hiking to the base of Whitehorse Mountain, or participating in the Bluegrass Festival in Darrington and the Summer Meltdown Festival (see Summer events). Access to the Sauk River is just five minutes away at Backman Park and two large picnic shelters are located near the crystal clear waters of Squire Creek.
Whitehorse: Also located just outside the Town of Darrington, Whitehorse Regional Park Campground becomes the ultimate "gate-a-way" in Snohomish County, with close access to the Whitehorse Trail, North Mountain bike trails, and other DNR and Forest Service lands. 15 of the 18 spacious sites have water, 50 amp power, and sewer connections.
Hiking Summer Fun
As quintessential to Northwest life as camping, hiking is spiritually rejuvenating and a great exercise with often rewarding views. Not only will you return back to work, after a weekend of hiking, de-stressed and ready to tackle the weekly grind, you'll also have some pretty impressive photos for your social media or online dating profiles as well. Whether you do it for meditation, urban detachment, exercise, or social media glamor, at the very least you should feel accomplished you utilized the summer weather to participate in a self-care activity with multiple health benefits.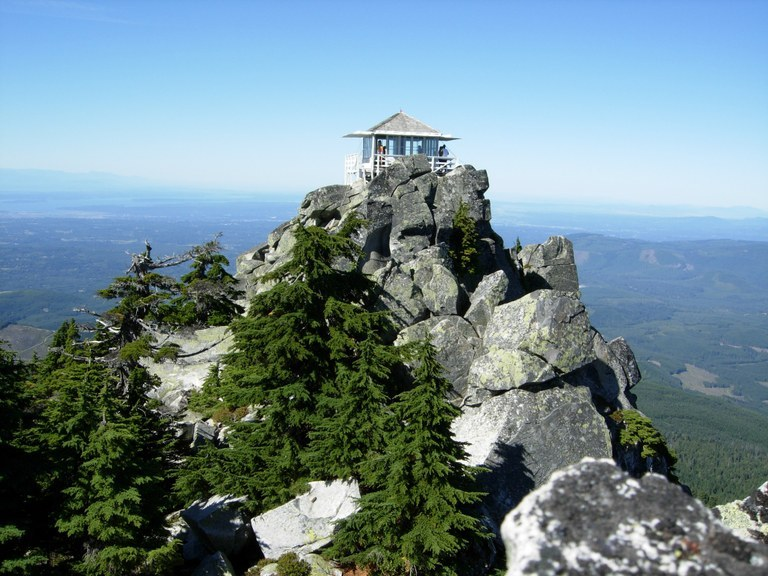 Mount Pilchuck: Mount Pilchuck is a 5.4-mile (roundtrip) trail with a 2,300-elevation gain rising up to 5,327 feet in the air. It is considered an intermediate difficulty but one of the most rewarding hikes in the area with 360-degree views of Mount Baker, Mount Rainier, and the Olympics from the shelter lookout at its summit. It is located in the North Cascades off the Mountain Loop Highway.
Heather Lake: For inexperienced hikers, or children breaking in their hiking boots, Heather Lake may be a more approachable option than Mount Pilchuck with only 1,034 miles of elevation gain in a 4.6-mile roundtrip. Although not as challenging as Mount Pilchuck, the sights are just as rewarding opening up into a scenic lake on the Southeast slope of Mount Pilchuck after a series of manageable switchbacks. The trailhead is also located in the North Cascades off the Mountain Loop Highway.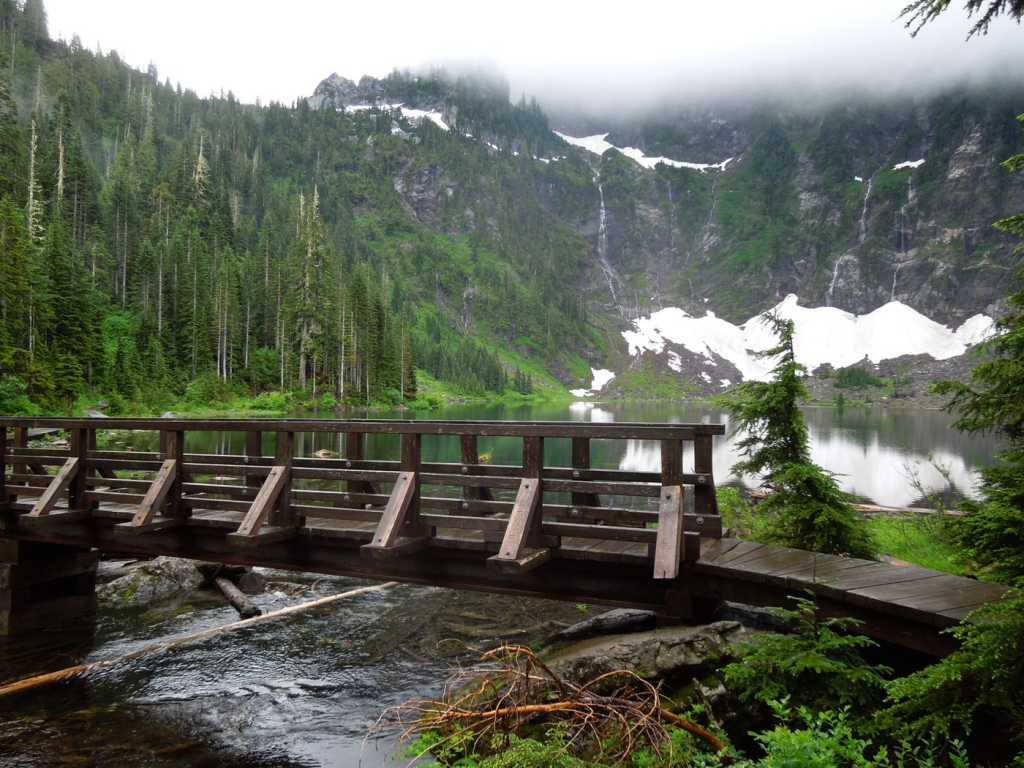 Lake 22: The curiously named Lake Twenty-two is the center of an oasis of alpine wetland nestled on the northern shoulder of Mount Pilchuck. The hike to the lake combines the best of mountain rainforests, old-growth, wetlands, and mountain views, yet it is readily accessible. In winter, the route to Lake 22 can be avalanche prone in winter. It's best to wait until the snow is melted on this popular Mountain Loop Highway trail. The trail is 5.4 miles roundtrip with a 1,350 feet elevation gain ending in gorgeous views of a lake enshrouded by the cliffs of Mount Pilchuck.
Walt Bailey Trail and Cutthroat Lakes: At 6.8 miles roundtrip and 2,300 feet of elevation, the Walt Bailey Trail in Granite Falls will take you through the stunning Morning Star Natural Resources Conservation area and ending at Cutthroat Lake, a perfect destination to celebrate your achievement with a well-deserved picnic. The trailhead can be found in the North Cascades off the Mountain Loop Highway.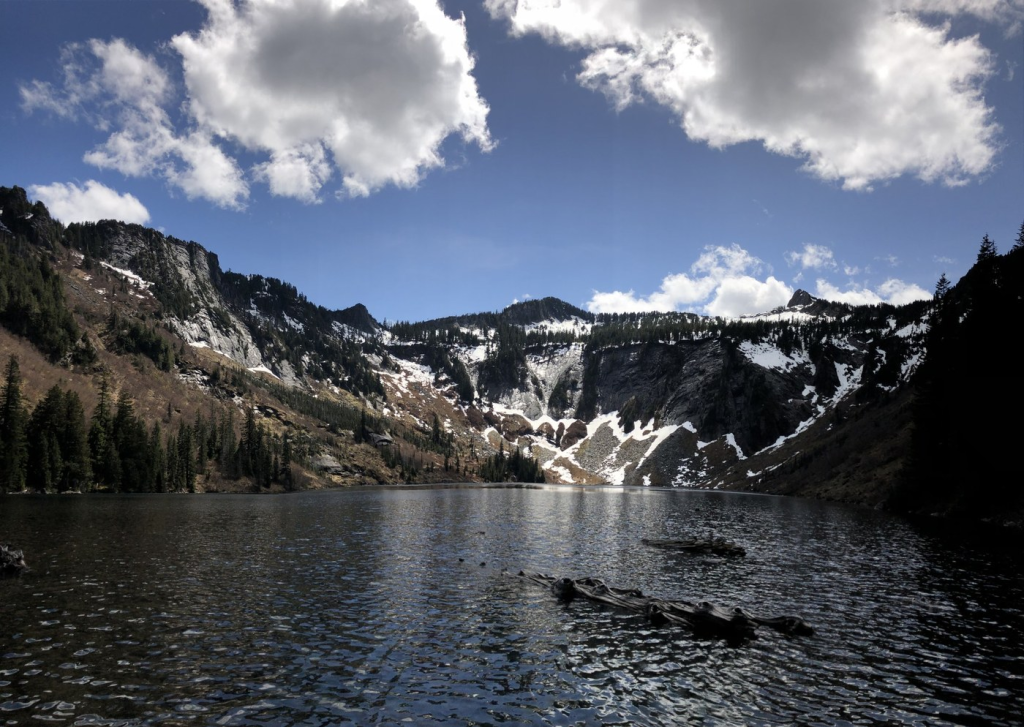 Greider Lakes Trail: For those seeking alpine vistas and a solid workout this 8.6-mile roundtrip trail scaling 2,035 feet of elevation, may be just what you need. Located in the Central Cascaded, by Stevens Pass. Be sure to pack a hearty lunch and good hiking boots, you may be needing some replenishment after conquering the 40 switchbacks and 1,000 feet elevation in less than 1.5 miles.
Wallace Falls: Wallace Falls, located in the Central Cascades by Stevens Pass, is an approachable and rewarding hike with a relatively low difficulty. At just 5.6 miles roundtrip and 1,300 feet of elevation gain, the trail follows the breathtaking, eponymous, nine water falls branching off into several viewpoints and picnic areas along the way. If you're looking for a first hike of the year this may be a good start as the multiple viewing points allow you to go at your own pace and gauge your stamina before deciding to proceed or head back.
Summer of Fun Events
Summer Meltdown Festival: If you enjoy multi-day, camping, sleepless electronic dance music festivals featuring artists like Griz, STS9, Greensky Bluegrass, and Jade Cicada, well Summer Meltdown at Snohomish's Sky Meadows Park might be right up your alley. Get down with the cool kids July 18 through 31, dress up in your favorite thrift finds, break out the neon and glow sticks, and head to what I imagine will be an exhausting, but memorable, weekend. Tickets for this event range from $275 to $340 for the multi-day festival.
Snohomish Cider Festival: Of course hiking and camping are all good fun in the spirit of Washington Culture, but so is enjoying our state's most famous fruit. The fact that its fermented and turned into an alcoholic beverage is only another reason why the 2022 Snohomish Cider Festival is bound to be a good time. On Sunday, August 7, at Thomas Family Farm, participate in an afternoon sampling some great Northwest brewed ciders and meads while grubbing out on one of the many food trucks and listening to some live tunes. Tickets range from $5 to $45.
2022 Upper Left Beerfest: Pretty much in the same wheelhouse as the Cider Festival, you can probably gather what the Upper Left Beerfest is by its name alone. On April 12 through 13, at 2930 Wetmore Avenue, you can take to the streets of downtown Everett tasting local brews to your hearts content while feasting on the wares of food trucks and embarrassing yourself with your dance moves to live music (depending on how much you sample). Tickets are $20 a day ($30 for two days) and $5 for designated drivers.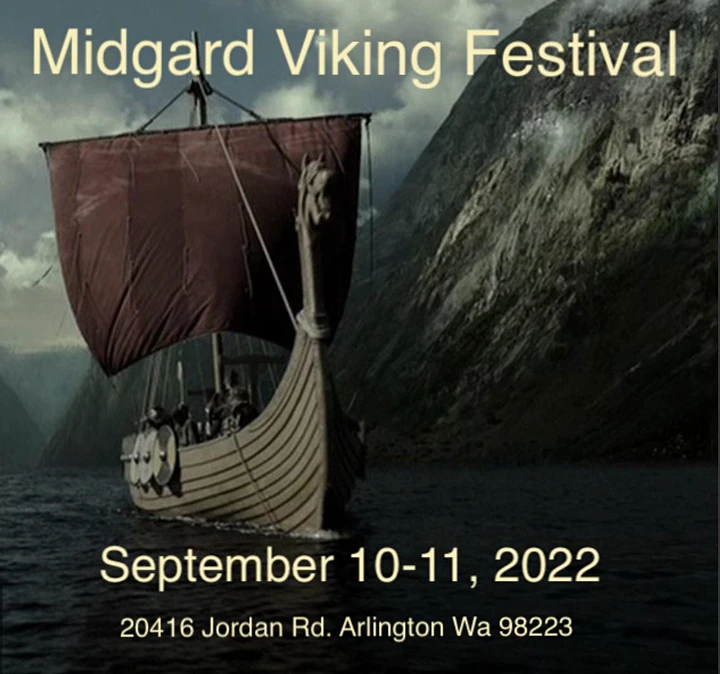 Midgard Viking Festival: While most Snohomish County residents of European descent claim Irish or German heritage, there's still a surprising amount of Scandinavians descendants in our county with Seattle basically being the last outpost for Scandinavian immigrants whose first stop were the midwestern cities. Whether or not you can trace your lineage back to the Vikings of old, you can at least play the part at Arlington's Viking Festival on September 10 through 11, throwing axes, foam sword fighting, or drinking aquavit from a Kantis while holding on to your horned helmets. Tickets are $10 for the day.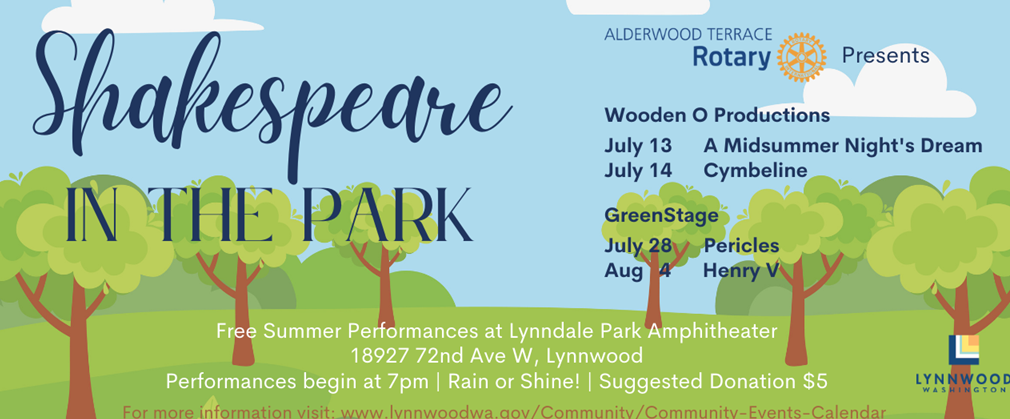 Lynnwood Shakespeare in the Park: The Alderwood Terrace Rotary is presenting four of the Bard's plays at the Lynndale Park Amphitheater this summer for absolutely zero cost. On July 13 the Seattle Shakespeare Company will be performing the strange, but iconic, Midsummer Night's Dream. On July 14 the troop will switch their gears to tragedy with Cymbelina, about a famed, but doomed, Celtic King. On July 28 the players perform the Jacobean Pericles and conclude with the historical Henry V on August 4. Bring some wine and picnic food for a cheap, enjoyable, date night, or teach the kids cultural drama while supporting the local arts.
Mill Creek Festival: Right in the heart of downtown Mill Creek, at 16300 Mill Creek Boulevard, the Mill Creek Chamber of Commerce will be holding its 2022 Mill Creek Festival and Street Fair on July 16 with two stages of music from 9 local bands, arts and crafts by 60 different artists, 10 food booths, and plenty of things to do and see for the whole family. At 20,000 attendees each year, the Mill Creek Festival and Street Fair is one of the city's largest events and is sure to offer a variety of fun, summer fun.