Lynnwood holds roundtable on homelessness and drug addiction
LYNNWOOD, Wash., June 23, 2023—The City of Lynnwood held a roundtable discussion on homelessness, mental health, and drug addiction Wednesday, June 22, featuring the Lynnwood City Council, Lynnwood Mayor Christine Frizzell, and behavioral and treatment specialists working with the Lynnwood Police Department, South County Fire, Verdant Health, Compass Health, Volunteers of America, and several city and county programs.
Representative Lauren Davis (LD-32) was also scheduled to be in attendance but was not present during the community discussion.
Sergeant Lindsay Pool, with the Lynnwood Police Department's Community Health and Safety Section, noted that the city's drug overdoses have doubled from last year. So far in 2023 there have been 19 incidences with 30 doses and in 2022 there were 10 incidents with 13 doses. By "doses" Pool means the Lynnwood PD standard of a "dose" is four milligrams and people typically need two to three doses.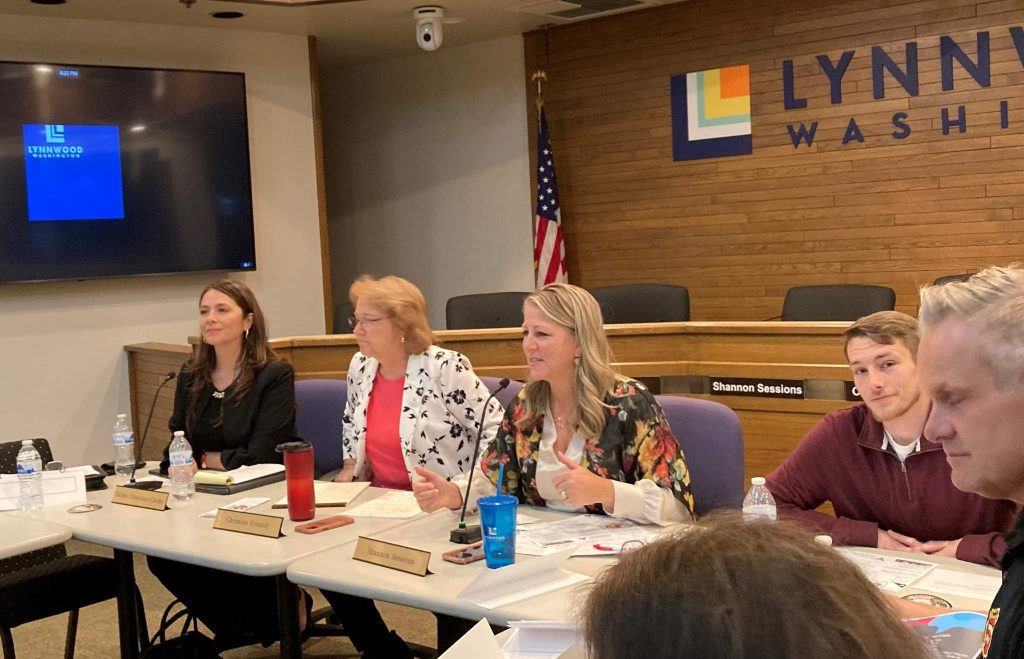 Pool added that the Lynnwood PD has noticed the amount of fentanyl used has increased, there has been more of a need to administer CPR treatment with Narcan, and there has been an increase in individuals using drugs in public and "slumped over." The Department has noticed more and more drug users are spilling over from surrounding cities such as Seattle and Everett. These individuals have informed the PD they have relocated to Lynnwood to utilize services such as the Hygiene Center, the Lynnwood Food Bank, and the Trinity Lutheran Church's free meals program.
The Police Department recently received a state grant for a Care Coordinator to work with individuals suffering from substance abuse, but a condition of the agreement stipulates that the services are restricted for Lynnwood and Mountlake Terrace individuals. Therefore, the influx of individuals coming in from Seattle and Everett, respectively, does not fall within the Department's grant funding.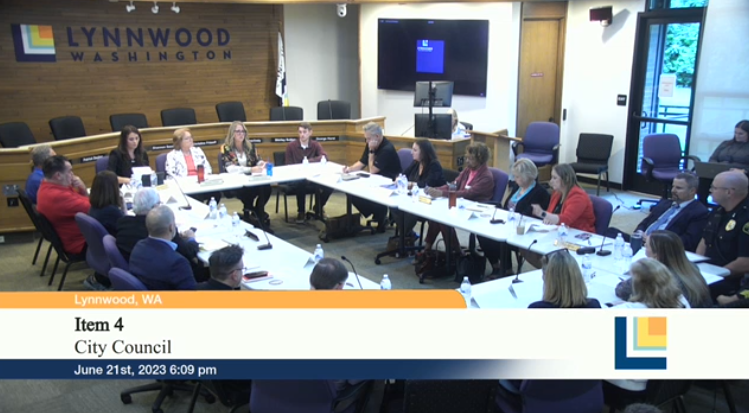 Additionally, the city has seen an increase in a need for mental health services but cannot really do anything about it unless an individual has proven they cannot take care of themselves, Pool noted. Also, there is very little housing options in the city for addicts actively using drugs.
"When they allow us to help, we can help," said Pool.
The Lynnwood PD will be enforcing the state's new drug laws this upcoming August. In a special session on May 16, 2023, the state Legislature adopted a new permanent drug-related legislation in SB 5536 known as the "Blake Fix" which will go into effect this summer and re-criminalize the simple possession of drugs.
On the medical side of things, Rebecca Stradling, Behavioral Health Director at Community Health Center (CHC) of Snohomish County, took the floor to state 11% of Lynnwood residents do not have medical insurance and 28% do not have dental coverage, a survey conducted in 2019 found.
CHC has had an important role in Lynnwood since 1997. It served 67,000 individuals in 2022, 13,000 of which were Lynnwood residents.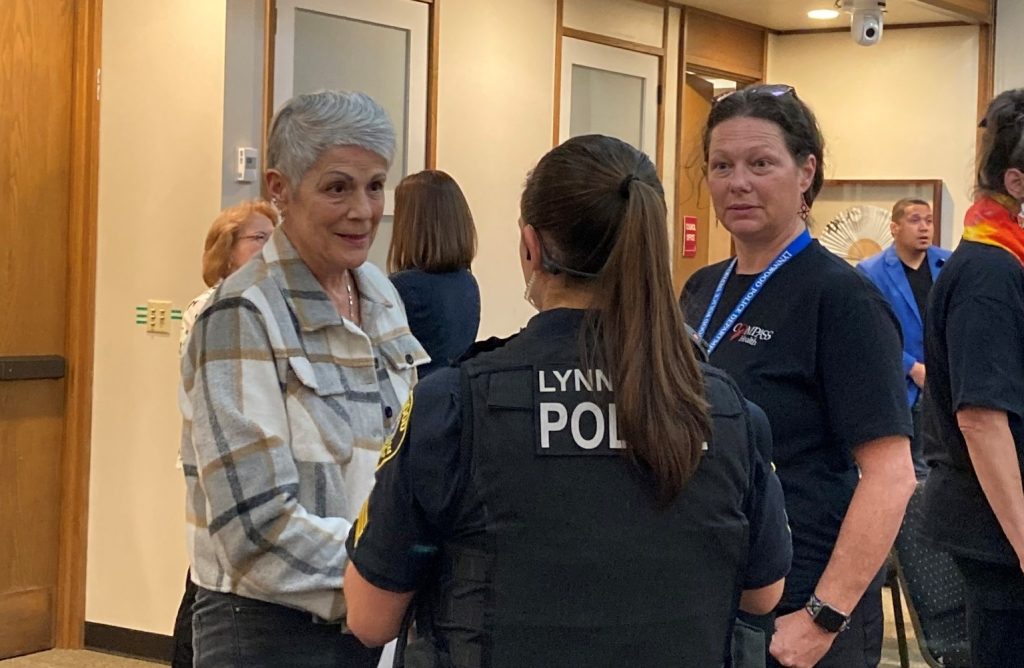 After spending two hours introducing everyone at the table there wasn't much time left for discussion. Lynnwood City Council members took turns to ask the specialists questions beginning with Councilman Patrick Decker who asked what Lynnwood city residents could do to pitch in on to help the community, such as volunteer opportunities. Appropriately, Brian Smith, President and CEO of Volunteers of America was quick to chime in.
Smith added that the Volunteers of America are always searching for volunteers and directed those interested to visit its website at www.VOAww.org. A City Council member added the Alderwood Boys and Girls Club is also a great organization that is always in need of volunteers.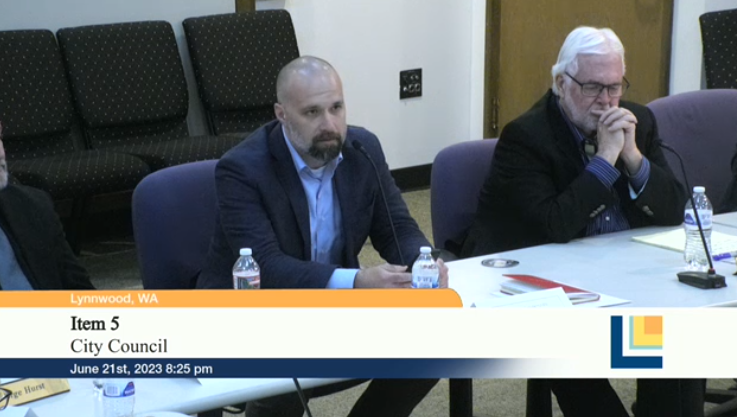 Councilman Jim Smith then asked about the school district's in the area and if anyone had experience whether local school policies have been less strict on student drug use lately. Many people at the table agreed that public schools, as well as parents, need to have more discussions about drug use with children.
With just 15 minutes left, Councilwoman Shannon Sessions asked if the guests at the table could share how their agencies could help "bridge the gap" between residents the variety of languages and cultures found in the area, addressing a comment Councilwoman Julieta Altimirano-Crosby brought up.
Joseph Harter, Volunteers of America's Rapid Rehousing Coordinator, mentioned its Afghan program and Ukrainian program are both centered around hiring immigrants to better serve immigrants.
"It all comes down to staffing," said Harter.
Brian Smith, VOA CEO, added that their 211 Crises Hotline is offered in over 100 different languages.
Councilwoman Shirley Sutton did not present a question but cycled back to the topic of schools and parents' children on drug abuse and mental health. "It's not their fault," Sutton, who started a parent-led education service on drugs in Yakima, argued concerning a school's responsibility to educate children on drugs.
"They have to buy in to knowing that what they're doing is really helping their children and their families," said Sutton. "I don't really hear about that going on in schools anymore, about parent education, and that's part of the problem."
Councilman George Hurst, in conclusion, summarized the evening by saying the biggest takeaway from the evening is there seems to be a need for housing and a need for facilities.
"Mental health and drug addiction are a symptom of homelessness," said Hurst. "We need to come to realize that housing is such an important part of the solution."
There are 32 beds for detox within all of Snohomish County, proving Hurst's points of aligning services to facilities to provide for the individuals.
"We need resources," said Hurst.