Criteria for counties to stay in Phase 3 relaxed
By Mario Lotmore | Lynnwood Times Staff
UPDATE – 2:51 p.m. April 9, 2021: Added Snohomish Health District press release identifying social gatherings as the leading contributor to the recent increase in new COVID cases.
Olympia, Wash., April 9, 2021 – Governor Jay Inslee today updated and clarified the criteria for counties to stay in Phase 3 of the state's Healthy Washington pandemic reopening plan. Counties now must fail both metrics for case counts and hospitalizations to be downgraded a phase level.
On March 11, 2021, Governor Inslee announced the Healthy Washington – Roadmap to Recovery plan will be transitioning from a regional approach to a county-by-county evaluation process. The governor also announced that a new third phase of the Roadmap has been added and effective March 22, the entire state will enter Phase 3.
Under the plan that took effect March 22, counties are individually evaluated every three weeks. The first evaluation occurs this coming Monday, April 12 and changes to a county's phase status take effect Friday, April 16. In addition to being individually evaluated, large and small counties have different sets of appropriate criteria based on case counts and hospitalizations.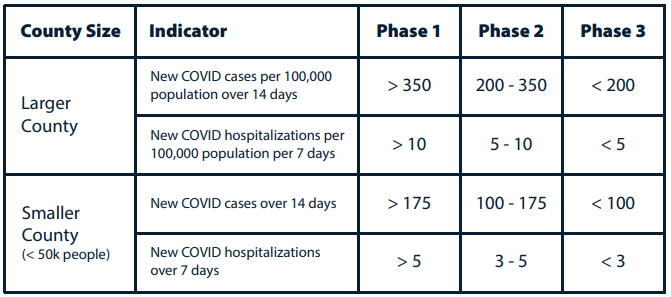 In advance of each county's evaluation on April 12 to determine its phase, the governor established that:
In order to move down one phase a county must fail both metrics for case counts and hospitalizations. Under the previous plan, a county only needed to fail one metric to move back one phase.
The spectator events guidance is updated to make clear what is allowed for counties in Phase 2 and how these events are related to school graduation ceremonies. That guidance is available at this link.
"Given the incredible progress on vaccinations and our focus protecting people from severe illness, we believe analyzing and requiring both metrics together is the right approach to make sure we're considering the connection between COVID cases and our medical system and hospitalizations," Inslee said.
Case counts and hospitalizations have been rising in Washington. About 60,000 doses of vaccine are being administered daily in Washington, but the governor is requesting residents to be mindful of others by wearing a masks, and keep gatherings small until COVID activity becomes less of a threat.
Snohomish County
In Snohomish County, the current data point for new COVID cases as of week ending April 3 was 121 per 100,000 population over 14 days which is less than the 200 per 100,000 population threshold but still a 115% increase when compared to a three weeks ago.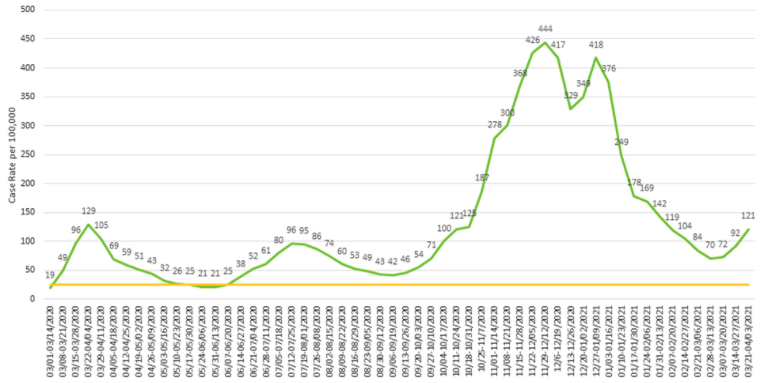 Hospitalizations have been rising. The new hospitalizations per 100,000 population for the week ending March 20 (latest reported value) was 1.7 up from 1.4 only two weeks earlier.
According to the Snohomish Health District as of March 20 Lynnwood is leading the county in new COVID cases per capita. However, overall Everett has the most COVID cases in the county since January 2020 with 8,251 reported cases.
In a press release today by the Snohomish Health District, attribute social gatherings as the leading contributor to recent cases and outbreaks in the county. These have included baby showers, camping trips, high school sports, and get togethers for church, in peoples' homes, and at restaurants and bars. 
"I know people are wondering how cases are rising while vaccination rates are also rising. But as we've been sharing for weeks, we are very clearly not out of the woods yet," said Dr. Chris Spitters, Health Officer for the Snohomish Health District. "These recent cases are largely in settings where people let their guard down around friends, family and coworkers."
"We still have several months where we are relying on everyone to remain vigilant in wearing their masks," added Dr. Spitters. "There will soon come a day when this is all behind us. When we can enjoy hugs and parties and other favorite past-times. But today is not that day. Nor will it be tomorrow."
Following Monday's evaluation, the next Healthy Washington – Roadmap to Recovery plan evaluation will occur May 3.