SpaceX Crew-2 mission launch April 22
NASA will provide coverage of the upcoming prelaunch and launch activities for the agency's SpaceX Crew-2 mission with astronauts to the International Space Station. This is the second crew rotation flight of the SpaceX Crew Dragon and the first with two international partners. The flight follows certification by NASA for regular flights to the space station as part of the agency's Commercial Crew Program.
The launch, on a Falcon 9 rocket, is targeted for 6:11 a.m. EDT Thursday, April 22, from Launch Complex 39A at NASA's Kennedy Space Center in Florida. The Crew Dragon is scheduled to dock to the space station about 5:30 a.m. Friday, April. 23. Prelaunch activities, launch, and docking will air live on NASA Television, the NASA app, and the agency's website.
The Crew-2 flight will carry NASA astronauts Shane Kimbrough and Megan McArthur – who will serve as the mission's spacecraft commander and pilot, respectively – along with JAXA (Japan Aerospace Exploration Agency)  astronaut Akihiko Hoshide and ESA (European Space Agency) astronaut Thomas Pesquet, who will serve as mission specialists to the space station for a six-month science mission.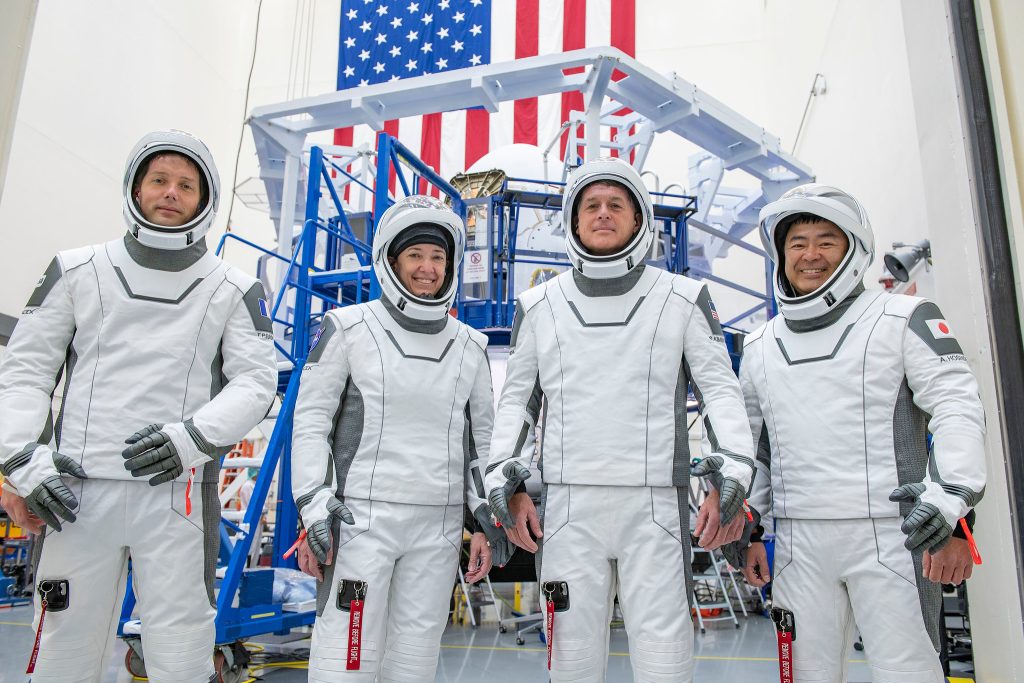 Countdown to Launch
NASA's SpaceX Crew-2 mission coverage is as follows (all times Eastern):
Thursday, April 15: 6 p.m. – Flight Readiness Review (FRR) Media Teleconference at Kennedy
Friday, April 16: 1 p.m. (approximately) – Crew Arrival Media Event at Kennedy
Saturday, April 17: 9:45 a.m. – Virtual Crew Media Engagement at Kennedy
Monday, April 19: 1 p.m. – Science Media Teleconference to discuss investigations Crew-2 will support during their mission
Tuesday, April 20: TBD – Prelaunch News Conference at Kennedy (no earlier than one hour after completion of the Launch Readiness Review)
Wednesday, April 21: 10 a.m. – Administrator Countdown Clock Briefing
Thursday, April 22

2 a.m. – NASA Television launch coverage begins. NASA Television will have continuous coverage, including docking, hatch opening, and welcome ceremony, with a news conference following docking activities.
7:30 a.m. (approximately) – Postlaunch news conference
NASA TV Launch Coverage
NASA TV live coverage will begin at 2 a.m. For NASA TV downlink information, schedules, and links to streaming video, visit: http://www.nasa.gov/live.
NASA Website Launch Coverage
Launch day coverage of NASA's SpaceX Crew-2 mission will be available on the agency's website. Coverage will include livestreaming and blog updates beginning no earlier than 2 a.m. Thursday, April 22, as the countdown milestones occur.
On-demand streaming video and photos of the launch will be available shortly after liftoff. For questions about countdown coverage, contact the Kennedy newsroom at: 321-867-2468. Follow countdown coverage on our launch blog at: http://blogs.nasa.gov/commercialcrew.
Public Participation
NASA invites the public to take part in virtual activities and events ahead of the launch. Members of the public can attend the launch virtually, receiving mission updates and opportunities normally reserved for on-site guests.
NASA's virtual launch experience for Crew-2 includes curated launch resources, a digital boarding pass, notifications about NASA Social interactions, and the opportunity for a virtual launch passport stamp following a successful launch.
Register for email updates or RSVP to the Facebook event for social media updates to stay up-to-date on mission information, mission highlights, and interaction opportunities.
Print, fold, and get ready to fill your virtual launch passport. Stamps will be emailed following launches to all virtual attendees registered by email through Eventbrite.
Engage kids and students in virtual and hands-on activities that are both family-friendly and educational through Next Gen STEM Commercial Crew.
Watch and Engage on Social Media
Stay connected with the mission on social media via Twitter, Facebook, and Instagram using the hashtag #LaunchAmerica. Follow and tag these accounts:
NASA will provide a live video feed of Launch Complex 39A approximately 48 hours prior to the planned liftoff of the Crew-2 mission. Pending unlikely technical issues, the feed will be uninterrupted until the prelaunch broadcast begins on NASA TV, approximately four hours prior to launch.
Once the feed is live, it will be available here: http://youtube.com/kscnewsroom
Related Posts