$186 million in major transportation capital projects to absorb Lynnwood's growth
Lynnwood, Wash. – A briefing concerning major transportation capital construction projects was held at the Lynnwood City Council Work Session meeting, Monday, April 5. A total of $186 million over the next 15 years aim to provide vehicular capacity, bike lanes and much needed sidewalks.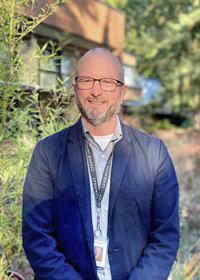 Public Works Director William "Bill" Franz began the presentation on the transportation capital projects, joined by City Center Program Manager, Karl Almgren, and City Engineer, David Mach to go over its status, progress, and what funding and approvals would be needed to ensure completion.
"These investments that we've been talking to you about, over these series of briefings, are critical and crucial to the success of our city," Franz said.
The presentation was turned over to David Mach, City engineer, who spent many years working with Puget Sound Regional Council Washington, FHWA, and many other jurisdictions, looking at what Lynnwood would look like years in the future in terms of transportation.
What arose from his access study were the ideas to reconstruct 36th Ave W, 196th St SW, the new Poplar Bridge, Beech Road, 42nd Ave W, and 194th St W. These "mega projects", as referred to by Mach, are all at different stages in their developments and completion.
"We're seeing a lot of growth opportunities within the marketplace, as well as the investment from the public sector," Mach said. "Sound Transit, with the Link and the eventual Everett Link extension, facilitating more growth to occur in the city center. These are all very, very large projects and to try and move them all forward simultaneously would be a lot for our staff to do and also financially wouldn't be something the city could afford doing, so these are really staggered by about, maybe three- or five-year increments."
36th Avenue West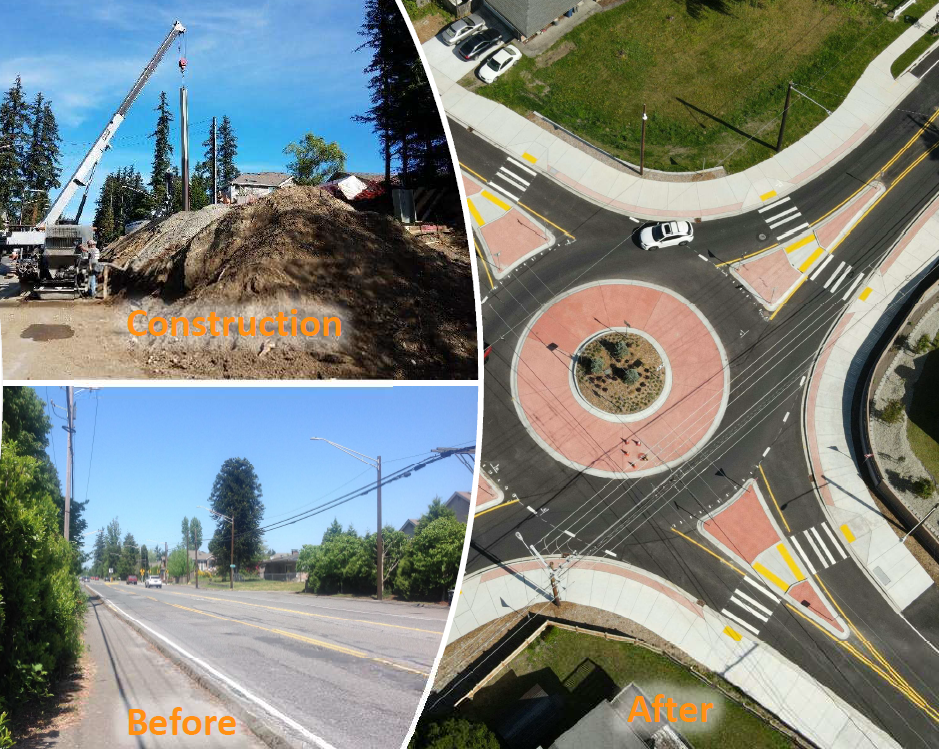 36th Ave W is now complete after $17 million and 10 years of planning, designing, and building from 2009 through 2020. It now includes a mile widening, sidewalks, and bicycle lane improvements, serving 10,000 vehicles per day.
196th Street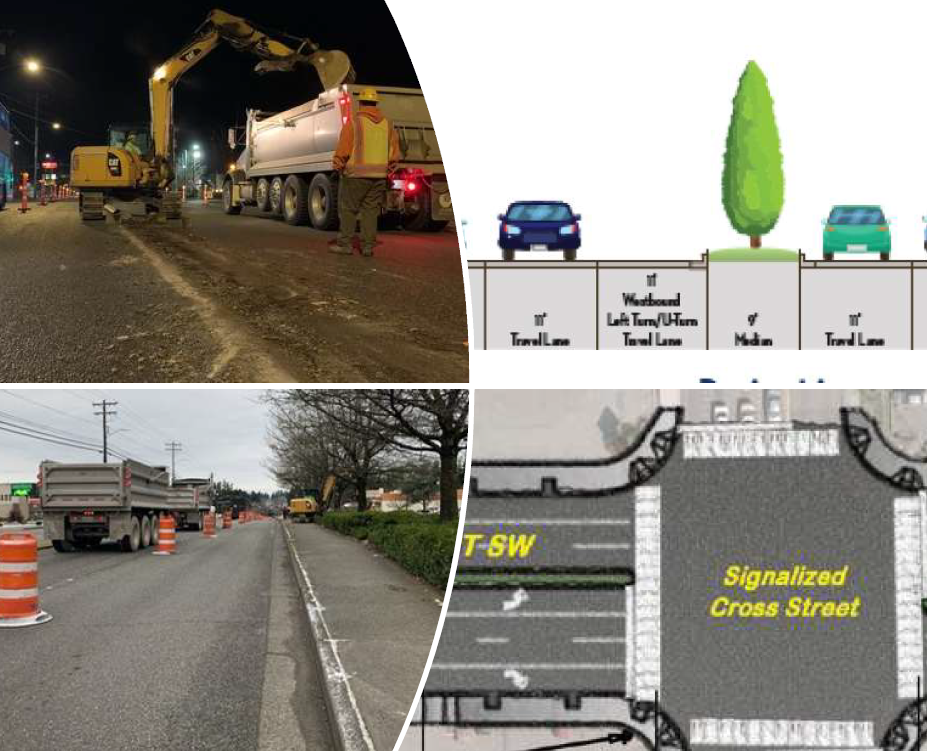 196th Street is still under construction while serving 50,000 vehicles per day, with most work conducted at night. This project involves one mile of widening, starting at 48th by Fred Meyer, and sidewalk improvements. It began predesign in 2008 and is projected to be complete in 2023, costing a total of around $50 million.
Beech Road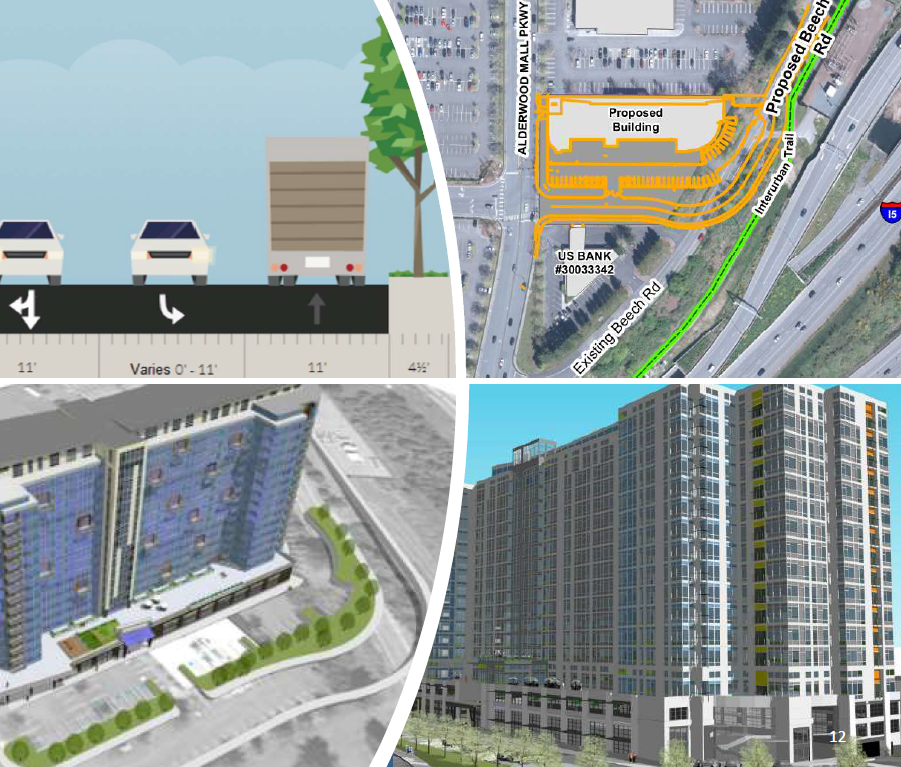 Beech Road is set to receive 1,000 feet of new street, upgraded sidewalks, bicycle lanes, and improved business access by 2023. This project, which began predesign 2007, has now been fully funded at a cost of $4 million.
Once complete, Beech Road will serve 3,000 vehicles per day. The road will create a new west leg to the intersection by the old Sears at Alderwood Mall and run a new arterial up around the backside of Beech, eventually extending along the backside of Target. It will then connect up north, providing another route for people to get around these businesses and improve access to them.
"Having another connection in that area is forward-thinking, and now we need to start planning for these early. It takes 10 to 15 years to get these built," Mach said.
42nd Avenue W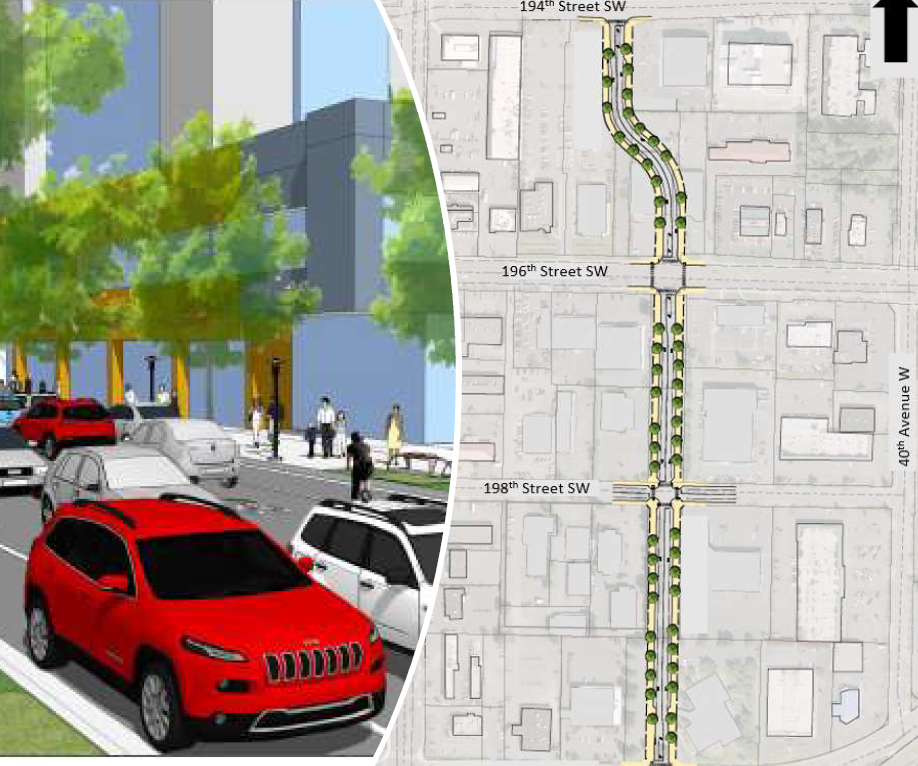 A new grid street at 42nd Ave West will be a completely new roadway in the heart of the Lynnwood City Center, running from Veterans Way South to Alderwood Mall Blvd. It will be 2,000 feet, aiding to break down super blocks, improve business access, and offer bicycle facilities and two to three vehicle lanes, and will have 16-foot-wide sidewalks, offering a new connection point for pedestrians to gain better access to businesses.
"It just feels more like a pedestrian oriented street," Mach said.
This project will be coming next rotation and will be presented to the city council for approval later this month before plans begin. It will cost somewhere in the range of $1 million. Preliminary steps have already been made.
Poplar Way Bridge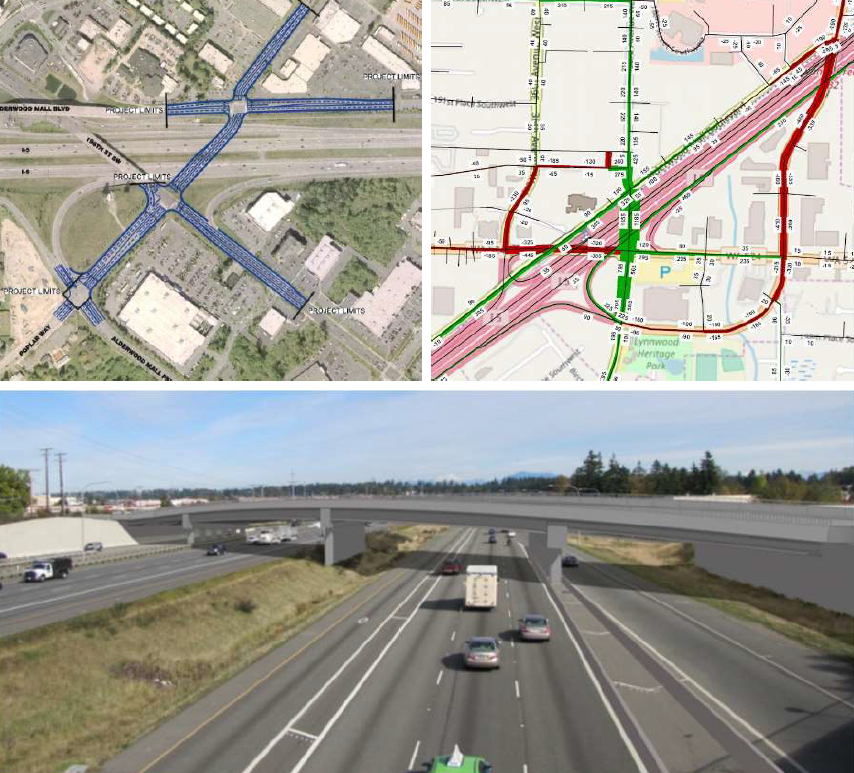 While other transportation capital projects are undergoing progression and completion, some, like the Poplar bridge, are awaiting the necessary funding to begin. This project aims to create an entirely new bridge over I-5 involving six lanes with sidewalks and would require the intersections to be raised slightly to allow room for its expansion.
There are roughly four or five different crossings identified in Lynnwood, according to Mach, and by adding another, City Planning believes this could be the biggest solution for congestion relief as the city prepares for growth in upcoming years.
The design and property acquisitions are almost finished and the bridge is projected to serve 30,000 vehicles per day, with a cost estimated at $49 million ($39 million of which is needed to begin construction). Predesign began in 2008.
"As of right now a lot of people are using Alderwood Parkway to get across I-5 or they're using 196th street to get across. When we build this bridge, those trips will no longer go on those routes. They get redistributed to this new connection, and it was the largest capacity benefit we could provide to the city of Lynnwood," Mach said.
Poplar bridge construction is scheduled to commence but, as of now, there are no construction dollars, according to Mach. Staff has been actively pursuing grant funds both in the District of Columbia and here locally in the state of Washington to try to expedite its operation.
"It takes a lot of time and it takes a lot of money, but these projects are needed for all this growth that we're experiencing," Mach said.
Funding Plan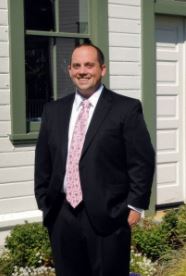 Since the Growth Management Act passed in 1990, cities have been preparing for growth in certain areas, specifically urban, by concentrating on zoning and land use decisions.
"How we are tooling the city center for future growth based on the market demands and the city center is one of those strategies," Almgren said. "The city has to concentrate growth and better position the city to absorb growth without impacting the livability throughout the entire area."
About 41% (or $76.3 million) of funding is coming from city funding; whereas, the other 59% (or $109.6 million) is expected in grants. Over the span of 2020-2035 these projects cost an estimated 186 million dollars, averaging about $5 million per year of city funding.

When it comes to budgets, to keep these transportation capital projects moving, these need to be allocated into the budget, according to Mach. Lynnwood has been extremely successful in securing grants which is largely attributed to it being a classified as a regional center.