196th Street improvements paves way to Lynnwood's ongoing renaissance
LYNNWOOD, Wash., August 15, 2023—After years of planning and actual years in the making, motorists commuting through and to Lynnwood can now breathe a sigh of relief: major construction on 196th Street has finally come to a close.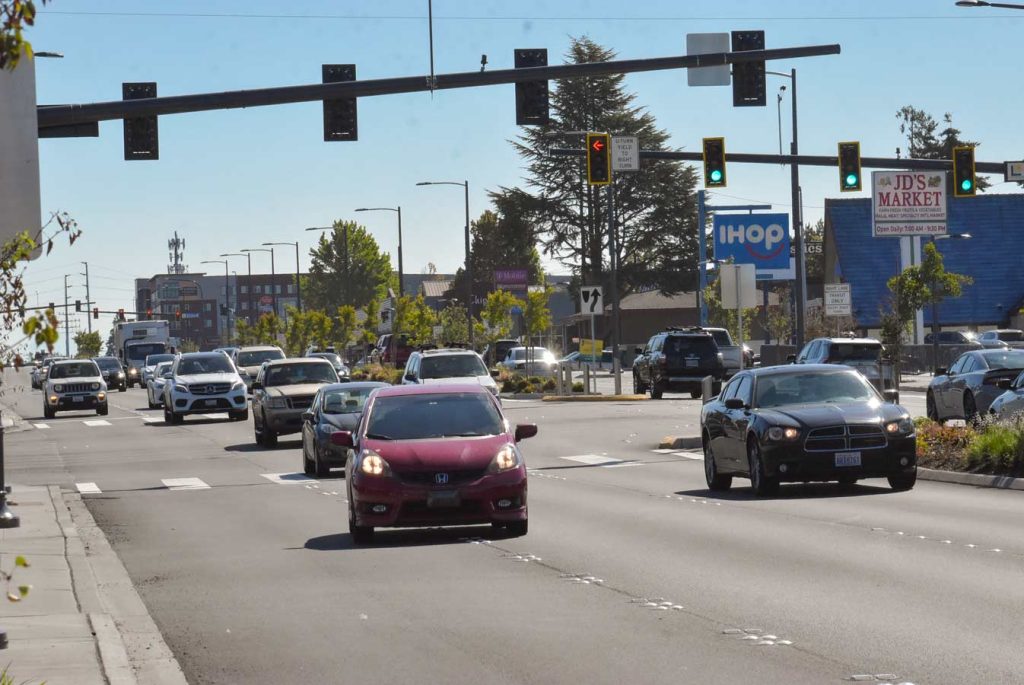 In addition to the nearby future Sound Transit Lynnwood Transit Center just south of 196th Street, construction cranes stretched as far as the eye could see ushering in new housing buildings while the Lynnwood Event Center undergoes an expansion and redevelopment just up the street, and over the hill a multitude of new and remodeled buildings are being erected around Alderwood, all the start of many more to come for Lynnwood's rapid growth.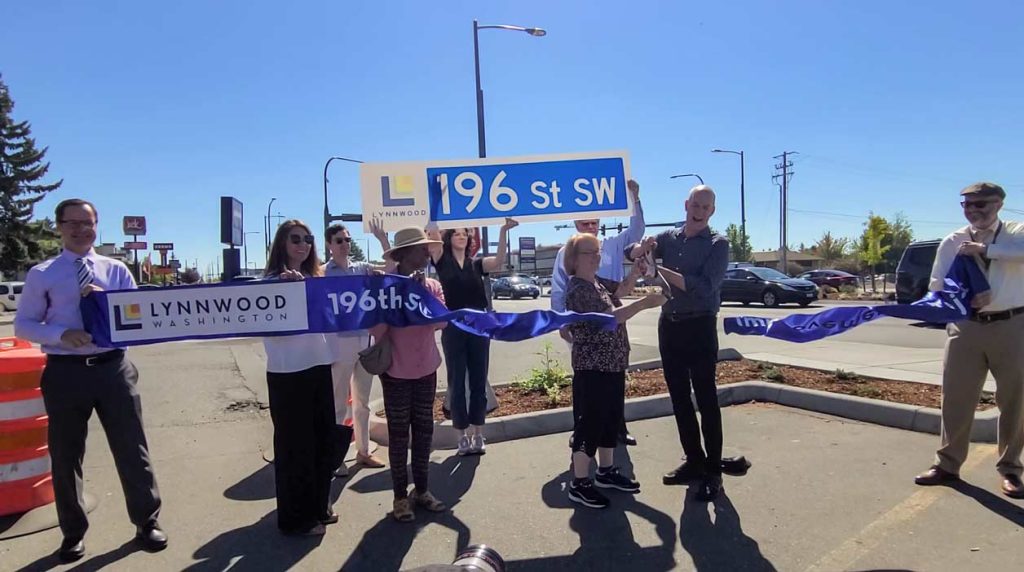 On Tuesday morning, August 15, the city of Lynnwood held a ribbon cutting ceremony, at the corner for 44th Avenue West and 196th Street, commemorating this momentous occasion with refreshments, guest speakers, and honoring the people who made the project a reality, including those who worked on it, those who championed it, and those who were impacted from the work.
To kick off the ceremony Lynnwood Mayor Christine Frizzell took to the podium to share a few words, thanking the many hands involved and encouraging those in attendance to walk the new sidewalks (with a bottle of water in hand) to support the many surrounding local businesses.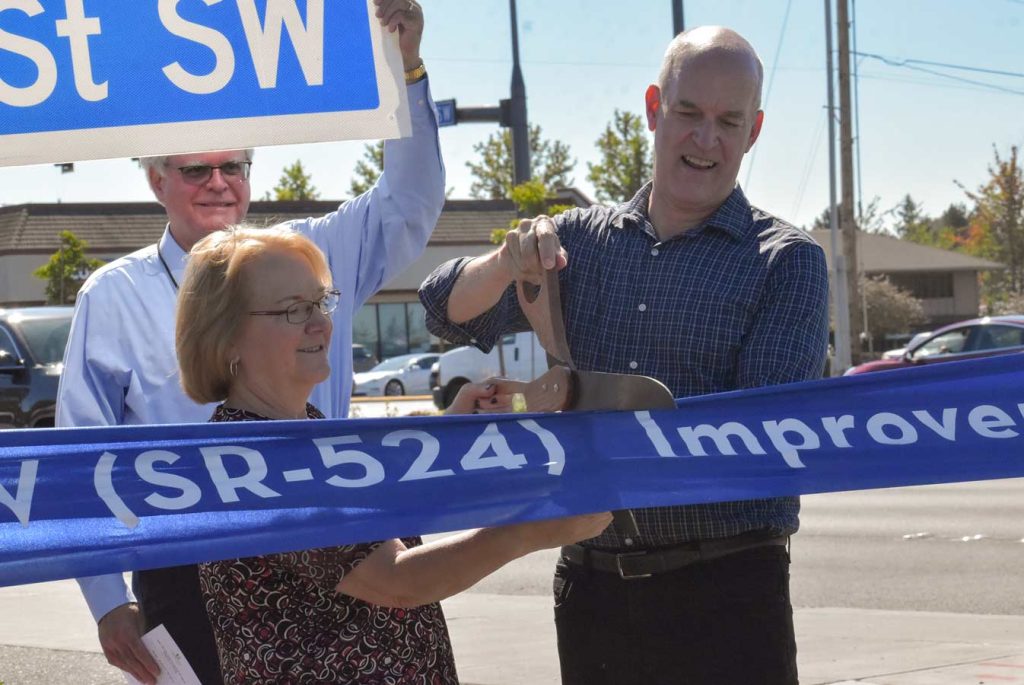 "196th is a conduit that links and connects our city's economic centers and continues to serve as a hub for Lynnwood and our region as we grow and expand in the coming years," said Mayor Frizzell. "Completing the 196th Street Improvement Project would not have been possible without strong partnerships with multitudes of contractors, consultants, and agencies our teams interacted with almost daily. We are so thankful to each person's dedication to this project."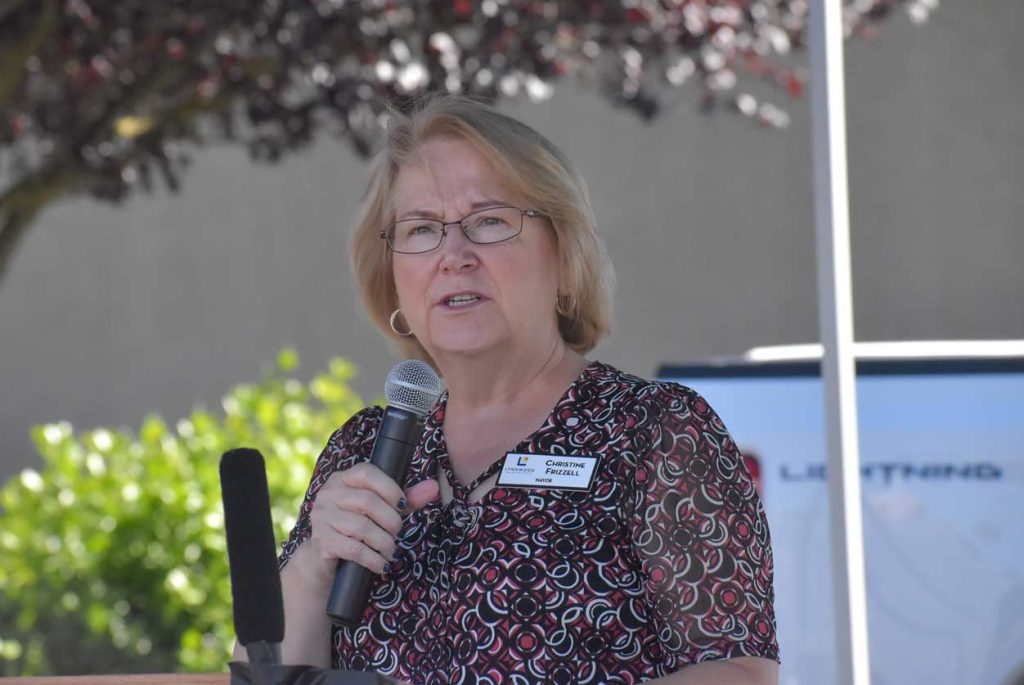 Following Mayor Frizzell, Congressman Rick Larsen followed suit noting that transportation leads to jobs and is a gateway to longtime economic growth. Larsen continued the 196th Street Improvement Project is no exception to this and is at the heart of a "transportation revolution" happening in Lynnwood.
Larsen was paramount in securing federal dollars for the 196th Street Improvement project and has been with many Lynnwood projects by supporting the Bipartisan Infrastructure Law, which secured more than $1 billion in federal investment for the future Lynnwood Link light rail extension opening in 2024, and the Poplar Way Bridge project, and Community Transit's Swift Orange Line, to name a few.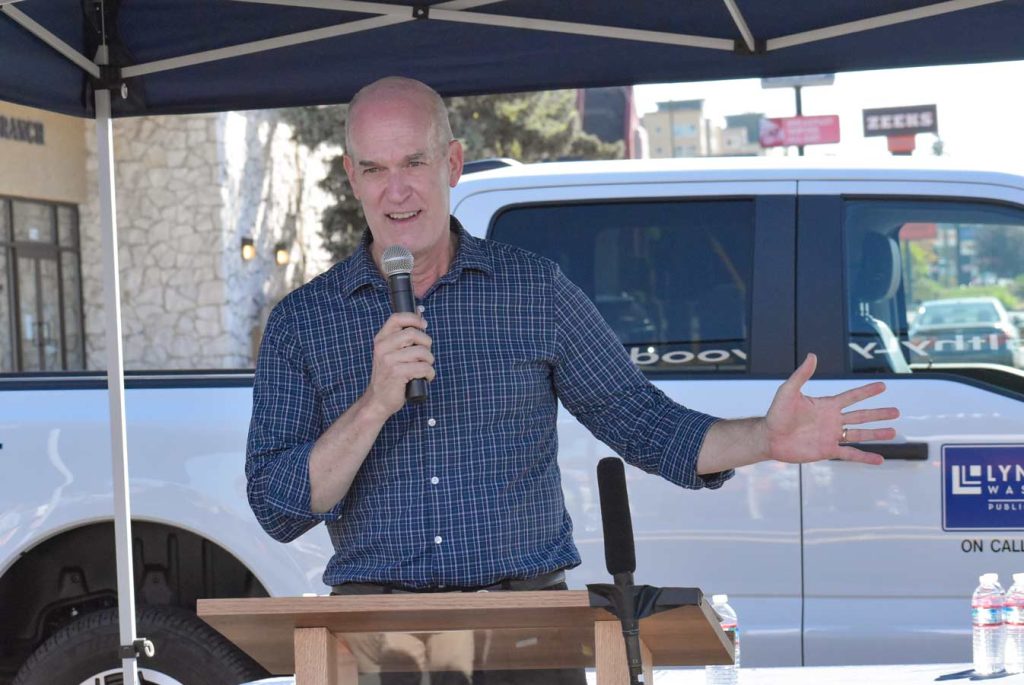 "I always say that you cannot have a big-league economy with little league infrastructure, to grow our economy, to grow local jobs, to grow our transportation network, to reduce pollution, and ensure people of all abilities can get safely to and from work these investment are critical," said Larsen. "We have a great story to tell."
Larsen was able to tell this great story last week to Republican leader Sam Graves at the Port of Everett, bringing in local agencies who shared how the Bipartisan Infrastructure Law is helping them.
With the completion of the 196th Street project residents have easier access to Community Transit, paratransit, and van pool to get to and from the Lynnwood Transit Center and the City Center Station, while improving access to local business, improving safety for bicyclists and pedestrians, and provide the infrastructure for future development in the city, Larsen continued.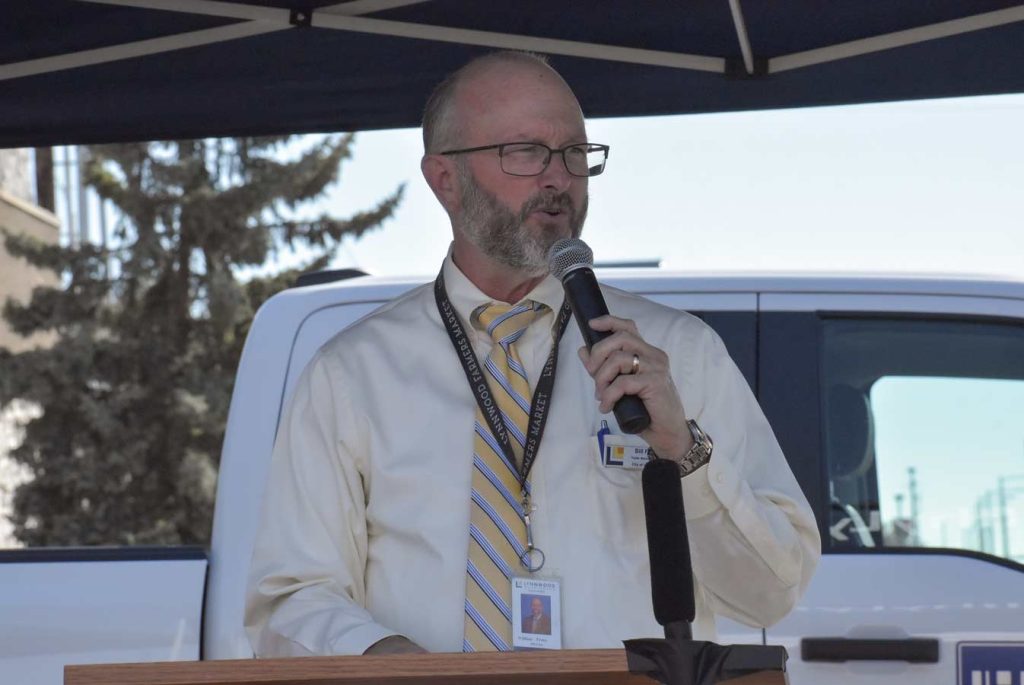 Bill Franz, Lynnwood Public Works Director, was next to speak noting the city is "doing much more with this project than just improving a road" it's "helping create the new Lynnwood."
"This project is one of the critical pieces of a decades long plan to reshape our city," said Franz. "If you look around the area we stand in the middle of exciting times as many new gems for our community are being created."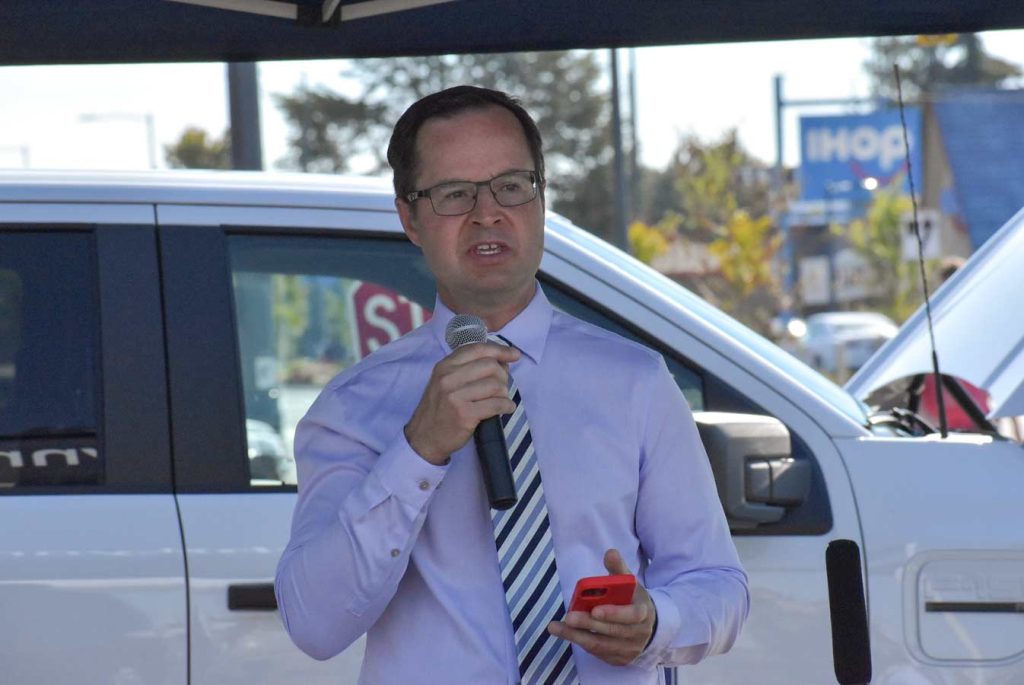 David Mach, City Engineer for Lynnwood, followed Franz to reflect how much has changed in 100 years, when 196th Street in Lynnwood was an old lumber track loggers used to transport timber to the mill in Edmonds — a road that maybe had five houses total on it at the time. With the advent of cars, the road was paved and when automobile travel grew more popular, it was later widened to a five lane road with sidewalks in the 60's. More lanes were added by the Convention Center again in the 90's, following the completion of the I-5 196 Interchange Project, and a few years after that, in the early 2000's, the city of Lynnwood had a vision: to create a Downtown.
In 2008 the city hired a consultant firm, David Evans and Associates, to start plans. Many years of revisions and iterations the city brought on board Contract Land Services to assist in 40 or so different properties needed for the improvements while working closely with local utility companies to remove old power lines and replace old pipes.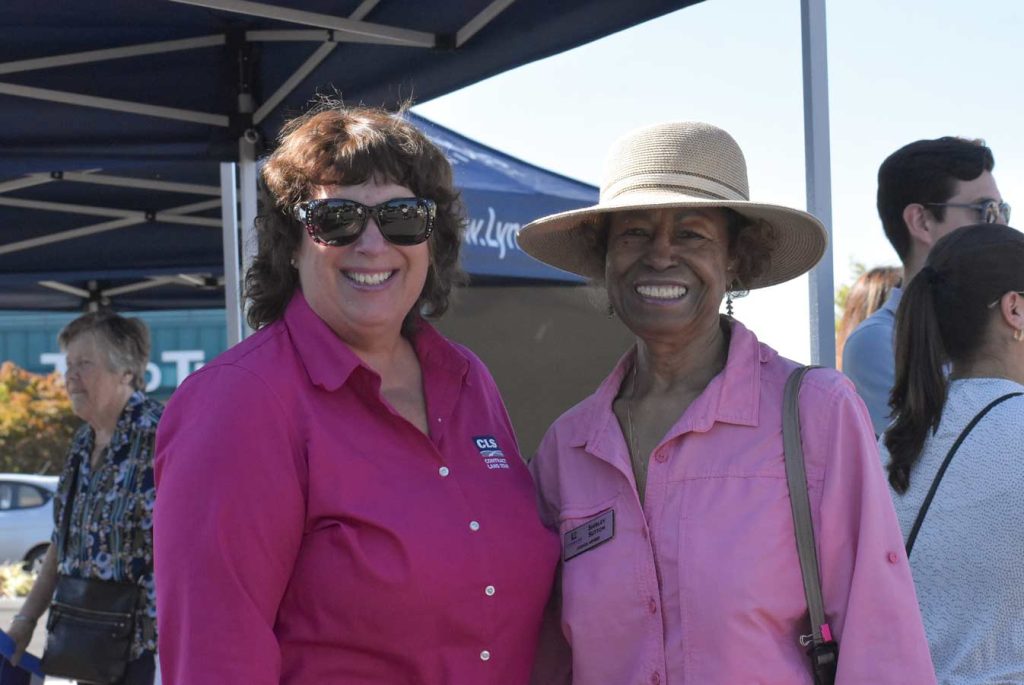 In early 2020 the city advertised for bids and hired Marshbank Construction. After 300 newly planted trees and 4,000 plants, 1,000 truckloads of asphalt, 1-mile of drainage pipes, and 15-miles of utility conduits later, 196th Street is complete in two and a half years of hard work.
The new improvements add street and pedestrian lighting, conversion of overhead power and communication utilities to underground, new traffic signals, planted medians, wider sidewalks and landscape features, new business access and transit (BAT) lanes, new storm drainage, water quality and flow control, new water main and fire hydrants, new sewer main, new driveways for all businesses, and a repaved full roadway.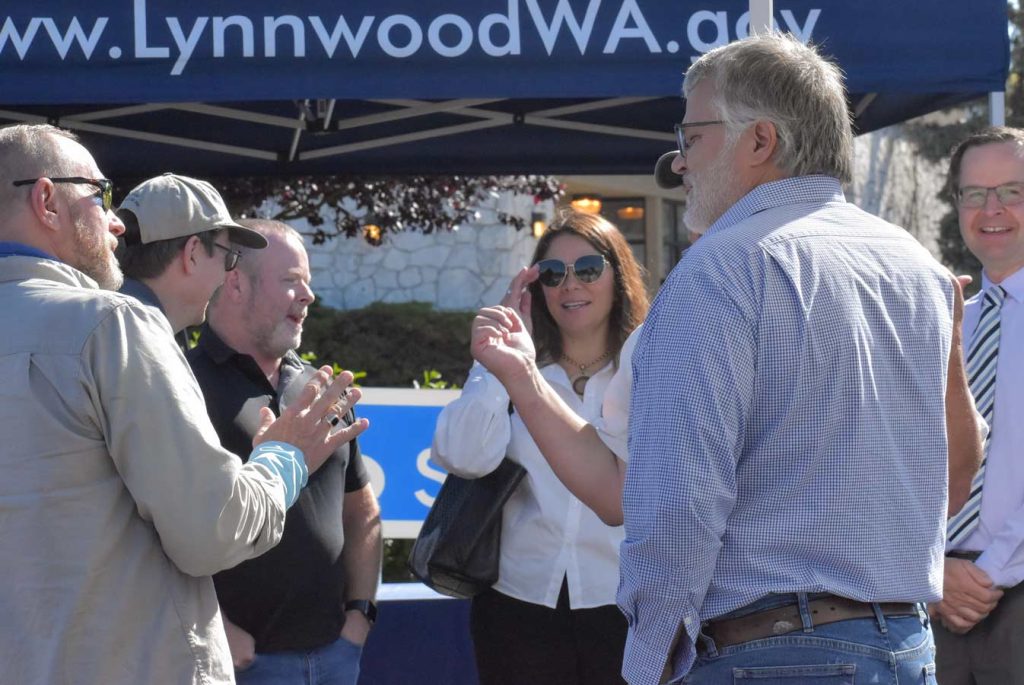 The City received $26 million in state and federal grants for completion of this project. Project funding includes an additional $22 million in city, WSDOT and private funding for a grand total of $48 million.
In addition to the guest speakers, Lynnwood City Council members Shriley Sutton and Dr. Julieta Altamirano-Crosby were also in attendance. Senator Maria Cantwell was unable to attend Tuesday's ceremony but a staff member, speaking on her behalf, shared the following statement: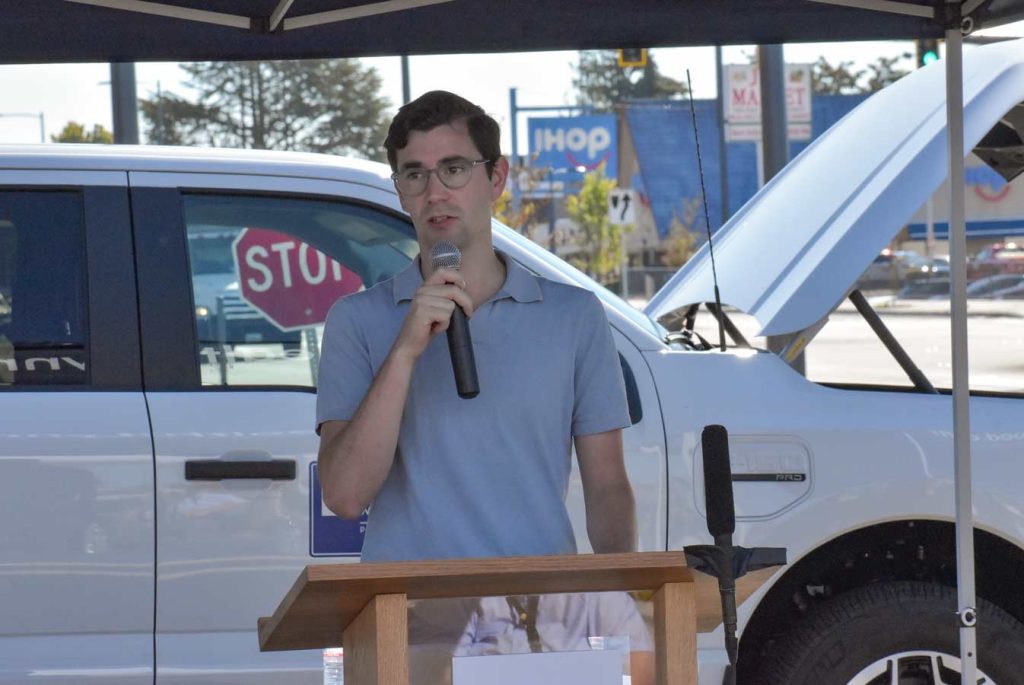 "Congratulations to the city; a job well done to all the staff who put in the many hours to makes this possible," said Cameron Caldwell on behalf of Senator Candtwell.
196th Street (SR 524) is one of the busiest highways in Snohomish County, carrying 40 to 50 thousand vehicles a day. The corridor is also home to hundreds of businesses, a major transit center, and a future light rail station opening next year. The improvements were designed to reduce traffic congestion, better accommodate bus and transit travel, increase business access, provide utility capacity for future development and promote safety.
These improvements will accommodate the growth of City Center and also created an enhanced pedestrian environment with a boulevard appearance.