Port of Everett hosts Transportation and Infrastructure Committee forum
EVERETT, Wash., August 7, 2023—Members of the House of Representatives Transportation and Infrastructure Committee met with local leaders at the Port of Everett today, August 7, to discuss infrastructure investments in the Pacific Northwest.
On the committee side, Ranking Member Rick Larsen (WA-02) joined Committee Chair Sam Graves (MO-06), and members Mark DeSaulnier (CA-10), and Julia Brownley (CA-26), to hear directly from local community leaders and stakeholders about their experiences accessing funding through recent federal infrastructure laws under the Committee's jurisdiction.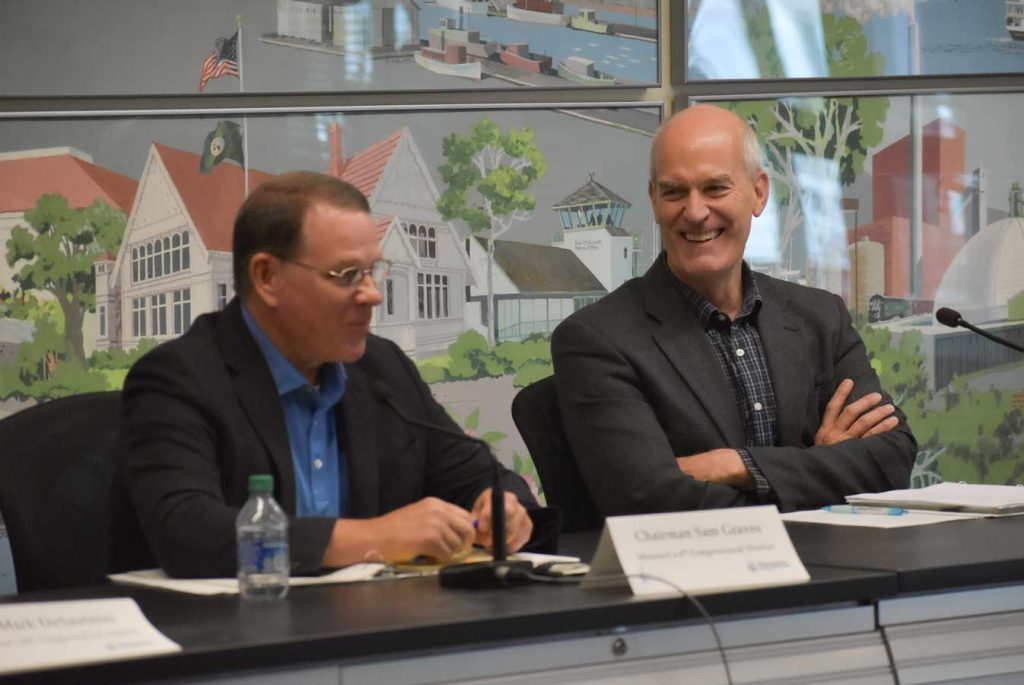 Just last month Graves and Larsen were both pivotal in the House passage of the Securing Growth and Robust Leadership in American Aviation Act — a bill that reauthorizes the Federal Aviation Administration (FAA) and aviation safety and infrastructure programs for the next five years. The bill passed with large bipartisan support in a 351 to 69 vote.
"I'd just like to thank Representative Larsen for bringing the show on the road, so to speak, and having the committee hear about the many infrastructure needs in our region and how important our region is nationally," Mukilteo Mayor Joe Marine told the Lynnwood Times after the discussions at Monday's forum. 
Bipartisan delegation of the House Transportation & Infrastructure Committee discussing infrastructure investments in the PNW today at the @PortofEverett. Chair Rep. Sam Graves (MO-6), Ranking Member Rep. Rick Larsen (WA-02), Rep Mark DeSaulnier (CA-10), and Rep. Julia Brownley… pic.twitter.com/mxeOaD32BQ

— Lynnwood Times (@LynnwoodTimes) August 7, 2023
Also, back in 2021, Larsen championed for the passing of the Bipartisan Infrastructure Investment and Jobs Act which invests billions in investment projects across the state for the next five years. Approximately $5.9 billion of those infrastructure law dollars were just announced earlier this morning that will fund 380 projects across Washington State.
On the local end of Monday's panel, Snohomish County Executive Dave Somers, Misty Napeahi, Vice Chair of the Tulalip Tribes, Michael Harmon, City Manager with the City of Blaine, Katherine Pittis, Commissioner of the Port of Anacortes, and Todd Morrow, Executive Director of Island Transit spoke about their unique challenges and successes as it relates to these federal infrastructure dollars.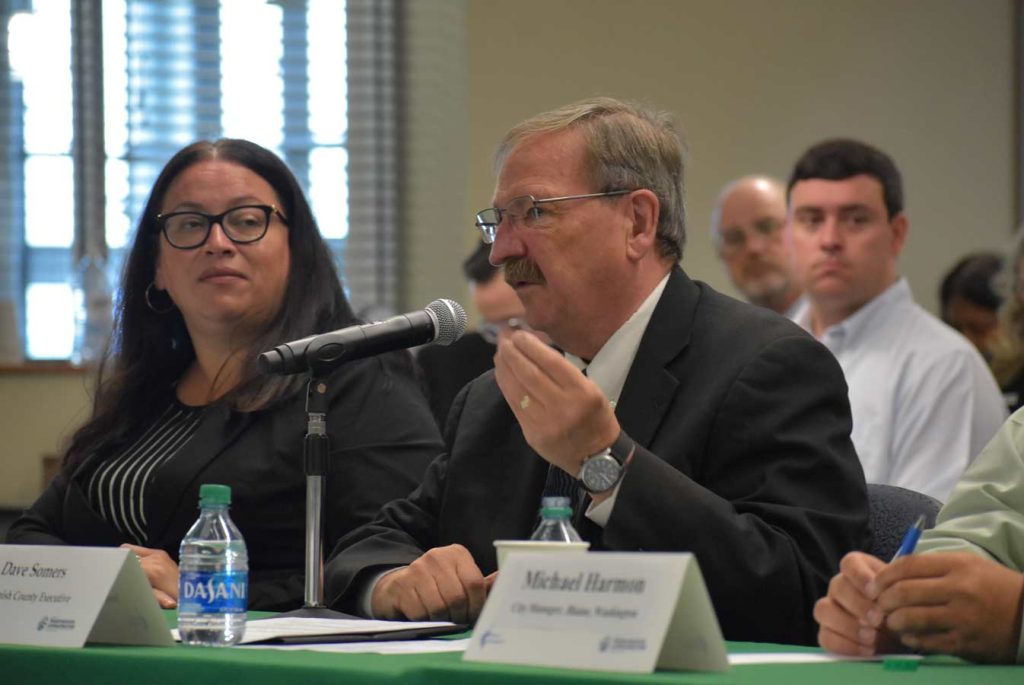 Executive Somers thanked Larsen for his continued support in bringing federal dollars to fund several Snohomish county-wide projects. The Infrastructure and Jobs Act includes $16 million for county-operated Paine Field, as well as allocating millions to capital projects across the county, expanding broadband service, and more.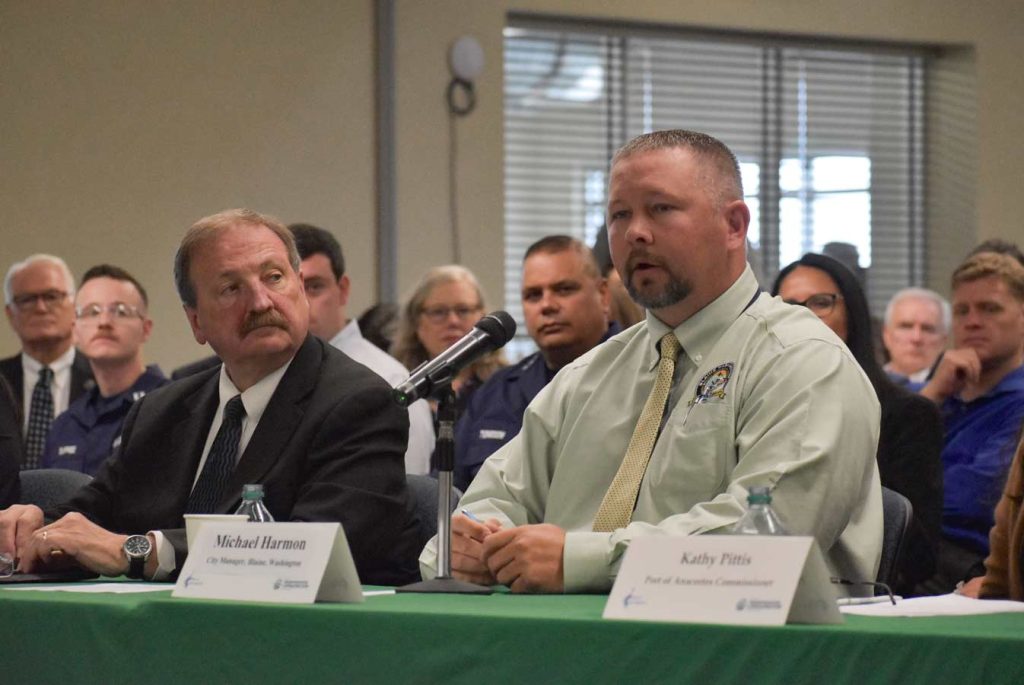 The City of Blaine was recently awarded a $9.5 million raise grant, from federal funding, for its Bell Road project, which aims to improve safety and accessibility and reduce congestion. While City Manager Harmon expressed gratitude for this raise grant the city is experiencing an additional problem with trains crossing the Canadian border. In an attempt to increase national security, a process called VACIS inspects train cargo, requiring trains to slow to about five miles per hour which blocks the intersection at 548 preventing first responders to deliver services to the, roughly 3,000 residents on the other side. The city has identified this as a problem for the last 22 years but hasn't been able to find a solution within its budget.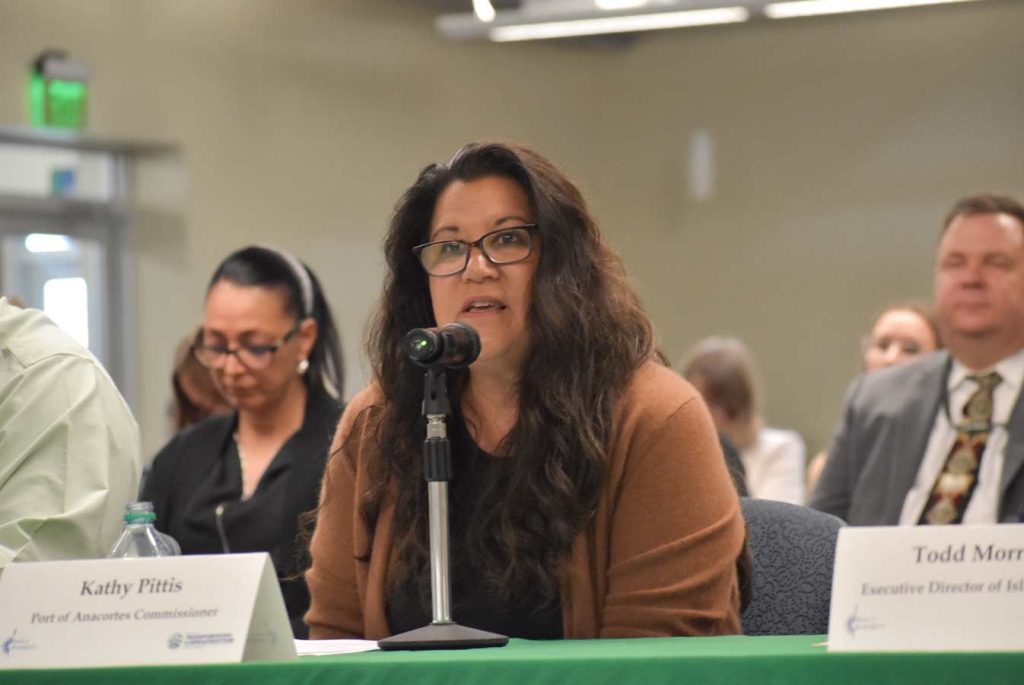 The Port of Anacortes was successful in recently securing federal dollars including $1 million for T-Dock reconfiguration; $800,000 for a new commercial pump-out system, which will help the tugboats, emergency response and other vessels berthed at the Port comply with new Ecology regulations for sewage discharge; and $500,000 to electrify Port equipment, infrastructure, and technology and install zero-emission shore-to-ship power. However, Commissioner Katherine Pittis expressed that the Port still requires help from congress with the permitting process.
The Tulalip Tribes are currently seeking $63 million in funding for infrastructure projects, which include improvements to the 4th Street and 88th Street Northeast interchanges on the Interstate 5 corridor, within the boundary of the reservation, in order to reduce congestion and improve overall safety.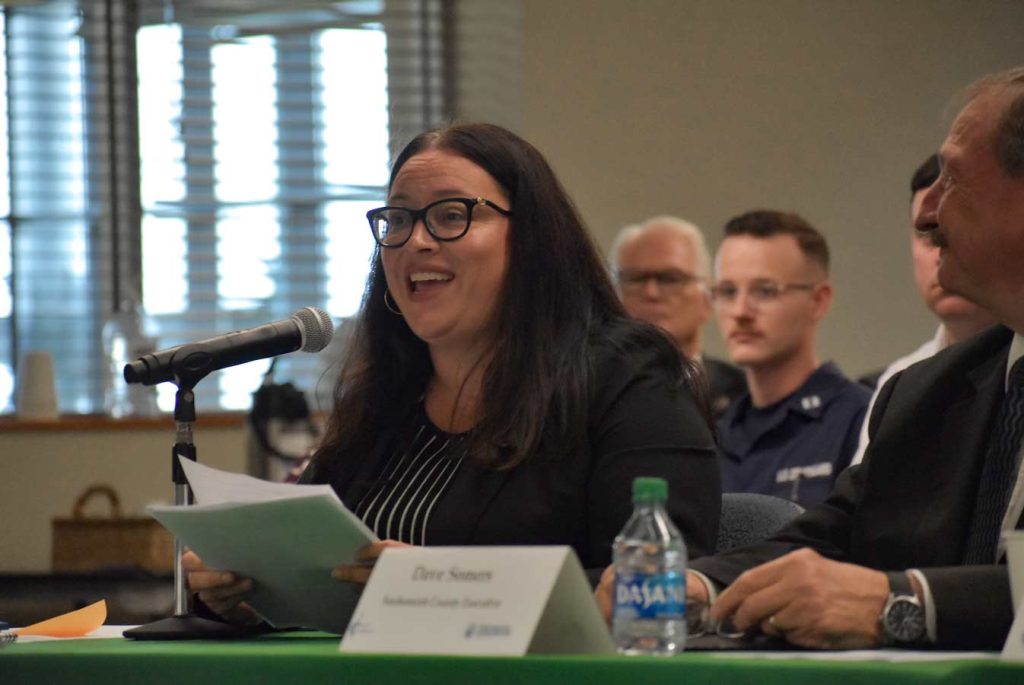 Napeahi expressed difficulty in securing funding for these projects although the infrastructure bill is meant to prioritize tribal governments. The Tulalip tribes have applied for two BIL grants but both grants were denied, she said, under the grounds the tribe did not provide enough documentation it had worked enough with local jurisdictions, despite submitting letters of support to the Washington State Department of Transportation, Snohomish County, Community Transit, and the City of Marysville.
The tribe has numerous other infrastructure improvement projects within its long-range plan costing $152 million, however the only consistent funding the tribe has received is approximately $1.3 million a year from the tribal transportation program.
Napeahi noted Tulalip is one of the largest native tribes in Washington State and asked the committee to imagine, if Tulalip is experiencing difficulty accessing federal dollars, what that could mean for tribes in more rural areas.
"Although the language said that this prioritizes tribes this is often what happens to tribes, even if there's a priority we get left," Napeahi told the Lynnwood Times. "That's why we always ask for a tribal set aside, which the federal government is supposed to provide due to the treaty, but they make us compete with states, or they send our money to the state then make us write a grant to get the money out. But often the state will say the grant wasn't written good enough, so they'll hold on to our money and say they served us, but they haven't."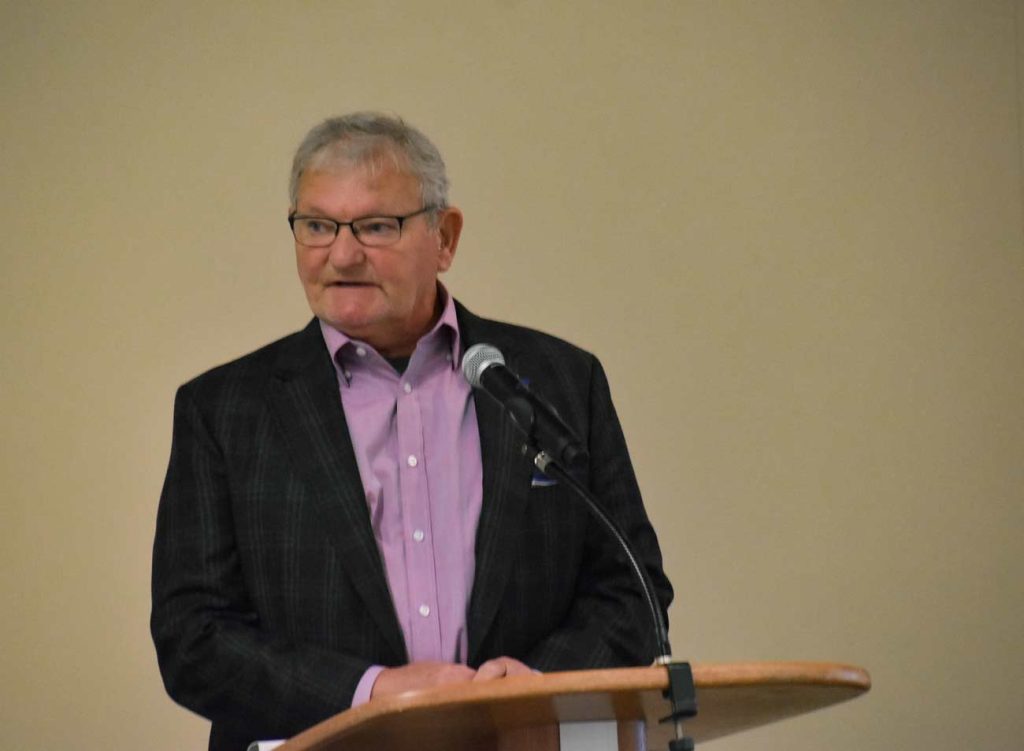 Port of Everett Commissioner Glen Bachman informed the Lynnwood Times the Port of Everett has also had its share with permit difficulties, stating the process can take so long by the time you've received it funds have often evaporated. If you receive the permit before the funds are gone, sometimes the bid and the project cost have shifted so "you have to start all over again," he said, and when that happens you have to start your permit process over again.
"It's very frustrating," said Bachman. "With each one of these projects, if we work through the funds, the permits, if everything works, it's beneficial enormously not just for the community but in some cases it affects nation-wide, certainly the region." 
When asked about the challenges Tulalip is facing accessing federal funds, Larsen noted the whole purpose of this morning's hearing was to find what the problems cities, counties, or tribes were having. He encourages anyone to contact a member of congress with concerns so that they can be informed of these challenges and better facilitate an answer.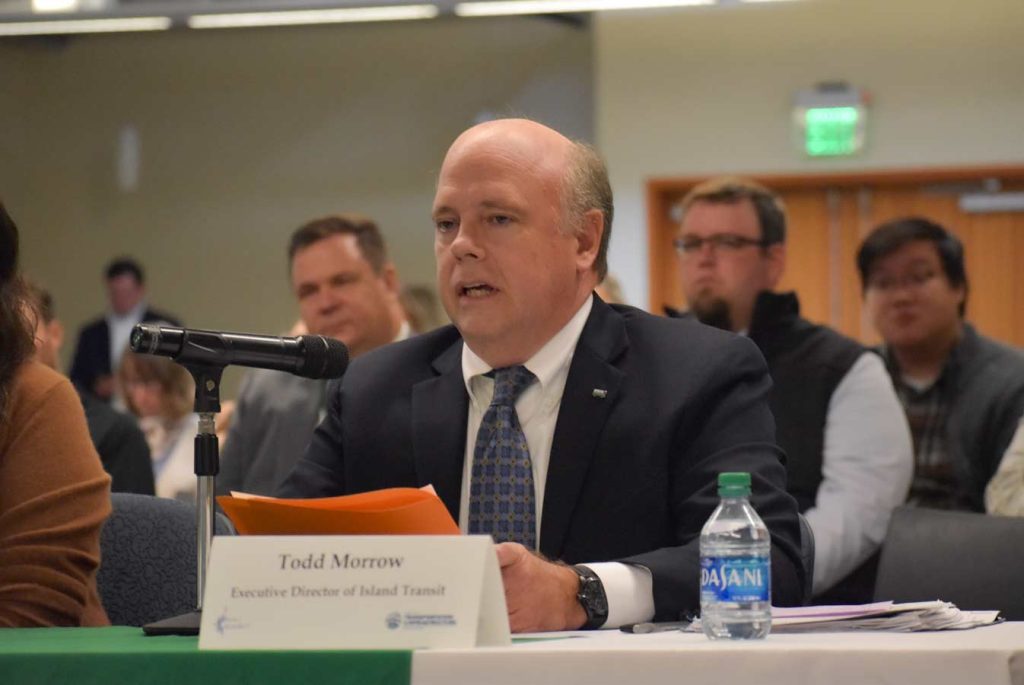 Island County Transit, which is fare free and has been funded through sales tax since the 1980's, is currently looking for federal assistance to decarbonize its footprint. The Island County Transit Board recently made a commitment to decarbonize its fleet by 2035 using a mixture of hydrogen and electric buses. Just last week the transportation agency broke ground by building battery electric charging stations at its main operating base, which also has recently installed solar panels, and has on order 11 ADA-accessible battery electric vans. The agency already owns five battery-electric sedans as part of its ride share program.
"This transition plan allows the agency to move toward a zero emissions fleet while we continue to deliver expanded and new transit services to better serve its community members," said Beth Munns, Board of Directors President, and City of Oak Harbor Councilmember.
In the last round of funding Island County Transit was awarded $7.52 million to build a new transit center at the south end of Whidbey Island.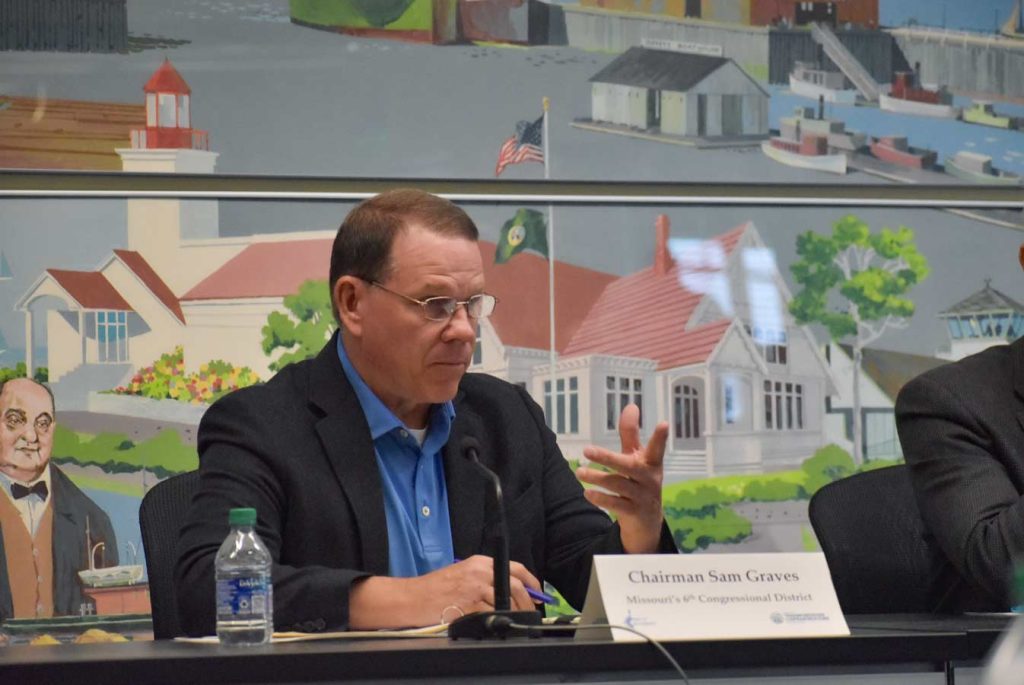 Representative Sam Graves (MO-6), Chair for House Transportation and Infrastructure Committee, told the Lynnwood Times that the committee's top priorities for the this year are passing four major reauthorizations — FAA Reauthorization Act, Coast Guard Reauthorization Act, Water Resources Development Bill, and Pipeline Safety Reauthorization Act — and oversite of the infrastructure dollars to keep waste and fraud to a minimum.
Following the Committee meeting in Everett the group of delegates traveled up to the Skagit Regional Airport to continue their conversation of how the Airport Improvement Program, and other federal aviation investments, have benefitted aviation in the region.