Amtrak rolls out first ever electric bus service between Seattle and Bellingham
SEATTLE, Wash., August 16, 2023—The National Railroad Passenger Corporation (otherwise known as Amtrak) and the Washington State Department of Transportation (WSDOT) launched an all-electric bus service Wednesday, August 16, that will serve a segment of Amtrak's Cascade route.
The bus is the first electric bus in Amtrak's national network and will replace an existing diesel-powered bus running one of two daily roundtrips between Seattle and Bellingham, with stops in Everett and Mount Vernon. The new electric bus is able to make the entire, approximately, 178-mile trip on a single charge, officials say.
According to Amtrak the bus will save around 10,000 gallons of diesel a year cutting carbon emissions by 109 tons annually – the next step in moving the company closer to its goal of hitting zero emissions by 2045.
As is stands, Transportation makes up 45 percent of Washington State's greenhouse gas emissions, according to the Department of Ecology.
The vehicle is owned and operated by MTRWestern, a Seattle-based charter bus company, through a contract with Amtrak. This agreement makes MTRWestern the first charter bus company in the United States to operate a fully electric intercity bus route.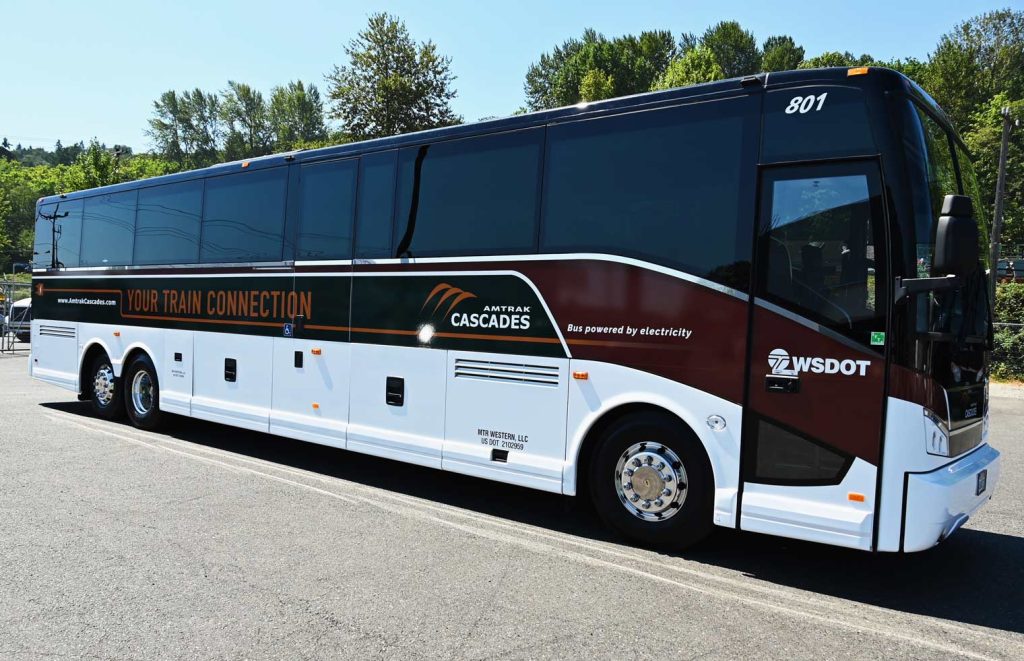 "At MTRWestern, our long-term goal is to change what it means to travel in Washington State by offering top-of-the-line, environmentally friendly transit options," MTRWestern states on its website. "Additionally, our hope is that other transportation companies follow suit, making electric buses for commercial and private use more readily available. By doing so, we can be a part of making the earth a happier, healthier place for all."
Representative Rick Larsen (WA-01) joined Amtrak Sustainability Director Kara Oldhouser, WSDOT Deputy Secretary Amy Scarton, Seattle City and Light Interim CEO Mike Haynes, and MTR Western President Jeremy Butzlaff to commemorate the rollout Wednesday morning, August 16, at Seattle's King Street Station.
Larsen supported the Bipartisan Infrastructure Law (BIL) which enabled Amtrak to renew and support routes like Cascades that connect communities like Edmonds, Everett, Mount Vernon, Stanwood and Bellingham in Larsen's district to Vancouver, British Columbia, Seattle, Portland, and Eugene, Oregon. The Congressman also sits on the Transportation and Infrastructure Committee as its lead Democrat.
"I always say that you cannot have a big-league economy with little league infrastructure, to grow our economy, to grow local jobs, to grow our transportation network, to reduce pollution, and ensure people of all abilities can get safely to and from work these investments are critical," said Larsen. "We have a great story to tell."
Recently, Larsen helped secure $43 million for Community Transit's Green Line project, $47 million for the Orange Line project, and supported the future Gold Line project which will run between Everett and his hometown of Arlington next year. That line is expected to utilize another 55 to 60 new, all-electric, buses by 2027.
---
Editor's Note: Featured image courtesy of the Office of Representative Rick Larsen