New multimodal $79.4 million Swift Orange Bus Rapid Transit line breaks ground in Lynnwood
LYNNWOOD, Wash., April 19, 2022 – Sticking with its mission to "help people get from where they are to where they want to be," Community Transit, joined by federal and community partners, held its groundbreaking ceremony for the new Swift Orange Line at the Lynnwood Transit and Community Center today.
"We want to provide a place for people to work, to learn, to play…," Mayor Christine Frizzell told the Lynnwood Times when asked on the importance of today's milestone. "It has taken hundreds of people, decades to get to where we are today. And two years from now when we cut the ribbon on light rail and cut a ribbon for the Orange Line, we just have magnified the ability for people to move around that much more."
In keeping with Washington state's commitment to enhancing multimodal transportation systems, the new Swift Orange Line, scheduled to be operational in 2024, will be Snohomish County's third Bus Rapid Transit (BRT) line and its first route to connect with Sound Transit's Link light rail when the station opens in Lynnwood. In October, Community Transit made its first connection to light rail at the new Sound Transit Link light rail station at Northgate.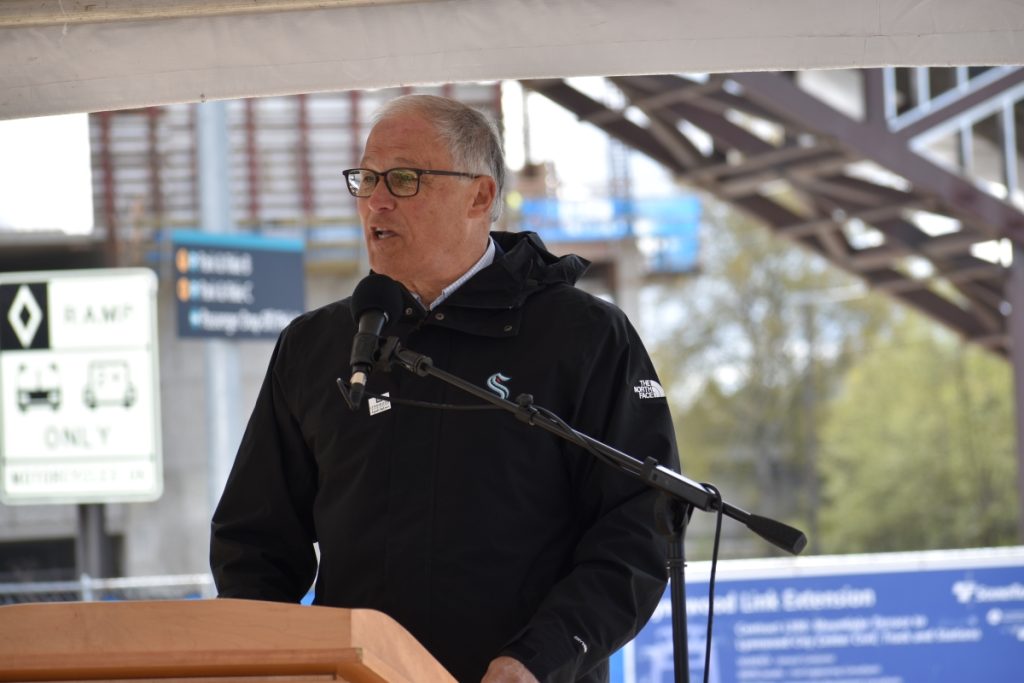 Governor Jay Inslee shared two key points on the importance of mass transit during his remarks at today's ceremony. First, reduced carbon emissions that will minimize the impact of Global Warming which will save the salmon population in Washington state and secondly, to provide clean energy jobs.
"It is exciting to be at the place were Bus Rapid Transit started in 2009," Gov. Inslee said. "Isn't great that on Friday when President Joe Biden comes to Washington state, I'll be able to tell him that Washington state has a Swift Orange Line, the most exciting Bus Rapid Transit project in the United States."
Governor Inslee thanked Senator Marko Liias (D-Mukilteo), who lead the effort that passed, for the first time in the Washington state's history, a transportation package within a 60-day Legislative Session.
In December of 2021, Sen. Liias was chosen to chair the State's Senate Transportation Committee and by March of 2022, the Legislature passed the $16.9 billion Move Ahead Washington transportation package that earmarked $3 billion for public transportation of which Community Transit is expected to receive at least $23.8 million towards its Swift BRT Lines.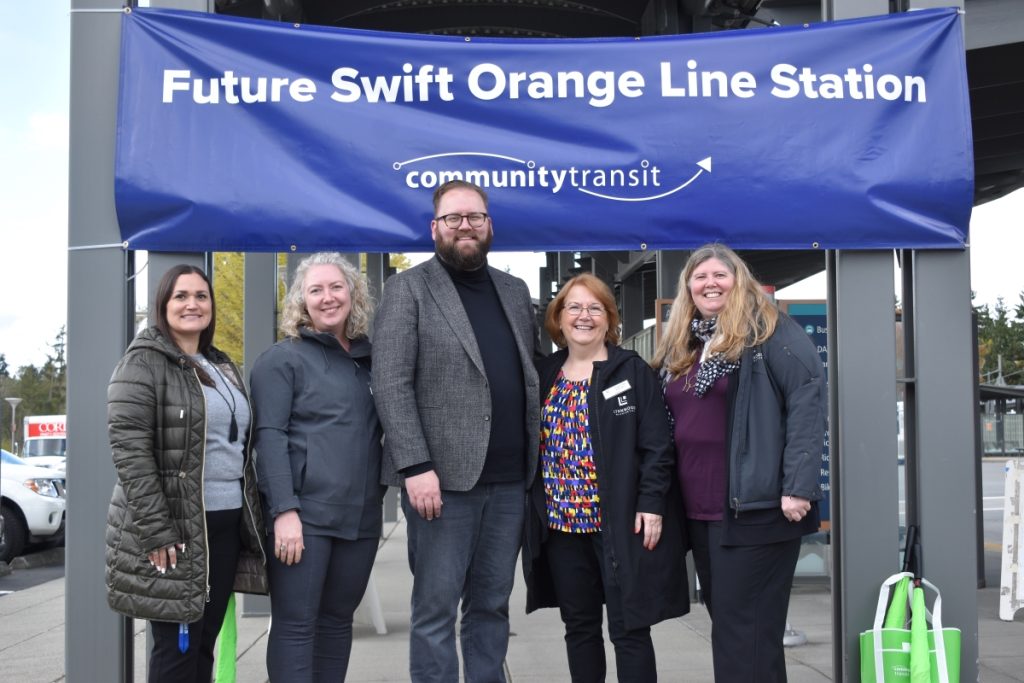 "The federal government, the Biden Administration, and Congress acted on the Infrastructure Bill and last year the legislature acted on the Climate Commitment Act," Sen. Liias told the Lynnwood Times when asked how he achieved such an historic accomplishment. "So, we had resources waiting to be invested and programmed, that helped a lot. We really were investing the dollars that were waiting out there and putting them to work right away."
With a total operating budget of $171.9 million for 2022, the transit agency is expecting operating revenues of $263.1 million which includes $100 million in funds from the federal government.
In February of this year, Community Transit received notification from the Federal Transit Administration (FTA) that it awarded $37.1 million in Capital Investment Grant funds which cleared the way for construction of the Swift Orange Line. In total, the Swift Orange Line Project has received $64.7 million in federal funding including $6.7 million of American Rescue Plan stimulus funding.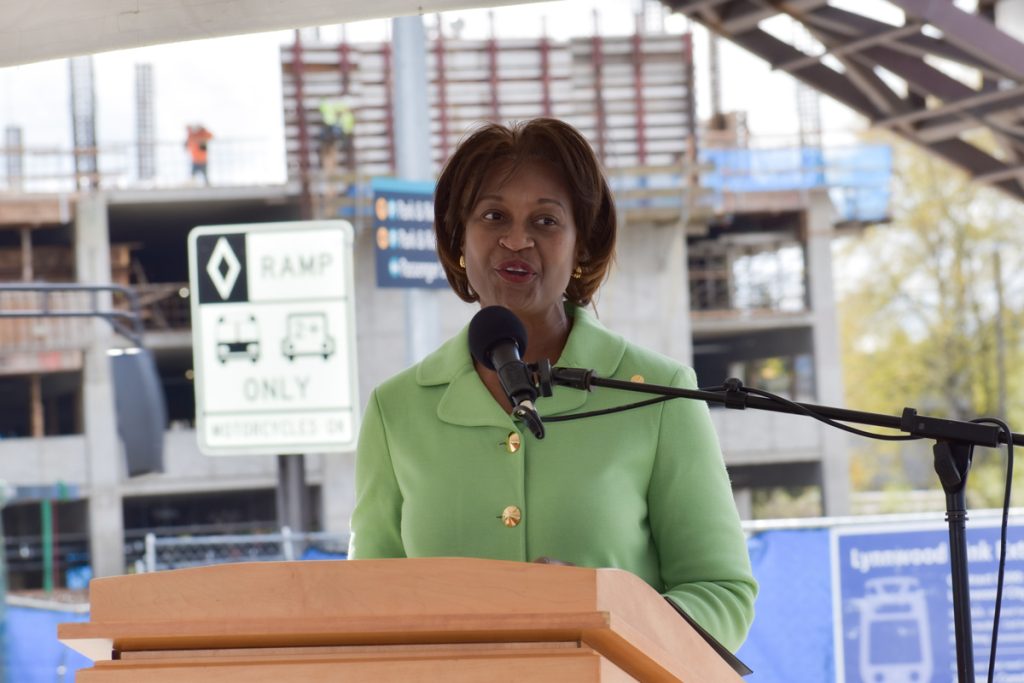 "It is so important that public transit continues to grow, because where public transportation grows, community grows," Nuria Fernandez, Administrator, Federal Transit Administration, said about the significance of today's groundbreaking.
Administrator Fernandez thanked U.S. Senators Patty Murray (D-WA) and Maria Cantwell (D-WA), who were both in attendance, for their leadership in the passage of the $1.2 trillion Infrastructure Investment and Jobs Act that earmarked $39 billion for public transit. She thanked both Gov. Inslee and the state legislature for its commitment to public transportation be it "bus, light rail, or ferry."
"It is not just about taxpayers and moving money, it is about giving the taxpayer what they deserve, and that is the best transportation system that this county can deliver," Administrator Fernandez added.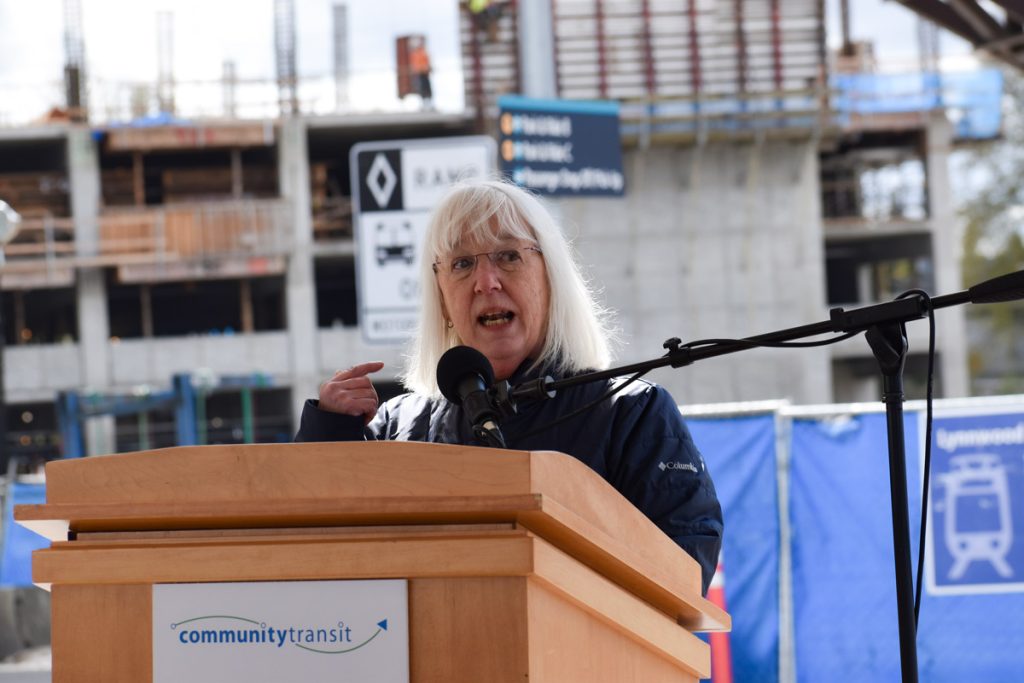 Senator Murray acknowledged the environmental and economic benefits to public transit and Senator Cantwell stressed the need for cost affordable options for commuters in Washington state.
Congressman Rick Larsen (WA-02) focused a message on how the Orange Line will connect residents to schools, jobs and businesses. Congresswoman Suzan DelBene (WA-01) added how funding the overall Swift network is an investment for future generations.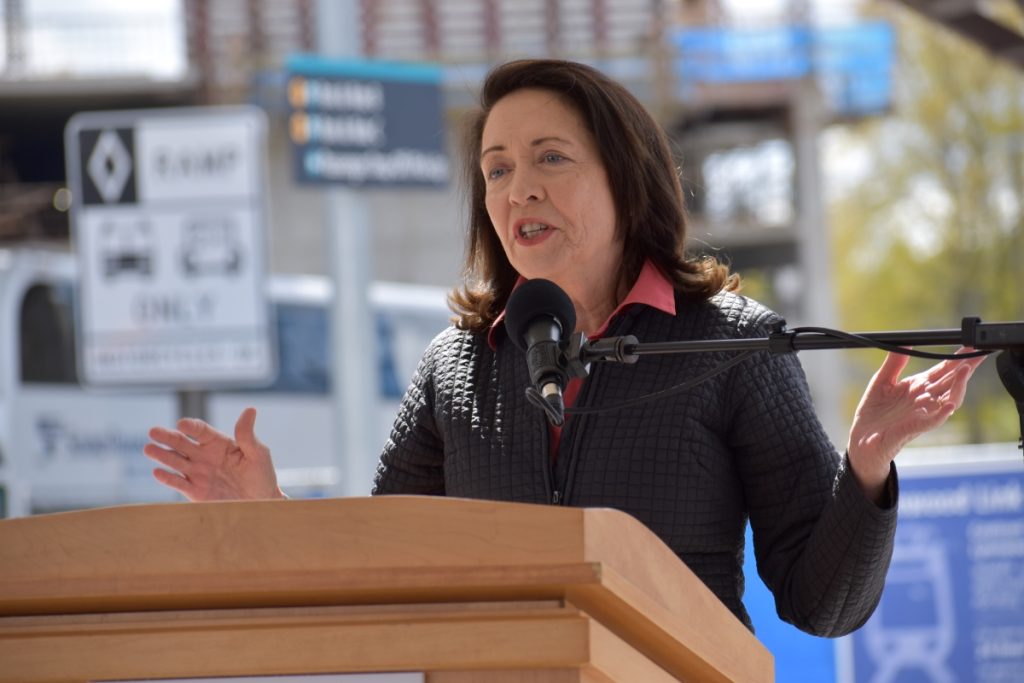 During the pandemic, Community Transit provided free rides to vaccinations as well as partnering with the Snohomish Health District to host on-site COVID-19 vaccination and testing at the Ash Way Park and Ride in Lynnwood. In 2021, the transit agency expanded its travel options for Snohomish County riders to destinations like the University of Washington, downtown Seattle, and Sea-Tac Airport.
Swift Orange Line
The Swift BRT network is Community Transit's most highly utilized service, providing fast, frequent daily service. Swift is a different kind of bus service in that it is designed to get customers to their destinations faster than standard routes.
The 11-mile Swift Orange Line will provide east-west connectivity across southern Snohomish County, linking together Mill Creek Town Center, Alderwood Mall, Lynnwood City Center, and Edmonds College. It will also connect the park and rides at McCollum Park, Ash Way, Swamp Creek, and the Lynnwood Transit and Community Center.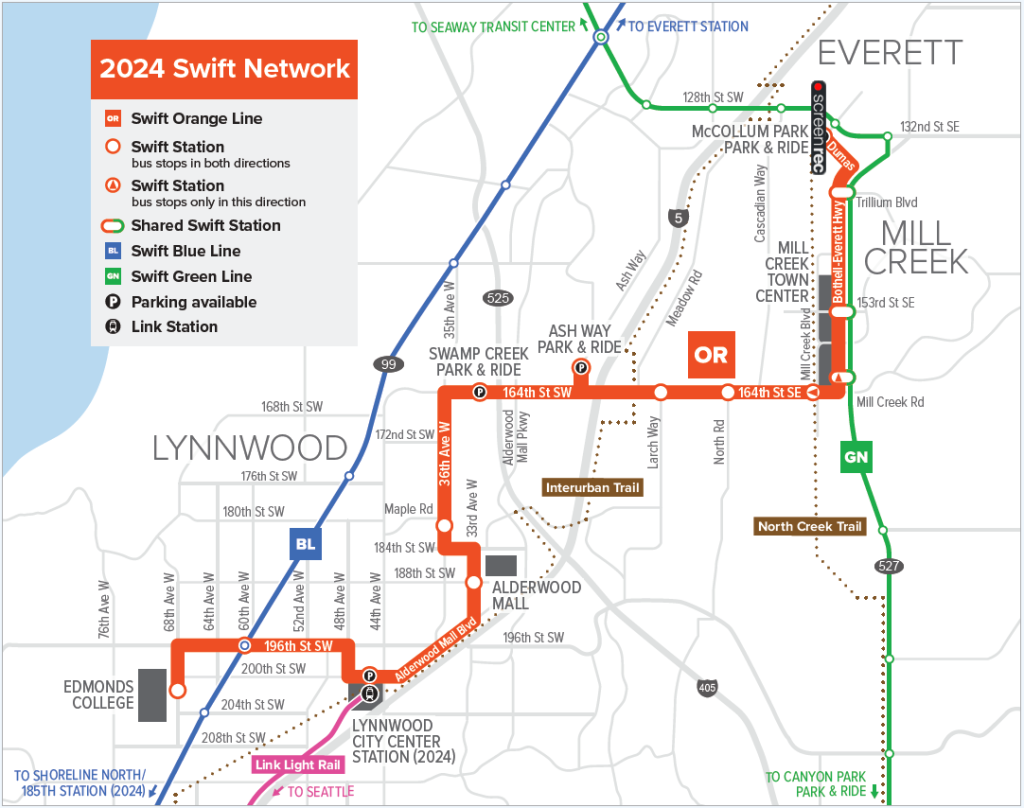 As a part of this project, a new transit center is being built at Edmonds College and the transit facilities at McCollum Park are currently being renovated to better accommodate future services. Construction on the new Orange Line will also include 16 new Swift BRT stations (19 stations in total), roadway and signal improvements at existing stations, and additional intersections within the corridor.
Buses will arrive every 10-12 minutes weekdays and every 15–20 minutes early mornings, evenings, and weekends, stopping for only 10 seconds at station. Riders will need to pre-pay before boarding the bus.
Special traffic signal technology and bypass lanes will be utilized to keep buses on schedule; and digital signage displaying real-time information will be at each transit station. For those using wheelchairs, bikes, strollers, and carts, elevated curbs have been constructed throughout the Swift corridor.
The Future from Swift Network and Latest Innovations
Community Transit is responsible for providing bus and paratransit service, vanpool, and alternative commute options throughout Snohomish County. The agency is building a network of Swift bus rapid transit lines with Swift Blue Line along Highway 99, Swift Green Line between Canyon Park/Bothell and Boeing/Paine Field, Swift Orange Line coming to Mill Creek and Lynnwood in 2024, and Swift Gold Line serving as far north as Arlington by 2028
Two years ago, at the dawn of the pandemic, ridership fell 50%. However, over the last year-and-a-half, ridership has returned to 75% of its pre-pandemic level. Construction will begin on the southern extension of the Swift Blue Line later this year to serve the 185th Street light rail station in Shoreline. It is scheduled to be completed in 2024, just in time for the opening of Sound Transit's light rail Lynnwood Link.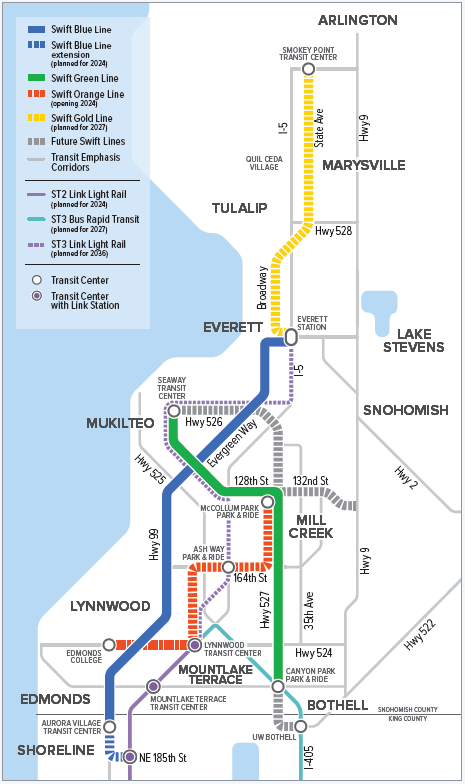 A fourth Swift BRT line, Swift Gold Line, is being planned to connect Everett Station with the Smokey Point Transit Center in Arlington. Swift Gold Line will serve downtown Marysville, the Cascade Industrial Center (CIC), and Everett Community College. This project is currently in the scoping phase and is expected to be operational by 2028.
Community Transit will be awarding a contract next month to test an on-demand shuttle service in the Alderwood-Lynnwood area. Residents will be able to "hail transit" using their mobile device to connect with destinations within travel zone identified in the pilot project or connect with other travel services such as the Lynnwood Transit and Community Center. The pilot is expected to launch later this year and will utilize vans or small buses.
A feasibility study on zero emission vehicles utilizing battery-electric and/or hydrogen fuel cell technology is currently underway. The type of zero emission vehicle selected must be able to serve a gamut of Community Transit's geographic complexities – both rural and urban.
"Over the next year we will be concluding that feasibility study and at the end of that process we will make a selection on which technology is best for community transit," Roland Behee, Director of Planning and Development, Community Transit, told the Lynnwood Times. "The feasibility study is fully funded, and we are seeking funding right now for the next phase which is the transition planning… there is a lot of funding now for zero emission infrastructure."
Pictures from the Swift Orange BRT Line Groundbreaking Ceremony