Dog dies in Mukilteo apartment fire
Mukilteo, Wash., April 19, 2021 –  Today, Mukilteo Fire responded to an early morning apartment fire at 11108 Chennault Beach Rd. Three apartment units received substantial fire damage.  Four other units had minor smoke damage. 
Initial information indicated multiple apartments involved and that residents were evacuating units.  Battalion 25 arrived three minutes after the first 911 call at 5:35 a.m. to find fire on all three floors in the building. One occupant had to be evacuated by fire crews.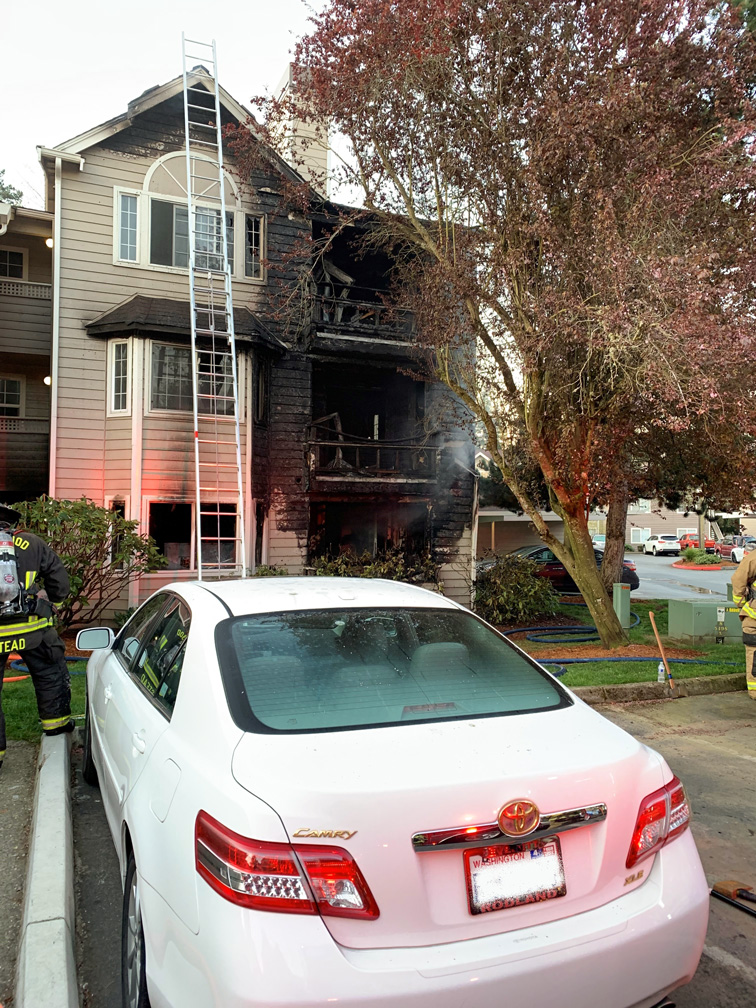 The original fire was in a first-floor apartment.  Flames traveled up the outside of the building to the eaves and attic.  Firefighters had the fire under control within thirty minutes of the first 911 call and cleared the scene at 10:05 a.m.
There are no reported injuries to civilians or firefighters, however one occupant's dog did not survive.
According to the Mukilteo Fire Department, the improper disposal of smoking material is the determined cause of the fire. The incident is classified as accidental.
Red Cross and South County Fire's Chaplain are providing assistance to all the occupants including the four occupants displaced by the fire.
First responders involved with the incident were:
Mukilteo Fire –Engines 24 and 25, Battalion 25, Fire Marshal 25
Mukilteo Police
Everett Fire – Engines 5 and 6, Aid 6
South County Fire – Engines 11 and 23, Ladder 10, Medic 10, Battalion 11, Clergy 11 and Support 7
Snohomish County Fire Marshal's Office — Fire Marshal 28D
To view the original press release click here.
This is the second fire within a week in Mukilteo. Last Thursday, a fire on York Road claimed the life of a 42-year-old man and his 7-year-old daughter.