Local leaders attend South Lynnwood Park groundbreaking
On May 10, local leaders gathered for a ceremonial groundbreaking for the City of Lynnwood's South Lynnwood Park renovation and renewal project.  
City of Lynnwood Mayor Nicola Smith, Lynnwood City Council members and Parks, Recreation and Cultural Arts Department staff gathered with U.S Representative for the 2nd Congressional District Rick Larsen and State Representative for the 32nd District Cindy Ryu, for the groundbreaking ceremony.
The project will include replacing and expanding the picnic area, moving the basketball court, and replacing the space with an artificial turf soccer field, while also resurfacing the tennis/multi-sport court and adding a new picnic shelter and seating. A new bike station for park and trail users is additionally planned and a new picnic shelter and seating will be added.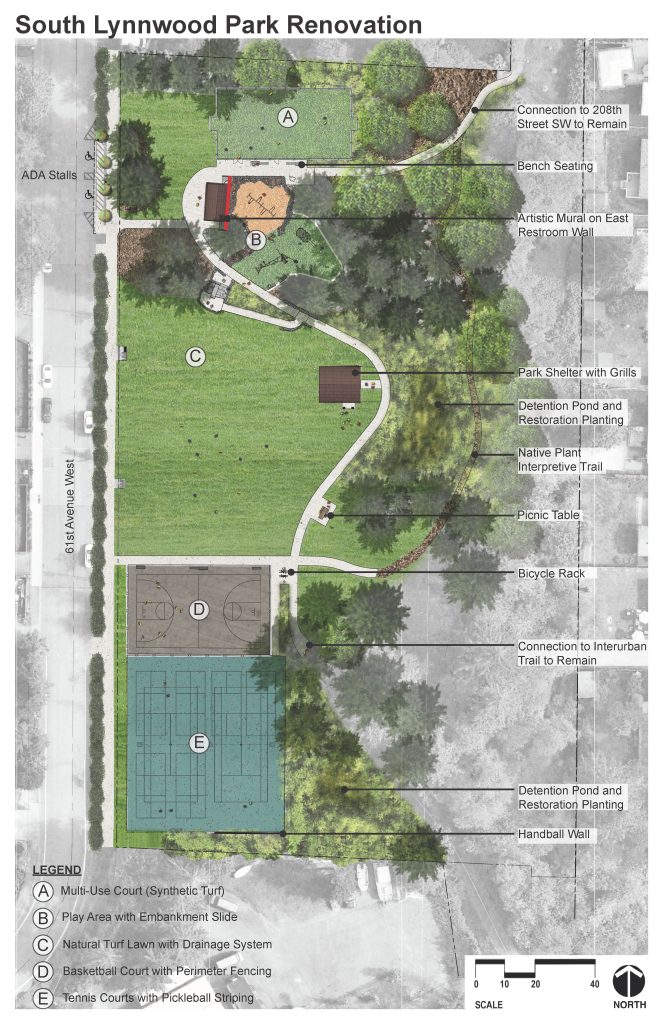 Improvements will be made to the restrooms, pathways, and drainage of the grass lawn and natural areas.
"Lynnwood has always been the gemstone of South Snohomish County and redeveloping this park area for our community is going to make a big difference," said Lynnwood City Councilmember Jim Smith. "It helps the families, it helps the sense of community and will be a great place to come to enjoy the community."
A compelling new characteristic is a mural painted by Gabrielle Abbott on the restroom building next to the playground. Her design titled, Grateful Steward, takes inspiration from First Nations cultures, with drawings and ideas for the mural's design collected from 5th graders at College Place Elementary after Abbott provided them with nature-themed art instruction.
South Lynnwood Park is a 4.2-acre neighborhood park in the city's most racially diverse neighborhood. Developed in 1978, many of the amenities no longer meet the community's need for physical activity and community gatherings. The redevelopment aims to provide accessible recreation opportunities for South Lynnwood residents.
"For the residents of Lynnwood, the parks of our city are a vital part of our community," said Lynnwood City Councilmember George Hurst. "The redevelopment of the South Lynnwood Park is an important step in providing a great addition to the neighborhood. There will be open spaces for recreation, and a chance to have a peaceful retreat from the stress of our daily lives. The public artwork, the accessible play areas and the new outdoor sports amenities will create a true center of community for this area of Lynnwood.
Lynnwood City Councilmember Christine Frizzell says the park has a special place in her heart, having worked for the company that put in the original amenities as a college student. She says she's excited to see the park redeveloped to suit the current needs of the community.
"The redevelopment will give the place a sense of identity, and the mural goes a long way towards doing that," said Frizzell.
Construction for the park is expected to be completed by December 2021.