Former Lynnwood lifeguard earns Red Cross lifesaving award
After saving his friend from drowning in July 2020, a former city of Lynnwood lifeguard has achieved the American Red Cross National Lifesaving Awards Certificate of Merit, one of the organization's highest honors.
The awards are presented to individuals who have saved a life as a direct result of Red Cross training. Certificates of Merit are signed by the President of the United States.
On July 29, 2020, Tristian Kossack, 18, saved his best friend's life when he began struggling to keep his head above the water while swimming in the city of Everett's Silver Lake.
In 2019, Kossack worked as a lifeguard at the Lynnwood Recreation Center for six months, where he trained in water safety and emergency preparedness through the city of Lynnwood's Aquatics Team. That team was recently recognized as a top training provider by the American Red Cross Northwest Region for its outstanding outreach in lifesaving skills education.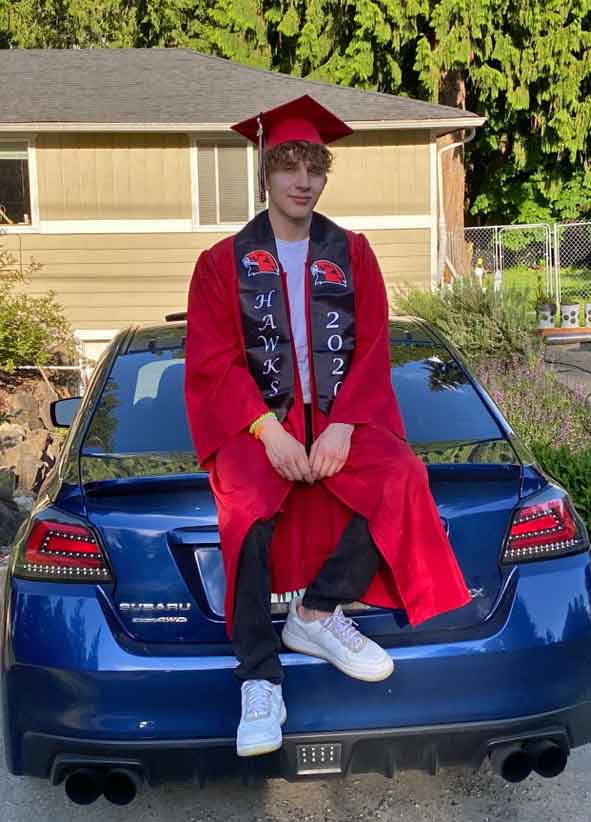 "Lifeguarding was a temporary summer job for me and without taking the lifeguard training course, the events of that day would have turned out very differently," said Kossack. "If I hadn't, my friend could've died."
Andrea Robertson, Safety Class Supervisor for the Parks, Recreation and Cultural Arts Department says that the aquatics team spends hours training and educating staff in a variety of ways, including how to prevent and respond to emergencies. She says this training often leads to increased confidence, people skills, critical thinking and multi-tasking skills.
"We strive to make a positive impact in our staff and in the community's lives," said Robertson. "Rarely do we hear of the outcome of this impression. This is the impact we leave with our staff and the individuals we train, there is no better feeling than knowing it has helped save a life. Tristan's award affirms that our dedication to training and coaching really does make a difference."
The Aquatics Management staff nominated Kossack for the lifesaving award after he contacted them to say thank you to those who trained him.
"I was surprised I was awarded," said Kossack. A lot of people at that pool saved lives as well but my story was a little bit unique. It's something that I'm going to look back at and something that's going to always be a part of me."