Biden signs anti-Asian hate crimes bill into law
Washington D.C., May 20, 2021 – Today, President Joe Biden signed into law the C OVID-19 Hate Crimes Act that passed through U.S. House of Representatives by a 364-62 vote Tuesday and U.S. Senate by a 94-1 vote last month.
"To the members of our United States Congress on both sides of the aisle who helped pass the C OVID-19 Hate Crimes Act, thank you," Vice President Kamala Harris said at today's press conference.
The signing of the bill comes during Asian American and Pacific Islander, or AAPI, Heritage Month. The bill will direct the Department of Justice expand data collection resources for prioritize tracking of hate crimes during the pan demic. It also provides guidance to establish online reporting of hate crimes in multiple languages.
Hate Increased in Large Cities
As many news outlets have reported, Anti-Asian hate crimes have been on the rise ever since the onset of the pandemic. While the most alarming increases have occurred in large metropolitan areas like New York City and Los Angeles, hate crimes against Asian Americans have also risen significantly in the Seattle area.
Multiple news networks have reported a significant increase in hate crimes committed against Asian-Americans since the onset of COVID-19. In February, for example, TIME reported that "Since the start of the pandemic last spring, Asian Americans have faced racist violence at a much higher rate than previous years."
Most of this increase has been seen in the country's largest metropolitan areas. Just last month, NBC News reported that "Anti-Asian hate crimes increased by nearly 150% in 2020, mostly in N.Y. and L.A."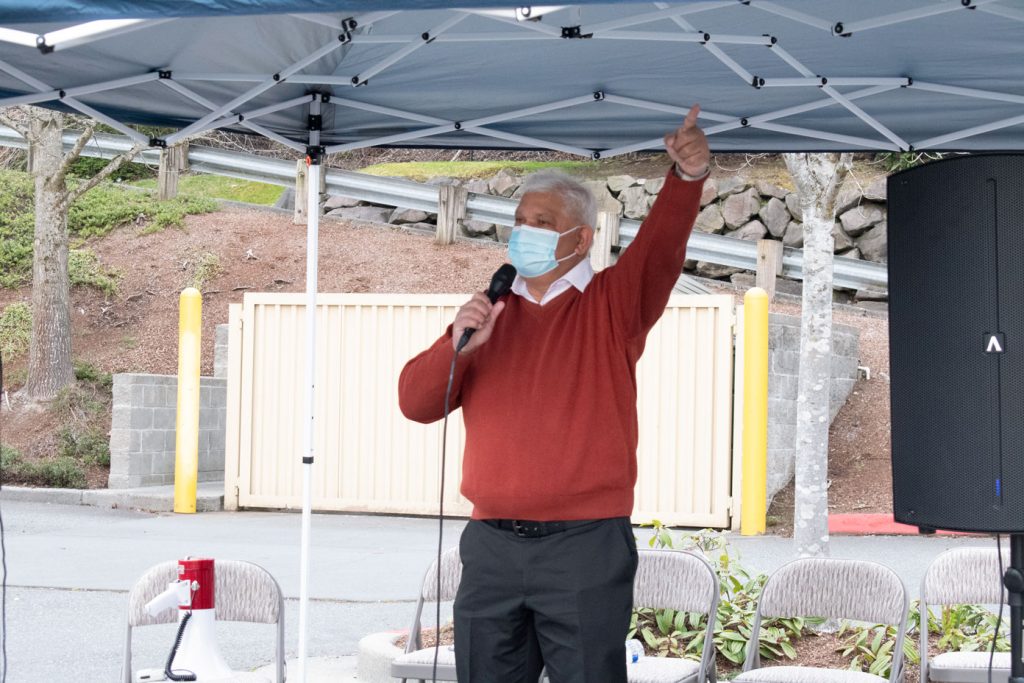 During his address at the Mukilteo Stands in Solidarity rally in April, City Councilman Riaz Khan recounted an experience he had at a local shopping mall. In his anecdote, Councilman Khan overheard people debating whether or not the community should care about rising hate crimes on the East Coast. "If it happens in New York, it happens in my heart," he said while speaking at the rally. "If it happens in New York, it happens in everyone's hearts."
Anti-Asian Hate Crimes More than Doubled in the Seattle Area since 2019
While it may appear as though this rise in Anti-Asian hate crimes has been exclusive to places like New York or Los Angeles, Seattle also saw a significant increase in these types of crimes against Asian-Americans last year.
According to the Seattle Police Department's Bias/Hate Crime Data, the number of hate crimes committed against Asian-Americans more than doubled between 2019 and 2020. In 2019, only 21 Anti-Asian hate crimes were recorded, whereas 49 were recorded in 2020.
The crimes in these reports are categorized as either Malicious Harassment, Crime with Bias Elements, or Non-Criminal Bias Incidents, and definitions of these categorizations can be found on the Bias/Hate Crime data page of the Seattle Police Department's official website.
Issues Regarding Data
A problem with data involving anti-Asian hate crimes is that such crimes tend to go unreported. This issue has been noted by news outlets such as Variety, who reported last month that "hate crimes in the [Asian-American] community are historically underreported."
Additionally, prior to the founding of stopaapihate.org in March 2020, there has not been a substantially reliable way of tracking anti-Asian crimes. In an interview last month with ABC News, John C. Yang, the president and executive director of Asian Americans Advancing Justice, said, "Unfortunately, there's no uniform database for collecting anti-Asian attacks, most of the data that we have is based on self-reporting from a website called Stop AAPI Hate, as well as our website at StandAgainstHatred.org." Noting the limitations of self-reporting databases on nonprofit sites, Yang continued, "But these are only voluntary, and only as good as the outreach that can be done by us as nonprofit organizations."
While the FBI does record hate crimes, their data from 2020 has not yet been released. Yang also shared with ABC News why he believes the FBI's data is incomplete or otherwise inaccurate. "The federal government, through the FBI, did have collection efforts on hate crimes, but that's incomplete for several reasons," he said. "No. 1 … that requires state and local governments to ensure that they have the right resources and understanding on how to report. And then No. 2, that assumes that people have trust in those governments to report it to them."
Between March 19, 2020, and February 28, 2021, Stop AAPI Hate reported 3,795 incidents of anti-Asian hate crimes. At the beginning of this report, it reads, "The number of hate incidents reported to our center represent only a fraction of the number of hate incidents that actually occur, but it does show how vulnerable Asian Americans are to discrimination and the types of discrimination they face.​"
People Behind the Data
As the first year of the pandemic has demonstrated, scientific experts and American citizens alike are often inclined to dispute data and how it is recorded and presented. One redeeming quality about the nature of this data is that it involves humans who are capable of sharing their lived experiences, and the Asian American citizens who have encountered hate are raising their voices to share with the world their reality.
In June of last year, TIME published an article in which ten different individuals of Asian descent shared their experiences with hate. Additionally, at local rallies like the one that took place in Mukilteo on April 3, Asian Americans have been sharing their stories with their local communities.
Resources for Reporting
Hate crimes can be reported to the Seattle Police Department through their website's "online reporting" page. Hate crimes can also be reported to Stop Asian American Pacific Islander Hate's website through their "report incident" page.