Members of the community raised awareness of Asian hate crimes in America
By Bo John Brusco | Lynnwood Times Reporter
Hundreds attended the Mukilteo Stands in Solidarity and the Rally for Unity in Esperance Park, where members of the community shared their experiences and raised awareness of Asian hate crimes in America.
Peaceful Demonstrations to combat the rise in Asian-hate crimes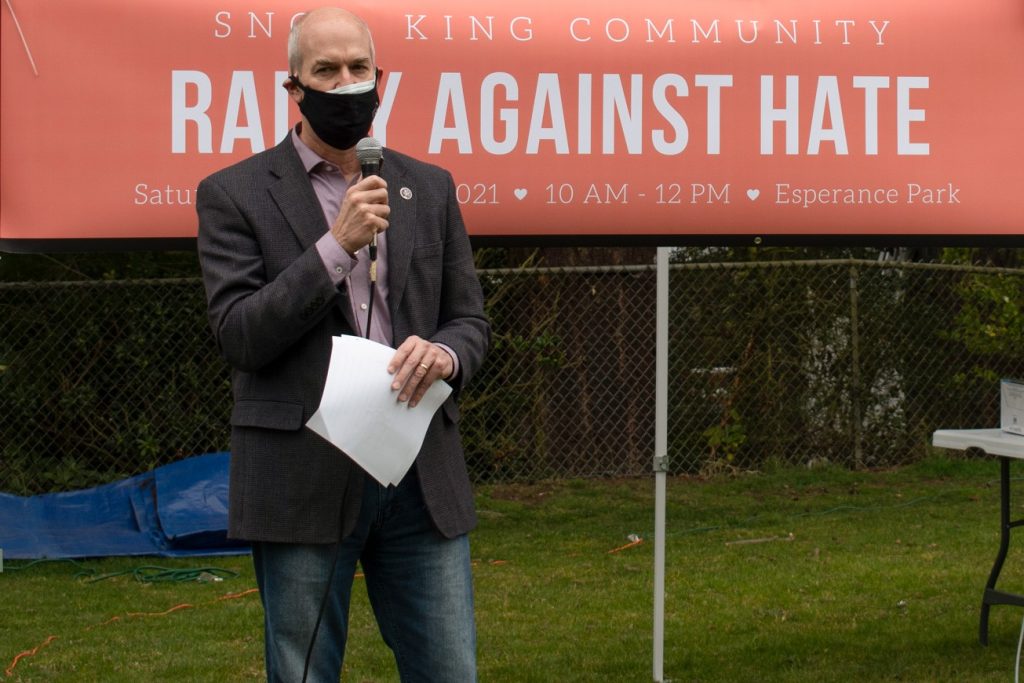 Peaceful demonstrations of solidarity against Asian hate crimes have been taking place across the Seattle area. Hundreds turned out for a rally in Downtown Bellevue on March 20th, according to King 5 News. The next day, more demonstrators marched down Highway 99 in Edmonds, and just a few days later, on March 27, more than a hundred people attended another rally at Esperance Park.
These demonstrations have been in response to the rise in Asian hate crimes, with the Atlanta shooting being the most recent attack; the tragic incident that took place on March 16 and claimed the lives of eight people, six of whom were Asian-American women.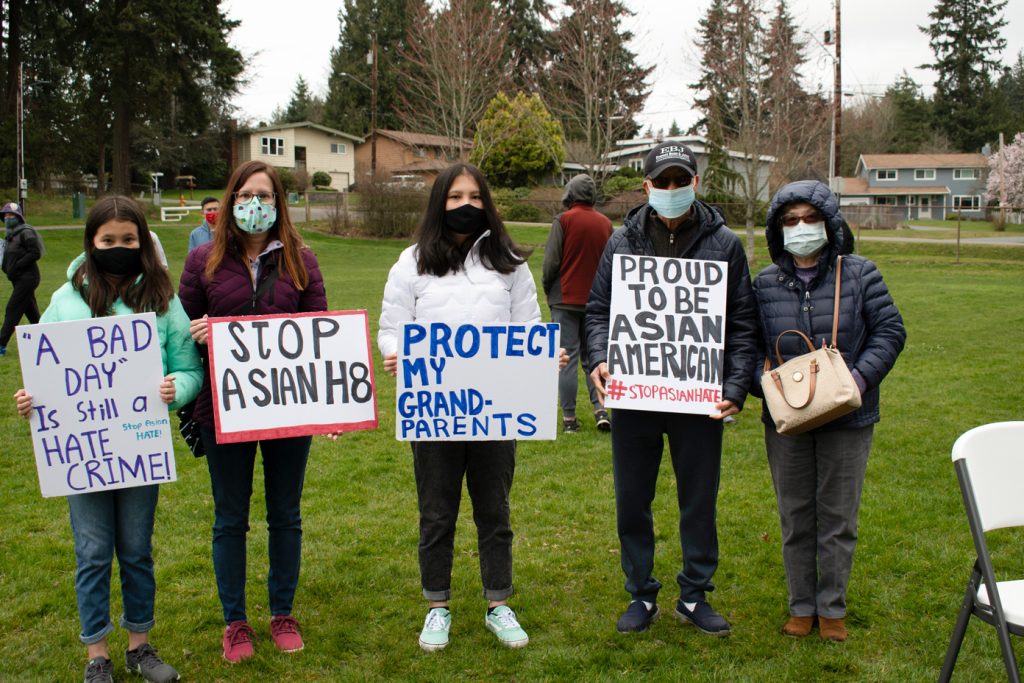 Hate crimes against Asian-Americans have been increasing ever since the onset of COVID-19. According to a 2020 study conducted by the Center for the Study of Hate and Extremism, Asian hate crimes in 2020 increased by 33% in Seattle when compared to 2019.
Solidarity in Mukilteo
This last Saturday, members of the community in Mukilteo showed their support by attending a demonstration held at 4675 Harbour Pointe Blvd. The rally was coordinated via a Facebook event page titled Mukilteo Stands in Solidarity and had about 100 people in attendance. A live-stream recording of the event can be viewed on the Lynnwood Time's Facebook page.
The rally provided an opportunity for community members to voice their personal experiences as Asian-Americans. Five speakers expressed their concerns and called for Mukilteo to stand in solidarity with them against hate crimes.
Activists address their Community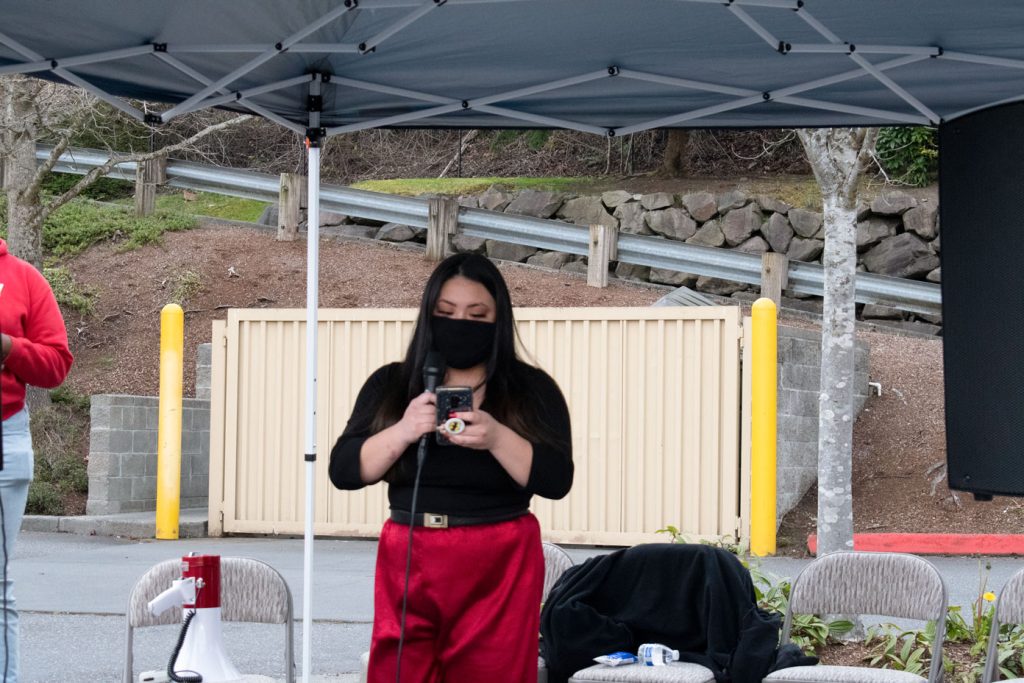 The first speaker, Hayley Aho, spoke about the need to condemn hate and not just read about it in the news. She said, "To actually stop Asian racism is to recognize that all of our struggles and all of our obstacles are combined. To Be an Asian ally, or a Black ally, or an ally in general, is to condemn racism against all communities — to condemn Islamophobia, to condemn anti-Semitism, to condemn Xenophobia, to condemn homophobia, to condemn transphobia. Condemn the things that end our lives and land us into another article that you merely read and forget with the scroll of your phone," she said. "Use your voice to amplify ours."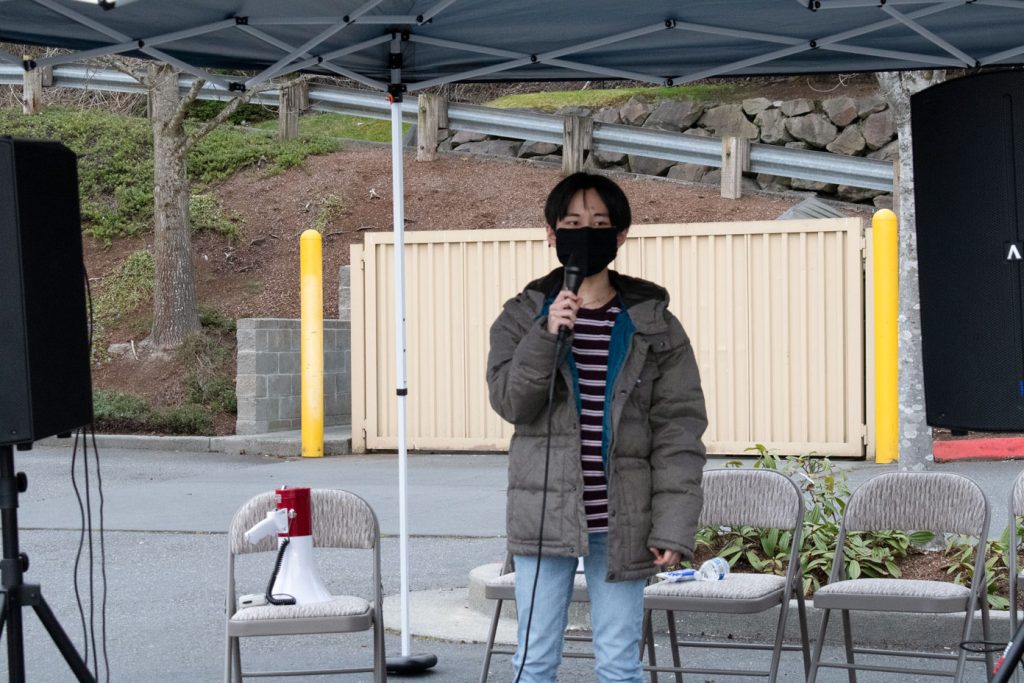 The next speaker, Nathan Duong, spoke about the cultural changes that must be made in order to stop the hate. "These incidents, these violent attacks on our Asian Pacific Islander community, they were grown out of a culture that dismisses and that erases hate," he said. "That erases us. That erases oppression. That invisiblize us. And it is this dismissal of hate that has manifested in our workspaces in our schools, in our communities, that is causing this surge in hate violence against our communities."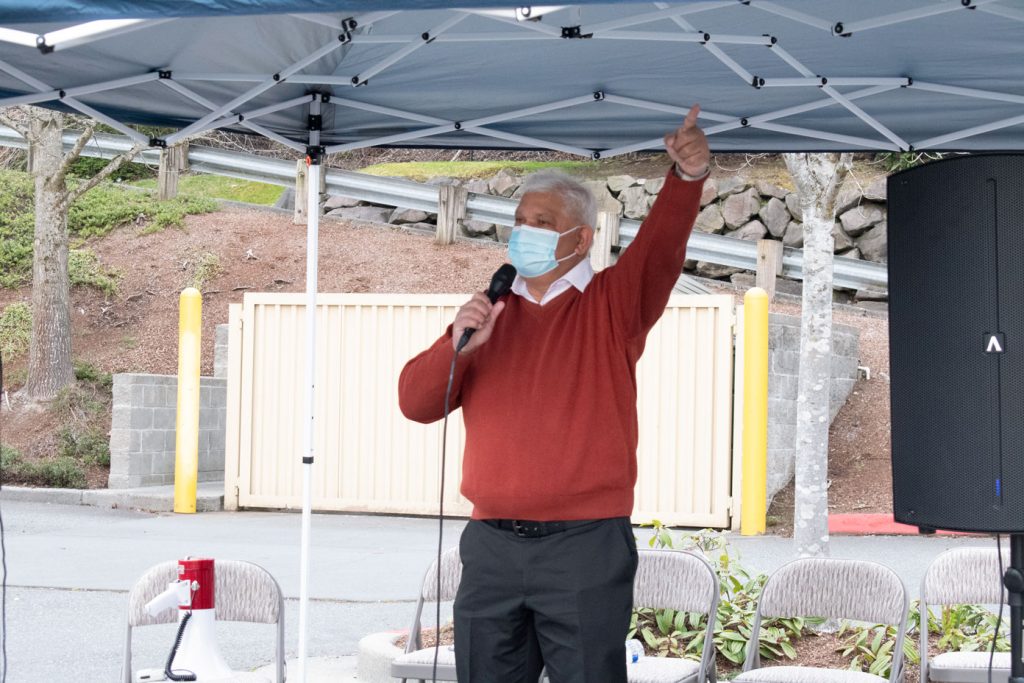 After Duong's words, Councilman Riaz Khan addressed the crowd and spoke about how these acts of hate should concern every American. He recounted an experience he had at a local shopping mall where he overheard people debating whether or not the community should be concerned with hate crimes because they seem to be happening on the East coast. In response to this anecdote, Councilman Khan said, "If it happens in New York, it happens in my heart. If it happens in New York, it happens in everyone's hearts. We should care for each of them. We should. And we are here today to show our support."
Councilman Khan also spoke about the individual's responsibility to stop hate. "Some people don't get it," he said, "The hate, it goes, it flies like a fire. We are extinguishers. We got to stop the fire of hate. We are all responsible. We should speak up. As Asians. As Americans. As Africans. As anyone. We should tell them we are here."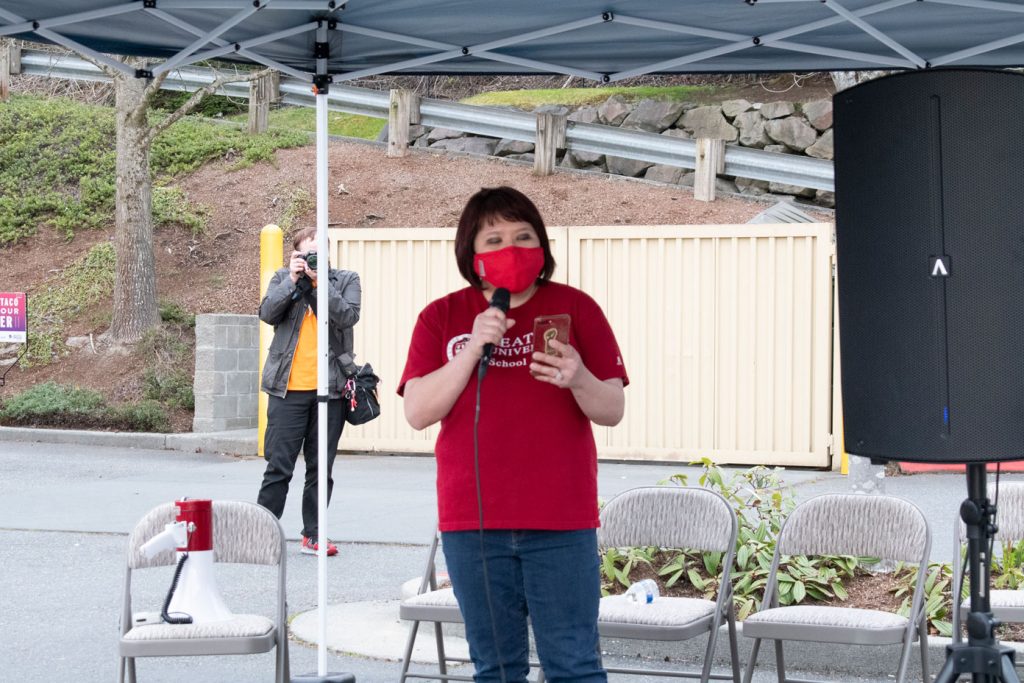 Loren Poisel spoke next about everyone's rights as Americans and the need to speak out when those rights are violated. "Asian Americans may not have been here the longest, but Asian Americans have the same rights as everyone else," she said. "The right to feel safe. The right to be protected. And the right to feel at home. And when those rights are violated, we cannot stay silent. We cannot keep our heads own. We must get involved. We must rock the boat."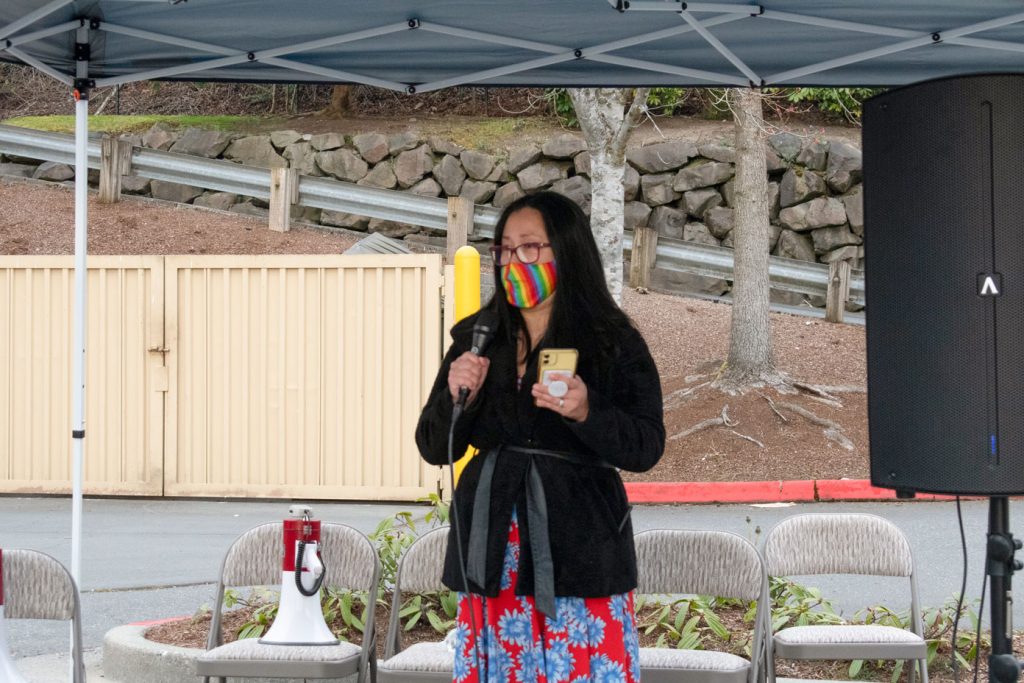 The next speaker to address the crowd was Jennifer Lin Kwong. She spoke about her experience with microaggressions. She related microaggressions to paper cuts — a single incident being harmless, but multiple cuts every day can be fatal. "As Asian-Americans," she said, "our spirit dies a death by a thousand paper cuts."
"I beg you," Kwong continues, "if you hear one of these microaggressions, please call it out."
Following Kwong's remarks, Ton Nyugen spoke about his concern for the elders in the Asian community. "The part that I hate about this the most," he explained, "is not that I'm a target — I believe that I can fight back. It's our elders. I think about my mom. I think about my dad. It's our elders."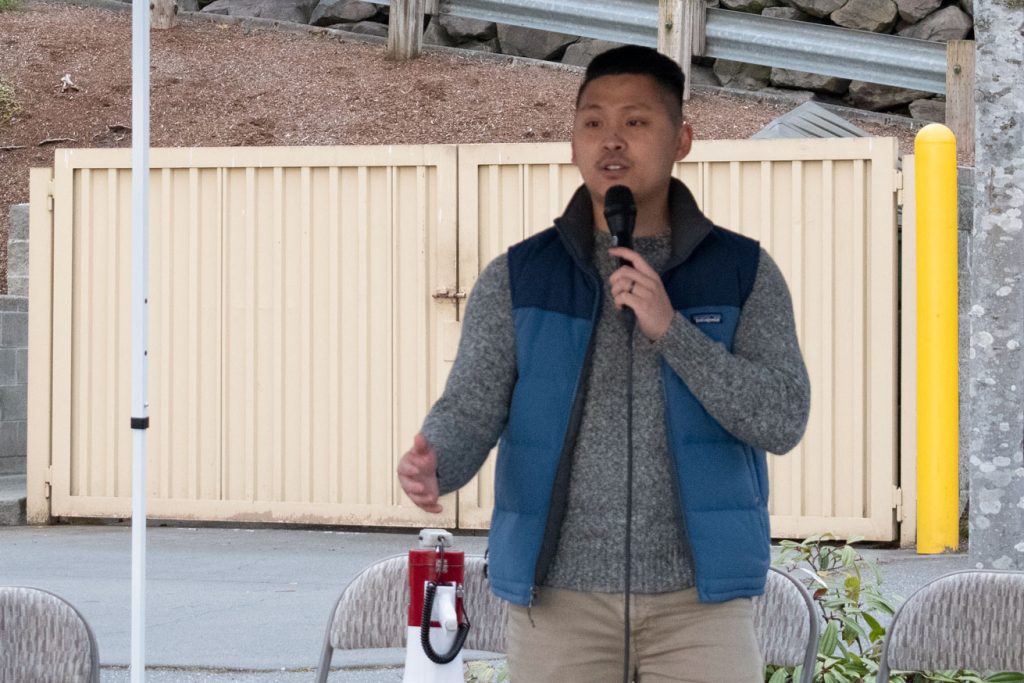 Nyugen also asked the community to focus on love in order to fight hate. "For all of you, our allies. I hope that if you see it, you call it out and step up for us. Can you do that?" he asked. "So when you go home tonight, I hope that each and every one of you talks to your kids, to your nieces and nephews, to your parents, to your aunts and uncles. Talk to them about how far love can go, how powerful love can be. And how much more love can radiate than hate."
Chief Cheol Kang of the Mukilteo Police Department was scheduled to be the closing speaker at the rally but was unable to attend. Alex Callaway, the event's coordinator, read Chief Kang's address out loud on his behalf. His remarks focused on the dangers of hateful language. "Racist speech, crude comments, and racially-motivated microaggressions have no place in our society, let alone our community," wrote Chief Kang.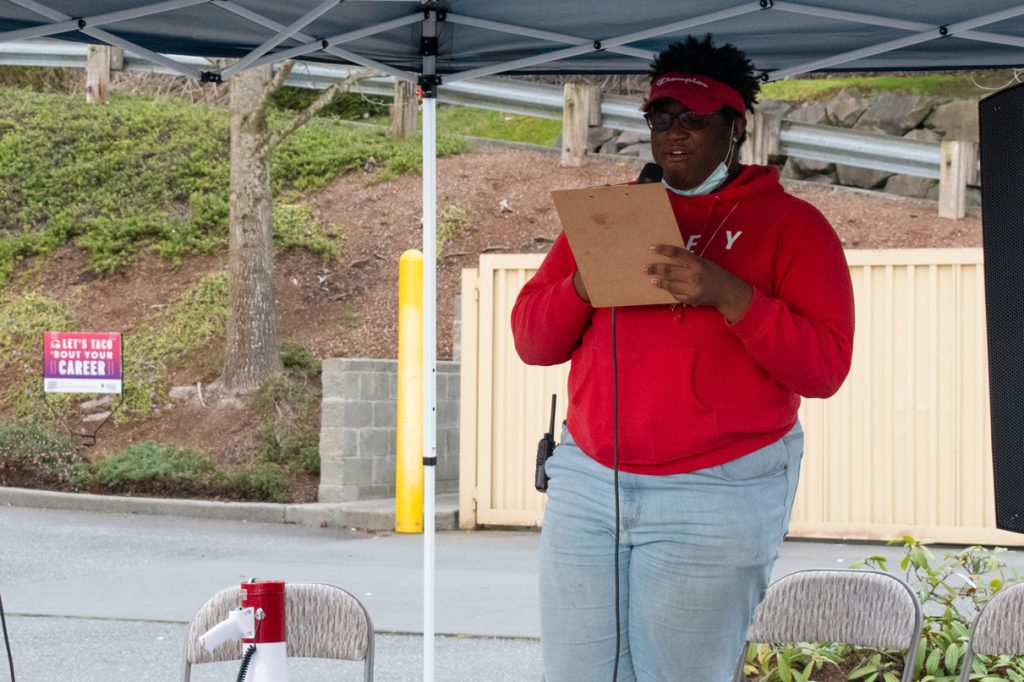 "Words matter," he continued, "What may be perceived as a joke by one person is the fuel to ignite the racially motivated hate for another to do harm. It is everyone's responsibility to let others know when words are culturally insensitive or hurtful."
Chief Kang also wrote about how it is everyone's responsibility to have difficult conversations about hateful and discriminatory language in order to eliminate it. "These are the tough conversations we need to continue having to break the perpetual cycle of bias, discrimination, and racism that passes down from generation to generation," he wrote. "We all have a responsibility in this process to eradicate racism and bias — much like we all have a part to eradicate COVID-19."
Statements from Lynnwood city council members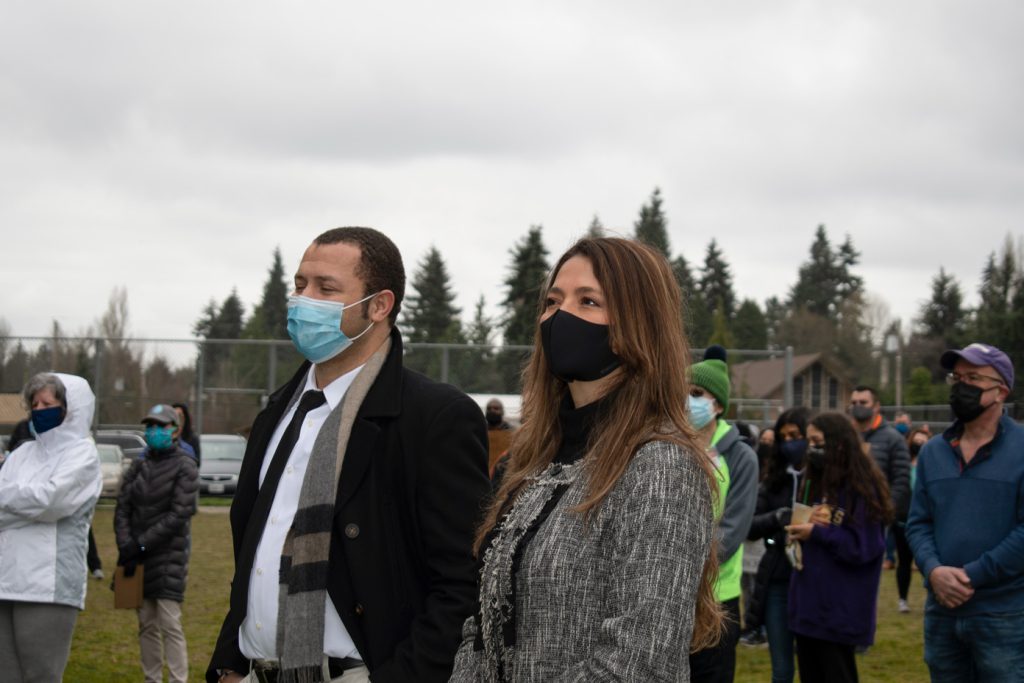 Jim Smith of the Lynnwood City Council praised the activists who raised their voices at the Mukilteo rally, saying, "Rather than stay at home and do nothing, this group of young people decided to take action and voice their concerns about the recent cruelty towards Asians. I hope they have inspired others to take positive action throughout our communities."
Lynnwood City Councilman George Hurst, who attended the Edmonds rally on March 27, recalled the strong sense of unity he felt that day. "The rally was a great time for our community to come together and listen to words of unity and statements against hateful actions. It was a needed demonstration of support for our AAPI community."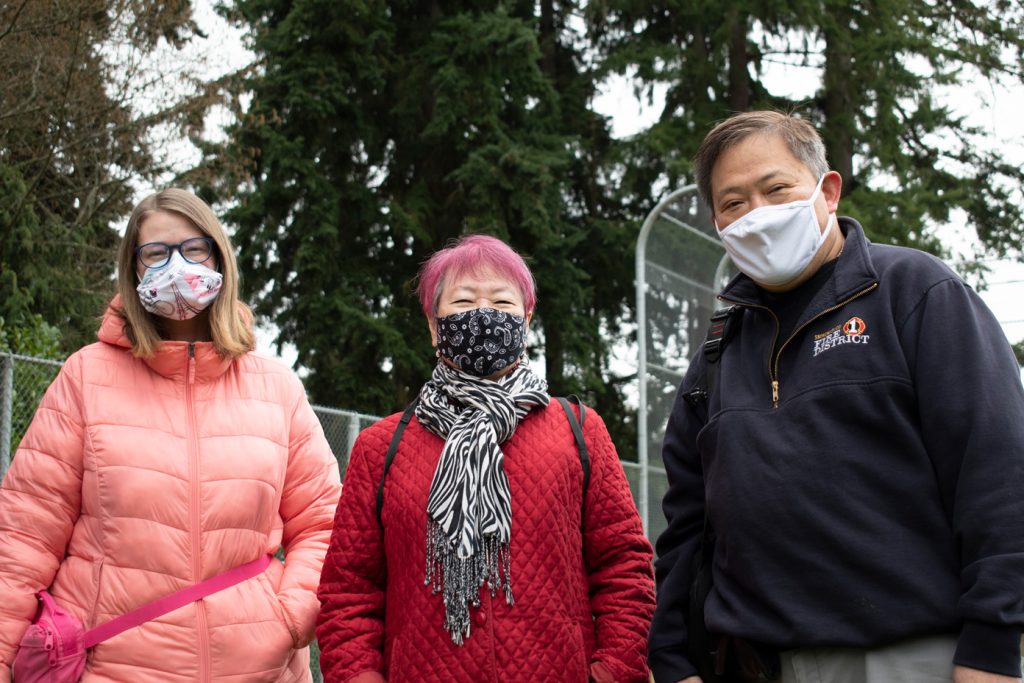 Hurst also shares another opportunity he had to show his solidarity that day at a local church. "After I left the rally, I was able to take part in another way to show concern for our residents. Charisma Church in Lynnwood, whose members are almost all BIPOC, handed out hundreds of bags filled with free groceries to anyone who came to the church," he said.
Speaking about these public displays of support and solidarity, Hurst said, "The rally in Edmonds and the food give-away in Lynnwood provide great examples that we reject hate and we do care for our neighbors."
Additional Resources
In addition to the public demonstrations of solidarity, online resources have also been developing in response to the rise in Asian hate crimes. One such resource is stopaaiphate.org, a website that is dedicated to recording and reporting hate crimes.
According to their "About" page, their site "tracks and responds to incidents of hate, violence, harassment, discrimination, shunning, and child bullying against Asian Americans and Pacific Islanders in the United States."