Amtrak restores daily passenger service in Washington state
SEATTLE, Wash., May 26, 2021 – Yesterday, Representative Rick Larsen (WA-02) joined by Amtrak President Stephen Gardner and staff at the Seattle King's Street Station, celebrated the restoration of daily passenger service for all Amtrak trains traveling through Washington State.
One of these lines, the Empire Builder, connects Seattle to Everett. Prior to Larsen and Gardner boarding the Empire Builder to head to Everett, they held a press conference sharing the benefits of rail travel and the role the American Rescue Plan had in restoring Amtrak services in Washington state.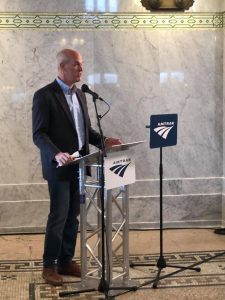 Last June, Amtrak announced a reduction in daily long-distance service due to the pandemic, which impacted the Empire Builder and Coast Starlight routes. President Joe Biden signed into the law the American Rescue Plan, a comprehensive relief package Larsen supported that included $1.7 billion to recall more than 1,200 Amtrak employees across the county furloughed due to the pandemic and restore daily long-distance service. In Washington state, 94 Amtrak employees have recently returned to work because of this relief package.
Amtrak estimates that traveling on one of their trains emits up to 83% fewer greenhouse gasses than driving and according to Larsen, Chairman of the Sub-committee on Aviation, Amtrak trains emit 73% fewer greenhouse gases when compared to air travel.
Before the pandemic more than 1.3 million passengers boarded or departed on an Amtrak train in Washington State annually.
"The American Jobs Plan has Amtrak now thinking about the future of what Amtrak travel will be by 2035…It's a vision I'd like to help make happen. Expanded and improved rail system to twenty million more passengers, servicing up to 160 more communities, enhanced service between Vancouver, British Columbia, Seattle and Eugene Oregon," Larsen said.
Next month the House Transportation and Infrastructure Committee will begin its debate to amend a comprehensive surface package that will include rail.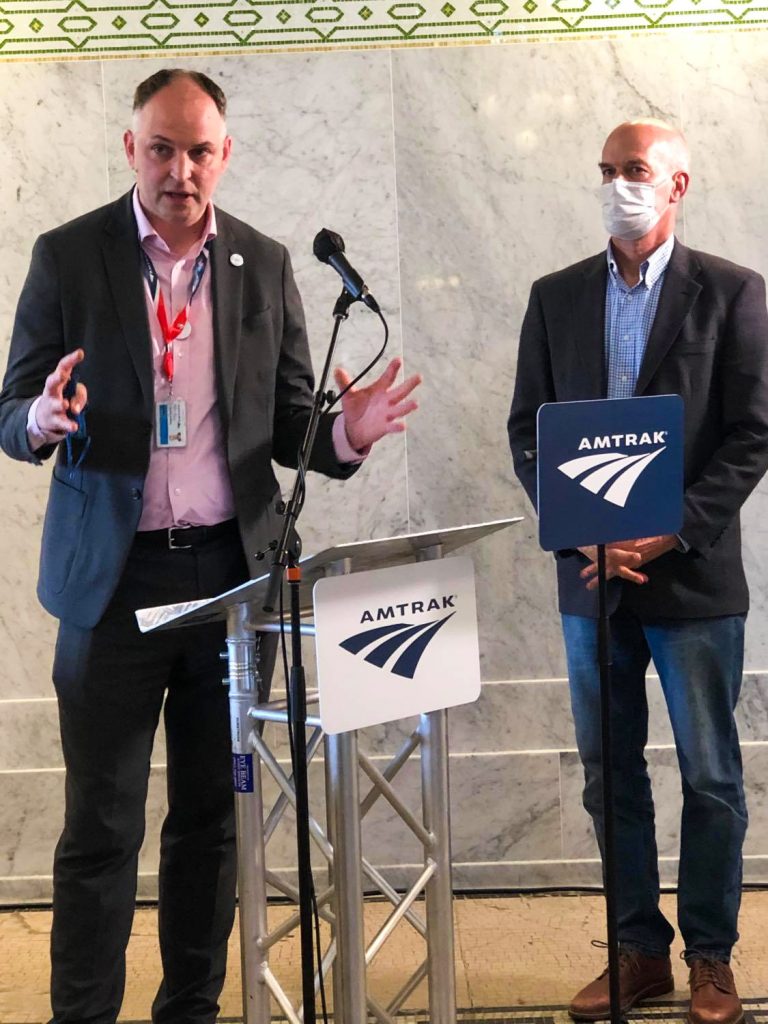 Gardner thanked Rep. Larsen for his support in the American Rescue Plan on behalf of the 17,000 Amtrak employees. According to Gardner, Amtrak lost 97% percent of its ridership over the course of a month going from 90,000 passengers a day to about 3,200 because of the pandemic.
"It was only through the support of Congress, the American Rescue Plan, and the Biden administration that we are able today to once again restore our service starting here with the Coast Starlight and the Empire Builder," Gardener said.
Amtrak has resumed additional service in the Cascades, offering round-trip service to Eugene, Oregon, and Seattle. It is routes like these, according to Gardner, that makes the Pacific Northwest a model for the rest of the nation for sustainable, low carbon, high-mobility, frequent and reliable passageway service.
"As we celebrate our 50th anniversary here, I look ahead with real optimism for the incredible role that intercity passenger rail can play. There is no future in this country addressing the climate challenge that doesn't involve more passenger trains," Gardner said.
According to Gardner, as service routes reopen and the country moves forward with vaccinations, ridership on Amtrak trains should meet its regional end-of-year targets.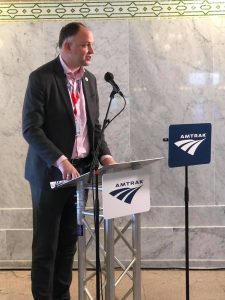 "That same demand is coming back from, frankly, a pent-up desire to get out and experience the United States. We are quite confident that the demand exists. It's gonna take some time but we're seeing positive trends across all of our service lines and our expectation is by the end of the year we will have beaten our regional targets for this year. We are already way ahead in terms of ridership and revenue," Gardner said.
As the company hopes to be fully open and stable by 2023-2024, Larsen shared that this target it dependent of on return to international service.
"The economy hasn't emerged but it's emerging. The pandemic isn't defeated but we are defeating it. So, we aren't there yet on many aspects, but we're getting there. The light at the end of the tunnel is no longer an oncoming freight train – it's actually the sun shining into the tunnel," Larsen said.
Recently, Amtrak announced a $3.5 billion partnership to double routes in Virginia, extending service in Vermont, as well extending the Empire Builder to offer an Eastern route to Milwaukee and the Twin Cities. Additionally, Amtrak is working on restoring Southern service in New Orleans, a route that has not been offered since 2005 after hurricane Katrina.