Two Snohomish County sergeants strive to be an example of leadership
Snohomish County, Wash. – "Dynamite comes in small packages," said Sergeant Chicara Chesney of the Snohomish County Sheriff's Office Corrections Bureau concerning certain stigmas that may exist about women in leadership in law enforcement and corrections, a male-dominated industry.
Chesney was promoted May 4 to Sergeant after serving twelve years with the Department of Corrections. Her passion for leadership comes from her military experience, having served as a Senior Chief in the U.S. Navy, performing in numerous roles in specialty teams and Sergeant positions.
"It was my decision based off of my leadership background and I thought that it was time for me to step up and become a leader in the Sheriff's office. It has nothing to do with social unrest or anything in the news today. It does not have anything to do with the tone of my skin, it's all about my leadership ability," Chesney said.
Chesney started her military career in 1999, the one woman on a nineteen-person team. She advanced quickly, rising to the role of Senior Chief in 12 years and testing number one on her sergeants list – a significant accomplishment. Chesney plans to retire from the Navy reserves June 1.
"That is my motivation. To not let anyone tell me that my body parts, my stature, or the tone of my skin will limit me from doing something. I am a capable, motivated, and a passionate leader. I'm here to take care of people and I don't have any challenges because I'm a female…I will disprove those challenges," Chesney told the Lynnwood Times.
Working alongside Chesney is Sergeant Didy Quick, who has been with the Sheriff's office for over fifteen years, beginning in corrections in 2005 while under the Executive Office. Chesney and Quick work in concert with one another at Snohomish County corrections to be the change they wish to see for good leadership to stimulate their team's morale.
"Most kids don't grow up wanting to get into corrections, but I grew up with family that was on the other side of the law. They didn't make the best decisions. My father did some time, back in the state of California, and one of the things that helped him – motivated him to the path of success…he attributed a lot of that to folks that wear the same badge as I do in corrections," Sgt. Quick said.
Quick, five-foot-two, is an active woman and avid kickboxer. When she wanted to be a Defensive Tactic (DT) instructor there was a stigma you had to be "male and over six feet tall", but she, despite this, worked continuously toward her goal as training sergeant.
After finally securing a position as DT, she wasn't being utilized was because of her size. Quick took that as a challenge and is now the training sergeant and lead force instructor at the Corrections Bureau in Snohomish County.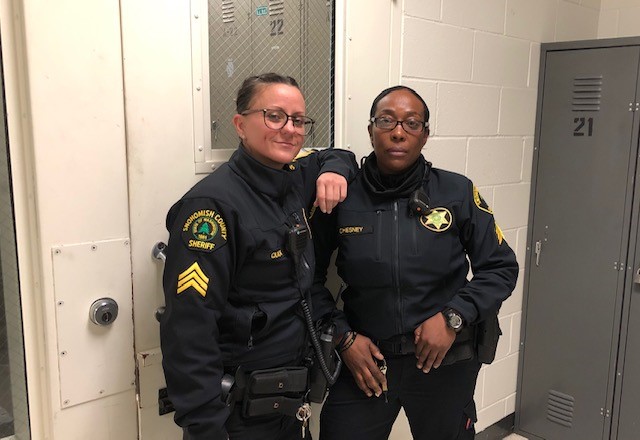 "It was not easy to achieve. Because of my stature, and the fact that I was female in a male-dominant profession I was overlooked. People had this stereotype against me before I had a chance to shine. I've risen through the ranks as far as you could go in our training department," Quick said. Sgt.
Quick moved to Washington from California as a military spouse of a Navy veteran. She applied to corrections fifteen years ago and never looked back. She has been a Sergeant for about two and a half years after wanting to change the direction of leadership to the new generation that she served.
Chesney and Quick are extremely passionate about their role in corrections and work with one another to "lead the way" for others.
"Not only to our co-workers, our peers, our subordinates, but we've also elicited change talk among inmates. We're motivating them to be better than what they are. They are people and we humanize situations, and we are trying to change our escape of thinking about uses of force…and that is paramount with what's going on in the world," Chesney said.
"Our skills, our training, our knowledge, our experience will lead us to where our community wants us to be," Chesney added.
Quick, being the training Sergeant for the Bureau, disagrees with the Defund the Police movement, believing it stems from a lack of education.
"Funding is what we need more of for training. Because the first thing to go when you have these talks of defunding the police, the first budget that hits is the training budget. The reality is the community wants us on the street," Quick said.
Quick continued, "We need an increase in funding for police…so we can offer training that has a care component. When we talk about defunding, I don't think the public understand the magnetism of those decisions."
To Sgt. Quick the hardest part about her job is morale and feeling there's a lot of risk with no reward.
"Here in these walls we all bleed blue. It doesn't matter if I'm female, it doesn't matter if I'm white, it doesn't matter if I'm black, it doesn't matter that I'm Asian we all took an oath to serve this community unapologetically and we're here to stay. The community right now is being very demanding of us, and I applaud that, all it does is challenge us to be better."
Quick, who has a daughter herself, encourages other women to get into law enforcement by telling them, "You may fall…but what if you fly? Don't limit yourself. Run like a girl."
Both Sergeant Chicara Chesney and Sergeant Didy Quick truly exemplify great leadership in Snohomish County.