LYNNWOOD, Wash – George Hurst kicked off his campaign for Lynnwood Mayor on Thursday June 17th at The Hilton Garden Inn in Lynnwood.
The 39 attendees were treated to complimentary snacks, coffee, and Coca-Cola. At the start, the campaign showcased multiple videos about Hurst and his work on the city council including advocating for Whispering Pines residents, the Lynnwood Walkabout, and the Lynnwood Community Justice Center.
Hurst's campaign themes are housing, business tax relief, roads and infrastructure, and public safety.
"If people come and talk to me about problems, I will try to find a resolution; that's what a councilmember and a mayor should do," Hurst said.
Pam and George Hurst have been married for 45 years and have lived in Lynnwood for over 27 years. Their four children all graduated from Lynnwood High School and the Hursts attend Lynnwood's Creekside Church.
Hurst graduated from the University of Washington with a bachelor's degree and earned a Master's Degree from the University of North Carolina in Chapel Hill. He's a 30+ year veteran of the commercial lighting industry and recently retired his real estate broker license.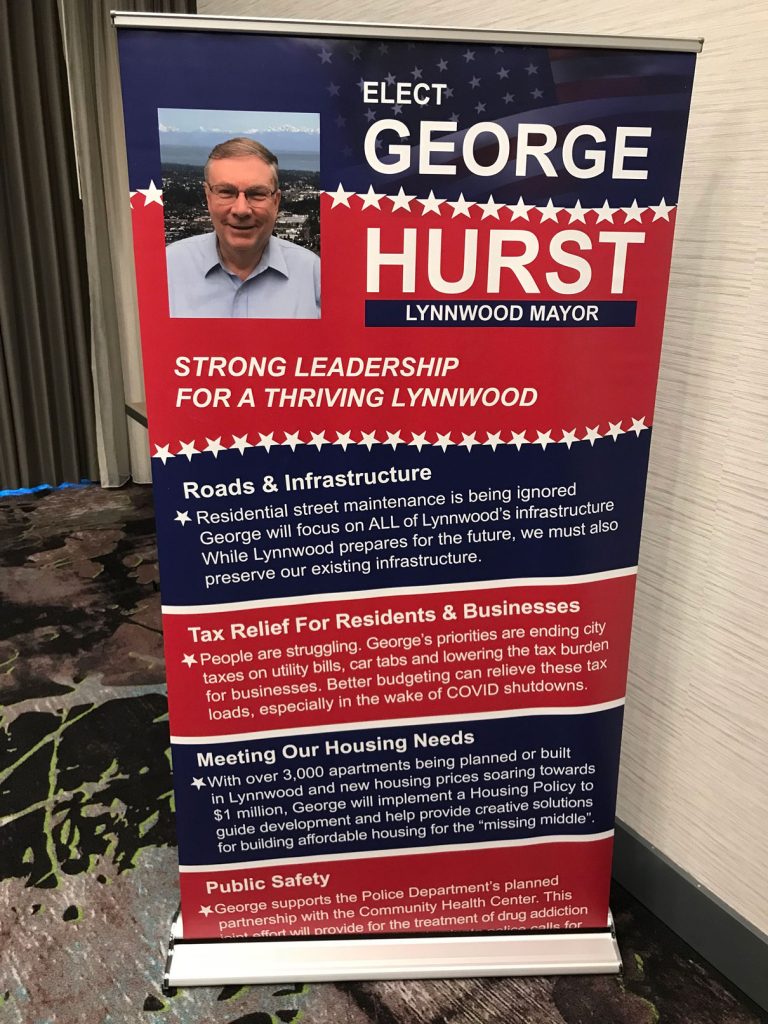 Lynnwood resident Rick Michels hasn't been politically involved in years but supports Hurst because he believes Hurst is a man of integrity who will prevent Lynnwood from becoming "Seattle North."
"Hurst means what he says and says what he means; he cares about people and the community," Michels said. "Hurst is what we're looking for when it comes to public officials."
The two-term Lynnwood City Councilman currently serves as council president. Hurst sits on the Puget Sound Regional Council Executive Board and serves as the Lynnwood Planning Commission Liaison. He has sat on various boards and committees in the past like the Community Transit Board and was the Chairman of the Lynnwood/Fire District 1 Regional Fire Authority Planning Committee
Past candidates and current elected officials were present at the kickoff like former Lynnwood City Council candidate Rosamaria Graziani, former 32nd Legislative District state senator Marilyn Chase, and current South County Fire Commissioner David Chan, who endorsed Hurst.
"He talks to regular citizens; he is not a politician," Chan said. "The people of Lynnwood need someone [who's not a politician]."
Hurst reflected that the event went well and was lighthearted which made it different from "typical political kickoffs."
"I was able to tell people what I've been able to do a city councilman with concrete examples," Hurst said.
The campaign will host two separate meet and greets at Lynndale Park on Olympic View Drive July 24th and August 28th. The Hurst campaign will emphasize hosting Community Coffee chats throughout the city and will go doorbelling going forward once pandemic restrictions lift on June 30th.
For more information on George Hurst and to support his campaign of becoming Lynnwood's next mayor, visit his website https://www.hurst4lynnwood.com/ or his Facebook https://www.facebook.com/hurst4lynnwood/.