Welcome to the Real World Class of 2021
EDMONDS, Wash. – Commencement is a word that means 'to begin' and on June 19, and June 20, the 2021 graduating classes of Meadowdale High School and Lynnwood High School celebrated their commencement into the real world of adulthood at Edmonds Stadium.
Over the last year, from quarantines and state-wide shutdowns, remote learning and civil protests, the high school students of the Edmonds School District demonstrated perseverance, courage, and ultimate success as they were awarded their diplomas and opened the next chapter of their lives.
Both were blue bird sky days. The bright green grass of the track field glistened beneath the sun, setting the perfect tone for the many bright futures. The school bands played Elgar's Pomp and Circumstance as the classes, in their black caps, gowns, and shawls, filled the seats in the middle of the track field enshrouded by evergreens.
The bleachers were filled with proud families and friends as commenters on the virtual YouTube live feed shared their congratulations to loved ones.
Teacher Robbie Rutherford took to the podium to commence the ceremony for Meadowdale.
"Tonight is the celebration of the completion of thirteen years of schooling for our graduates," Rutherford began while acknowledging the faculty and staff.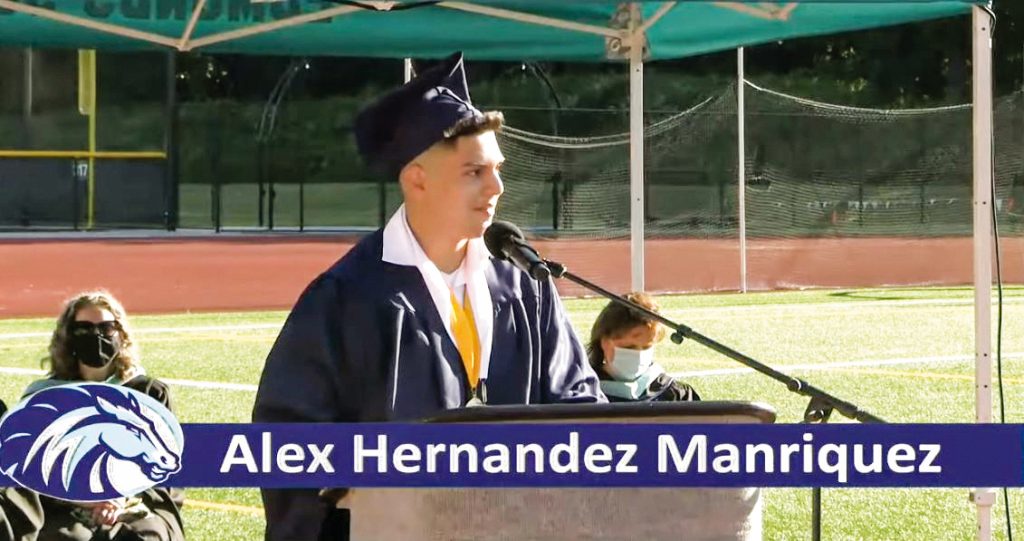 Caps were removed while the band played the National Anthem. Valedictorian Alex Hernandez Marquez took the mic to reflect his experiences from football games to remote learning.
"We are officially done with zoom meetings and ready to begin the next phase of our lives, whether that is pursuing a higher education or other aspirations," Hernandez Marquez said.
Valedictorian Sierra Moll then mourned the time lost due to a year of remote learning, but celebrated the growth that the 2021 class had in isolation.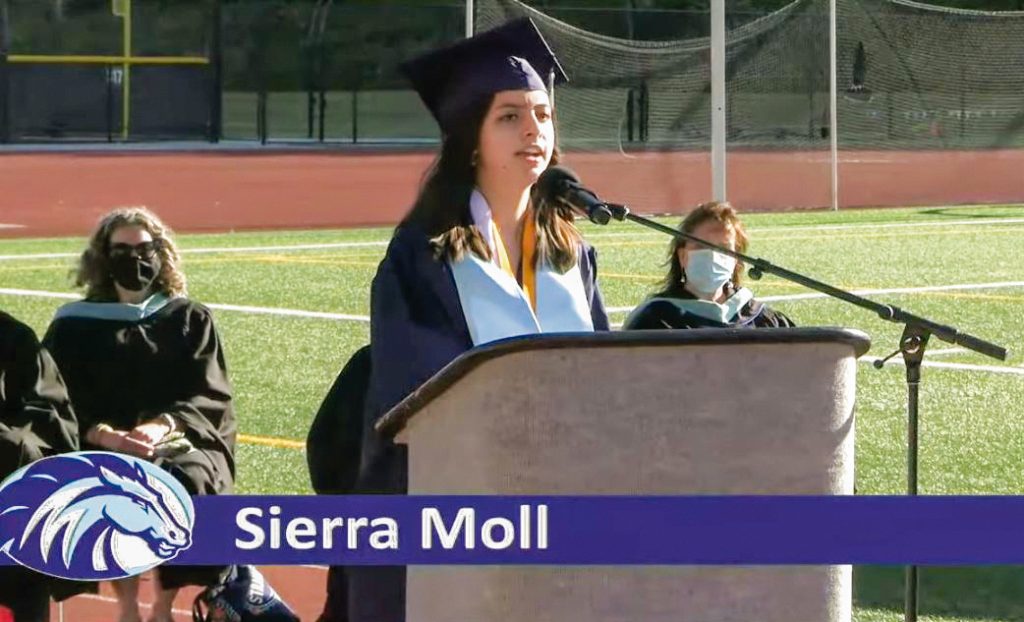 While she mentioned that the past year forced each student to grow up separately from one another, being the graduating class of 2021 will always be the thread that keeps each other tied to one another.
"No amount of time apart can ever taken that away from us," Moll said. "The world is going to be shaped by our brilliance…Because you don't survive and grow from 464 days of school shutdowns, state lockdowns and zoom classes without having all of the above. Here's to the next 464 days and beyond – let's go show the world what we're made of."
The school orchestra and choir stunned the crowd with a chilling, yet uplifting performance showcasing the artistic talents of the school.
Lynnwood High School
Lynnwood High School celebrated their commencement ceremony the following day.
"The class of 2021 is a wonderful class that will always hold a special place in the hearts of the Lynnwood High Community. This class demonstrated tremendous resilience, grit, and empathy. I have no doubt this special group of students will continue to do amazing things as they graduate and move into the next step of their life's journey. Go, Royals!" Michael Piper, Lynnwood High School Principal, shared with the Lynnwood Times.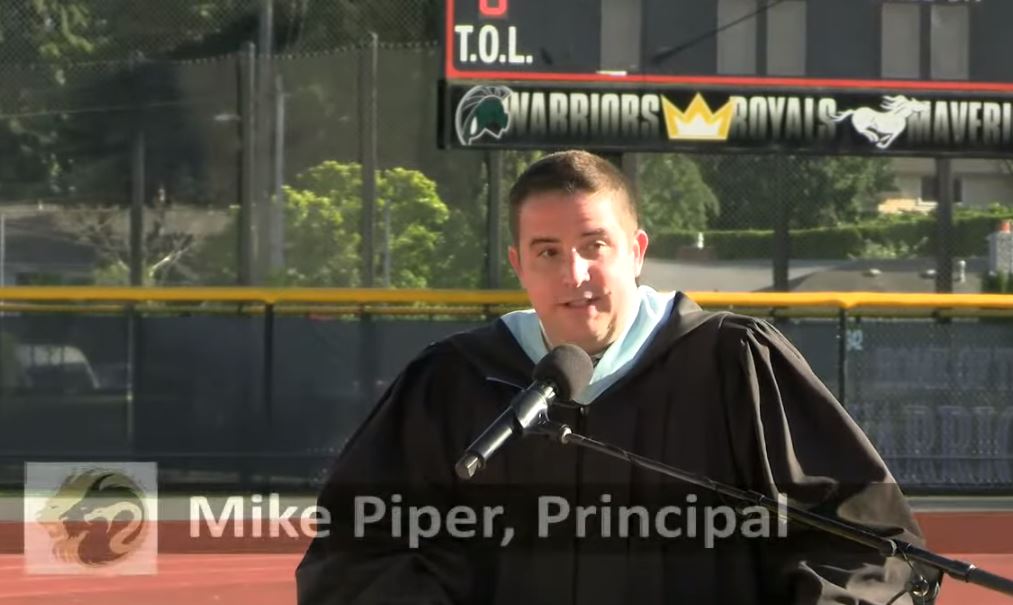 Lynnwood Senior Austen Schneider mesmerized the crowd with his jazzy rendition of the National Anthem on tenor saxophone before Gary Noble, Edmonds School Board Director, took the mic first thanking the crowd for voting for the levy in April.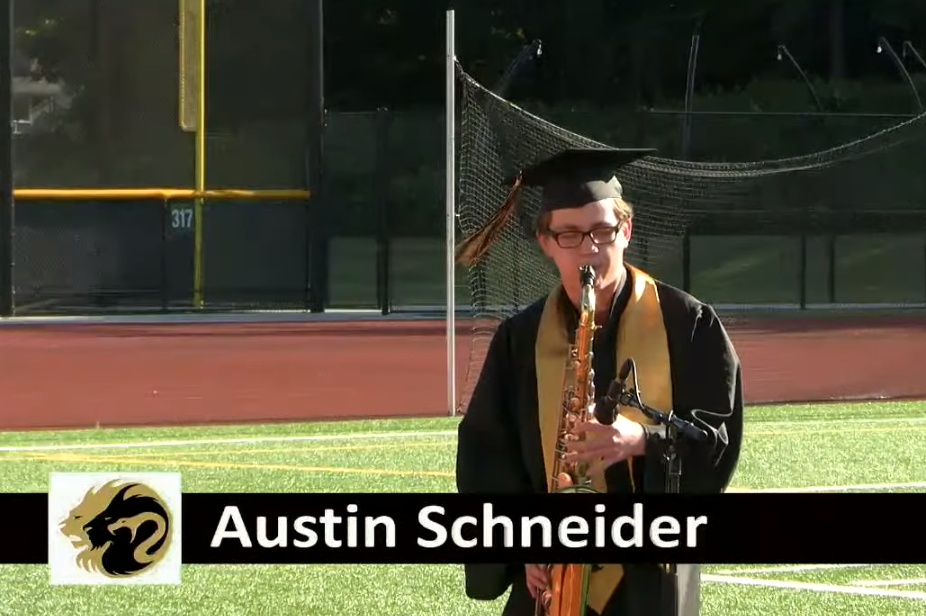 "This levy is so important with approximately half of our schools being over 50 years old it is really important", Noble began. "And for you seniors I just want to briefly urge you to become life-long learners.
"What's happened to you up until now, through the last twelve or thirteen years, you've had an education but the difference has been that your education has been prescribed by a bunch of adults that told you what you needed to learn.
"The difference now, once you graduate high school, the choice becomes yours. So, I urge you to make those choices wisely."
Valedictorian Ji-won Ha shared a story about how, as a young kid, she enjoyed watching the film Finding Nemo because "in a way it reflected [her] life".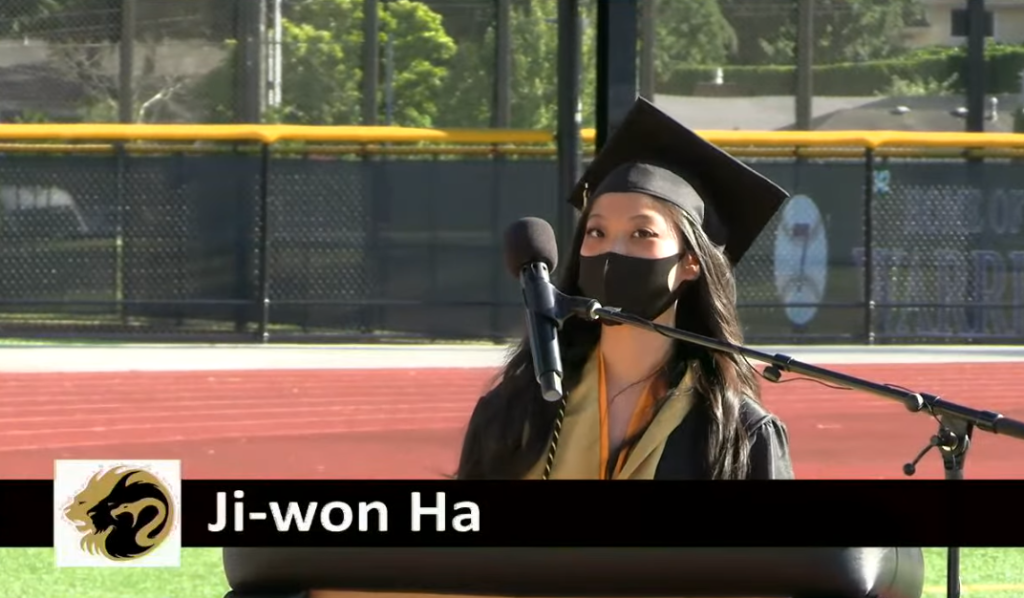 "Let's just say I had a lot of obstacles. I was raised by a single mom and was protected under her unconditional love. My life was great but one day I learned I would have to spend six hours away from her embrace to go to a place called school."
Ha shared her experiences with school, learning social and educational skills that would further her dream of becoming a veterinarian, and personal experiences with racism.
She recited a quote by Bob Marley, "If the people that are trying to make this world worse are not taking a day off how can I? Light up the dark."
"We shouldn't rest a day to make our future a better place to be in because we are the ones to light up the darkness," Ha continued.
Valedictorian Tyler Tran then took the mic.
"It's been a journey, to say the least. We had a snowmageddon, quarantine, quarantine the sequel, and then hybrid but…but that didn't stop us so I'm not sure what can at this point."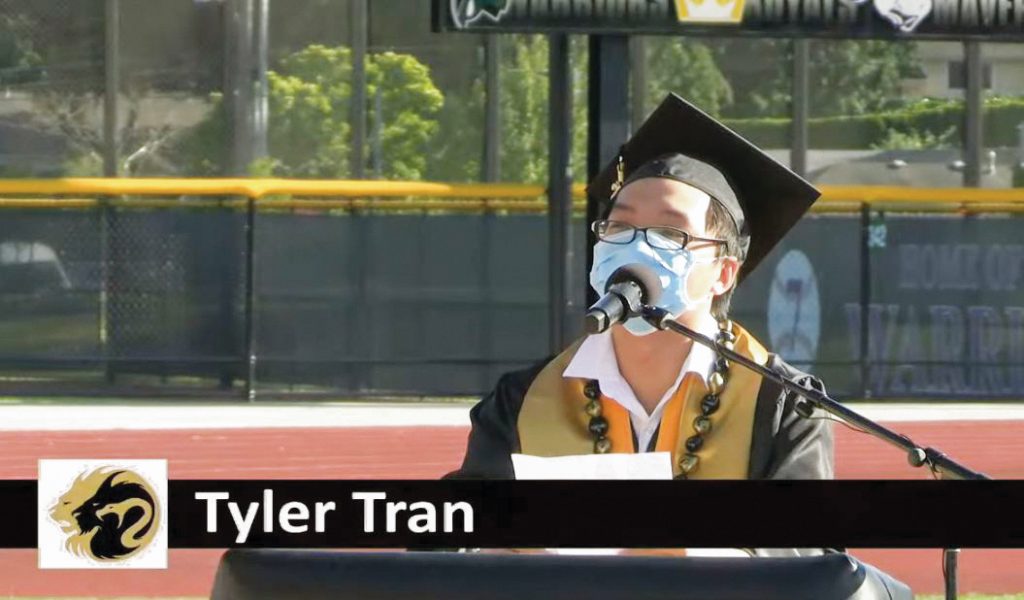 Tran, who turns 18 in less than a week, continued to say he wants to continue enjoying the childish things in life, using children's cartoons to represent how adults miss being a child so "why not revel in it?"
"I feel like there's a pretty intense narrative for high school students to grow up," Tran said.
Ton Cady, Social Studies teacher, then took the podium to share his thought on the importance of time.
"Tonight, your past, your present, and your future are all on our minds as we celebrate graduation during this commencement ceremony. It's your time…spend it wisely," Cady said.
Cady continued to say the memories of high school students will have in the future will probably not be the assignments or distant learning, but the clubs joined, the teams competed in, and most importantly the friends made and all the mentors who offered their encouragement along the way.
He urged students to spend more time in the real world than virtual ones, to spend time listening and learning from people who are different, and to spend time fighting for the rights for those "who have less power than you do."
Elected student speaker Esther Himmelfarb reflected on her time at Lynnwood High School, from the friends made, the dances attended, and the memories formed she will never forget.
"We sit on this field together to celebrate what we've done and what we've become," Himmelfarb reflected.
Superintendent Dr. Gustavo Balderas shared the following statement to the Lynnwood Times on the Class of 2021.
"I want to congratulate all of our graduates on their achievements! Over the past 15 months of the COVID-19 pandemic, our seniors have shown resilience, time and time again. I am so proud of each and everyone of them. My hope is they go out in the world with all they learned, and make a difference. Congratulations to the Class of 2021."
The Foundation for Edmonds School District has awarded $138,000 in post-secondary scholarships to 55 graduating seniors at six Edmonds School District schools.
The Hazel and Morris Miller Memorial Scholarship of $5,000 was awarded to Zoey Morris and Tyler Sutton of Meadowdale High School, and Sierra James and Charles Chambers of Lynnwood High School.
All Edmonds School District 2021 commencement celebrations were taped for later viewing on the Hawk Tv YouTube Channel.