Lynnwood High School student wins Congressional District Art Competition
LYNNWOOD, Wash., July 3, 2021 – This year's winner of the Congressional District Art Competition is Susanna Lee, a Lynnwood High sophomore student in the Edmonds School District. The competition has been held every spring since 1982, and its purpose, according to house.gov, is to "recognize and encourage artistic talent in the nation and in each congressional district."

"You and Your Future"
Rep. Rick Larsen (WA-02) along with four local judges, scored the 36 art submissions they received from the district based on four categories: creativity, execution of skill, and the narrative quality or emotive aspects of the work.
The four additional judges this year included Eric Shew from Bellingham Arts Commission, Therese Kingsbury from Whidbey Island Arts Council, Rita Martin from the Skagit Arts Association, and Judy Tuohy from the Schack Art Center in Everett.
Susanna Lee, art piece titled "You and Your Future," was selected as the Second District's winner of the 2021 Congressional Art Competition.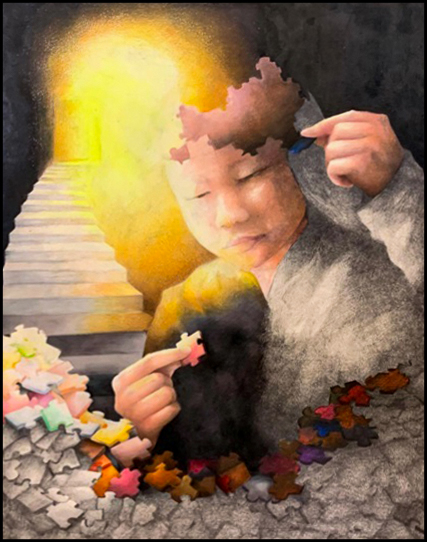 Lee's work is peaceful yet captivating as it depicts an individual moving and inspecting the puzzle pieces of one's self. The minimal use of color puts a thematic emphasis on lighting, as a staircase leading out of darkness and into light can be seen in the background.
Of her work, Lee said that it "represents any individual, an individual who has worked for so long, putting themselves together to enter their dreams."
According to the district's press release, Lee's work will be displayed in the U.S. Capitol for the next year along with other winning pieces from congressional districts across the United States.
Official Congratulatory Statements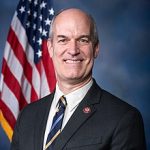 Rep. Larsen and Lee's art teacher at Lynnwood High School, Brooke Dewaard, congratulated Lee for winning this year's competition.
"The Congressional Art Competition continues to be an opportunity to recognize and encourage artistic talent in the Second District and across the country," said Larsen. "Congratulations to Susanna Lee for winning this year's competition with her outstanding piece, 'You and Your Future,' and to all the talented Second District artists for submitting their artwork."
"The Congressional Art Competition recognizes and encourages artistic talent among high school students across the country, and I can think of no better fit than Susanna Lee for this year's award for this [congressional] district," said DeWaard. "Congratulations, Susanna Lee!"
Students who are interested in entering future competitions can visit the district's website for more information.