Over 100 attend Kartak campaign kick-off at SnoTown Brewery
CITY OF SNOHOMISH, Wash. – Over 100 packed SnoTown Brewery, Tuesday, June 29 for the campaign kick-off of Mayor John Kartak in his re-election bid for the City of Snohomish's chief executive.
Kartak was born in Seattle at the former Northgate Hospital and was raised on a farm just across the valley from Snohomish. He moved to Snohomish proper in 1996 where he raised five sons and has seven grandchildren.
Snohomish is a politically purple community with varying faiths and beliefs, Kartak said at his campaign kick-off event. Although they differ in opinions, the people of Snohomish value one another as a community.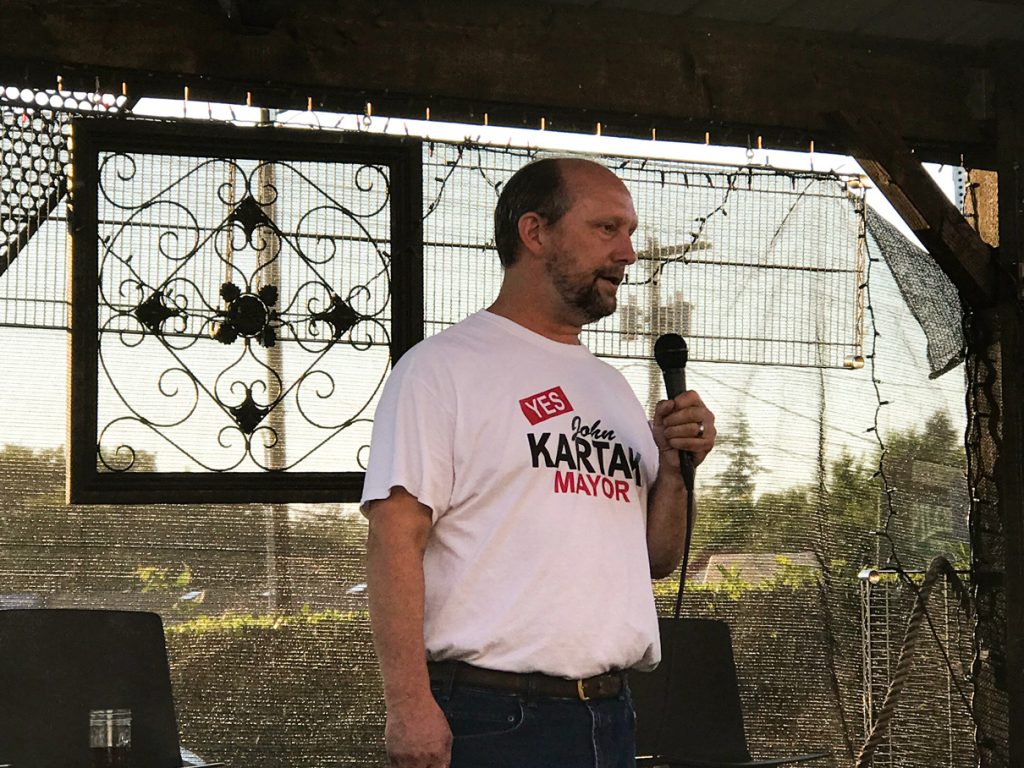 "This is a community where everyone knows their next-door neighbors," Kartak said. "We think about them not as someone with different beliefs, but as our neighbors first."
Kartak's campaign platform is protecting small-town values, keeping Seattle politics out of Snohomish, and focusing on the core duties of city government.
Kartak is a 32-year General Contractor as part owner and Operations Manager of AAA Kartak Glass & Closet. In the 1990s Kartak helped form Cutting Edge Windows, LLC where he served as part owner and General Manager up until being sworn in as Mayor of Snohomish in 2017.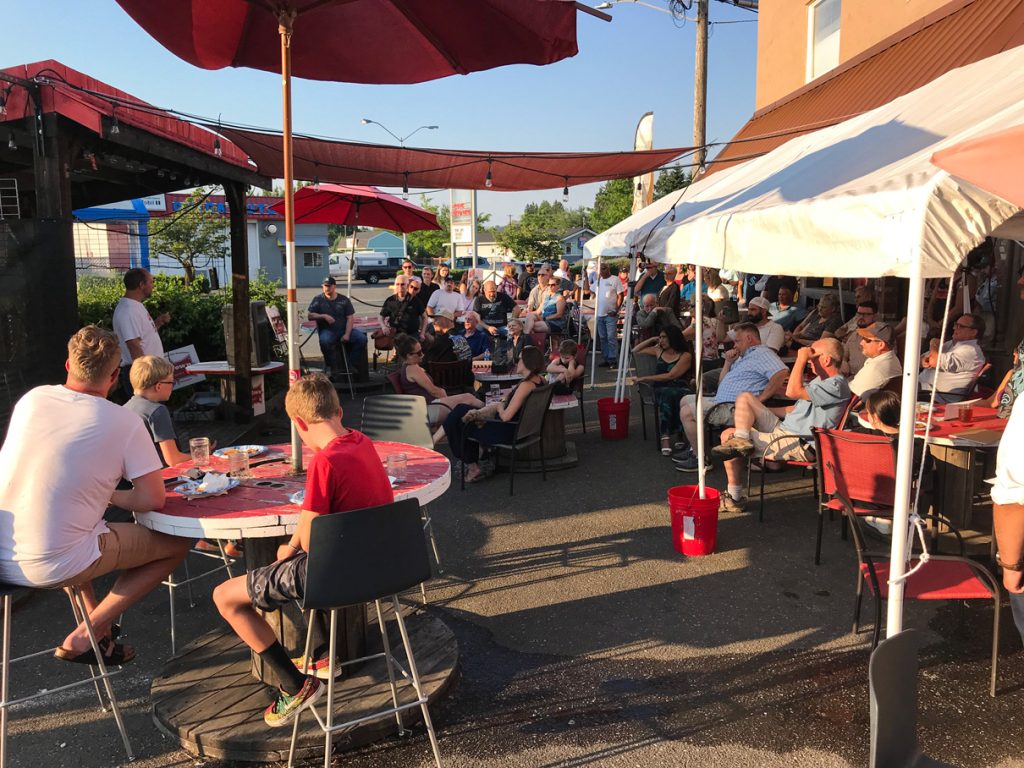 SnoTown Brewery is owned by Keri Jensen and Frank Sandoval. Sandoval is a fourth-generation Snohomish resident and supports Kartak because he saw him putting in the work as mayor from the very start.
"He wore blue jeans and had a tape measure on his belt walking around town in the early mornings taking measurements to ensure local legislation will work out and be what's best for the city," Sandoval said.
Originally, Jensen "wasn't a fan" of Kartak. But when Kartak visited SnoTown to get to know her and Sandoval, she learned that Kartak supports local businesses and the community.
"He is good for the people, small businesses, and us," Jensen said. "John Kartak all the way."
Thus when Kartak needed a place to host his campaign kickoff, Jensen and Sandoval "gladly offered" their hometown venue, SnoTown Brewery.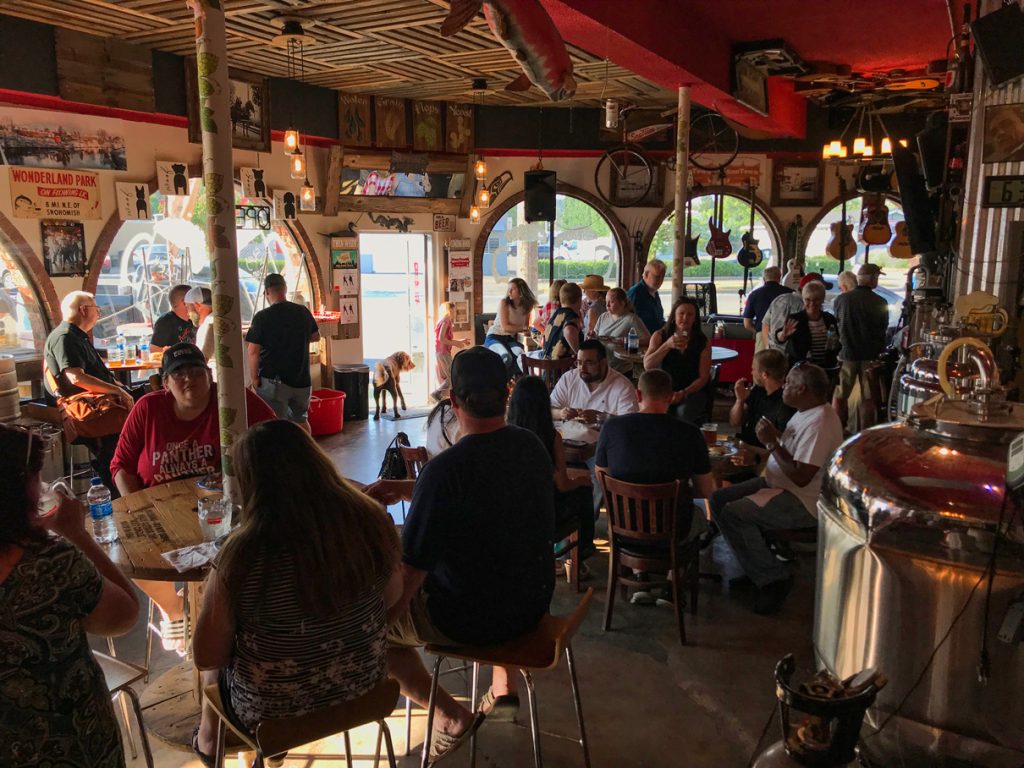 According to his campaign website, Kartak is a board member on Snohomish County Tomorrow, the U.S. Navy League (Lake Washington & Everett Council), Sons of the American Legion Post 96, and Vice President of the Snohomish Kla-Ha-Ya Days festival organization. He is also a member of the Snohomish County Farm Bureau, Snohomish Kiwanis, Garden City Grange, and Snohomish Sportsmen's Club.
Jason Rask and his family and friends cooked the evening's feast which included coleslaw, cornbread, a special Rask family recipe chili, and 100 pounds of pulled pork which took 16 hours to cook.
"I just like people being happy when they eat my food," Rask said.
Snohomish residents Marli and Jim Andre are voting for Kartak praising his accessibility, with Jim noting that he has been able to speak with Kartak "half a dozen times" during his term despite never having talked to a mayor in his life.
"It's a pleasure to speak to a mayor who is interested in hearing what the community has to say," Jim Andre said. "I feel that everyone has a seat at the table with John."
For more information on John Kartak and to support his campaign of staying as Snohomish's mayor, visit his website https://www.yeskartak.com/ or his Facebook https://www.facebook.com/YESMayorKartak.
SnoTown Brewery is located on 511 2nd Street in Snohomish.