Zieve kicks off his "Keep Mukilteo a Small Town" campaign
MUKILTEO, Wash., July 3, 2021 – Peter Zieve hosted his campaign kick-off for Mukilteo City Council on Sunday, June 27th 6-8 p.m. at his home in Mukilteo. It was one of the hottest days of the year with temperatures reaching 95 degrees in Mukilteo.
When asked why host the kick-off campaign inviting the entire city to his home, Zieve told the Lynnwood Times, "I am a community man with an open-door policy.  I run my business that way and I will continue that commitment when elected to the council."  
Zieve's campaign slogan is "Keep Mukilteo a Small Town." His campaign platform is opposing to the Housing Action Policy (HAP), preserving Mukilteo's quality of life and promoting home-town values.
Zieve is fundamentally against the decriminalization of sex work and defunding police.
The family man and decades-long businessman shared with attendees why he is the best choice to represent the priorities of residents. Zieve criticized what he called a "smoke-and-mirror show" in what his opponent proposed in making the motion to approve the HAP and aired concerns on the methods used to silence the other council members.
"We need a return to transparency and accountability," Zieve said.
Zieve continued, that his opponent's HAP vote prioritizes constructing high-density housing over single-family residences; a direct threat to the small-town vision laid out in the current City's Comprehensive Plan – the document which lays out a city's future growth and development efforts.
Zieve defined a small town as a community where residents have space to park their vehicles unlike the congestion of big cities, pedestrians utilize bike lanes free of parked cars lining the roads, and a safe community where neighbors know one another.
"Living in a small town means we know and care about each other," Zieve said.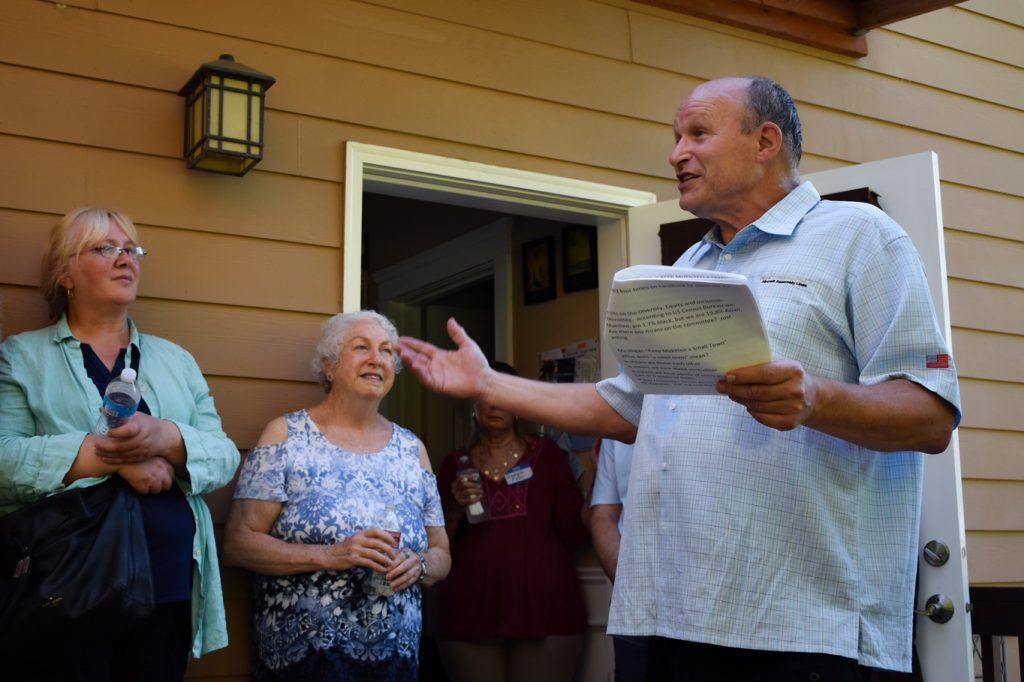 The Zieve family moved to Mukilteo in 2007. His daughter is a Kamiak high school graduate class of 2011 and his sons attend Harbour Pointe Middle School and Columbia Elementary. He is a supporter of local causes and establishments like the YMCA, Boys and Girls Club of Mukilteo, Camp Solomon Schechter and the Electroimpact Youth Robotics camp.
Zieve has donated hundreds of thousands of dollars to local schools, families, and charities as a Mukilteo resident. According to his campaign Facebook account, over two hundred Kamiak kids have gained on-the-job experience through Electroimpact's internship program and full college tuition paid to a dozen Kamiak graduates.
Chris Beemus, a six-year Mukilteo resident, said that he supports Zieve and is "on-board" with most, if not all, of his campaign platform.
"Peter's pledge to keep Mukilteo small and reject the HAP's high-density housing is what attracts me to his campaign," Beemus said.
The three-time Mukilteo City Council candidate founded his aerospace company Electroimpact in July 1986 after receiving a Ph.D. from the University of Washington (UW) in Mechanical Engineering.
Electroimpact's initial task was to commercialize Low Voltage Electromagnetic Riveting technology he invented in his UW doctoral research. Now, Electroimpact manufactures equipment to help companies such as Boeing and Airbus make airliners.
During the pandemic, Zieve repurposed Electroimpact's manufacturing capabilities by providing thousands of healthcare workers across the globe face shields and personal protective equipment saving countless lives.
Sisay Desalegn, an Ethiopian Mukilteo resident said that Zieve is a personal friend who has always been there for him. He supports Zieve because he believes Zieve would accomplish "a great deal" for the community.
"He really cares for Mukilteo, is involved with Mukilteo community life, and makes an effort to reach out to others," he said.
For more information on Peter Zieve and to support his campaign of becoming Mukilteo's newest city councilman, visit his website https://peterzieve.net/.
Editor's Note: The featured picture is of Peter Zieve taken at the Friends of Abe picnic on June 19 at Mukilteo Lighthouse Park.