By Katrina Kukhar | Lynnwood Times Staff
Essential workers were among the first to receive precautionary equipment to keep them safe on the frontlines of the pandemic.
Electroimpact (EI), a Mukilteo aerospace company that specializes in factory automation and tooling solutions, was one of those businesses who used their manufacturing expertise to efficiently design and build Personal Protection Equipment (PPE) using their 3D printers.
Following EI's initial production of PPE, they received an email from Makoto Nitta, Senior Managing Director of Fuji Industries Co., LTD, located in Japan, with a request to export face shields to the international market.

The email noted that essential doctors and medical personnel desperately required protection from drop infections when coming in close contact with a patient. A face shield is a clear plastic guard used to protect healthcare workers from coming into direct contact with fluid droplets that may contain the virus. They are usually worn over masks allowing the PPE to last longer.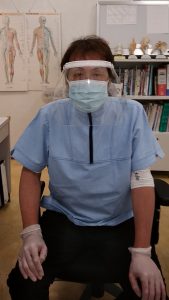 "If EI is in the position of utilizing your equipment to support medical people by making face shields, we would very much appreciate [it] if you can share some of them to our medical people in Japan," the email stated.
The latest demand from Fuji Industries showed that there was a need for PPE in places around the world not only in the United States. Electroimpact quickly took action and started shipping face shields and ear guards to the United Kingdom and Japan.
When COVID-19 hit the United States and the government shutdown slowed down manufacturing plants, some businesses thought of other avenues to use their equipment.
Electroimpact began manufacturing and donating N95 face masks, face shields, and ear guards to local area hospitals, clinics, or wherever there was a need in the country. EI reached out to their employees, to see if they had any connections in the medical field in need of PPE. Through those direct contacts, Electroimpact became part of the supply chain to ship PPE to other states.
Some of the places that have received EI's PPE are the following:
Good Samaritan Puyallup, WA
Hospitals in Louisville, KY
Hospitals in Loveland, OH
Singing River Emergency Physicians
UW Medicine SLU Research Facility
Southcenter Foundation Native Hospital
Northwest Weight and Wellness Center
Champlain College Student Health Center
Royal Liverpool University Hospital, UK
UFCW21 in Washington
PNW Open Source Covid19 Medical Supplies in Washington/Oregon
A facility in Ohio
A facility in Kentucky
A facility in Colorado
Northwest Weight and Wellness Center in Everett
A facility in Salt Lake City Utah
Northshore Christian in Everett
MultiCare Indigo Urgent Care in Issaquah
A dental facility in Washington
A barber shop in Mukilteo
A facility in Tennessee
A facility in South Jordan Utah
Cedar Park Schools in Washington
Many businesses, especially the smaller companies who compete with bigger businesses for PPE, expressed their gratitude for the PPE and all who have received PPE have been amazed at the products' quality.
One of those recipients, Kobe Medical Association (KMA) located in Japan shared, "[KMA] are so impressed with the design and the quality of your face shield as it does not get fogged…probably one of the reasons is because EI used high quality material."
Greg Oden, a mechanical engineer for Electroimpact noted that, "Eventually we expect to taper off once overseas production catches up to global demand, but for now, there are plenty of places that are very eager and happy to get a box of face shields from us."
Updated Information:
With the new school year looming and uncertainty with requiring students and teachers to practice social distancing and facial coverings, Oden mentioned that providing masks to schools is EI's next target.
"That seems like a very good fit for us, because they can fit well with our slower production rate," Oden said.