Homeless have until July 5 to vacate county property
By Katrina Kukhar | Lynnwood Times Staff
"Why do they [the county] let us build this [camp] in the first place and now they are evicting us?" asked Ryan, one of the 50 residents living at the fenced in section at the Northeast corner of the Snohomish County Campus.
On July 1, the Lynnwood Times received a tip of a large law enforcement presence at the camp. According to deputies, notices to vacate by July 5 or risk being arrested for trespassing were issued to residents.
According to Courtney O'Keefe, Director of Communications, Snohomish County Sheriff's Office had been notified by the county executive office that the homeless population had to leave the area by Sunday, July 5.
The Lynnwood Times reached out to Dave Somers, County Executive, and Mary Jane Brell Vujovic, Human Services Director, for a statement and as of yet, we have not received a statement concerning the removal of the homeless camp.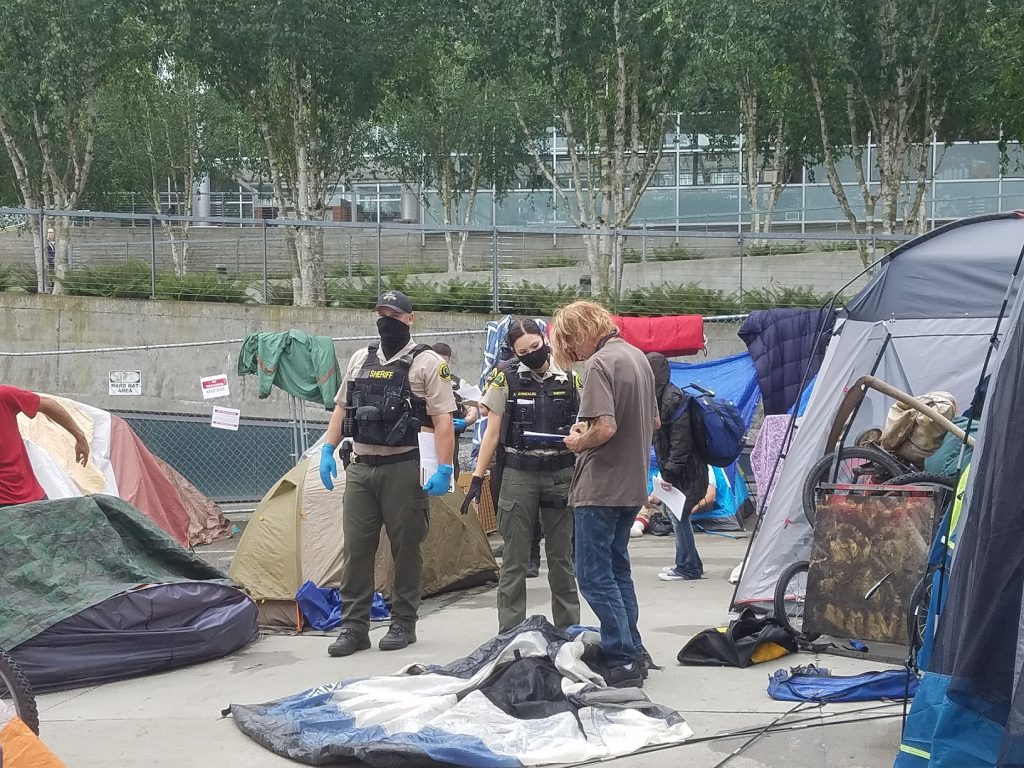 The Office of Neighborhoods (OON) was on site with the deputies offering treatment and housing options to the campers. The OON team had been to the camp a few times and on July 1 had scheduled meetings with five of the homeless residents to arrange housing and other services.
OON scheduled treatment and a bed in a detox facility for one individual, scheduled a meeting to assist a veteran with benefits and assist another with renewing their housing voucher.
Many of the camp residents were frustrated by not having a permanent place to settle.
"They keep moving us around. They moved us from across the street, and [now] they want to put us in jail for being here," said Crystall, a resident willing to speak with us.
Ryan, who had been at the camp since the beginning said, "People built up a bunch of stuff, bought new tents, and finally have a place to stay, and then they are forced out."
He continued, "I'm not sure what the issue is to why they aren't letting us stay here, but it's probably more of an eyesore."
Colton, a male resident at the camp said, "They forced us over here from across the street when they were going to kick us out anyway, it doesn't make any sense."
On June 17, members of the camp were notified to move from staying in front of the Carnegie building. All of the individuals moved to the northeast corner of the Snohomish County campus by Friday, June 19. This was confirmed by the Snohomish County Sheriff's office.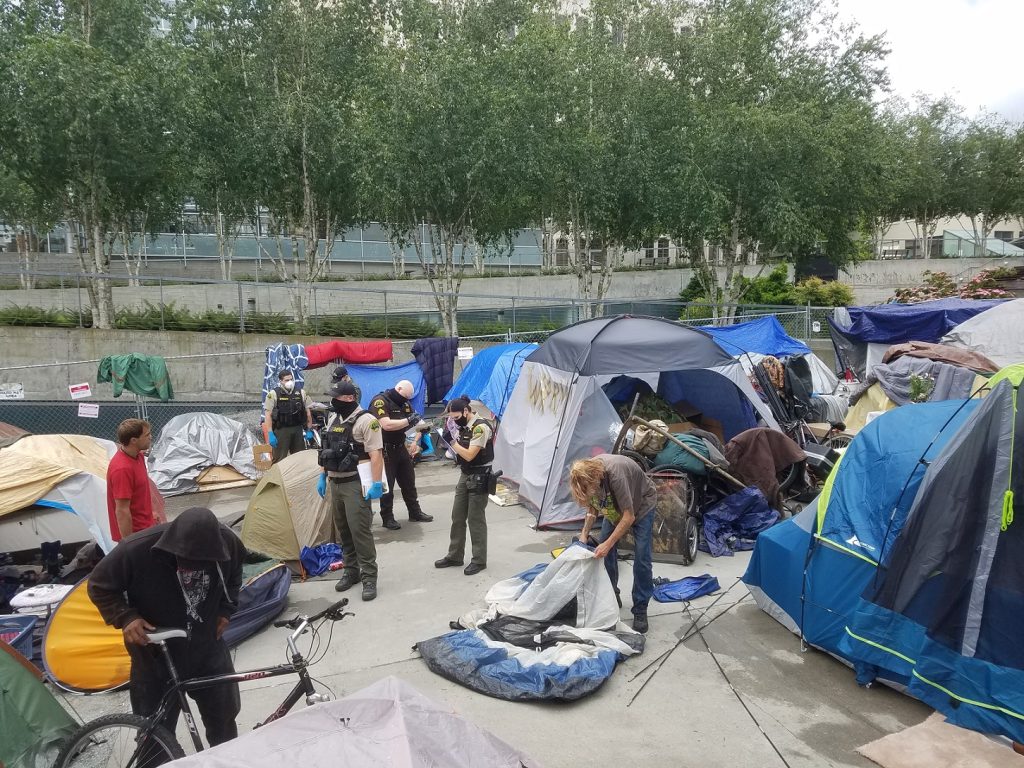 Uncertainty and disappointment were in the responses when asked by the Lynnwood Times where the campers were going after receiving the notice to vacate.
"I guess the woods," said Ryan.
"I don't know, but we'll figure it out. We'll be alright," said Sarah.
Elaine, who has been interviewed a week earlier by the Lynnwood Times, said that she is not going anywhere.
According to a dozen campers, no one from Human Services nor social services came by the camp to offer any assistance or housing. The Lynnwood Times is awaiting confirmation from the county executive's office of this claim.
David, who had been at the camp for three weeks told the Lynnwood Times, "It would be nice to see someone from Human Services… they could at least set up a table and offer something."
Jenifer indicated that the only time she's seen a social worker was today, July 1. "The social worker had a cop jacket on which made me not want to approach her."
A few of the individuals were critical of the eligibility to receive any kind of assistance. "Those who do not have a substance abuse have a difficult time receiving assistance," said Ryan.
Elaine shared the difficulty of getting a job or housing because the process of applying is hard to navigate especially with limited access to technology.
"They tell you, you just need to apply… it's not that simple. Especially if you call them and don't have a phone to get the call back."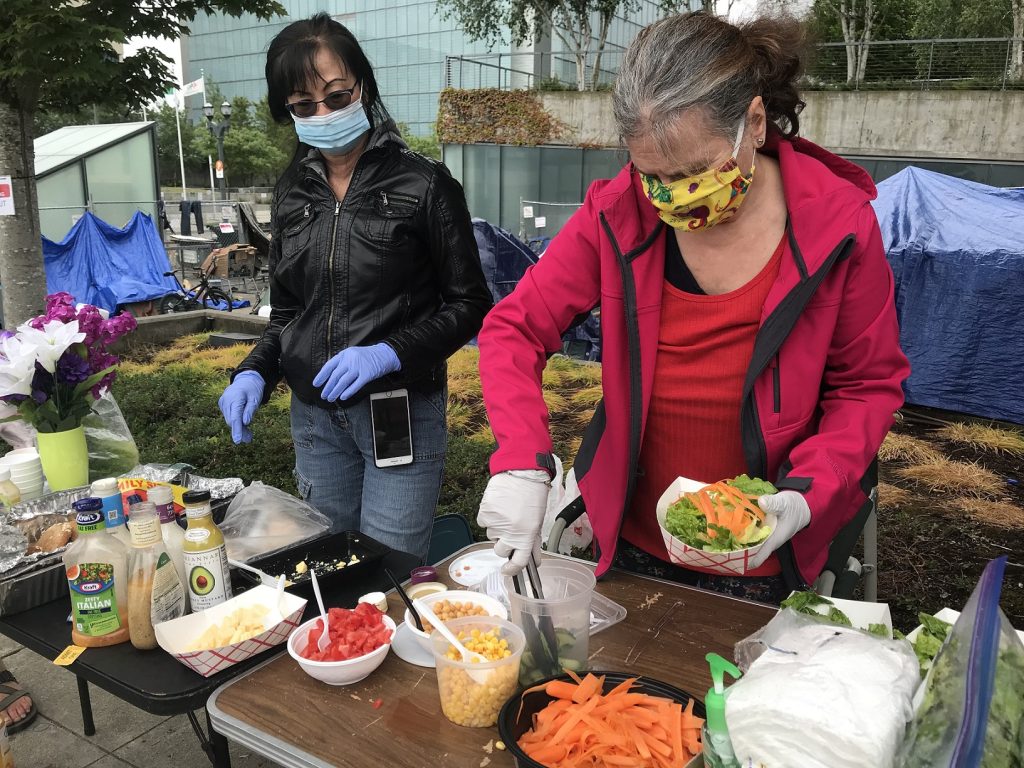 Amiga Debbie, owner of Connecting Business with Charity, provided lunch and other supplies to homeless residents. Debbie has been volunteering her services to help those less fortunate for over 10 years.
David wanted to convey his gratitude to Debbie, the Recovery Cafe, and others who have been bringing food and bare essentials to the camp.
In a July 1 press release, Snohomish County Human Services announced that the chronic homeless population being sheltered increased by 46.6%; whereas the unsheltered population in the county increased by 14.5%.