Nonprofit sets up new homeless encampment following Snohomish County sweep
By Erin Freeman | Lynnwood Times Staff
EVERETT – Snohomish County homeless advocates and nonprofits have set up a tent encampment in response to a county eviction of unhoused residents from public grounds during the COVID-19 pandemic.
On a privately-owned abandoned lot owned by Rucker Investments on Rucker Avenue, 83 people experiencing homelessness have assembled on July 6, 65 tents and their belongings spaced ten feet apart from one another to adhere to social distancing guidelines in the wake of the coronavirus pandemic. Wash stations, portable bathrooms, and fire extinguishers line the perimeter of the property. The initiative of creating the encampment was led by Robert Smiley, founder of the Hand up Project, an advocacy group for the homeless. 
Upon arrival, people were required to sign a registration form including a list of any barriers they face in accessing housing or other needs. The list will then be used to contact state, county, and city social service resources to get the people inhabiting the site support specific to their needs.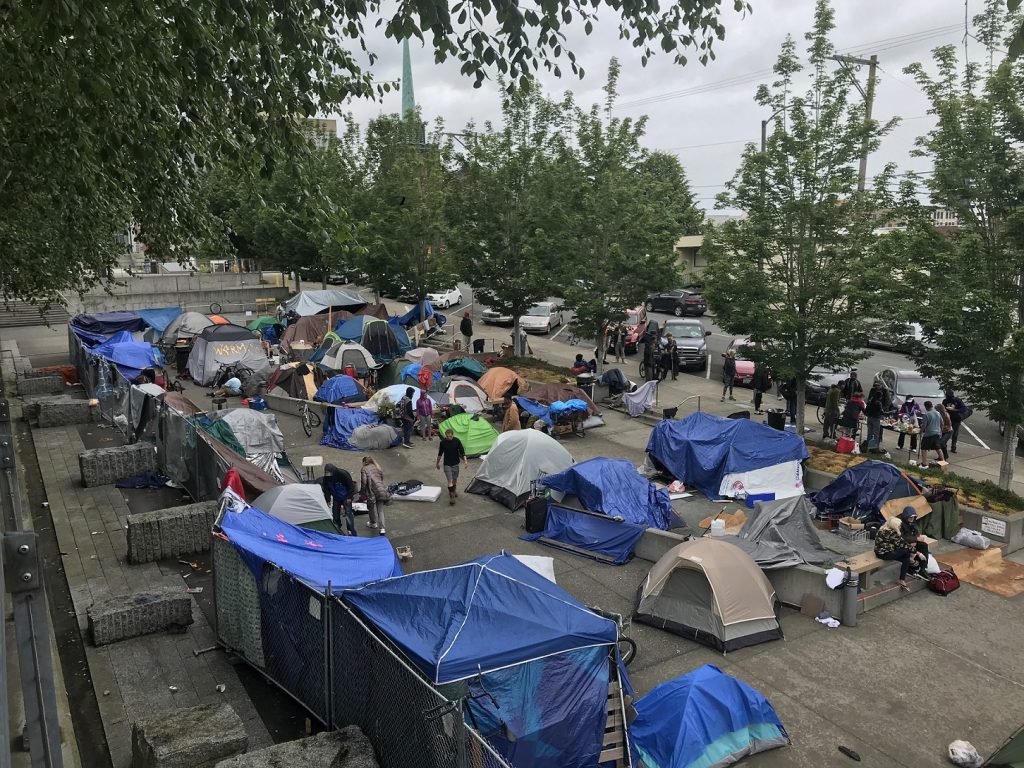 "I never give up. I'll keep helping the same person over and over until they get it," remarked Smiley. "They're here, they want services.
The move to find a place for the homeless comes just days after the county took steps to clear an encampment at the northeast corner of the Snohomish County Campus Plaza.
County law enforcement gave approximately 86-hour notice to the people, warning them that they had until 5 p.m. on July 5 to vacate the site or could face criminal charges.
"You are hereby warned that you are not authorized, licensed, or invited to be in or upon the premises and may be arrested for violation of… criminal trespass," read notices posted to the fences surrounding the encampment on Wednesday, June 24.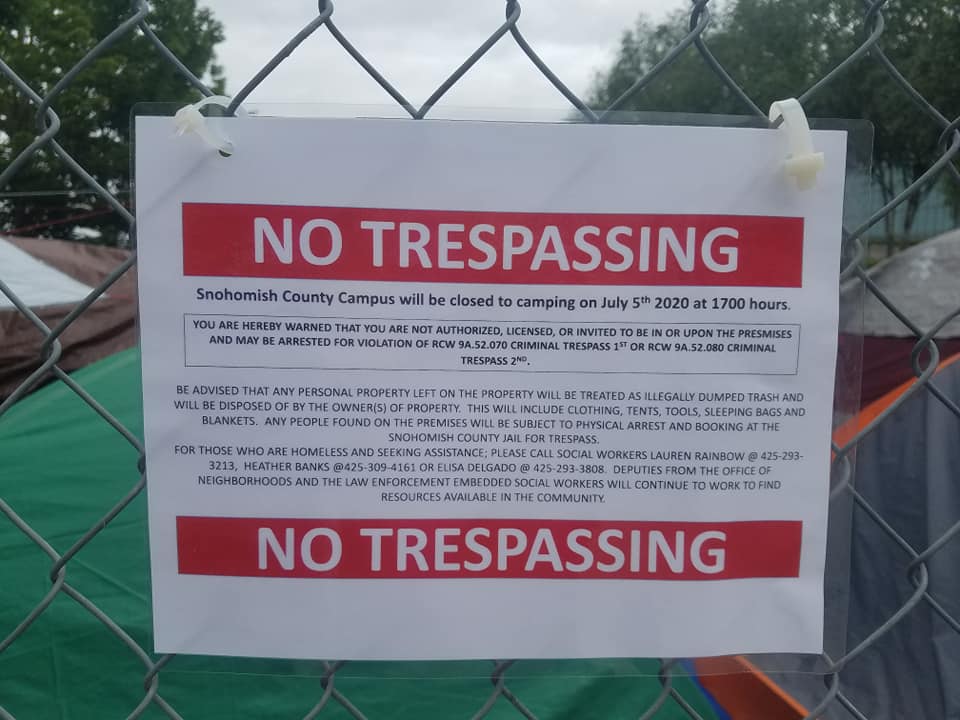 "They keep moving us around," said Crystall, a woman staying in the campus encampment. "They moved us from across the street, and [now] they want to put us in jail for being here."
Snohomish County, like many other surrounding counties and cities, has an anti-camping ordinance in place that prohibits camping on public property, such as sidewalks or in parks, throughout the county.
"Why do they [the county] let us build this [camp] in the first place and now they are evicting us?" questioned Ryan, one of the residents who, at the time on July 1, was living at the fenced-in county campsite.
Snohomish County and the Snohomish County Sheriff's Office had designated the spot themselves. Eight days before Wednesday's eviction notice, residents camping across the street, outside of the Carnegie Resource Center, were notified to move to the Snohomish County campus lawn.
"They forced us over here from across the street when they were going to kick us out anyway; it doesn't make any sense," said Colton, another resident at the camp.
Snohomish County Courthouse grounds fall under the authority of Mark Richardson, Chief of Special Operations for the Snohomish County Sheriff's Office. He says they supported designating a space on county property after witnessing an increasing amount of people congregating across multiple blocks near the county plaza.
"Human Services and [the Sheriff's Office] came up with the idea to find them a specific place to be on campus," explained Richardson. "It's had some positives and some negatives."
As of June 22, law enforcement had responded to two overdoses and a couple of fights at the camp. On a different day, a Snohomish County employee was assaulted by an adult camp resident while walking through the courtyard. The employee was able to defend herself until law enforcement responded.
Richardson says that, for the most part, the individuals at the camp were compliant and cooperative, but sufficient situations occurred leading County Executive Dave Somers to break up the encampment, deeming the site as an unsafe environment.
"We're between a rock and two places right now… I feel for these people," said Richardson. "The problem is, with COVID, everything's closed down, so we don't have a good place to put these folks."
The recently released 2020 annual Point-in-Time count report in Snohomish County, a calculation of the homeless population, identified 1,132 people experiencing homelessness residing across the county with 632 of them documented as unsheltered on the night of January 22. The term "unsheltered" refers to a segment of the homeless community residing in a place not meant for human habitation, such as cars, parks, sidewalks, abandoned buildings (on the street) according to the United States Department of Housing and Urban Development (HUD).
Snohomish County Human Resources Director Mary Jane Brell Vujovic anticipates that the county's homeless population will grow in response to coronavirus-induced economic challenges, as Federal investment in addressing homelessness has declined "dramatically" and local jurisdictions do not have the resources to make up the difference.
"We anticipate an increase in the number of individuals and families that may face homelessness due to pandemic-related job loss once the moratorium on evictions is lifted and are funding preventive services," she explained.
In a May 21 press release, County Executive Dave Somers thanked the County Council for approving his grant programs that were part of the COVID-19 package that was funded by the CARES Act. From the package, $25 million was allocated for human/social services and housing. In response to the COVID-19 pandemic, the County will receive time-limited funds to address this issue, said Brell Vujovic.
A 2018 Ninth Circuit Court of Appeals ruling (Martin v. Boise) determined that governments may not enforce ordinances that prohibit sleeping outside in the absence of alternatives, finding that it violates the Eighth Amendment as the actions are involuntary and unavoidable. Washington is part of the Ninth Circuit, so this decision applies to Washington municipalities.
"As long as there is no option of sleeping indoors, the government cannot criminalize indigent, homeless people for sleeping outdoors, on public property, on the false premise they had a choice in the matter," the ruling said.
Snohomish County's anti-camping law does not outright prohibit sleeping, but bans a person from inhabiting the public property, evidenced by the use of camp paraphernalia, including but not limited to, tarpaulins, cots, beds, sleeping bags, blankets, mattresses, hammocks, or cooking facilities or equipment.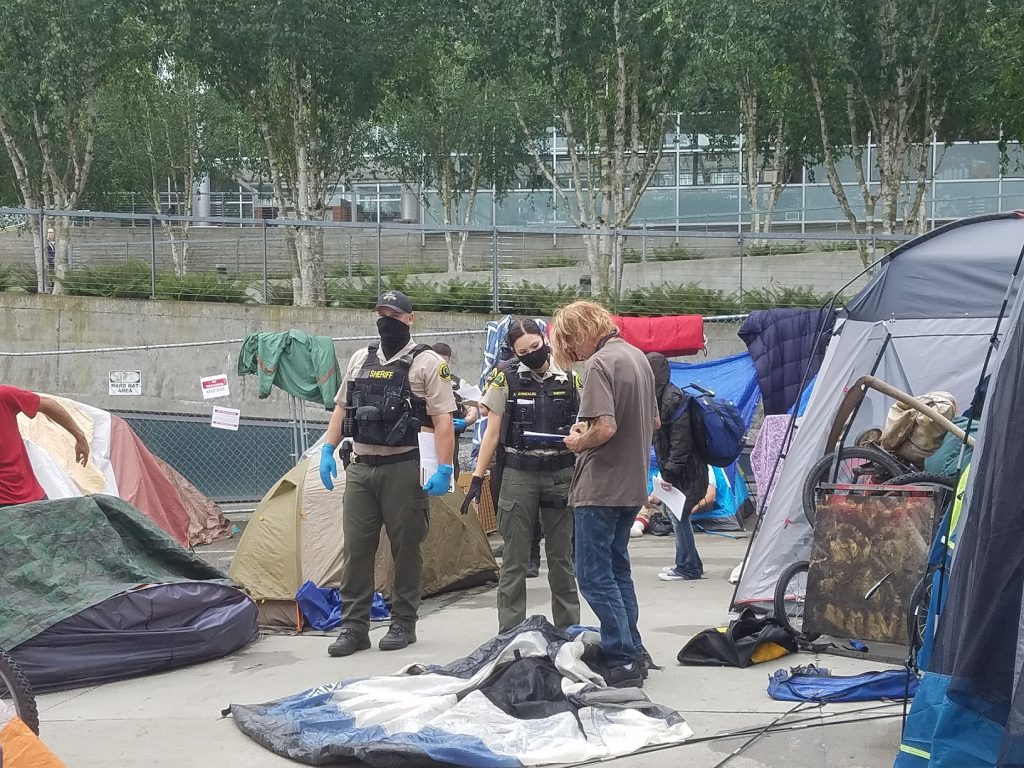 "To protect the health and safety of county residents and employees, the county executive made the decision to move folks who had been camping on campus," stated Kent Patton, spokesperson for the County Executive. "The decision was made after many attempts over multiple months to offer services and shelter. It is a violation of county code to camp on public property."
Richardson says that the Sheriff's Office does not plan to criminalize the individuals who remain at the county campus by charging them with trespassing but are going to work to provide them access to services individually.
"We have a little latitude of how we enforce this. My plan is not to arrest anybody, my plan is to get them somewhere," he said. "We appreciate the help in finding a new location."
While the county did not respond to comment on the number of available shelter beds or temporary housing alternatives for the unsheltered population at the encampment, the Snohomish County Human Services Department maintains that they offered to connect the people living in the camp to housing and other resources. They say that some accepted service, others refused or didn't meet the specific qualifications to access them, notes Richardson.
Anji Jorstad, Mental Health Supervisor for Human Services says that the Snohomish County Law Enforcement embedded Social Work team provided outreach to the individuals who had been inhabiting the county campus encampment since the beginning of April.
"Our efforts have had mixed results," said Jorstad. "We have assisted several individuals in connecting with a housing navigator and participating in the Coordinated Entry assessments, while engagement in other services offered has been minimal."
Smiley says that some obstacle further lies in the execution of how the county is proposing access to the services, saying that those who outrightly denied it hold fear and hesitations in establishing trust in law enforcement officers.
"I had a law enforcement officer come through earlier and he says he talked to several people, but nobody wanted services," explains Smiley, talking about the Rucker Investment site. "I had my volunteers walkthrough, and everybody wants services."
Campers were also given a list of housing and social service resource options during the county campus eviction notice, yet their availability remains ambiguous as many of the shelters listed are either at full capacity or not accepting new people to mitigate the spread of COVID-19, tells Smiley. Others are exclusive to specific populations and are not accessible to everyone.
Rick, 65, has been homeless for the past two years. He decided to relocate to the Rucker Investment site from the county campus after not being offered an alternative that suited his needs.
"My experience with [the county] has been terrible," said Rick. "I asked what they were going to do about us not having a place to go, and they said, 'I don't know', I was just like 'wow'."
Rick says that relief washed over him when he found out that they had found a new place to go and was even given a leadership role to recognize if/when people are misbehaving throughout the encampment. So far, he says he hasn't witnessed anything of concern. Moving forward, Rick hopes that people will remain peaceful with one another for the sake of the effort that Smiley put into securing the location for them.
"He could've been anywhere else but took the time to come here and do this for us," said Rick. "He put his heart into it."
The Rucker Investment Encampment has plans to stand through August 2. By the end of July, Smiley hopes that everyone living in the encampment has accessed services and accepts support. Yet, as of July 7 It's unclear if it will stand that long, as the Everett Police Department contacted the property owner saying it may be in violation of Everett Municipal code (EMC), addressing "public health and safety issues, including regulations related to rubbish, other nuisances, removal of vegetation, zoning, dangerous building, environmental violations, and junk vehicles on private property," visible from both public or private property.
Everett Police Department spokesperson Aaron Snell says that since the site popped up Monday, July 6, they have received multiple calls about the camp. As of July 7, no criminal action has been taken against residents of the site, and Snell says that the Everett Officers are working to connect them with social service agencies.