Encampment cleared: Thursday's sweep marks the second in one week
By Erin Freeman | Lynnwood Times Staff
EVERETT, WA – The City of Everett cleared a homeless encampment housing 110 people and nearly 50 tents on private property on Rucker Avenue at noon on July 9, due to violation of city code.
Thursday's sweep marks the second in one week, following Snohomish County eviction of the same unsheltered residents from public grounds at the County Campus Plaza on Sunday, July 5.
"We are human and now we have to leave. We're not hurting anyone. Every time we pack up to move, we lose something." said a woman residing at the Rucker Ave. encampment before eviction. "Robert finds a place [and] now they take it away from us. [The] city is wrong; [they're] playing a joke on us."
Robert Smiley is the Director of the Hand Up Project, a local nonprofit organization that connects people experiencing homelessness to housing, mental health and addiction support, and additional resources and services. After receiving notice that the individuals at the county campus had to vacate the plaza, he had set up the new encampment by Monday, July 6.
For four days, the new location acted as a hub of connections to social services and resources says Smiley, the people offered access to support based upon answers to a mandatory intake form completed during registration into the camp.
"This is a nightmare," said Smiley. "The majority of the people don't have a drug addiction, what they have is an issue with trying to get funding from anybody. They're just being dodged out."
City officials say the unauthorized encampment was a hazard to the public health and safety of camp and neighboring residents.
"This is neither a safe or sanitary location to house individuals experiencing homelessness, it violates city laws and is negatively affecting surrounding properties," said City of Everett Mayor Casey Franklin in a statement.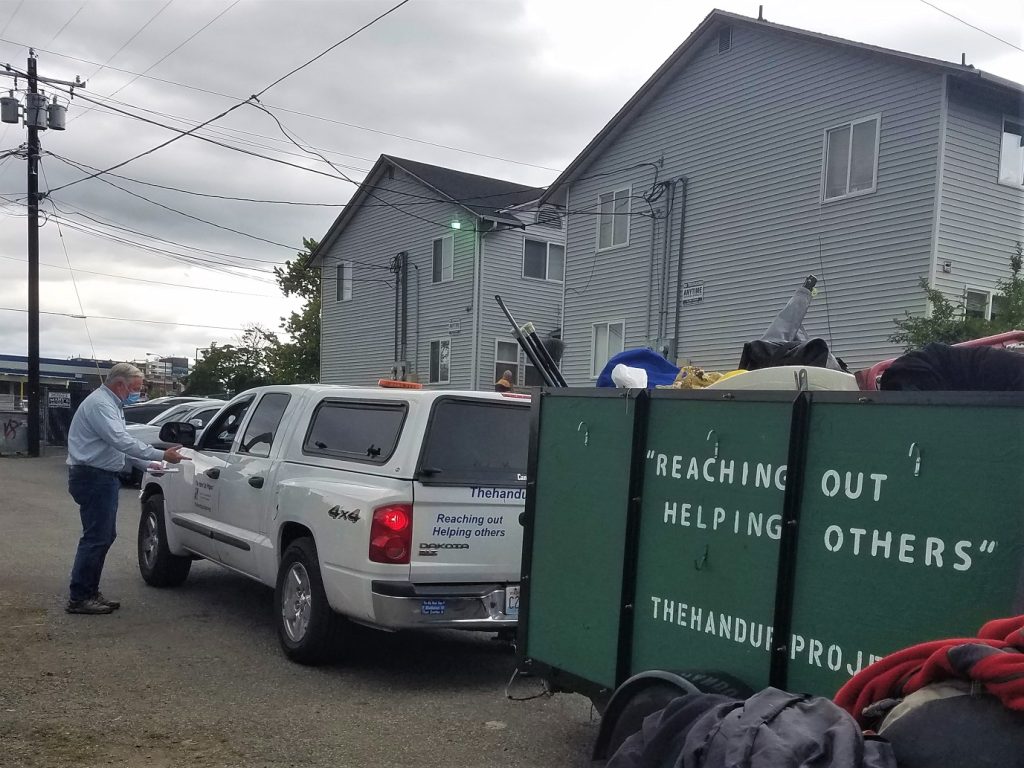 Everett Police Department officers gave two days' notice to the people, informing them that they had until noon on July 9 to vacate the site. If campers did not pack up personal belongings and disperse from the location, property owner Alan Jackson would face a citation or criminal charge.
Jackson, who rented his block-length grass field to Smiley following Sunday's sweep, says that the city needs to "solve the problem, not turn away from it." The camp was supposed to stand through August 2.
According to an emergency order notice posted at the site on Wednesday, by the Everett Police Department's Code Enforcement Unit, the encampment did not have city approval, violating Everett Municipal Code.
"These conditions and occupancy are also occurring during a world-wide health pandemic, constitute an immediate threat to public health and public safety, and are in violation of city code," read the notice.
At the start of the coronavirus pandemic, the Centers for Disease Control and Prevention (CDC) issued guidelines recommending cities to, unless individual housing options are available, allow people living in encampments to remain where they are.
"Clearing encampments can cause people to disperse throughout the community and break connections with service providers," explained the CDC guidelines. "This increases the potential for infectious disease spread."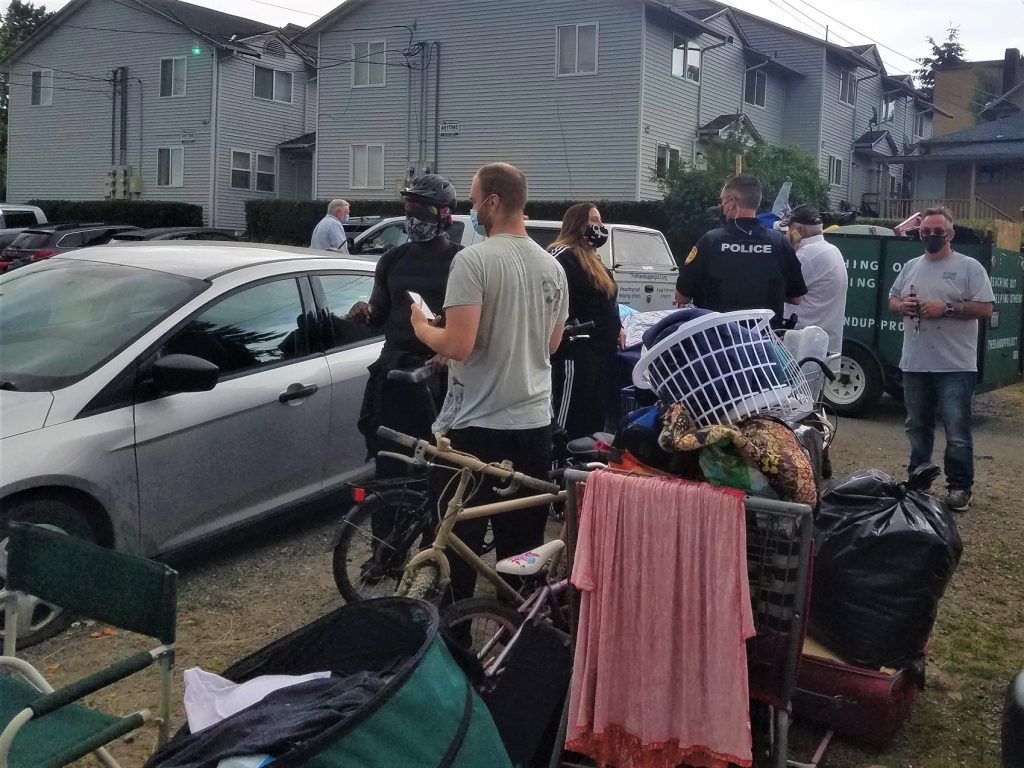 Everett Police Community Outreach & Enforcement Team (COET) Sergeant John Zeka says that his officers offered to connect individuals to housing options, hotel vouchers, and substance abuse treatment options, but some people did not accept the support. Zeka was able to connect a couple of individuals to services on the day of the camp eviction.
According to city spokesperson Kimberley Cline, the COET contacted approximately 60 of the camp's individuals on July 9, offering them connections to support services. 13 accepted assistance.
"The majority were willing to listen but not ready to accept assistance," explained Cline in an email. "Our COET teams will continue to reach out."
With many of the city's local shelters full or having specific client population requirements, it's not clear where all of the people will go. Some have or will be connected to temporary sheltering through hotel vouchers. As of 3 p.m. on July 9, Snohomish County approved to reimburse the City of Everett for hotel vouchers up to $100,000.
"This does not accommodate the challenge of trying to place people in hotel rooms that have no identification due to theft, loss, and every other imaginable challenge," shared Snohomish County COVID-19 Mutual Aid Group's Leslie Brown in a social media post.
Smiley says that he and other nonprofits will do their best to stay in contact with all 110 individuals, but it could be difficult not knowing where they will all be.
"We're still going to work with them," stated Smiley. "If I can keep in contact with them and know where they are, we'll continue the process of what they put down on their registration form."
Penelope Protheroe, President and CEO of Angel Resource Connection, a nonprofit serving people experiencing homelessness, acknowledged that this was the group's fourth move in three months and this eviction was the first without an alternative encampment option.
"The homeless will simply scatter along the sidewalks and neighborhoods of Everett and not get the services we were ready to provide them in the middle of a pandemic," the Angel Resource Connection wrote in a Facebook post.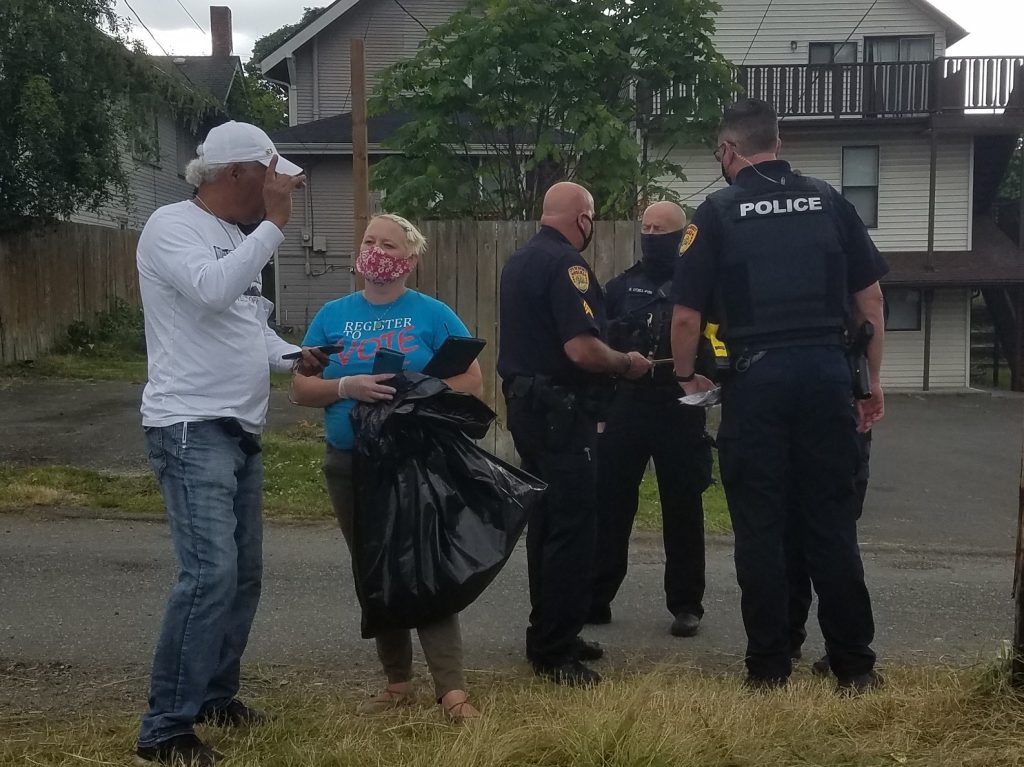 Hours before the noon eviction, Everett City Councilmember Liz Vogeli proposed the idea of moving the encampment residents to Snohomish County property on Airport Road and 100th St. SW to county and city officials, as it was not adjacent to homes and had space to accommodate hygiene facilities. However, "those dreams were crushed," Vogeli told the Lynnwood Times as the space is not available because she was told it is currently being leased through the end of the year.
As of July 10, no new site has been approved.
"People in the encampment have been, and will continue to be, offered services such as shelter, housing vouchers and treatment programs," stated Mayor Franklin in a statement. "We continue to work with the County on a more long-term plan to help get more people off the street and into housing and services."