The Hand Up Project reeling after revelations of fraud against Founder
LYNNWOOD, Wash., March 8, 2023—Lynnwood-based The Hand Up Project, which helps those experiencing homelessness as a result of substance abuse, officially terminated its relationship with its founder, Robert Smiley, after ongoing internal investigations exposed he allegedly pocketed thousands of dollars in contributions from individuals using the nonprofit's name and reputation.
"The evidence they had was breathtaking and overwhelming, yet irrefutable," a Board member told the Lynnwood Times in an exclusive interview.
"I know that there are a lot of people, like myself, that saw Robert's intent and admired it, approved it, and wanted to be a part of it," a second Board member added. "I can understand that this is hard news."
Since its founding in 2014, The Hand Up Project has provided outreach for homeless populations, disposed over 10,000 drug needles on public and private property, and gained admittance for detox service for over 1,000 clients. The organization has also helped over 20 clients find employment through its Open Door Program since 2021, helped residents secure Social Security and Social Security Disability Insurance through its SOAR Program, and housed a number of residents seeking recovery in sober living communities.
The Hand Up Project also has contracts with municipalities throughout Snohomish County to address homelessness and recovery—its most recent with the City of Edmonds that was terminated last month, "in light of recent information discovered regarding the organization's founder," the city's news release states.
On February 28, the City of Edmonds contacted The Hand Up Project and shared this information with the Board. The Edmonds Police Department had been tracking Smiley for a considerable amount of time.
This contract with the City of Edmonds was signed by Robert Smiley without the Board of Directors' approval. Smiley at the time was under an unrelated internal investigation following an October 2022 incident which he accepted an individual contribution through PayPal that did not reconcile with the organization's account. That investigation found that the donation was never deposited into The Hand Up Project bank account.
Smiley would commonly solicit donations on social media by allegedly, falsely, alluding The Hand Up Project was not sufficiently funded, board members shared.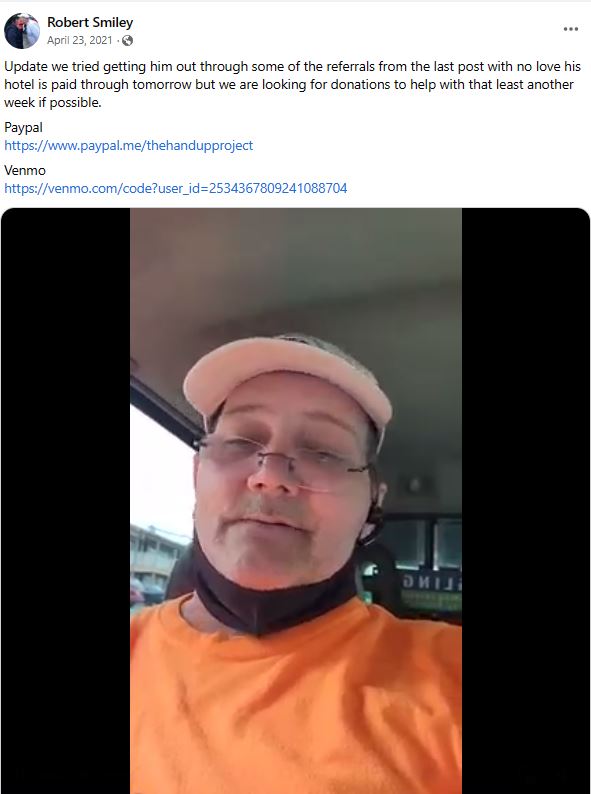 Following the October incident, the Board of Directors sought legal counsel from a Seattle-based law firm, which recommended Smiley be removed as President, which he willfully did. An interim Board of Directors was put into place and Smiley was again instructed to immediately cease soliciting and accepting contributions under the organization's name.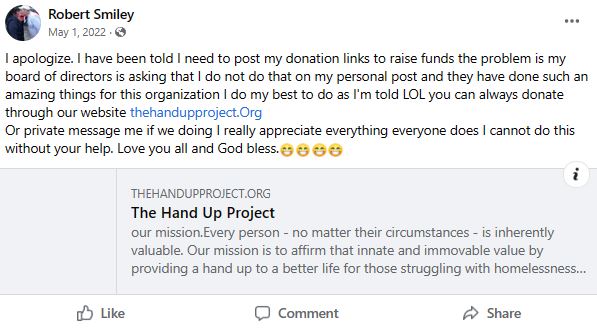 In January 2023, the Board of Directors was provided with a video showing Smiley opening a locked safe at one of the organization's sober living houses and removing its contents: money contributed by house clients to be used for emergency purposes. This prompted a second internal investigation, ultimately leading to his termination.
"We knew this was illegal activity and we couldn't turn away from it" a Board member told the Lynnwood Times. "We had a responsibility to take action and file the police reports. "We've done about everything we could to make sure we've navigated this appropriately, ethically, and above board… No one wants to sign up for this but it's our responsibility."
The board member added that the organization's donations were down 87% since the Smileys were removed from organizational bank accounts and more rigid financial policies and procedures were implemented. This along with a second internal investigation launched in January of this year began piecing together a tale of deceit and betrayal.
After that initial approach in October and subsequent new policies implemented, Smiley solicited and accepted, without Board knowledge and approval, $6,000 in cash and issued a fraudulent charitable receipt. Accepting the cash violated the organization's financial manual, and, even after Smiley was confronted, has never cleared any of The Hand Up Project's bank accounts, placing the organization in danger with the IRS.
All of this, however, had nothing to do with the City of Edmonds' decision to terminate its contract with The Hand Up Project for biohazard cleaning, board members said while adding, "it runs deep."
The Snohomish County Sheriff's Office shared with the Lynnwood Times that they were unable to speak on the details of their investigation involving Smiley, but confirmed the county is investigating allegations of fraud.
Throughout Smiley's tenure as Founder and President of the Hand Up Project, he had a reputation of allegedly mishandling finances. The Board told the Lynnwood Times that the organization was run "quite chaotically" at first with "not a strong sense of tracking receipts."
Smiley appeared to have genuine love and care for the people that he served and the people around him, the board member added.
"There was a period when, if a staff member called and said they needed help or someone else needed help, Robert would be there to offer help personally," the Board member added.
"Although he struggled with running the business, particularly the financial side of things, he gave off the impression that he truly cared about his work and was there to help people."
All of the Board members interviewed requested their statements be made on behalf of the board collectively and their names be redacted. This is because, according to them, several community members have been making unfounded and untrue remarks—even calling their employers as most are volunteers.
Smiley started The Hand Up Project "out of the trunk of his car" in 2014, but, as it continued to grow, it needed more oversight. Over the past two years, the organization implemented strict financial policies and procedures, including the creation of a Finance Committee, its Board told the Lynnwood Times. Despite the Smileys' objections, the Finance Committee never comprised of Smiley nor his wife, Theresa, nor any other officer of the corporation. The organization now employs between 15 and 20 individuals at any given time – all but one having a personal history of addiction or homelessness.
Since the creation of a Finance Committee, the organization's largest program has been audited up to twice monthly by third parties with no issues found—all state and federal monies accounted for—according to the Board. The organization submitted a signed statement to municipalities by its bookkeeper that Smiley's financial dealings were outside of the organization's accounts and have not affected its contractual agreements.
The interim Board of Directors at The Hand Up Project have developed a 6-month strategic plan to gain back the public's trust—as well as answer any lingering questions about Smiley's actions and how it impacted the organization. It expects to make several announcements later this month.
"We're [still] in a good place to continue our operations," a Board member said. "Our heart is still with the community. Our heart is still in performing our mission and value in affirming the inherent value of every person. Our heart is still in outreach and getting people in[to] detox. There will probably be some structural changes, but we are continuing to serve this community."