Richard Trumka, AFL-CIO union president, dies at 72
The American Federation of Labor and Congress of Industrial Organizations (AFL-CIO) is grieving at the sudden loss of its president, Richard Louis Trumka.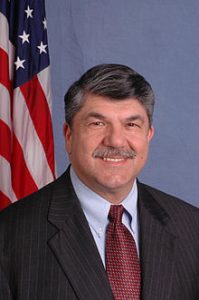 Trumka served as secretary-treasurer the AFL-CIO prior to being elected its president on September 16, 2009. Prior to devoting his service to the ALF-CIO, Trumka was the president of the United Mine Workers from 1982 to 1995.
During today's remarks to White House Reporters, President Joe Biden called Trumka a "very close" friend and shared that Trumka died while on a camping trip with family.
According to its website, the AFL-CIO represents 12.5 million workers throughout the United States and the world. The labor union strives "to ensure all working people are treated fairly, with decent paychecks and benefits, safe jobs, dignity, and equal opportunities."
Statement from AFL-CIO Communications Director Tim Schlittner on the passing of AFL-CIO President Richard Trumka: 
"The labor movement, the AFL-CIO and the nation lost a legend today. Rich Trumka devoted his life to working people, from his early days as president of the United Mine Workers of America to his unparalleled leadership as the voice of America's labor movement. He was a relentless champion of workers' rights, workplace safety, worker-centered trade, democracy and so much more.
"He was also a devoted father, grandfather, husband, brother, coach, colleague and friend. Rich was loved and beloved.
"Today, the 56 unions and 12.5 million members of the AFL-CIO mourn the passing of our fearless leader and commit to honoring his legacy with action. Standing on Rich's shoulders, we will pour everything we have into building an economy, society and democracy that lifts up every working family and community."
American Federation of Teachers released the following statement about the passing of Trumka on Facebook.
"This is a staggering loss, and we join with so many of our union siblings and folks outside the union in sending our condolences to Richard Trumka's family."
United Mine Workers of America (UMWA) International President Cecil E Roberts issued the following statement today.
"The global labor movement has lost a giant. Richard Trumka was more than the leader of the American Labor Movement, he was an unequaled voice for the workers around the world.
"Born the son of a coal miner in Nemacolin, PA, Richard learned the critical necessity for unions at an early age. His rise from coal miner to President of the UMWA to Secretary-Treasurer of the AFL-CIO and then to President of the AFL-CIO was an inspiration to us all. I had the honor of nominating Richard as Secretary-Treasurer of the AFL-CIO when he was first elected, and nominated him for that office and for the presidency, every election after that.
"Richard and I were partners in leadership at the UMWA for many years, but we were more than that. He was my brother, he was my friend, he was my confidant.
"The hearts and prayers of the entire UMWA family are with his wife, his children and his grandchildren. We will miss him terribly, but we know that he has joined Mother Jones, John L. Lewis, William Green, Phil Murray, and all other UMWA leaders who have gone before him.
"Rest in peace Brother. I will miss you."