Emma Ortiz is awarded the Dave Ellingson Scholarship for Environmental Studies
Everett, WA – August 20, 2021 – Trinity Education Foundation is honored to announce that Emma Ortiz has been awarded the Dave Ellingson Scholarship for Environmental Studies for the 2020-2021 Academic Year. This undergraduate scholarship is focused on students who are deeply concerned with environmental creation care and have declared a major in the field of Environmental Studies or similar.
The scholarship, named for Dave Ellingson – The Paddle Pilgrim, is a scholarship initiated by the many people who have been influenced through Dave's writing and teaching. In case you are not familiar with Dave, he is known for kayaking the world's most beautiful and challenging rivers and documenting them in his Paddle Pilgrim series of books. As a former professor at Trinity Lutheran College, Dave has seen first-hand the positive impact people can have on the lives of young adults. He understands how these initial investments of time and resources contribute to the long-term success of students.
This year the Board of Trustees approved an increase to a $5,000 scholarship award. Additionally, the award includes personal mentoring with Dave Ellingson.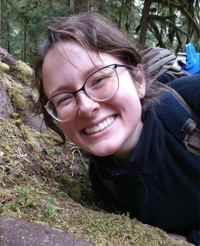 Emma Ortiz: Biology / Ecology – George Fox University, Portland, OR
Emma Ortiz is from Rainier, Oregon, and attends George Fox University working towards a degree in Biology with a concentration in ecology. In her own backyard is where Emma discovered her love of environmental science as she marveled at the life cycle of the plants in the garden and turned over rocks discovering a whole world of busy little bugs. After her undergraduate studies, she plans to continue her education and earn a Ph.D. in Pacific Northwest Native Plants. "All things that God has made cry out his praises, and I consider myself quite lucky to be at least somewhat attuned to their melodies. It is my goal to show every single person on this planet how awe-inspiring the nature around us is. The only way to get people to act is to get them to care, and I believe that I have that capability."
Emma Ortiz is from Rainier, Oregon, and attends George Fox University working towards a degree in Biology with a concentration in ecology. In her own backyard is where Emma discovered her love of environmental science as she marveled at the life cycle of the plants in the garden and turned over rocks discovering a whole world of busy little bugs. After her undergraduate studies, she plans to continue her education and earn a Ph.D. in Pacific Northwest Native Plants. "All things that God has made cry out his praises, and I consider myself quite lucky to be at least somewhat attuned to their melodies. It is my goal to show every single person on this planet how awe-inspiring the nature around us is. The only way to get people to act is to get them to care, and I believe that I have that capability."