Senator Liias lands newly-created $83,000 county job
SNOHOMISH COUNTY, Wash., September 23, 2021 – Snohomish County Executive Dave Somers today announced that Senator Marko Liias (LD21, Mukilteo) has been hired as Communications Manager for the newly-created Office of Recovery and Resilience. In this role, Senator Liias will help manage external and internal communications for the Office and provide additional public engagement capacity.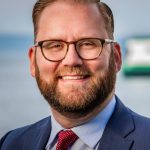 "We look forward to having Marko Liias join our Office of Recovery and Resilience team and help bring a speedy and equitable recovery for all of our residents," said Executive Somers. "Marko brings a wealth of experience with communications and public outreach, two skills that will be critical to the success of our recovery work."
"As we build our capacity to address recovery needs from the COVID-19 pandemic, Marko Liias will fill a critical role," said Director of the Office of Recovery and Resilience Michael Fong. "We want our recovery to be broad-based, transformative, and create conditions for building community-wide resilience.  We want Snohomish County to be stronger after the pandemic is over than before."
According to the Everett Herald, Senator Liias' newly-created position has an annual salary of $83,186 and will be paid through the American Rescue Plan Act (ARPA) funds the County received from the Federal government. Liias will continue to serve as State Senator where he earns $56,881 a year.
According to the U.S. Department of Treasury, the $350 billion in ARPA funds provided to state, local, territorial, and tribal governments is intended to:
Support urgent COVID-19 response efforts to continue to decrease spread of the virus and bring the pandemic under control
Replace lost revenue for eligible state, local, territorial, and Tribal governments to strengthen support for vital public services and help retain jobs
Support immediate economic stabilization for households and businesses
Address systemic public health and economic challenges that have contributed to the inequal impact of the pandemic
In addition to being the State Senator for Mukilteo and the northern Lynnwood, he is a part-time Associate Faculty at Everett Community College where he teaches American Government in the Political Science Department. Prior to working at Everett Community College in September of 2018, Senator Liias was hired back in 2014 as the Policy Analyst for the city of Mukilteo working under his longtime high school friend, Mayor Jennifer Gregerson.
The controversy surrounding Liias' 3-year tenure as the City's policy analyst, resulted in the city council terminating the annual $89,000 position, followed by a legal quagmire for Mayor Gregerson regarding undisclosed severance pay to the Senator and a vote of no confidence later that year by the Mukilteo City Council.
In 2020, Senator Liias lost his bid for Lt. Governor of Washington state against then Congressman Denny Heck and in 2016, did not make it past the Primary election for State Treasurer.
Senator Marko Liias will start as Communications Manager for the Office of Recovery and Resilience with Snohomish County on Monday, September 27, 2021.
About Snohomish County's Office of Recovery and Resilience
The Office of Recovery and Resilience is the lead entity for managing Snohomish County's recovery from the COVID-19 pandemic. In coordination with other partners, the Office of Recovery and Resilience will ensure Snohomish County is doing everything possible to get people back to work, assist small businesses, help those who have suffered behavioral health and substance abuse challenges, and otherwise build a more resilient and healthy community for all.