Petershagen addresses Herald's ambiguities and inaccuracies
LAKE STEVENS, Wash., October 29, 2021 – On Sunday, October 24, the Everett Herald published a report on Lake Stevens' city council candidates. Some of the claims regarding City Council Position 2 candidates, Gary Petershagen and Joyce Copley, prompted Petershagen to respond. In a video uploaded to YouTube, Petershagen, who is running for reelection, brought attention to statements that concerned him.
The article in question is titled, "In growing Lake Stevens, controversy frames council races." With a printed copy in hand, Petershagen said, "I went through the article, and I just feel like I've got to respond to that." He explained that he opted for the video format instead of speaking with the journalist directly due to past experiences wherein he felt what he said was taken out of context.
"Sometimes what you say doesn't always end up accurately in the newspaper," he said.
After voicing his issues with the piece and offering his counterclaims, Petershagen said the information regarding the matter was easily verifiable and that "you can call the city of Shoreline." And the Lynnwood Times staff did exactly that.
Clarifying the Permit Technician claims
Petershagen began by addressing statements in the piece about his opponent, Joyce Copley. Pointing to a line that reads, "She works as a permit technician in planning and community development for the city of Shoreline."
Petershagen said, "she doesn't work for the city of Shoreline."
"I don't know when her employment was curtailed, but presently, she does not work for the city of Shoreline. And I thought that was interesting since this article is from Sunday," he explained in the video.
The city of Shoreline's Human Resources Department informed the Times that Copley's last day on the job was August 13, 2021. As her employment officially began in January 2018, Copley has about four years of experience as a permit technician for the city of Shoreline.
The article continues, reading, "[Copley] said, she's learned how to set rules and boundaries for developers." Petershagen challenged this claim too, as it pertains to the role of a permit technician.
"In my experience in dealing with planning and community development divisions throughout Snohomish County," says Petershagen, who served for six years on the Lake Steven's Planning Commission, "permit technicians typically — mostly — don't set boundaries for developers. They don't set the rules either."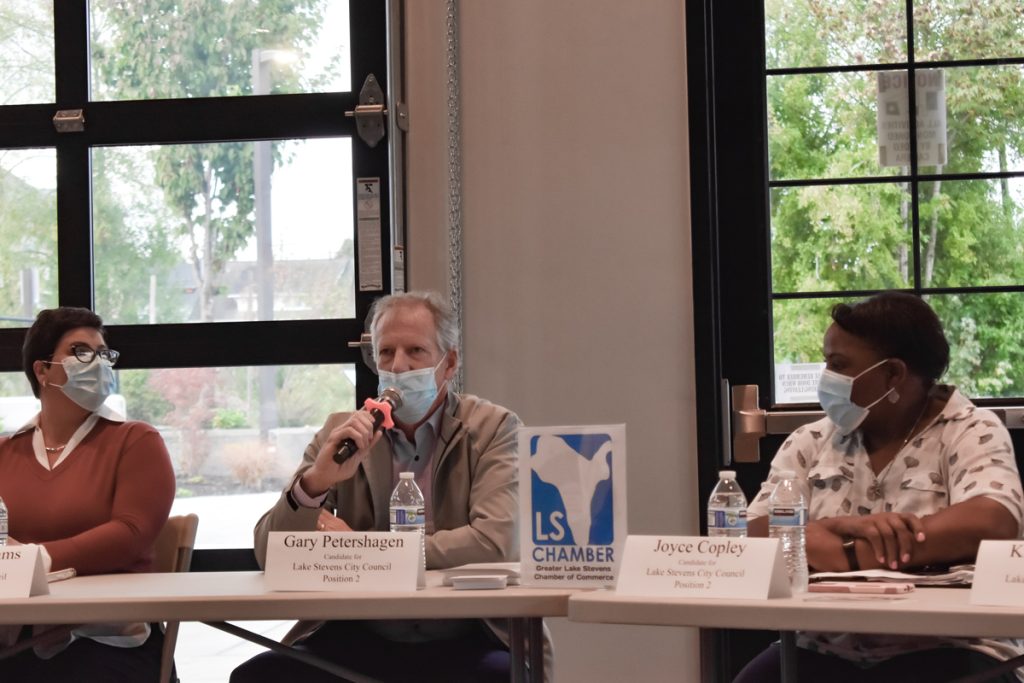 An informant in a senior position with the Permit Services team for the city of Shoreline corroborated Petershagen's claim, explaining that municipal codes set the requirements for developers — not permit technicians. The codes are typically drafted by the Planning and Community Development Department, which the city council can then adopt.
Another informant from Shoreline's Planning and Community Development Department, who has over a decade and a half of experience, explained that permit technicians are generally not involved in the coding process; that their fundamental role is to ensure development applications are complete.
According to the informant, they have never witnessed "any tech involved in code amendments."
After challenging the accuracy of the statement, Petershagen explained that he didn't know if it was merely erroneous reporting on behalf of the Herald or if Copley was making a "claim that is fictitious."
Elaborating on the red flags
Another comment Gary Petershagen took issue with was one about red flags. Copley told the Herald that "With the development and all the issues that are surrounding the city of Lake Stevens — [average taxpayers are] really being taken advantage of, and they don't seem to understand."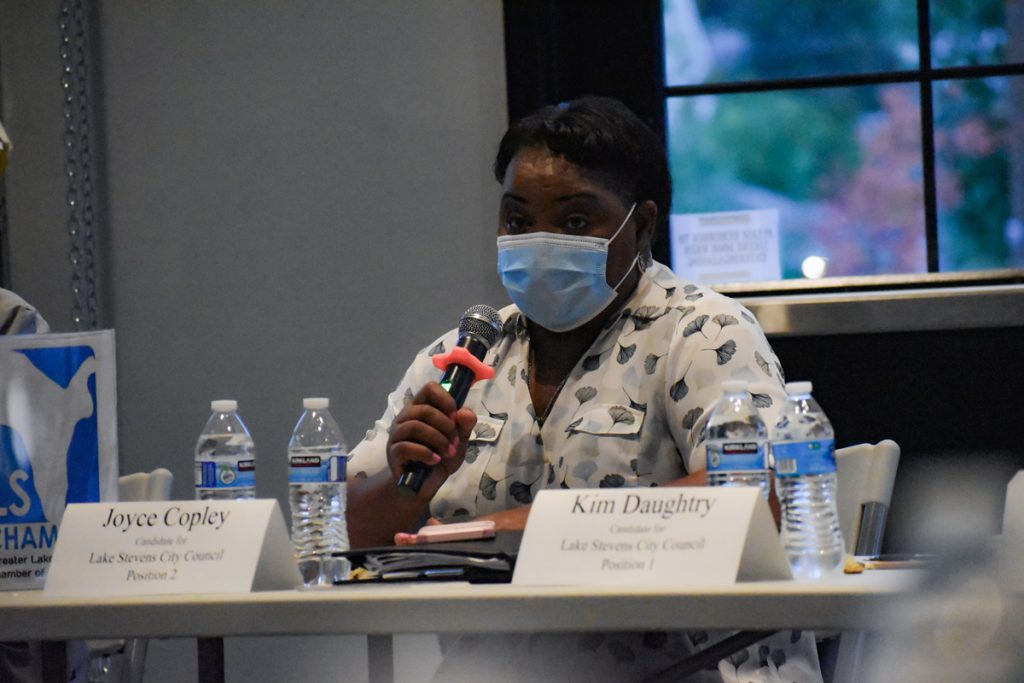 "I have the experience and the knowledge to know that these are red flags," the quote continued, "huge red flags that the taxpayers and the residents are going to pay for for years to come."
Petershagen said, "I don't know what she's referring to in those sentences, but shame on the Herald for not expanding. It's good for the voter to know what's being talked about."
The Lynnwood Times gave Copley the opportunity to elaborate on the red flags mentioned in her statement. Unfortunately, after two emails and multiple phone calls, she did not respond. However, she did echo a similar sentiment during the October 13 candidate forum hosted by the Lake Stevens Chamber of Commerce, where her background and the taxpayers were the focal points of her closing remarks.
"I bring a wealth of knowledge from a successful municipality that knows how to run government, and I am bringing that experience here back to you so that we can run in an efficient way — in a way that's not going to cost the taxpayers their bottom dollar," she said.
"I don't care for developers. I work with too many of them. They're looking for loops. I won't be a loop. I will be for the taxpayers," Copley concluded.
The specifics of streamlining communications
One last comment Petershagen addressed was where Copley stated her desire to "streamline communication between councilmembers and those they represent."
With no specifics provided as to how Copley plans to accomplish streamlining communication, Petershagen suggested that "a little more detail would be helpful for the voter."
While Copley did not offer the Times any further details, the contact information of Lake Stevens' council members is publicly available on the city's website (click here to view contact information).
Gary Petershagen's Remarks
When asked about the motivations behind his video response to the Herald, Petershagen focused on detail and accuracy issues.
Reiterating his disappointment with the ambiguous claims about taxpayers, he said, "rather than just having a candidate spew, ask some questions. I mean, when she's talking about the taxpayers are being taken advantage of — to what extent? What does that mean?"
He again pointed to the fact that Copley is not currently employed as a permit technician for the city of Shoreline, though she was as of August 2021. "She doesn't work there, and yet the article states — you know, this isn't an article from a month or two ago, this is an article that was drafted over the weekend," he said. "It's not true."
Invitation for Elaborations
While this article has regrettably been published without statements from Copley, she is still welcomed at the Times, where she is invited to elaborate on her comments.
Until then, the questions remain: In what ways does she believe the taxpayers of Lake Stevens are being taken advantage of? What are the specific red flags, and why do they warrant caution? And even though she no longer works as a permit technician, how did that experience prepare her to set boundaries for developers?