Rep. Larsen hosts telephone town hall to address veteran's needs
EVERETT, Wash., November 9, 2021 – Representative Rick Larsen (WA-02) hosted a live telephone town hall on Thursday, November 4, discussing the issues facing more than 520,000 military veterans and their families who call Washington home.

Joined by Michael Tadych, Director of VA Puget Sound, and Stephen Strope, Veteran Service Center Manager for the VA Seattle Regional Office, among other leaders, 1,400 callers from across the state had the opportunity to ask questions and voice their frustrations about veterans' benefits.
The virtual town hall was Larsen's 70th public veterans' forum since taking office. As a 20-year member of the House Armed Services Committee, a focus of his is to ensure women and men who served in the U.S. military have access to the resources and services they need.

In 2019, Larsen held six Veterans Forums across the Second District in Marysville, Burlington, Oak Harbor, Bellingham, Lynnwood, and Friday Harbor and has crafted legislation based on the ideas discussed at these forums.
In 2021, he has worked with 21 separate veterans so far through one-on-one support resulting in earning $60,000 in benefits that were already owed, and he expects to see a 15 percent growth in care between now and 2030 largely due to the new VA outpatient clinic opening in Everett.
The new facility will be able to enroll approximately 17,000 to 19,000 eligible veterans, of which 6,000 to 8,000 will be able to receive primary care at its Everett CBOC, and 11,000 will be able to receive care across its three micro-clinics. 
Within the last 10 years, VA Puget Sound has seen a 60 percent growth in population while space capacity has remained essentially unchanged. To address space constraints and better serve veterans where they are geographically located, it continues with facility renovations and new construction projects including $121 million Mental Health and Research Building in Seattle; $9.7 million 1,5000 square foot Silverdale CBOC; and $4.3 million 14,000 square foot Community Resource and Referral Center in Georgetown. 
These new services answered one man's call, Alex from Whatcom County, who called in during Thursday's town hall to ask what will be available in the next coming years involving mental health care and benefits.
Tadych also included that the VA Puget Sound assists in mental health at each one of their sites. 
A recurring issue many veterans expressed on Thursday was the long wait times when contacting VA services in Washington, which can be as long as three hours, only for the call to drop. Larsen acknowledged these concerns, answering that with increased staffing he hopes to see these issues resolved.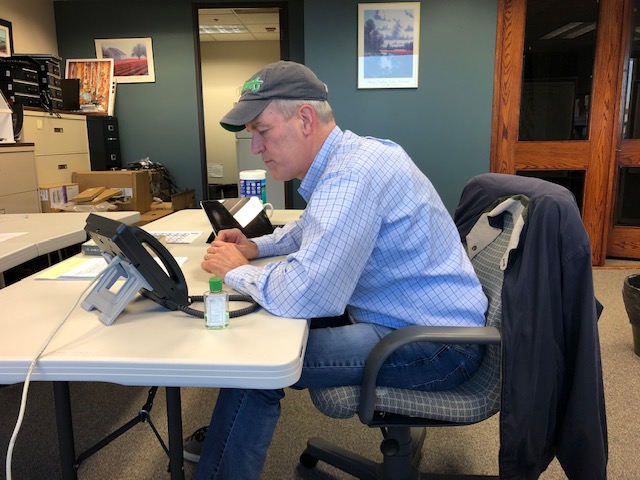 "We realize it's a systemic issue, and the V.A. is trying to address that," Larsen said during Thursday's town hall. "Through the Build Back Better Bill, $2.3 billion would be dedicated to VA capital investment updating clinics and medical facilities, offering $268 million to education and training, bringing staff residency positions up to 500 positions in seven years. The staffing increases would also help in processing the backlog of unscanned veterans' records, aiding in VA administration as well as contributing to supporting housing for veterans," Larsen added. 
Denise from Snohomish County dialed in to discuss affordable housing options for veterans. According to Center Square Washington, of the 520,226 veterans living in Washington state, 1,585 are homeless, and 5.8 percent are living in poverty. Currently there are 429 veterans that use VA services in support of housing. As of December 2020, the U.S. Department of Housing and Urban Development has collaborated with VA to allocate more than 105,000 housing vouchers across the country. 
"I'm strongly supportive of additional veteran vouchers so we can eradicate the issue of homelessness," Larsen said.
Michael Tadych added that the VA Puget Sound signed, just two weeks ago, to add additional housing vouchers for veterans living in Washington state. 
Larsen encourages any veteran who lives in Washington's Second Congressional District that needs assistance to contact his Everett office at (425) 252-3188.
VA Puget Sound
VA Puget Sound provides health care services at 12 locations in Washington, serving a 14-county area around Puget Sound and the Northwest. Facilities include the Seattle VA Medical Center, American Lake VA Medical Center near Tacoma, and 8 community-based outpatient clinics in Chehalis, Edmonds, Mount Vernon, Olympia, Port Angeles, Puyallup, Renton, and Silverdale, as well as a VA Mobile Clinic that operates out of the American Lake VA Medical Center. 
VA Puget Sound opened its Mental Health and Research Building in March 2019, at 220,000 square feet for $121.6 million. Their Veterans Advisory Council meets quarterly and includes stakeholders from veteran groups.

Seattle VA Regional Office
VA's Health Administration is the largest integrated healthcare network in the United States, with 1,255 healthcare facilities serving 9 million enrolled veterans each year. Through the Veteran's Benefit Administration, VA helps service members transition out of military services, and assists with education, home loans, life insurance, and more. 
Their vision is "to provide veterans the world-class benefits and services they have earned— and to do so by adhering to the highest standards of compassion, commitment, excellence, professionalism, integrity, accountability, and stewardship."
The Seattle VA Regional Office is currently hiring. For more information visit https://www.va.gov/careers-employment/.