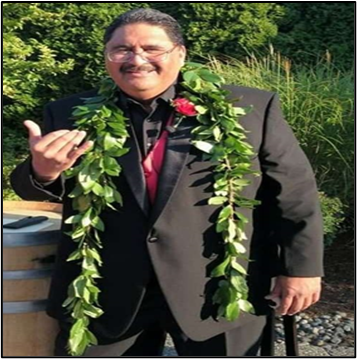 Our Beloved all-encompassing Husband, Father, Grandfather, & Brother Robert Kala Nakihei Sr., has gone to be with his Lord & Savior on the Lord's Day, October 03, 2021, he was 66 years old. Born to and preceded in death by Robert Lo'paka Nakihei & Theodora Mona Ne Cuelho of Kalama'ula, HI. Robert, known to all as "Bobby" is survived by his Wife of 46 years Diana Kau'i, son Robert Kala (Chantal) Nakihei Jr., daughter Psalms Ho'ikeana (Jordan) Moe-Nakihei and his precious blessings, Mo'opunas (grandchildren) Robert, Jordan, Lorenzo, Keali'ika'apuni, Ho'ikeana & Porcha. Bobby was blessed with a large Ohana (family) Brothers Terrell, Abner (Sarah), Kalani (Malisa), Brent (Amber), Lo'paka (Marie); Sisters Kaloke, Varna, Pilialoha (Aaron), and Kehau (Travis). Preceded in death by sibling brothers Wesley, Tracy and Sister Denise. 'Choke' nieces, nephews, cousins, in-laws, calabash, hanai kine, all dat!
Bobby attended Lahinaluna High School but returned to his Na a'a (roots) to graduate from Moloka'i High School in 1972. He attended several colleges throughout Hawai'i until he enlisted in the Navy and proudly served in the Vietnam War.
His life adventures included meeting his wife Diana at He'eia Elementary school while coaching his volleyball team from Castle High School, he drove for The Bus in Honolulu, alongside his Father, and played Hawaiian music in backyard jams up to concerts alongside the best of them. He fostered children and idealized Hawaiian associations such as Coconut Wireless radio and Hu'i Wa'a O Puget Sound Canoe Club. Always an avid thinker and entrepreneur he established Bobby's Hawaiian Style Restaurant, in Everett, WA in 1999 and supported many charitable Luau's and events throughout the Puget Sound area.
His greatest adventure was becoming a Kahu (minister) and serving the Lord any way possible. Bobby's spiritual thirst was nourished by many churches amid Hawai'i and Washington, his original Ohana's church Kupaianaha O' Ka Malamalama, Kalamaula, HI, Jesus is My Shepherd, Kahu Aunty Marilyn Solatorio (dec.), Kaneohe, HI, & Praise Chapel, Pastors Tyrone & Mary Garay, Everett, WA. Not many will hear "Well done my good and faithful servant" Matt. 25:21, Bobby has now! Along life's adventures he GAVE, he SERVED, he LOVED!
Not a stranger to adversity Bobby learned he had a failing heart and kidneys and was blessed with the GIFT OF LIFE from 22-year-old Justin Elzinga, Kennewick, WA who passed January 05, 2017. Through this we were blessed 4+ more years with Bobby in which he was able to see his baby girls Keali'ika'apuni & Ho'ikeana come to earth and bless his Ohana with his prolonged presence.
'Apo aloha 'elua a hui hou, 'ana, aloha!
One fond embrace until we meet again, farewell!
No worry Bruddah, we get 'um! You res'!
Limited services will be October 22, 2021, 10:00 a.m. at the Evergreen Funeral Home and Cemetery, Everett, WA with drive-by opportunity for the local community who loved him and satellite service for the Ohana around the world. The family welcomes floral leis and arrangements. Bobby will rest easy and move gently in his homeland of Kaunakakai Harbor, Hawaii. Aloha oe' Aloha oe'.