Silver Creek Family Church hosts annual Lynnwood Christmas Tree lighting
LYNNWOOD, Wash., December 5, 2021 – Hundreds attended the annual Lynnwood Christmas Tree lighting at Silver Creek Family Church. Although temperatures dipped to 40 degrees Fahrenheit, prayers were answered to provide a break in the forecasted rain/snow.
Last night's holiday event featured live music, a coffee bar, food vendors, a photo booth, vender booths, ponies, a mobile vaccine clinic and of course, a visit from Santa Clause.
The Lynnwood Times had the unique privilege to tour the event with Karina Gasperin of the Snohomish County Latino Coalition and founder of the Afrolatino Festival.
Gasperin, organized a mobile vaccine clinic for the event in partnership with Equity Partnership of Snohomish County, WAGRO Foundation, and Providence Hospitals. Lynnwood Councilwoman Julieta Altamirano-Crosby assisted Gasperin in facilitating COVID-19 vaccines to over 200 residents during the Lynnwood Christmas Tree lighting event. The vaccines were administered by Bird's Eye Medical.
To support local vaccine equity efforts, Van Dinh-Kuno along with local organizations came together to form the Vaccine Equity Partnership. These organizations, with guidance from Washington State Department of Health and support from Providence NWWA clinical teams, are working across the state to deliver "EQUITABLE, TRANSPARENT and DEPENDABLE vaccinations to vulnerable community members."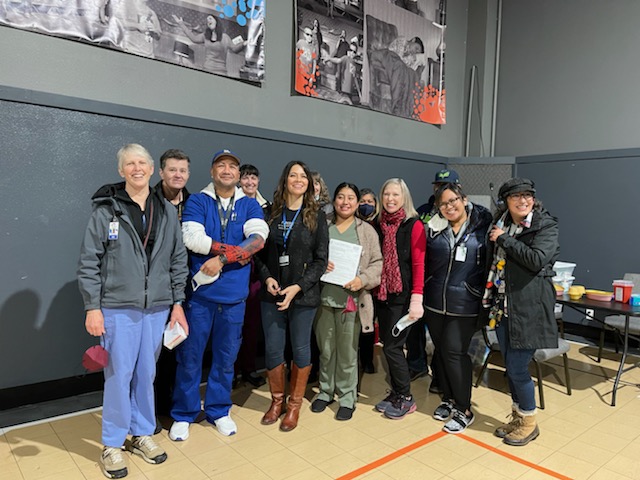 Each Saturday, the team meets at Silver Creek Family Church in Lynnwood to administer vaccines to 5 to 11-year-olds. December 11th and 18th are the last two Saturdays of the year the team will be at this location.
"This site offers accommodations for a diverse community," Altamirano-Crosby told the Lynnwood Times when asked what makes this site unique from the others. "We understand and honor the cultural differences of each person."
Altamirano-Crosby shared that because of their diverse team of volunteers they can provide culturally appropriate vaccinations.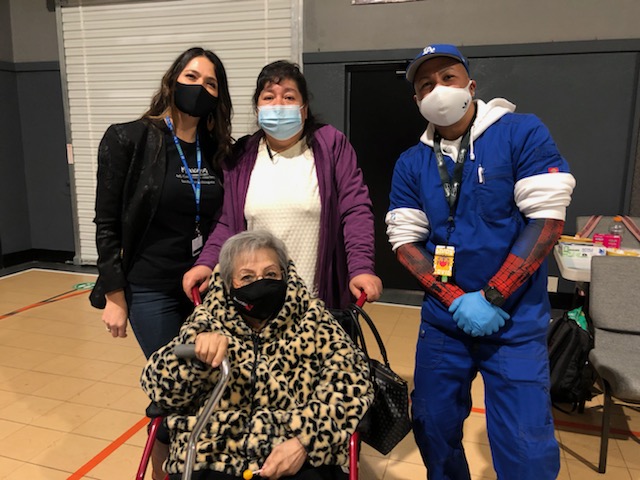 "Because of their Muslim faith, vaccines to women will only be administered to women. Also, it will only be administered in a private room. We do our best to show respect and empathy," said Altamirano-Crosby.
The Lynnwood Times ran into Lynnwood-mayor elect Christine Frizzell who was in line to get her booster shot along with her father.
"We are going to be better as a community when everybody gets the vaccine," Mayor-elect Frizzell told the Lynnwood Times when asked why is it important to get vaccinated. "Hopefully we don't have to go back into quarantine… I understand that everyone has their preferences and their reasons…think about others and think about not overwhelming our hospital system."
Lynnwood Councilwoman Shannon Sessions attended the tree lighting ceremony with her husband.
Santa Claus arrived to light the tree thanks to the efforts of South County Fire. Hundreds of kids and kids-at-heart welcomed Santa who then led the countdown.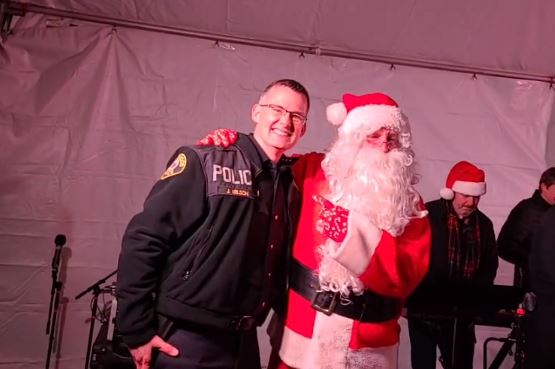 Other organizations and non-profits sponsoring last night's efforts were: South County Fire, Lynnwood Police Department, Lynnwood Food Bank, Fellowship of Christian Athletes, and Rise Up Academy.
For other community events at Silver Creek Family Church located at 5326 176th St SW, Lynnwood, click here.