Vaughn's Teaching Farm returns for its second annual Christmas lights and cocoa
LYNNWOOD, Wash., December 14, 2021 – When traveling to Vaughn's Teaching Farm and Kitchen, you may at first second guess if you've inputted the correct address. It almost seems unreasonable that a three-acre farm raising goats, chickens, rabbits, and ducks could exist tucked behind department stores, just right down the road from Lynnwood's bustling Alderwood area. But that's exactly where Vaughn's resides – on an agricultural sanctuary in the heart of the city of Lynnwood.
The Vaughn family returned Saturday, December 11 for their second annual Christmas lights and cocoa fundraiser to collect food and money for the Lynnwood food bank. At last year's gathering, the farm collected over 100 pounds of food and a couple hundred dollars in cash. This year the fundraiser easily doubled that.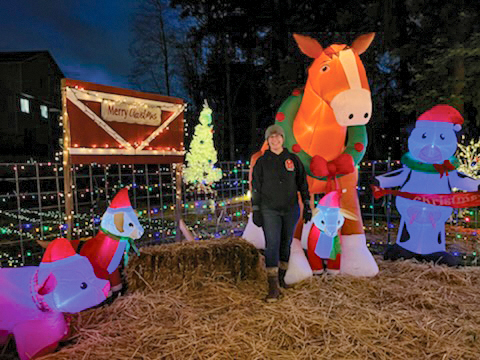 "Food and food security is very important to us. We love our community, so this time of year we love to invite our neighbors down and ask them to donate food to the Lynnwood food bank – think global, act global, that's our motto," Rachel Vaughn told the Lynnwood Times. "It's just fun to have an outdoor experience in the city."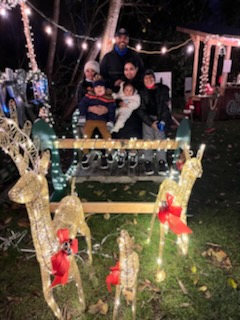 The growing fields were ignited with an impressive display of Christmas lights and inflatable farm animals on Saturday, complete with a cocoa bar and homemade caramels, a bonfire to warm up, a lit-up walk through the forest, and photo opportunities on Santa's sleigh. Pouncing around the hay-lined floor was the Vaughn's happy, eight-year-old Dachshund hound named Hans, wagging his tail and looking for pets.
Although the traffic from the surrounding interstates 405 and 5 remind their visitors that Vaughn's is still within a developed city, the encompassing evergreens and crop fields are enough to make you second guess.
"We are so blessed because having it here is closer to people. It's more accessible. Instead of planning a whole day to go out into a farm that might just do pumpkins or might just do Christmas trees, we do all sorts of things," Rachel said.
Back in October, Vaughn's Teaching Farm and Kitchen held a Halloween event offering pumpkins, cider, and a spooky forest.
Next year the Vaughns have big plans to expand their Christmas lights fundraiser, adding a train ride for kids and narrative displays to their Christmas forest walkway.
"Every year we grow this. We have more lights, we get more food, and we get more money [for the Lynnwood food bank]," Eric Vaughn told the Lynnwood Times about next year's Christmas lights event.
The Vaughn family's idea for their Christmas fundraiser came to them during the COVID-19 breakout last year. After dropping off food to the Lynnwood food bank, they noticed a line of luxury cars lining up.
"That's not to say we were judging them, but it showed us that no matter where you are economically, there are people hurting. There are people losing their jobs. We said, we got to do something," Eric Vaughn told the Lynnwood Times.
Rachel built a blessing barn at the top of their hill where people can put food, books, and other donations that anyone in the community is welcome to. Whenever the donations get low, they make an announcement on their Facebook page and watch the donations pile up again.
"Occasionally we'll see little kids drop their bikes off and get some snacks, but we don't know if they're eating either. That's the tricky part – you never know where people are economically. They may have a big house and nice cars but they could be starving for food," Eric told the Lynnwood Times.
Although Rachel Vaughn and her husband Eric have lived at 2503 191st Pl SW for over 30 years, they founded Vaughn's Teaching Farm and Kitchen earlier this year. The two grew up in rural settings, raising horses and participating in 4H events. When they realized their children were missing out on what they believe is an integral element of their upbringing, growing up in a city next to a mall, they decided to make use of their land and raise chickens – and eventually goats, pigs, and turkeys – to teach their children where their food comes from.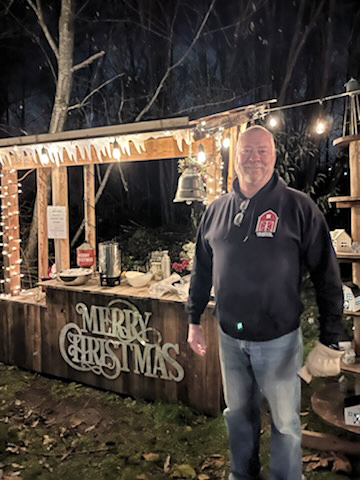 "I have a food background, so I love teaching about food. But now I have a newfound love for farming. I've combined the two because they're intertwined," Rachel said.
Since then, the Vaughn family has grown their operation to six goats, a duck, 40 chickens, two rabbits, and a whole bunch of worms. While the goats are used for dairy and education, the chickens, rabbits, and duck are raised for meat.
"Our passion and priority is helping people understand where their food comes from. When you have those hands-on experiences, it connects you to your food," Rachel said.
Their next big step is bringing a commercial kitchen on site, hopefully opening next year. The kitchen will act as both a restaurant and a classroom, offering a wide variety of cultural dishes, from Ethiopian to Indian, that best represent the diversity found in Lynnwood.
"It's really fun to learn about different cultures and how food connects us," Rachel told the Lynnwood Times.
In addition to classes and a fully operational, sit-down restaurant, the kitchen will also offer pre-made soups and breads that people in the neighborhood can stop by and pickup to go.